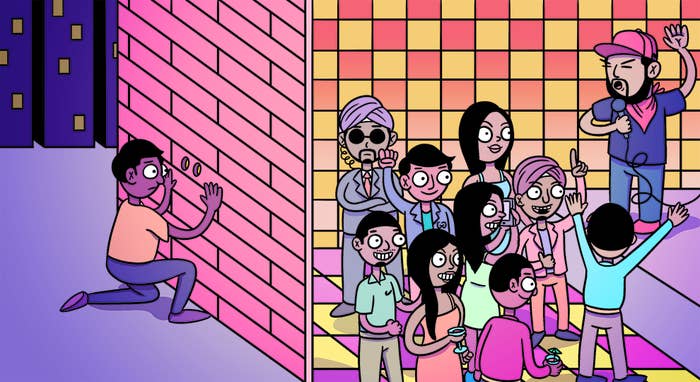 "Bhai, woh mere dost ko andar nahin aane de rahe," Naezy shouts, tugging me away from the crowd of Bombay twentysomethings jumping in unison around us. "They aren't letting my friends in."

We're at Mumbai's antiSOCIAL, at a hip-hop gig. Naezy (or Naved), whose rap verses lifted him out of Kurla's slums and into VIP-status at urban venues like the one we're at, is performing tonight.
I'm one of the event's organisers; I know entry is free and management has relaxed entry rules. But, despite our combined efforts, the bouncers still aren't letting Naezy's friend in. Naezy is upset.
I try to convince the bouncers that the friend is a part of the artist's crew, but I'm rebuffed.
"He doesn't have an ID," they tell me. I recognise the play, often used by venues to arbitrarily refuse entry to clientele they don't want.
"I'm sorry, I can't do anything else," I tell Naezy, defeated.
As I make my way in, a girl on the stairs looks at the boys and mutters to her friend, "Chhee, do they have to let these people inside?"
Later that evening, Divine takes centre-stage and performs his Nucleya-produced smash-hit "Jungle Raja". 300 well-to-do hip-hop fans, including the girl from the stairs, shout the hook with him: Gully gang, bole toh, boys from the naka.
Meanwhile, 150-odd boys from the naka wait outside the doors, straining to catch a glimpse of their friend.

In the past year, homegrown Indian hip-hop has emerged as India's strongest alternative music movement, flourishing outside the major label-backed stage dominated by Honey Singh and Badshah.

Artists like Naezy, Divine, PAM and Prabh Deep are chalking up organic views on Saavn and YouTube, and grabbing the attention of brands like Star, Big Bazaar, and Adidas.
Today, you're just as likely to hear their songs at a Ganpati Visarjan as a five-star nightclub.
These artists are authentically "hip-hop" in principle: they're emerging from urban lower-income migrant communities, opening up about their big city hustle, and drawing huge audiences who've never heard anything like it before.
(Listen to Divine and Naezy's "Mere Gully Mein," and try not to feel something.)
"The real heroes are the Samsungs and Micromaxes for their cheap devices, and the Ideas and Vodafones for the cheap data rates," says Arjun S. Ravi, co-founder and editor-in-chief of alternative culture and music webzine NH7.in.
"All it took for Naezy to get noticed was solid context and an iPad," says Nikhil Udupa, partner at Control Alt Delete, an independent, crowdfunded music property.
In May 2016, The Economic Times published an article about "the rise of indie music". It celebrated surges in investment, fees, audience numbers and full-time professional musicians in the country. Glowing statistics were offered: 1,00,000 annual attendees at large-scale Bacardi NH7 Weekender, 600+ bands in Mumbai.

But, it provided a narrow picture of the independent music scene.
While festivals like Bacardi NH7 Weekender, Sunburn and Supersonic have grown, and many new festivals have popped up, they still cater to privileged audiences.
Attending Pune's NH7 Weekender, for instance, will set you back by at least ₹6,000. Sunburn is more to the tune of ₹15,000, even with advance bookings.
That's why city venues like antiSOCIAL and Blue Frog are so essential. They service between 250 and 600 people on an average gig night, and tickets range from free to ₹500. This is where most fans get to experience their favourite artists, or discover new ones.
Unfortunately, the doors to these venues is also where live entertainment is taken away from its lower-income fans, even when they're willing to shell out the entry fee.
Traditionally, these venues are bound by sales of alcohol and food, something which the management knows a fan belonging to a lower-income group might not spend on.
But let's just say it — it's not only money, but class-based profiling at the gate that keeps these fans out.
I've seen it happen, first-hand, way too many times.
In 2014, I was on the organising team for NH7's Shake Down tour, during which Tokyo-based hip-hop DJ Sarasa was playing at a popular South Delhi nightclub. On the day of her gig, Sarasa met a few of the city's B-Boys and girls, and invited them to the show. When they showed up, the venue owner took me aside and said, "I don't want that kind of crowd at my club."
India now has a large and dedicated hip-hop fan-base that's consuming music online, but isn't allowed to see its favourite artists live, because of class-based prejudice.
Back in 2012, the London Metropolitan Police was widely called-out for using Form 696 – a risk assessment form that targeted hip-hop and grime events. The assumption was that they were attended by a demographic (Black and Asian teenagers) described as being "prone to violence".
In India, similar stigmatisation occurs regularly, with no forms or vocabulary to define it.

But does the responsibility for ensuring access fall squarely on the shoulders of venues?
"Let's not kid ourselves," says Ravi. "The venues are there to make money. So are the promoters, the managers, the sponsors, the webzines, the YouTube channels, and all of the artists. If there are positive socio-cultural side-effects in the pursuit of capitalism, then that's an added bonus."
Others are more optimistic.
"Hopefully, with the way things are going, we'll soon reach a point where we have enough volume to lower prices and increase access to festivals like Bacardi NH7 Weekender itself," says Vijay Nair, CEO of OML, who runs NH7 Weekender, one of the few profitable music festivals in the country.
"At the end of the day, no one's doing this for charity," Nair says. "For a venue to survive, business must come first."
And while most venues across the country remain happy with the status-quo, some, such as antiSOCIAL (Delhi & Mumbai) and The Humming Tree (Bangalore), are trying to strike a balance between catering to fans and turning profits.
"We'll see an organic growth of live opportunities that cuts through socio-economic classes," says Ravi. "It's bound to happen as fatigue with the mainstream grows. It may start as a Ganesh Visarjan DJ set, but I can't wait to see what it evolves into."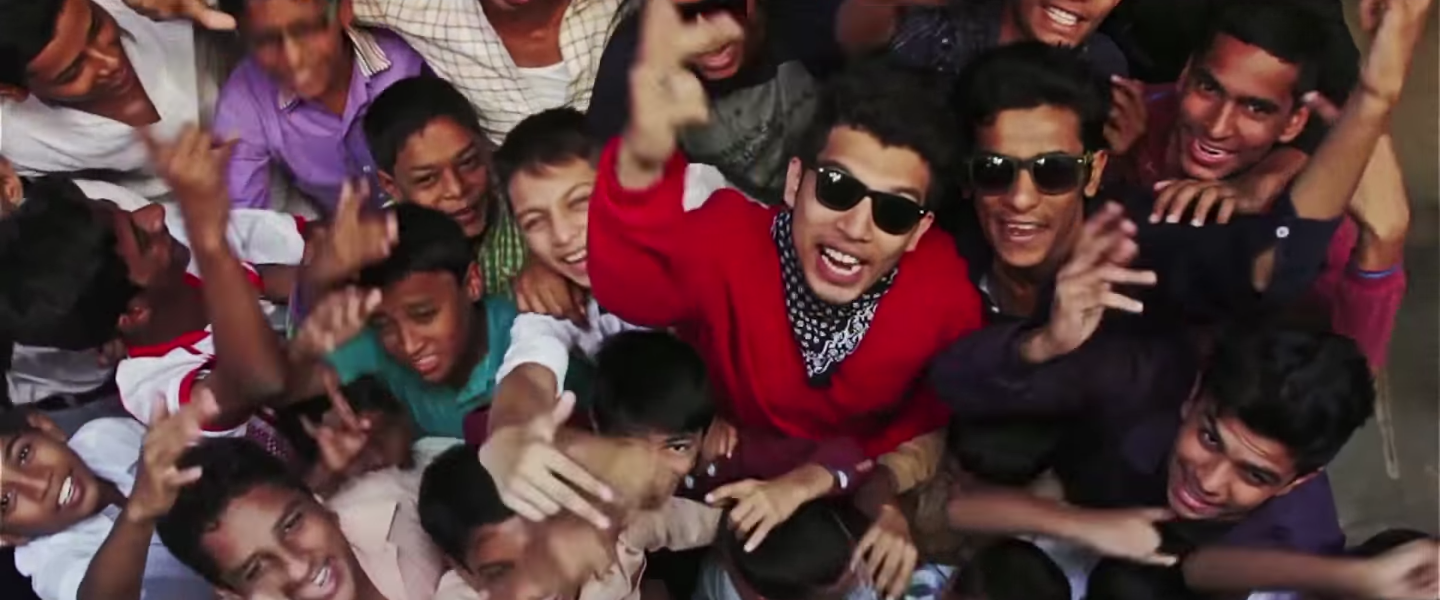 Luckily, some fans aren't waiting for it to happen.
Jimmy, one of the B-Boys who was refused entry at Sarasa's gig, has been organizing his own after hour parties across venues in Delhi for the past few years, providing a safe space for his community and running his business as a promoter three or four nights a week.
Others, such as Dharavi-based hip-hop crew SlumGods and Battle Bars Bombay, are using small community spaces (such as The Hive, Mumbai) to host their events.
In the meantime, the rest of us would do well to check our privilege at the door and drop the curtain of class between who we do and do not see fit to stand next to us.

Hopefully, on the goodwill of some venues and some artists and some fans, Indian hip-hop will open its doors to the gullies that raised it.