In some parts of Arkansas, cornfields seem to stretch for years. Over a third of the state's 539 cities count populations of less than 1,000 residents. Conservative Arkansas, nicknamed "The Natural State," might not seem like a great place for drag queens — but backstage on a Saturday night at a Little Rock community theater in mid-August, 12 queens are split into two dressing rooms, adjusting their wigs and sucking themselves into corsets before the 44th annual Miss Gay Arkansas pageant in Little Rock.
On a counter, there's a makeup kit filled with a crayon box of eye shadows, contours, and Elmer's glue sticks. "Put some Carmex on there to soften that lip up," someone says to a nearby backup performer. A contestant sits stone still as her "big sister" paints her face, a process that can take about 1.5 hours. There are at least three rolls of duct tape available at a moment's notice for tucking or cinching waists. "Does anyone have an extra pair of pantyhose?" a dresser asks no one in particular. Laughter pours from backstage as a queen fits into her hand-stitched blue feather gown.
The Miss Gay Arkansas pageant is the oldest continuous state preliminary. This pageant formed in 1972; the first-ever Miss Gay America, crowned in 1973, hailed from Arkansas. In the contest's earliest days, organizers sent out announcements about an upcoming pageant to gay bars and theaters around the country. From there, it has grown, through promoters and pageant fans, into a large system. Now, these contests are heavily loaded in the East Coast — places like Virginia, the Carolinas, and Pennsylvania — but next year, there'll be a new preliminary in California.
The current crop of Bible Belt queens takes the opportunity to represent their state at nationals very seriously.
"That's who I'm going to be," said Jonathan Neighbors — who goes by Blaze Duvall in drag — referring to the coveted title of Miss Gay Arkansas. "The pageant's the scraps I was built from as a kid."
Neighbors, contestant 5, started doing drag when he fled his small northeast Arkansas hometown as a teenager. When his twin brother, who was also gay, died at 16, Blaze decided to honor his brother's life and come out to his father. Their father, a Baptist deacon, responded with: "I'd rather shoot a fag than see one" — and he was true to his word. Neighbors has two bullet wounds from the incident. Because his father's a police officer, no report was filed and Neighbors left Arkansas for New Orleans.
When Neighbors took on the drag name Blaze Duvall, she met her first drag family in the city. For her, drag offered survival. Her family, comprised of a mother, who helped her get into drag, and her sisters, up-and-coming queens under the same mother, offered her guidance. It's a tight-knit group she can depend on. She's been part of two other drag families, from when she moved or if family members decided to take a break from drag, and, she said, each member has played a role in her life.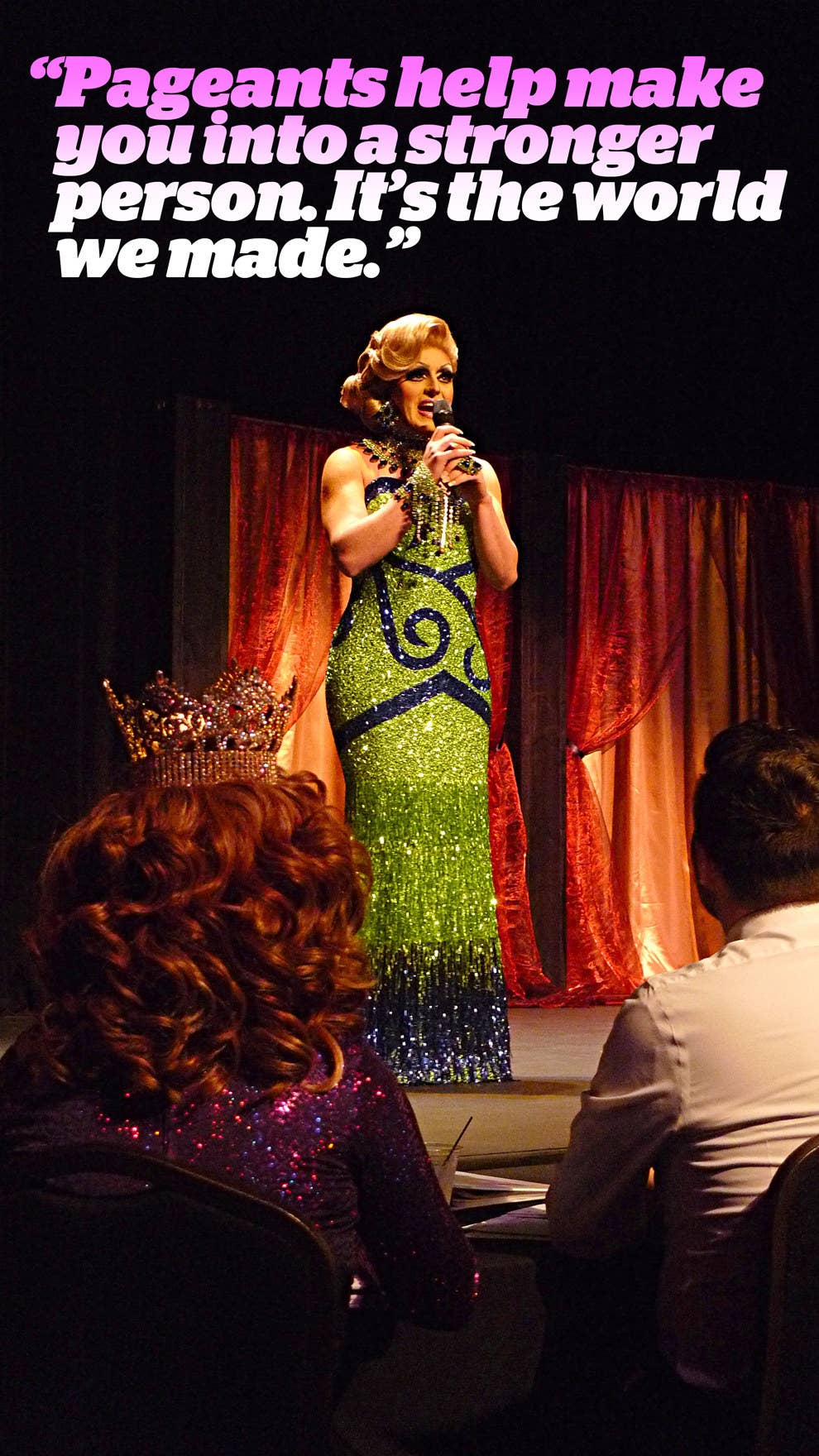 Neighbors has since moved back to Arkansas and is now a small business owner who runs four consignment shops. He said most of the men in his hometown work at a steel mill or at the prison. He thinks the gay community in Arkansas is growing, but a lot of LGBT folks are still scared to come out. The area, he said, teaches people to keep their sexuality a secret. He thinks discretion and worrying about what people think is "choking the community," and he sees pageants as a way for people to overcome those worries.

"Pageants help make you into a stronger person," he said. "It's the world we made."
For a queen to compete at Miss Gay America, she has to win two preliminary pageants — a local one such as Miss Hot Springs, Arkansas, and either a state (where she's a resident) or a regional (not every state has a formalized preliminary). The judges score contestants on a set criteria — not directly against one another — in five categories: male interview (only portion out of drag, 150 points), solo talent (three minutes, limited to handheld props, 150 points), evening gown (100 points), onstage interview portion (50 points), and talent (seven minutes, full production, 300 points). After the competition finishes, contestants receive their score sheets and judges' notes.
When Neighbors performs as Blaze, she puts on makeup for a pageant by taking pieces from her drag family's styles — the way they paint or dress — and mixes them to tell their family story. Her drag sisters have shared secrets like different ways to apply makeup and how to dress for her body. She paints a family portrait on her own face. In most cases, drag mothers choose their drag daughters, and this relationship is not only an extension of family but one similar to classical apprenticeship. A daughter learns techniques from a skilled artist as would any fledgling painter. The pageant's system of critique helps performers work on their craft. It's kind of like a writers workshop or art school crit. Miss Gay America's tagline is "Where boys are boys and female impersonation is an art."
"There's a coaching aspect to it," said Todd Mauldin, who gives the illusion of Blair Williams, the current Miss Gay America. "The bottom line of this is about getting those critiques to become a better competitor and entertainer."
Williams, who oversees all the preliminaries, gave the Arkansas queens a pep talk ("Wear hair appropriate for a crown" and "Don't be so consumed with winning you don't get the experience"). The night's winner and first alternate of Miss Gay Arkansas will go on to battle against 52 other title holders at the America pageant in October. Early organizers of the pageant probably never would have imagined this many contestants in the early '70s when some cities — like Detroit, Miami, and San Diego — deemed it illegal for men and trans women to wear female attire. In 1984, police arrested a former Miss Gay Missouri for cross-dressing before successfully challenging the city of St. Louis on the charge.
"Back then, it was much more daring for men to be in female attire," said Ron Standridge, a drag historian (or what he calls a "dragologist") who's been involved in Miss Gay Arkansas for over 20 years. "These days, drag has become a legitimate form of mainstream entertainment."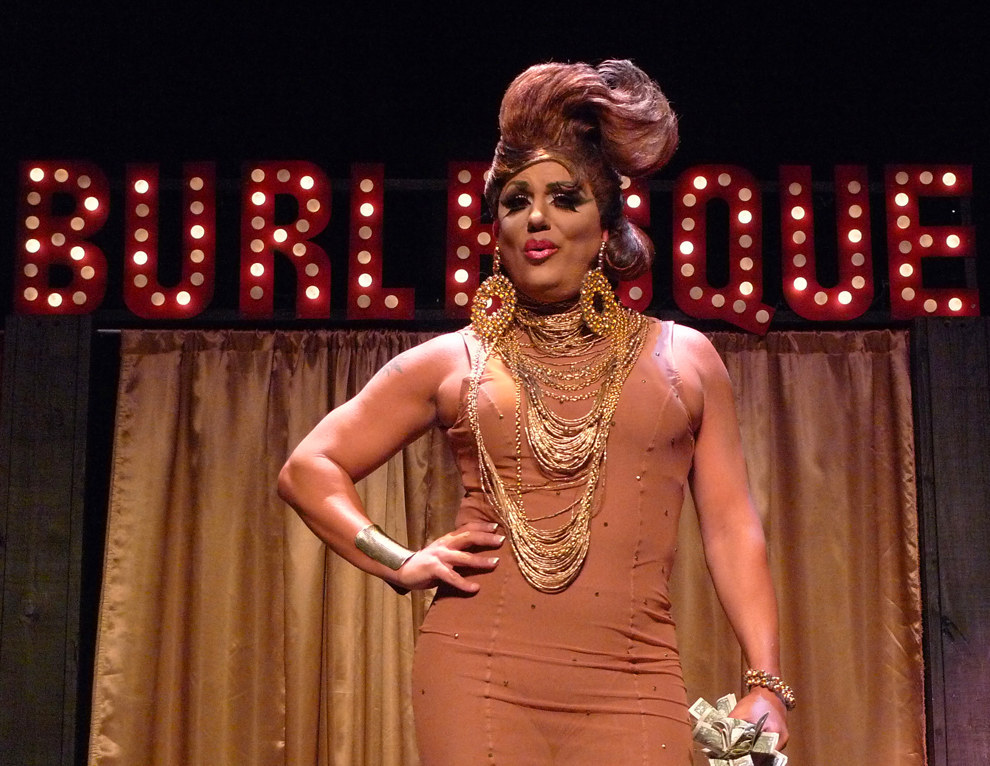 This new "mainstream" nature of female impersonation, Standridge said, has been largely due to the seven seasons of RuPaul's Drag Race on Logo. (Note for RPDR fans: Season 5's Alyssa Edwards won Miss Gay America in 2010, but, of course, was infamously dethroned for Coco-knows-why reasons.) Pageant conversations can often turn to RPDR, because in certain seasons of the reality competition show, there's been an underlying "comedy queen" versus "pageant queen" narrative. On the show, pageants are sometimes written off as outdated by the show's younger, more "alternative" queens. In Arkansas the general feeling about RPDR is...mixed. As drag platform-inches from the margins, some worry the system might eventually fade in its prominence. More gay bars close every year; LGBT bookstores are all but extinct.

"RuPaul's Drag Race seems to be a shortcut to gaining fame," said Standridge, "but being Miss Gay America is still one of the most prestigious achievements in the female illusion world."
Miss Gay Arkansas packed the house, because pageants have essentially created their own culture of "gay celebrity" status. Miss Gay America is a very big deal in this community. It can take many years for queens to move up its ranks. Audience members ranged from a 13-year-old girl who loves pageants but can't see the live performances that take place in bars to a gay, bearded man, 78, who keeps a picture of himself in drag on his phone.
"Our system has a future because I see a lot of new blood," said Williams, who travels across the country to each final preliminary as part of his Miss Gay America duties. "In Missouri there were 19 contestants, and 11 of them were first-time competitors at that state level."
One of the first-time competitors at Miss Gay Arkansas is Justin Lloyd, who performs as Nakita Sinclaire. She said she actually found her way to pageants because of RPDR.
"I was 15 when the show aired," said Lloyd, now 22, who on Friday night had performed a 1920s flapper cover of "Fancy." "I always knew what drag was, but I didn't really know a lot about it. But when I watched the show I was like, Wow."
Lloyd grew up in northwest Arkansas, where, he said, he was one of four other black kids in his small town. He continuously got bullied: "I was a black man, skinny, short, very effeminate, high voice, and I didn't care about sports." Though he didn't want to put himself into danger at high school, at 16 Nakita came out to his family, who found his sexuality "hard to handle." He graduated high school, then went off to college at the University of Arkansas, where he felt able to try drag. He initially kept drag from his parents, but recently he decided to tell his mom.
"Drag kind of helped my family with my gayness," he said. "My coming out was hard for my parents to handle, but seeing me in drag, they got it."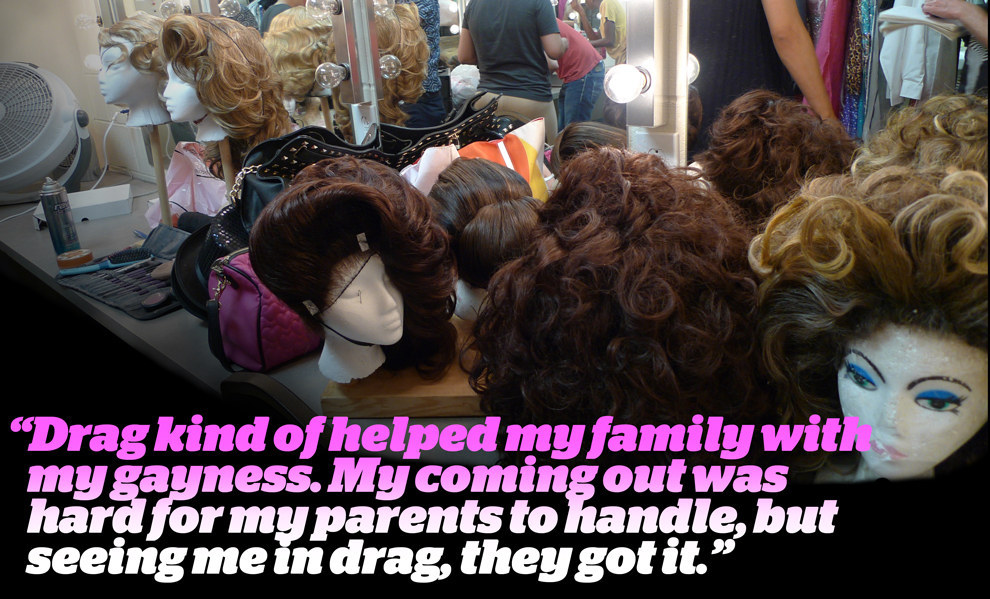 As Sinclaire, Lloyd dressed in a catsuit for the night's talent portion (300 points) and performed a mashup of "Everybody Wants to Be a cat" from the Disney movie Aristocats and "Memory" from the musical Cats. Blaze Duvall sat on a lone chair in a spotlight for her performance; she gripped a wire hanger for an emotional portrayal of Joan Crawford's Mommie Dearest. Alexis Herrington, contestant 4, sauntered onstage in a buttoned-up blouse dressed as Celie from The Color Purple. Herrington set a long dining table for four other performers, then broke out into Fantasia's rendition of "I'm Here." To close out the night's main talent portion, contestant 12, Eden Alive, busted out a full-on, fast-paced production of Lady Gaga's "Applause."

A chorus of yaaass followed each queen as she interpreted drag in her own way (while still mindful of the score sheet parameters). The two nights of competition blurred in the glitz of sparkly gowns. Emcees, former Miss Gay Arkansas winners (or "Forevers"), asked questions for the interview portion like: "What was your biggest obstacle in preparing for competition?" and "If a fellow competitor forgot their jewelry tonight, do you loan them yours?"
As the judges tabulated final scores, 15 Forevers stood backstage. Through a "passing of the crown" ritual, Forevers give their blessing to their newest sister. Missy Klein, 54, won the title back in 1992 and walked onstage to cheers and tears. This year Megan Michaels, Miss Gay Arkansas 2006, looked out into an audience where her mother, 80, watched her perform drag for the very first time. Generations of queens rocked hair so high Dolly Parton would die of jealousy. They stood decked out in floor-length gowns, some of which can cost upwards of $5,000. Pageants can get expensive, and most of the night's contestants had a long list of sponsors, such as their local bars, salons, and friends.
At around 1 a.m., after six hours of competition, contestant 12, Eden Alive, a former seminary student, visibly shook as the emcee announced she'd been crowned the new Miss Gay Arkansas. The crowd erupted for their new queen. Blaze's "little sister" Jessie Beard, 25, who gives the illusion Karma Koture, sat in the second row the whole time. Beard was born in a farming community with a graduating class around 25, and he's been doing drag for four years. He says it makes him feel beautiful. He worked as a nurse for six years, but quit to focus on this art. Now, he works three jobs — at a craft store, a pizzeria, and a bar — to pay his bills.
As the crown changed heads, Beard teared up. He thinks Arkansas's bigger cities, such as Little Rock and Hot Springs, are becoming friendlier places for the LGBT community, but he's still terrified to return to his small town.
"As a queen I'd never, ever go back to my hometown, because I'd probably be strung up," he said. "When I come to a pageant it boosts my confidence, because one day that could be me."