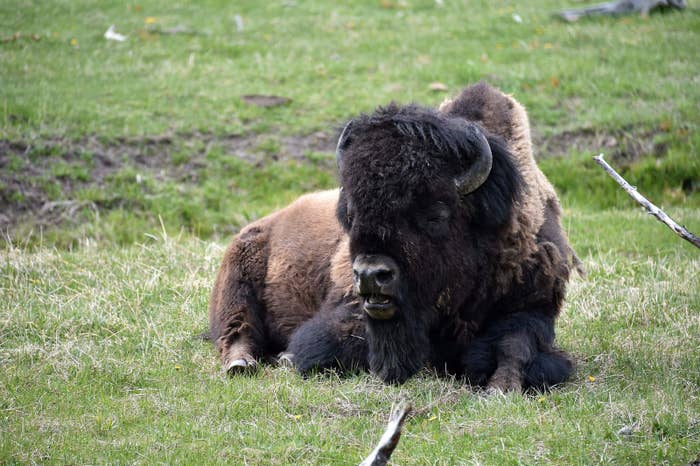 Two errant tweets from the National Park Service about President Trump's inauguration triggered a Twitter freeze across the Department of Interior this weekend.

The posts, which the NPS deleted, were "inconsistent with the agency's approach to engaging the public through social media," a department spokesperson said in a statement emailed to BuzzFeed News.
The news of the freeze was first reported by Gizmodo on Friday.
Both messages deleted by the agency were retweets from other accounts. The first noted that mentions to climate change, civil rights, and health care had been removed from the White House website following the inauguration.
The other, from New York Times journalist Binyamin Appelbaum, noted the difference in the sizes of crowds that attended the presidential inaugurations in 2009 and 2017.
(After White House spokesman Sean Spicer lied about size of the inauguration crowds at the first press briefing hosted by the Trump administration, these facts have become the latest flashpoint between Spicer, White House aide Kellyanne Conway, and journalists.)
"Out of an abundance of caution, while we investigated the situation involving these tweets, the Department's communications team determined that it was important to stand down Twitter activity across the Department temporarily, except in the case of public safety," the DOI statement said.

On Saturday, the NPS official account came alive again, after apologizing for "mistaken RTs" from the account. The post was accompanied by a photograph of a solitary bison walking away slump-shouldered down a tundra path.
A parody account that more explicitly criticized the new president sprang up in the interim. That account has since been suspended by Twitter, but not before it gathered at least 452 followers.
"The National Park Service was aware of this account and flagged it for Twitter's attention. We felt it violated Twitter's impersonation policy," Tom Crosson, a spokesperson for the National Park Service, told BuzzFeed News in an email.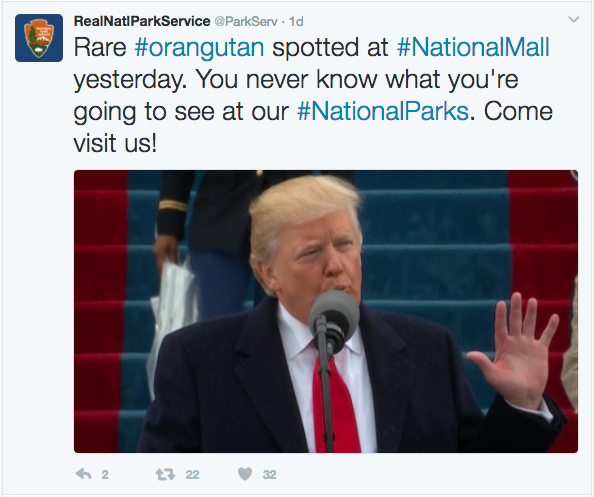 Several agencies within the DOI host lively Twitter accounts, among them the US Fish and Wildlife Service, the US Geological Survey, and the Bureau of Indian Affairs. Local national parks and sites also have individual accounts.
To add to the confusion this weekend, San Francisco lawyer Martha Bridegam noted on Twitter that another account belonging to the agency had flickered offline, before reappearing.

It belonged to the Andersonville National Historical Site, which served as a prison for the Confederate Army during the Civil War, where 13,000 Union soldiers died.
Another DOI account, belonging to the Vicksburg National Military Park, also went offline briefly, and all its tweets vanished. The account reappeared Monday morning.
The Park Service is not aware that this happened, spokesman Crosson told BuzzFeed News. "I don't know. We didn't tell them to take their page offline. You'll have to ask the park staff."
BuzzFeed News has asked both historical parks to comment.
UPDATE
This story has been updated to note that the Twitter account for Vicksburg National Military Park was restored.