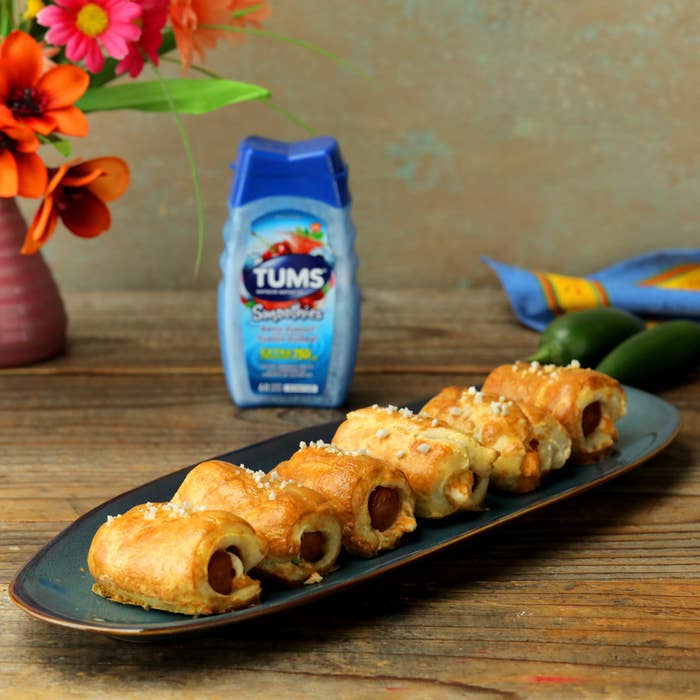 RECIPE
SERVINGS: 6

INGREDIENTS:
4 ounces cream cheese, slightly softened
1⁄2 cup shredded cheddar cheese
6 small jalapeño peppers
4 thin bun-length hot dogs
1 cup hot water
1⁄4 cup baking soda
1 ball pizza dough
1 egg whisked
1 tablespoon pretzel salt
PREPARATION:
1. Preheat oven to 350oF.
2. Mix together the cream cheese and the shredded cheddar until well combined. Set
aside.
3. Slice the stem and the bottom tip off the jalapeños. Slice each one in half and remove
ribs and seeds. Set aside.
4. Cut hot dogs into 3 pieces each. Set aside.
5. Whisk together hot water and baking soda. Set aside.
6. Roll out pizza dough to form a thin rectangle. Cut dough into small strips, 2" x 3".
7. Scoop about a teaspoon of cheese mixture into each jalapeño half, then press a piece of hot dog onto the cheese. Place jalapeño-hot dog at the bottom of a pizza dough strip, then roll up. Holding the bundle in the palm of your hand, generously brush dough with baking soda water, then place on a parchment-lined sheet tray. Repeat with the rest of the hot dogs and jalapeños.
8. On the tray, brush each one with egg, then sprinkle with pretzel salt. Baking for 15 minutes, rotating halfway through. Let cool for 5 minutes, then serve.