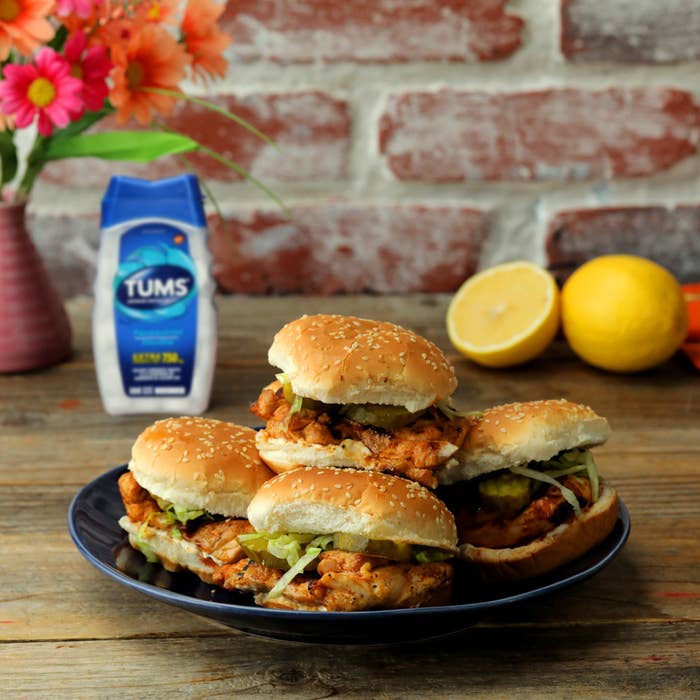 RECIPE
SERVINGS: 6
INGREDIENTS:

1 cup milk
1 tablespoon lemon juice
1 1⁄2 lb boneless skinless chicken thighs
2 tablespoons hot sauce
1⁄2 cup vegetable oil

1 tablespoon cayenne

1 tablespoon brown sugar

1 teaspoon garlic powder

1 teaspoon paprika

6 sesame seed buns, toasted

1⁄2 cup mayonnaise

1⁄2 cup bread and butter pickle slices

1⁄2 cup shredded iceberg lettuce
PREPARATION:
1. Whisk together milk and lemon juice in a small bowl and let sit for 5 minutes. 

2. In another bowl, generously salt the chicken. Pour hot sauce and milk over chicken and 
toss. Marinate for 30 minutes. 

3. Pat chicken dry after marinating. Heat grill to medium-high heat. Grill chicken pieces for 
3-4 minutes on each side, or until cooked through. Close grill lid if necessary to cook 
through. Remove chicken from grill and place on a sheet tray. 

4. In a small pot, heat the 1⁄2 cup vegetable oil with the cayenne, brown sugar, garlic 
powder, and paprika. Whisk well until the brown sugar dissolves. Brush spice oil over 
chicken on both sides. 

5. Assembly: Swipe mayonnaise on the bottom bun. Place a piece of chicken on, then top 
with pickles and lettuce. Serve!