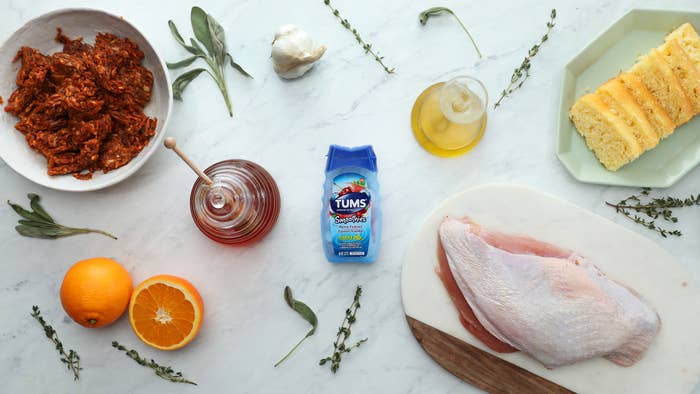 RECIPE
SERVINGS: 6-8
INGREDIENTS:

Chorizo-Cornbread Stuffing
2 tablespoons olive oil
1 yellow onion, minced
2 cloves garlic, minced
2 tablespoons minced sage
1⁄2 teaspoon thyme leaves, minced
2 teaspoons adobo sauce from a can of chipotle in adobo
1 pound Mexican chorizo
2 cups prepared cornbread, crumbled
1⁄2 teaspoon salt
1⁄2 teaspoon pepper
1⁄4 teaspoon orange zest
Juice from half an orange
Glaze
1⁄2 cup apple cider vinegar
1⁄2 cup honey
2 chipotle peppers from a can of chipotle in adobo
Juice of half an orange
Assembly
1 boneless turkey breast, butterflied, skin on
1 tablespoon olive oil
Kitchen twine
PREPARATION:
1. Stuffing: In a large saucepan, heat the olive oil. Add onion and garlic and sauté for 10 minutes, until translucent.
2. Stir in the sage and thyme and adobo sauce, then add the chorizo to the pan and sauté until browned and cooked through, 3-5 minutes.
3. Turn off the heat and stir in the cornbread, salt, pepper, orange zest and orange juice. Set aside.
4. Preheat oven to 425°F.
5. Season both sides of the turkey breast with salt and pepper.
6. Shape the stuffing into a log that runs lengthwise down the centre of the turkey breast.
7. Roll the breast into a log shape and secure with 5-6 evenly spaced pieces of kitchen twine, tied around the roast and knotted.
8. Place the turkey breast on a rack in a roasting pan, skin side up. Rub with the tablespoon of olive oil.
9. Roast for 20 minutes, then lower the temperature to 325°F and cook for approximately 50-60 minutes more, until the temperature of the roast registers 160°F on a meat thermometer. (Cover the roast with foil if the skin begins to darken too much.)
10. While the roast cooks, make the glaze: blend all ingredients in a blender, transfer to a small sauté pan and bring to a boil for 2-3 minutes, until thickened.
11. During the last 10 minutes of cooking, brush the roast with the glaze.
12. Let rest at least 15 minutes prior to slicing.