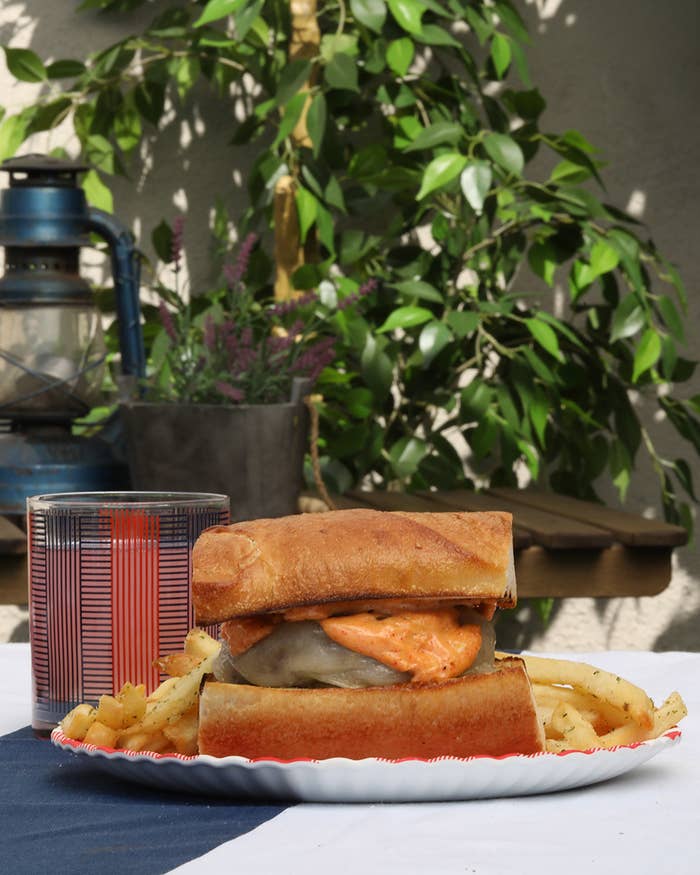 INGREDIENTS
Burgers
2 lb. ground beef
4 cloves garlic, minced
2 tsp. salt
1 tsp. pepper
1 tsp. onion powder
1/2 tsp. thyme
2 loaves French bread
12 slices provolone cheese
Garlic butter
1/2 cup butter, softened
1 1/2 teaspoons minced garlic
1/8 cup grated Parmesan
1 1/2 teaspoons garlic salt
1/2 teaspoon black pepper
Garlic mayo

1/2 cup mayonnaise
1 clove garlic, minced or grated
1/2 tsp. paprika
PREPARATIONS

Place ground beef in a large mixing bowl and add the minced garlic, salt, pepper, onion powder, and thyme. Using either your hands or a masher to mix, evenly work ingredients into the beef.

Divide the meat into six portions, shaping them into large burgers. Use your thumb to press a divot into the center of each burger to prevent it from bulging while it grills.

Wrap burgers in plastic wrap and allow flavors to meld in the refrigerator while you make the garlic butter and garlic mayo.

To make the garlic butter: Soften butter before placing in a small mixing bowl, then add garlic, Parmesan, salt and pepper. Mash thoroughly with a fork, stirring until evenly mixed. Set aside.

To make the garlic mayo: Combine mayo, minced or grated garlic, and paprika in a small mixing bowl. Return to the fridge until ready to plate and serve.

Slice each loaf of French bread crosswise into thirds, then slice each of those pieces in half. Brush with garlic butter and set aside.

Preheat half your grill to medium-high heat (between 350 and 400F) and brush with oil. When ready, place burgers over the flame, grilling 5 minutes per side. Baste the burgers with garlic butter as they cook, taking care to monitor the flame for any hot spots.

After grilling for 10 minutes, move burgers to cooler side of grill, cover with 2 slices provolone and close the lid. The cheese will melt in 1-2 minutes.

Remove burgers from grill, allowing to rest for a few minutes. Meanwhile, place the French bread buns (covered in garlic butter) over the medium-high flame. Remove after 4-5 minutes or when golden brown.

Place burgers between French bread buns and top with garlic mayo. Enjoy!