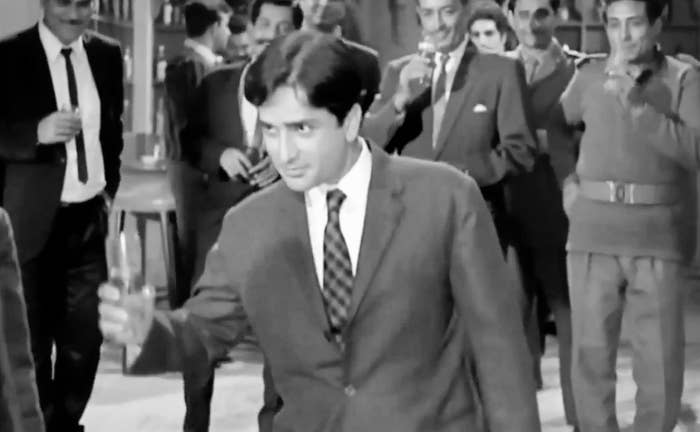 Veteran actor Shashi Kapoor was devastatingly handsome, charming, and urbane – a trailblazer who made a quantum leap from Bollywood to Western and parallel cinema, and whose crooked teeth bewitched millions with every imperfectly perfect smile.

He was also a raging alcoholic.
On 4 December 2017, he died at Kokilaben Hospital in Mumbai after initially being admitted for a "chest infection".
The Shashi Kapoor who died was not that same strapping hero whom most remember in his films. For years, he endured a "long battle" with liver cirrhosis, as well as kidney failure.
Aseem Chhabra writes in the biography Shashi Kapoor: The Householder, The Star that Kapoor's drinking problem began to spiral after the death of his wife Jennifer Kendal in 1984. The actor's "domestic staff would bring refills as soon as his glass emptied out. He wouldn't even have to ask… by the end of lunch, he would be quite sozzled."
According to the biography, Kapoor drank up to a bottle of vodka per day.
Officially, Kapoor's cause of death was cited as "liver cirrhosis" – a condition that leaves the organ incapable of purifying blood and more susceptible to subsequent illnesses.
I'm not sure what passes through most people's minds when they hear the word "cirrhosis". As a physician, I think immediately of the patients I have seen hospitalized with some of its worst consequences: liver cancer or life-threatening bleeding from engorged veins below the throat. When you've watched enough people vomit blood to their deaths, cirrhosis stops being an obscure medical term in gastroenterology and becomes a horrific cause of death.
Of course, none of this was mentioned in the numerous articles written in the wake of his passing, which focused more on his celebrated career than his sorry demise.
Alcohol abuse, plain and simple, is the most common cause of cirrhosis in India. The country adds 10 lakh new patients diagnosed with the disease every year, accounting for nearly one-fifth of the global death toll due to a largely preventable condition.

Yet Shashi Kapoor's death wrought no battle cry to raise awareness of alcoholism. Deaths from suicide or lung cancer frequently spark national conversations about mental health or tobacco use respectively. Why is alcohol abuse so different?
Despite being no stranger to addiction behind the camera, Bollywood's depiction of alcoholism onscreen throughout the years has been shallow at best.
From as early as Rajesh Khanna in Kati Patang, who eventually died of liver cancer after decades of alcohol abuse, or Dharmendra in Sholay, who later revealed his real-life drinking problem destroyed his career while promoting Yamla Pagla Deewana 2, classic Bollywood films frequently glorified a hero who drowns his sorrow in drink.
If it comes as a shock that Rajesh Khanna's cancer was entirely due to his drinking problem, don't feel bad – as usual, nobody talked about it.
Behind the scenes, Bollywood often scrambled to hide the vices of its stars, particularly among its women, at a time when drinking was taboo. After years of heavy alcohol abuse, tragedy queen Meena Kumari's poor health became so visibly apparent that the entire song sequence for "Chalo Dildar Chalo" from Pakeezah (1972) was reportedly shot in a way that would hide her face from the camera lest the public realize the extent of her addiction. She died of liver cirrhosis within weeks of the film's release.

Similarly, popular singer Geeta Dutt died of cirrhosis at the young age of 41 after alcohol had ravaged her liver. When Dutt missed recording appointments (opening more doors of opportunity to the Mangeshkar sisters) or could not go on stage because of her inebriation, excuses were fabricated to hide her addiction from fans. The irony of Meena Kumari lip-synching Geeta Dutt's booze-induced plea "Na Jao Saiyan" from Sahib Bibi Aur Ghulam still haunts the ugly history of alcoholism in Bollywood.
But our society has evolved and so have our films. India has long shed its reputation as a nation of teetotallers. Women who drink, once relegated in classic Bollywood movies to scandalous, cringeworthy hiccups after each sip, are now allowed to keep up with (and outshine) the alcohol tolerance of their male counterparts.
Bohemian beauty Parveen Babi flaunted her drinks with insouciance in hit films Deewar and Namak Halal, helping usher in a new age of liberalisation for young women. When she died in 2005, a past marred by real-life alcohol and drug addiction resurfaced.
One of the most well-known cases of behind-the-scenes addiction is comeback actor Sanjay Dutt, whose alcoholism is said to have forced a split with his first girlfriend, actor Tina Munim. His stark tale of addiction is most notable for its unusual twist – he actually sought rehabilitation in the United States in the early 1980s. To his credit, Dutt has recently discussed plans to open rehabilitation centers in India for those who cannot afford treatment abroad.
While Dutt remains among the very few who have openly sought help, rumors continue to fly of the drinking problems of other major stars, including Shah Rukh Khan, Suzanne Roshan, Arjun Rampal, and Sonam Kapoor.
Today, films demonstrate that drinking is not merely glamorous, but de rigeur in modern social spheres of any class.
Top-billed heroines Anushka Sharma and Deepika Padukone carry guilt-free drinks in their hands just as casually as their cellphones, without any obligatory scenes of subsequent shame (debauchery, of course, is optional).

Blockbusters now routinely feature a club or bar scene complete with a catchy, raucous dance number that make the days of Helen's drunk "Piya Tu Ab To Aaja" from Caravan seem laughably tame. Recently, music producer turned singer Honey Singh helped usher in an era of Bollywood music that goes beyond praising the simple pleasures of intoxication. His hit "Chaar Botal Vodka" from Ragini MMS 2 celebrates binge-drinking, a dangerous theme recurrent in his music and his personal life. After an 18-month hiatus from the music industry, Singh disclosed his struggle with alcohol addiction and bipolar disorder.
Last September, Shashi Kapoor's own great-nephew and modern-day heartthrob Ranbir Kapoor discussed having an alcohol addiction with Vogue India in the aftermath of his breakup with actor Katrina Kaif. "I have seen it in my family, I have seen it go the wrong way," he said. "So I'm aware I have a drinking problem."
This profound moment of maturity and self-realization is buried deep within the article. Vogue quickly glossed over the rare opportunity for impactful discourse, but not before assuring the reader: "For the record, the beverage of choice is a cold draught beer."
A cold draught beer?
The most important follow-up to that revelation was unequivocally not which drink Kapoor likes to binge on. This fun fact feels strangely like an affirmation, as if instructing the reader on what next to order at the bar in order to become a cool alcoholic a là Ranbir Kapoor.
Again, this is not wholly surprising from a country which was able to quickly forgive, forget, and worship an actor like Salman Khan who was found guilty for killing a man in 2002 while drunk driving (he was later acquitted of charges).
After all, someone's drinking problem is not a real issue (c'mon, it's just for fun), and even if it is, it doesn't affect other people, right?
Wrong.
Alcohol abuse is a major public health concern in India. Approximately 1/3 of domestic violence incidents occur while intoxicated, and a whopping 60% of all emergency room visits involve alcohol.
Consumption of alcohol is highly politicised, and a hot election issue in many states. In Tamil Nadu last year, the now-deceased former chief minister J. Jayalalitha began to shut down hundreds of liquor stores in the public sector in a move that many believed would pave the way to complete prohibition. A ban on alcohol in Kerala was reversed earlier this year when the Left Democratic Front defeated the previously prohibitionist government. Several other states have experimented similarly. Drinking is currently banned in Gujarat, Nagaland, and most recently Bihar. The state of Gujarat, in fact, has gone so far as to impose a death penalty for moonshine.

Yet despite multiple attempts by state governments to curb it, alcohol abuse is rising rapidly. In the last 20 years, consumption in India has increased over 55%, one of the fastest rates in the world. And a majority of Indian drinkers meet criteria for "hazardous drinking".
It would be unfair to place the entire blame for India's drinking problem at Bollywood's door.Yet there appears to be an undeniable complicity.
A study released in 2012 demonstrated that Indian adolescents aged 12-16 who were exposed to alcohol consumption in Bollywood films were almost three times more likely to drink than those who were not.

Is it actually surprising then that the average age of drinking initiation has dropped from 19 years old to 13 years old in the last 20 years?
When art mimics life and life mimics art so fluidly, how do we know where to start dismantling the romance of alcoholism?
The complete banning of alcohol consumption in films would be ludicrous, and would fan the dangerous flames of artistic censorship with which India is already struggling.
A better place to start would be a more holistic depiction of alcohol abuse in Bollywood films: Keep the lustre of getting tipsy with friends at parties and the hilarity of its use as a social lubricant, but also show the families who fracture from it, and the medical emergencies that alcohol can provoke.
Audiences deserve a balanced, realistic perspective somewhere in between the melodramatic trainwreck of Amitabh Bachchan in Sharaabi and the rosy naivety of Kangana Ranaut in Queen.
If only alcohol were like tobacco. Unlike drinking, smoking is categorically harmful to health and increases mortality. And cancer is a scary word we can all get behind, a serious and common outcome of cigarette smoking. Because of this, the government controversially passed a smoking ban in Bollywood films that was effective (more or less) from 2005 to 2009.
Yes, the move failed spectacularly, but the message was clear: Smoking kills, and we need to do whatever we can to try to stop it.
Alcohol, however, is far more nuanced. In moderation, alcohol is perfectly acceptable, socially and physiologically (well, usually). In fact, research has demonstrated the health benefits of moderate amounts of red wine. But defining the limits to moderation is where things become murky, and recognizing the signs of addiction plays a key role.
To make matters worse, the transition from being social drinker to having a drinking problem carries all the baggage and stigma of a mental health issue that tends to be ignored, downplayed, or villainised.
So perhaps that is why when a legend like Shashi Kapoor dies from the consequences of alcohol abuse, we like to shrug it off.
If we continue to polarise alcohol addiction toward flippancy or toward shame, the numbers of Indians dying from it will continue to rise.
Sadly, like many banes of modern medicine, cirrhosis is preventable but not curable. An easy vehicle of escapism, alcohol abuse has emerged as a critical public health concern in India that we are falling precariously short of addressing. In one of Shashi Kapoor's beloved Bollywood hits, Sharmilee, he plays an army officer whose romantic misadventure drives him to alcoholism. He sings tearfully:

"Ab toh karo kuchh aisa yaaro, hosh naa hum ko aaye."
["Now do something, friends, so that I don't return to my senses."]
How tragic that his wish came true.
---
An earlier version of this essay erroneously stated that the biography Shashi Kapoor: The Householder, The Star had been written by Anil Dharker. The error is regretted.