Terrorists Walk Around Like No Biggie.
Via Giphy.com
coup d'etat schmoo d'etat.
Coup d'etat of 1990. Look it up.
Many of Us Have Either Been Kidnapped, Held Up or Know Someone Who Has.
Giphy.com
Thug Life.
Just google; Trinidad + Crime. Do it.
Almost Half The Country Is Functionally Illiterate
Giphy.com
Meaning around 400 000 Trinis will struggle to read this. Badly done archaic and colonial education system, badly done.
Quote from online magazine: Outlish.
"Well… according to the United Nation's (UN) 2009 statistics, 98.7% of Trinbagonians 15 years old and older is literate, as is 99.5% of the 15-24 age group. Are you as shocked as I was?
This news was just too good to be true, so I took to Google again for more evidence to support this high number and found a letter to Newsday's editor, written by CEO of the Adult Literacy Tutors Association (ALTA), Paula Lucie-Smith, in April 2010. Scathing in her approach, Smith indicated that the correct figure is in fact 45%, and that although the last scientific survey of T&T's illiteracy rate was conducted in 1995 by The University of the West Indies (UWI), it was certainly still relevant. Surveys by ALTA and UWI, in 1994 and 1995, respectively, also show that 22-23%, or one out of four persons in Trinidad and Tobago are unable to cope with everyday reading and writing."
Corruption In Trinidad Is Like Taylor Swift. i.e. Everywhere And In Everything
Giphy.com
We just can't Shake It Off...See what I did there?
VICE recently did a piece entitled; "Corruption, Cocaine and Murder in Trinidad."
'nuff said.
Our Historical Buildings Are Torn Down Constantly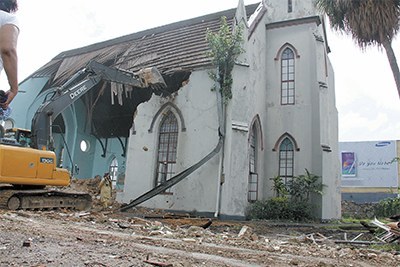 You Can Still Legally Flog Someone In Public. With A Cat o' Nine
Giphy.com
Again, you can still LEGALLY flog someone. Not for fun. Sorry Christian.
A Gay Person Can Be Denied Entry For Being A Normal Human Being
Giphy.com
The constitution of T&T can kiss my lily white ass. The Caribbean LGBTQ community rules.
An excerpt from a March 2015 New York Times article titled; "Caribbean court hears suit against 2 nations anti-gay laws."
"Trinidad & Tobago's immigration law drew criticism in 2007 when gay pop star Elton John had to obtain a waiver to perform there amid opposition by religious groups.
Tomlinson, who testified before the Trinidad-based court from Jamaica so as not to knowingly break the twin-island country's law, argues that non-enforcement is no reason to keep the discriminatory laws on the books.
"If the state has no intention of enforcing the law, then the logical thing to do is change it," Tomlinson said on his Facebook page before Wednesday's hearing.
Janet Burak, a lawyer who is AIDS-Free World's deputy director and attended the hearing in Trinidad, said that there was no ruling at the close of two days of hearings and that the regional court now has three months to render a decision.
The two countries named in Tomlinson's lawsuit are among nearly a dozen English-speaking Caribbean nations that have anti-sodomy laws that outlaw homosexuality between men.
There Are No Laws Protecting Animals Against Extreme Cruelty
Giphy.com
Emphasis on Protecting. Dogs are poisoned for no reason. Robbed from their homes. Puppies are murdered. Welcome to the jungle.
An excerpt from a local animal welfare advocate detailing the antiquated and unenforced "laws" that do nothing to protect our animals.
"Section 90 gives power to order the destruction of the animal and disposal of its body at the expense of the offender to the Commissioner of Police if the court thinks it fit as part of the sentence. No information is given as to the means of destruction and in many cases inhumane methods have been used by inexperienced handlers. Euthanasia should be the role of a trained veterinary surgeon via the lethal injection. In summary, Trinidadians and Tobagonians may seem blessed; but our animals are clearly cursed."
Drugs + Guns! Oh My!
Giphy.com
Not always weed. The hard stuff too. Also, our borders are not sufficiently protected from rampant drug trafficking. This is partly due to the alleged corruption within the Coast Guard.
Example of one such incident reported in 2010.
"British and Spanish police are investigating why 1.5 tonnes of cocaine, worth close to $1 billion, left Chaguaramas earlier this month aboard a yacht headed for Spain..... Three men, a Spaniard and two Frenchmen, are being questioned about from whom in T&T they collected the drugs and how they managed to make it out of the country undetected. Spanish police are saying further arrests may follow soon."
An excerpt from a report by Seyi Rhodes in 2011, a reporter for Channel 4 in the UK.
"It's already hard to understand the government's position on many issues. They cancelled a £150 million contract for 3 new coast guard boats this year, claiming they were too expensive, but many in the know told me they were essential in the fight against drug and gunrunners."
A report from Trinidad's Guardian Newspaper two days ago.
"Two and a half million dollars bail was granted to a coast guard officer today who appeared in court charged with trafficking $1.8 million worth of marijuana."
Real Talk.
The people of Trinidad + Tobago are tremendously capable and full of glorious potential. There is just nothing set up in our twin-island nation to remind them of these simple facts.
At the end of the day, Jack Warner is merely one casualty of a historically faulty republic. Time for change? I think so.