We hope you love the products we recommend! All of them were independently selected by our editors. Some may have been sent as samples, but all opinions and reviews are our own. Just so you know, BuzzFeed may collect a share of sales or other compensation from the links on this page if you decide to shop from them. Oh, and FYI — prices are accurate and items in stock as of time of publication.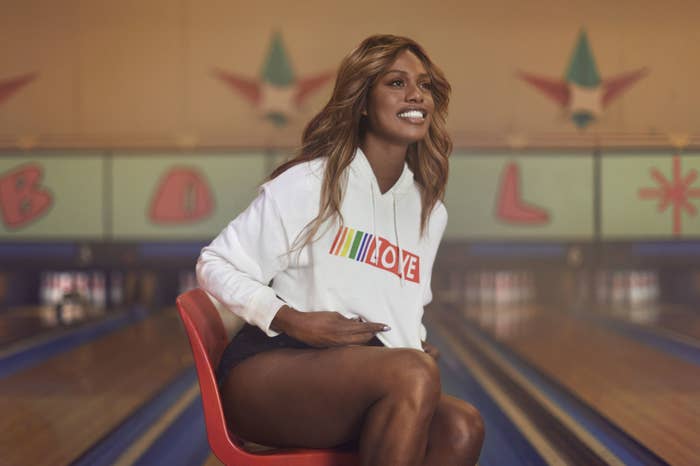 With a delicate orange wing of eyeliner sweeping her lids, Laverne Cox's brown eyes twinkle in lights of her trailer's vanity mirror as her glam team finishes the final touches on her look for the day. 

The actress and LGBTQ icon is minutes away from kicking off the photo shoot for H&M's new Stay True Stay You collection to celebrate Pride — which features Laverne alongside LGBTQ celebrities and influencers Rickey Thompson, Chris Lin and Brock Williams of Yummertime, and Shannon Beveridge.
"When they told me about this campaign, I thought it would be really wonderful. It would be a campaign for the people," Laverne says excitedly. "It's about owning who you are. It's about being authentically you. It's about celebrating Pride and who you are every single day. That is everything I'm about." 


And amid her hairdresser's final brushes through her tousled waves and last-minute adjustments to her summer-ready outfit of a cropped sweatshirt and cutoff shorts, Laverne remains unmoved by the soft hum of activity in her trailer as she opens up with BuzzFeed.com about the power of listening, the importance of holding onto your dreams, and why the 50th anniversary of the Stonewall Riots is such a monumental moment for the LGBTQ community.
Why were you drawn to collaborating with H&M for their latest Pride campaign?
"50 years ago, the patrons of Stonewall were raided by the police. And of course, 50 years ago, in 1969, same-sex dancing was illegal. What they called cross-dressing at the time — or they actually used the term masquerading — was illegal. So if you were assigned male at birth, you had to be wearing three articles of clothes associated with the gender you were assigned at birth, or you'd be arrested. 


So when Stonewall was raided, when gay bars and LGBTQ bars were raided at the time, the patrons would be lined up, and they would say, 'What are you wearing?' And that fateful night in 1969, the patrons of Stonewall said, 'We're not going to take this anymore.' I think they were inspired by the Civil Rights Movement that was happening at the time. They were inspired by some of the Women's Rights actions that were being taken, and they fought back. That was the beginning of the modern LGBTQ Rights Movement, and we are celebrating that this year."
What do you hope people will take from this campaign that encourages us all to simply be who we are?
"It's still really hard. I've traveled the country. At this point, I've traveled the world and have met LGBTQ youth and trans people all over the world who are scared to go to school or can't go to school because they are being discriminated against. They can't leave their homes because they're being beaten up in their neighborhoods. It's really difficult and tragic. And I think it depends on where you live, in terms of whether it will get better. 


What sustained me for so long was having a dream and having something that I believed in that was bigger than me. Being an artist is something that has consistently saved my life. If you can find something that you love and that you're passionate about and find a sense of purpose in life that is bigger than you are, it kind of begins to make sense of it all. 


And if you can find one person who sees you as you and accepts you as you, hold on to that person, I always say, in a non-codependent way. But that's all we need is to have that mirroring. It's not about a lot of people. It's really about that one person that you feel like you fully belong with."
Can you tell me how you actively continue the fight for equality for LGBTQ people and to make trans people visible and their voices heard?
"I have to constantly ask myself, 'How do I prioritize my time?' What specific political measure am I going to focus on, or ballot initiative?' But ultimately, so much of what I do is about telling stories. I'm pitching TV show ideas and some film ideas now. Hopefully, we'll get some more of our stories told. I think, not only being in front of the camera but being behind the camera, in terms of being in control of telling our stories, because the media is a crucial part of that. 84 percent of Americans don't personally know someone who's trans. So what we do in the media is crucial. 

I think in our everyday lives, too, the ways in which we talk to each other about these issues is really important. How are we really being inclusive?
"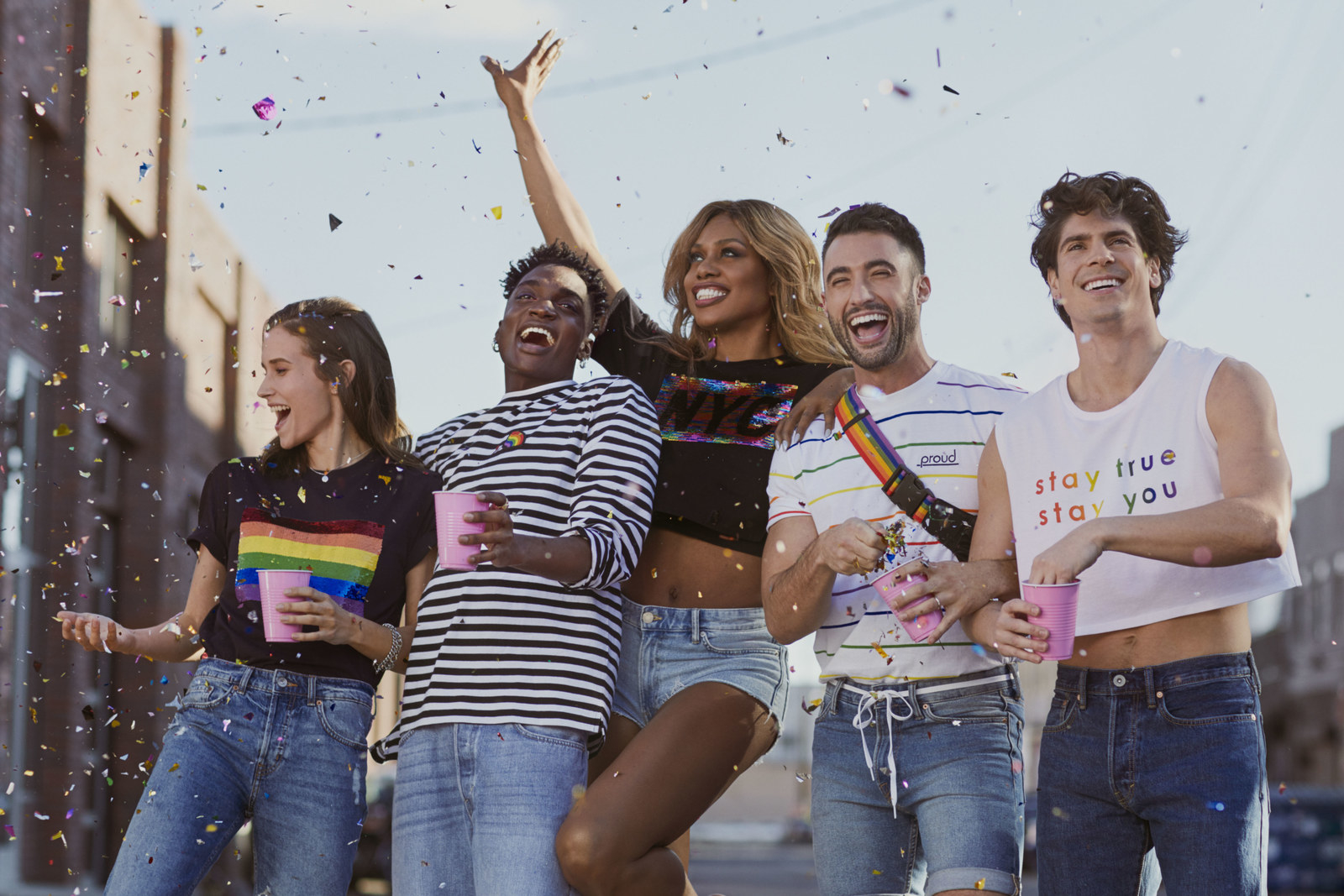 What are ways that you take ownership of who you are and how you want to be seen?
"It's a practice that has to happen every day. I love what Brené Brown says and the way she kind of defines authenticity. I'm paraphrasing, but she says, 'Authenticity is letting go of who you think you're supposed to be to embrace who you really are.' And that is really something that has to be something that you practice. It's not something that like, 'Okay, I'm authentic. I'm good.'


It's something that we have to make decisions about every single day in a political environment. Am I going to speak out? Am I going to speak up? Am I going to show up and let myself be heard and state my opinion? Am I going to wear something that I feel really good in even though I might be harassed on the street?
"
I transitioned medically 20 years ago. Before that, I started wearing makeup and dresses and 'women's clothes' in high school. And I didn't transition until after college, medically. I had many years in Alabama, in Indiana, and then living in New York City in a gender nonconforming space, being read and seen as male but then presenting in a very sort of androgynous, gender nonconforming way, and it was not safe for me on the street. It was not safe for me in New York City, leaving my home. Every time I left the house it was like, 'Is somebody going to try today? Am I going to get back safely?'"
But you choosing to be true to yourself despite those worries is such an inspiring example for us all.
"That choice was about me needing to be in the world as myself and needing the world to see me as me. And it was not easy. My life is really great in so many ways now. But for so many trans folks here in the States and all over the world, it's still really difficult to be trans. We experience so much violence and discrimination. I could go through all the laws and all the things that are being passed to try to limit our abilities to be who we are. 


For those people who are trans or gender nonconforming, to go out into the world as who you are, I think that is one of the bravest things you could do in this world. And I've always believed that trans and gender nonconforming people are some of the bravest people that you can meet. For me and for a lot of trans and gender nonconforming people, the choice for us is like, 'Do I want to die internally. Or do I want to live and be myself?' And I think that the piece of choosing to be you in the world, even when it's hard, is way more gratifying than trying to be someone you're not."
And what role do you think the language pertaining to identity in the LBGTQ community plays in the fight for equality and inclusivity?
"I'm not language police, so I'm not one of these people who says you shouldn't say this or you shouldn't say that. I think we should respect people and their pronouns and how they want to be referred to. And language is also a place of struggle, to quote Bell Hooks. The language piece is crucial in terms of how do we really begin to be inclusive. If you really are interested in being really inclusive in terms of gender, in terms of race, in terms of sexuality, that language is a huge part of that.
And my thing with language, too, is that if people want to say stuff, I just want them to understand the historical context of that. They need to know the political context of it and how it may affect the real lives of people. I'm not anti N-word, for example, but we should be aware of the history of how the N-word is used. And if you want to say that because we have freedom of speech in this country, and if you're an artist who needs to say that, be aware of the historical context. Be aware that there are consequences to your free speech. So if somebody has a problem with it, that is a consequence. That if people are hurt by it, that is a consequence."
Can you think of any other important factors when it comes to conversations regarding equality?
"We should also be considering how do we really invite people in and listen to them? So much of the work is about listening. I talk a lot, as you can see, but a huge part of my job is listening. At this point, I've become this rather privileged working actress, and my world has changed a lot in the past six years. So my job, more now than ever before, is about listening to the people who are most marginalized, listening to the people who are struggling financially and don't have the same access that I do, figuring out what they need, and elevating their voices as much as possible. That's constantly my work."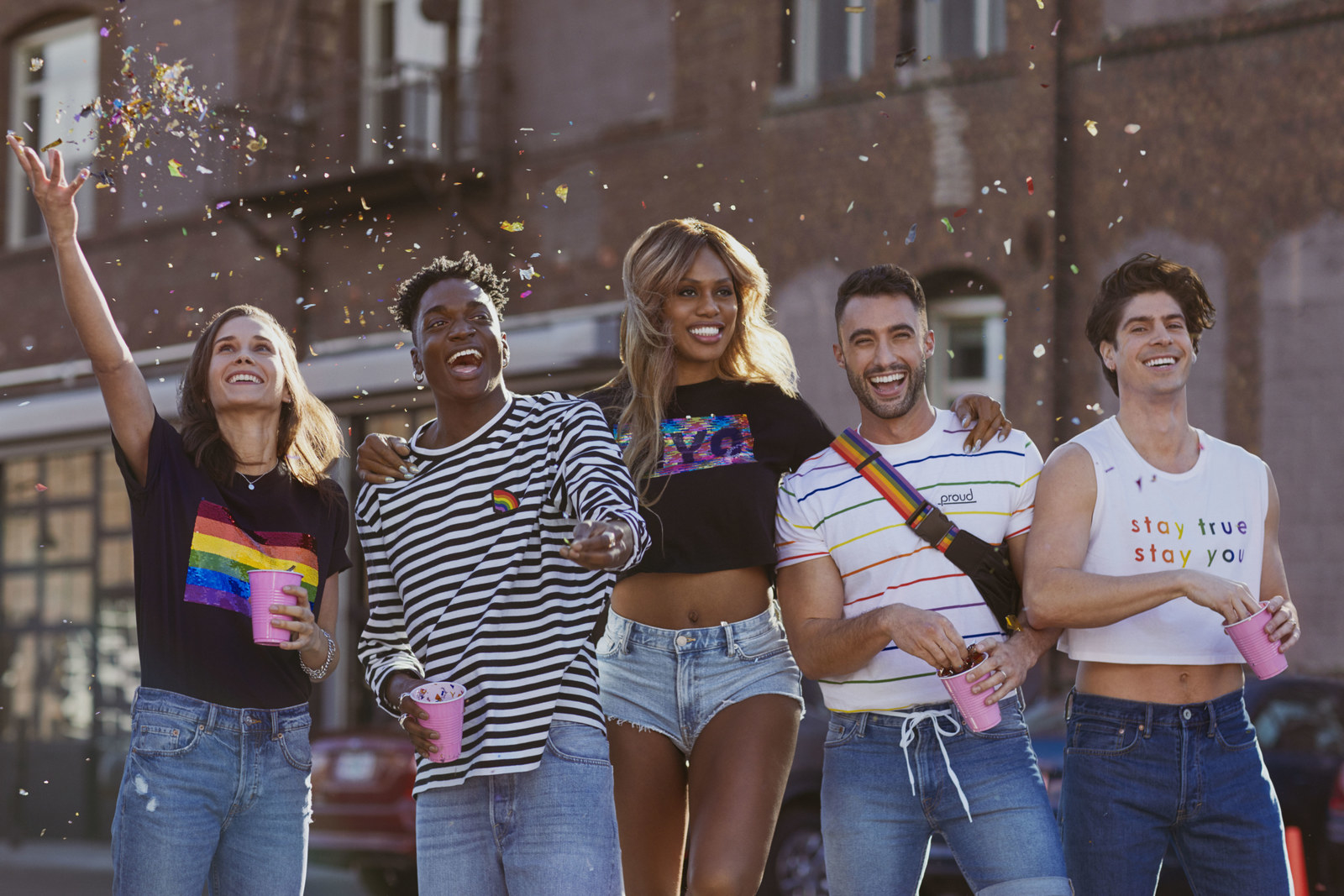 To change topics a bit, you are known for your great personal style. Are there any items in your closet you think are a strong representation of you?
"That's changed so much. When I was in high school, that may have been the 99-cent, leopard-print, polyester bell bottoms I got at the Salvation Army. I lived for leopard print in high school. I had so many leopard print things. And I loved pillbox hats. I had a shaved head. And then I was into peplums for a while. Peplums were like a thing, and I was obsessed with peplums. People hated the peplums on me, but I didn't care. 

But to be real, jean shorts in the summer are my jam. It's jean shorts and a ballet flat every day. And maybe I'll add a hoodie and whatever sunglasses I'm feeling and just being really easy. I love pigtails when I'm flying."
What about when it comes to red carpet looks?
"For events, that's a different thing. I'm just really interested in pushing boundaries in terms of what I haven't done yet. I loved what I wore at the SAG Awards. It was that beautiful Zac Posen dress with the back necklace that we had custom-made. And I love what I wore for the 11 Honoré fashion show, which was also Zac Posen. And then I loved the Zhivago dress I wore the night before the SAG Awards. 


I like feeling sexy. I mean, feeling sexy is really important to me. I've come to really — especially as I get older — understand that feeling sexy has always been important to me because. For a while, I felt like the world wanted to desexualize me. So feeling sexy in a way that has a certain level of sophistication is really important."
What are some of your style inspirations?
"I love opulent, over-the-top couture. I'm obsessed with '60s Balenciaga. I'm also obsessed with early '90s Mugler. I love the theatricality of fashion. I've been obsessed with McQueen since he arrived on the scene. I love avant-garde fashion. I want to push some more boundaries in terms of fashion. A lot of it's about the collaborators because I don't design. And we've been very blessed to work with some great folks. 


But overall, every day, I'm super casual. And for me it's also about handbags. Because no matter if you gain weight or lose weight, or your feet even swell, a bag is going to be there."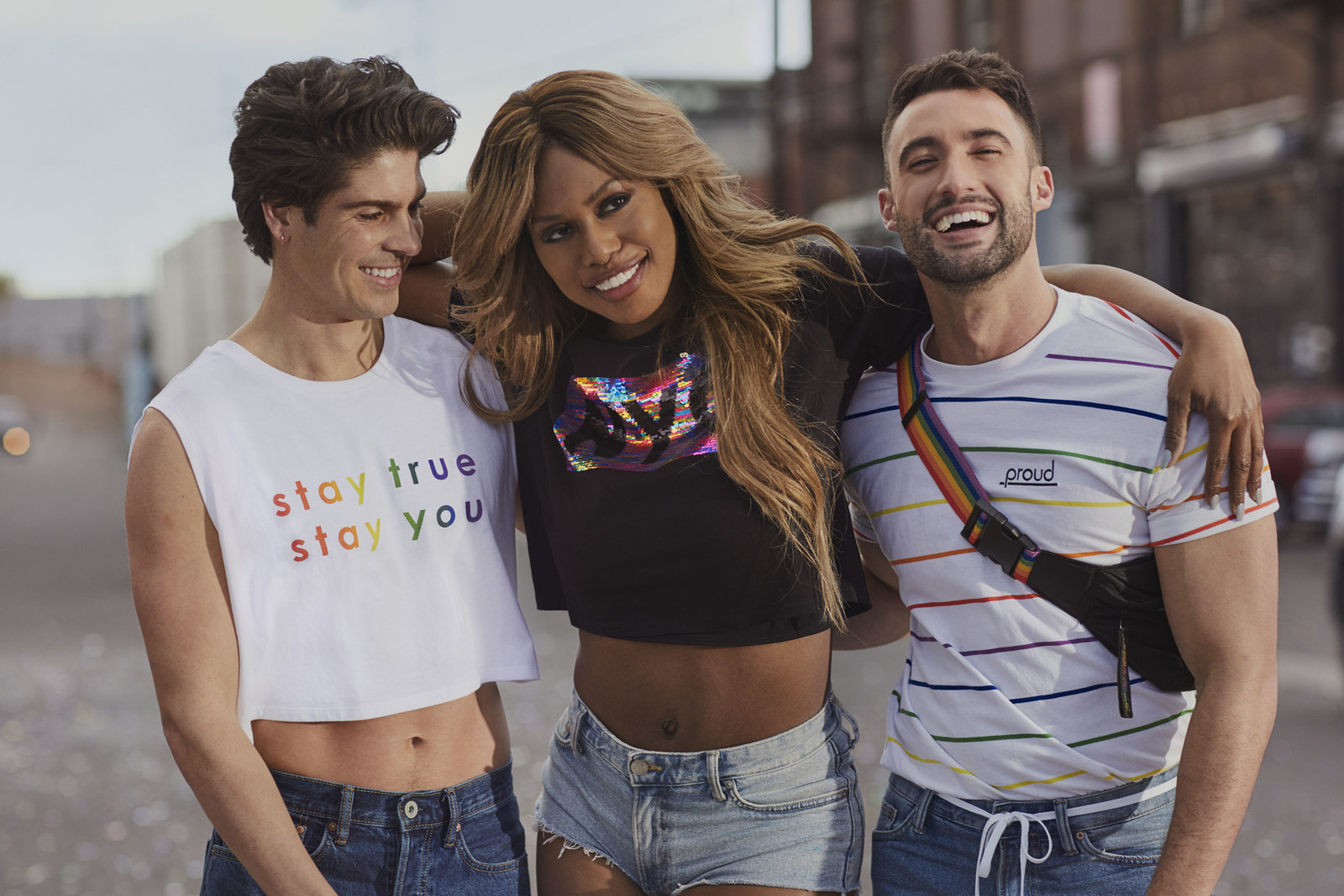 Do you have a dream bag that you want and haven't purchased yet?
"Right now I'm obsessed with my Fendi Peekaboo Defender. It's the 10th anniversary of Fendi's Peekaboo. I think it's so practical. If you have the Peekaboo already in a small or a medium, you can change out your Defender, and they're at a lower price point. So I think it's just genius marketing. Because I think affordability is super important.


I also have a vintage Dior Oblique canvas bag collection that I've been doing for years. I've been collecting vintage Dior for a long time because I just love that monogram, and I think it's really beautiful."
And what's one of your favorite pieces from the H&M Pride collection?
"This LOVE sweatshirt I'm wearing right now. I feel like it is a must-have for the parade. The parade's going to be hot, so you have your little midriff showing. It's sexy and it's functional. It's been so important for me, with all the body stuff, that at every weight, I'm embracing and celebrating myself. And whatever size you are, you can rock your midriff in this sweatshirt and live it and love it."