Screened at the 2013 Minnesota State Fair, the 2nd Annual Internet Cat Video Film Festival drew more than 13,000 feline fanatics from points both near and far for two days of cats, cat videos, and cat culture.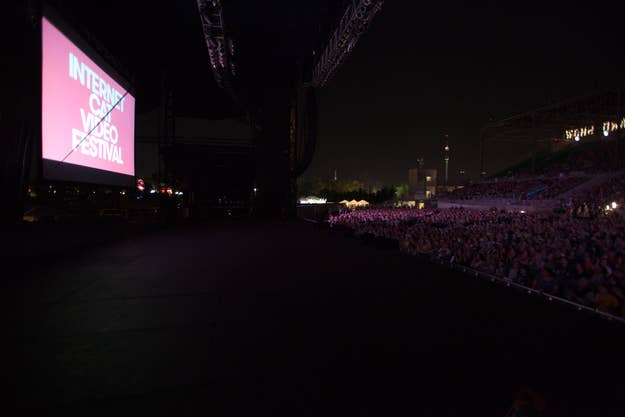 Developed with the self-professed goal of taking the online experience offline and sharing the best of the genre in a non-ironic, social setting, the festival and its curators seek to address one burning question: are cat videos art?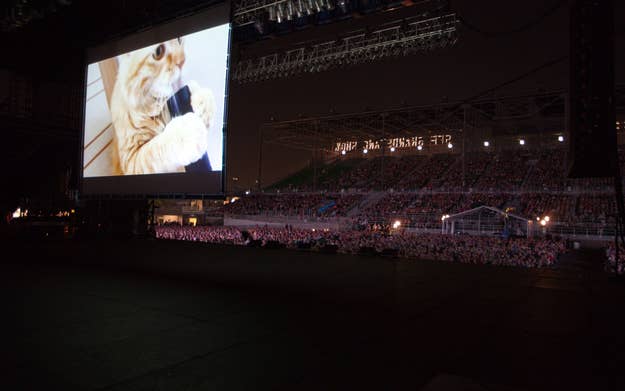 Jurists sifted through a pool of over 10,000 nominees, of which roughly 80 were selected for inclusion in this year's reel.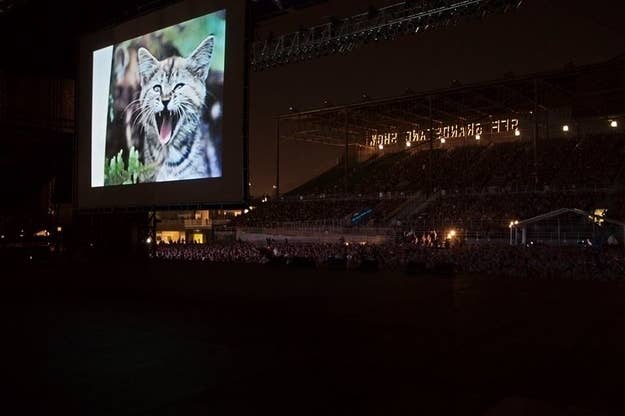 Sourced from a wide array of countries — Russia, Austrlalia, Japan, and all over the United States — the videos were grouped in "Cat-egories": Comedy, Drama, Foreign, Animated, Musical, Documentary, and Cat-On-A-Stick, which honors locally produced clips.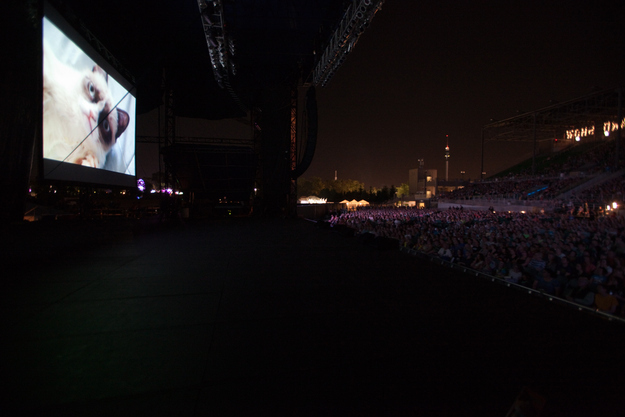 Compiled below are some of the things we saw, we loved, and we ate (not cats, obvs).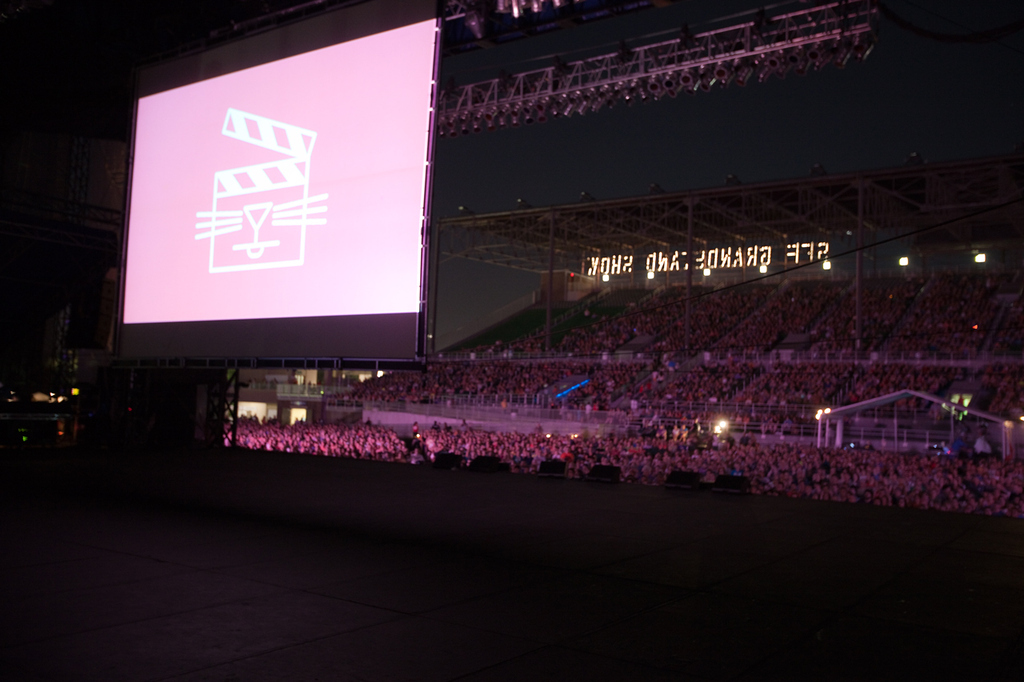 1.
Don't mess with Keyboard Cat, he's got people. LOTS of people.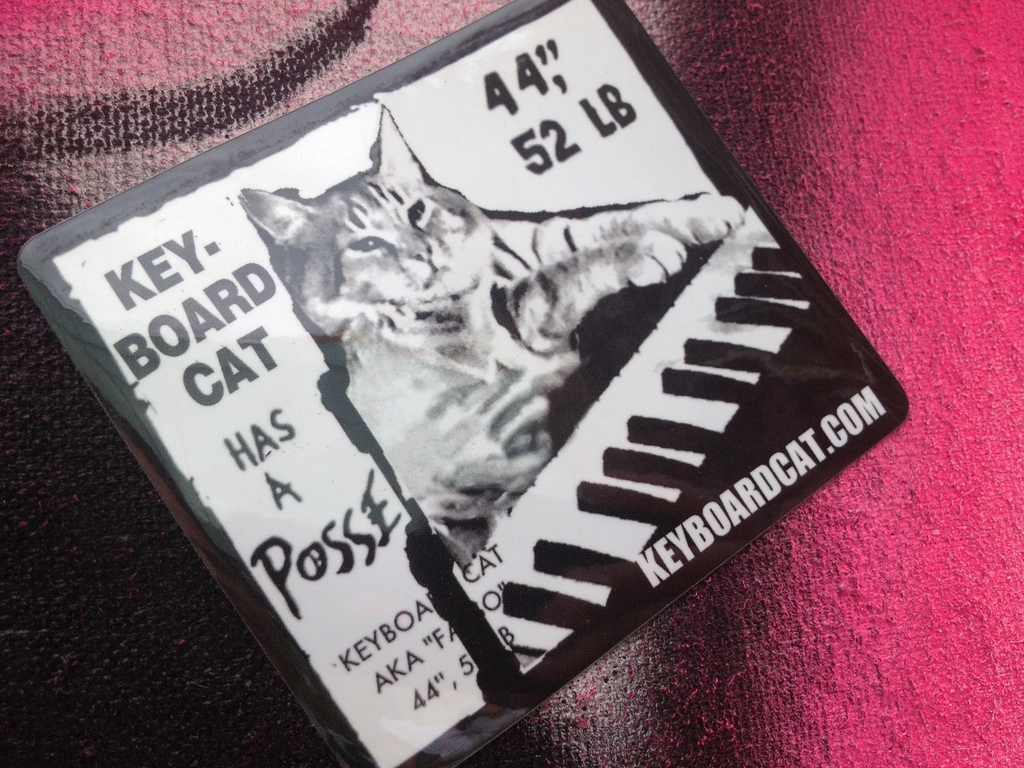 2.
Here's Chris Torres (right), creator of Nyan Cat, on Day 2 at the Walker Art Center. He absolutely ADORES his fans and loves meeting with them, especially if they come dressed in homemade, Nyan Cat-inspired swag.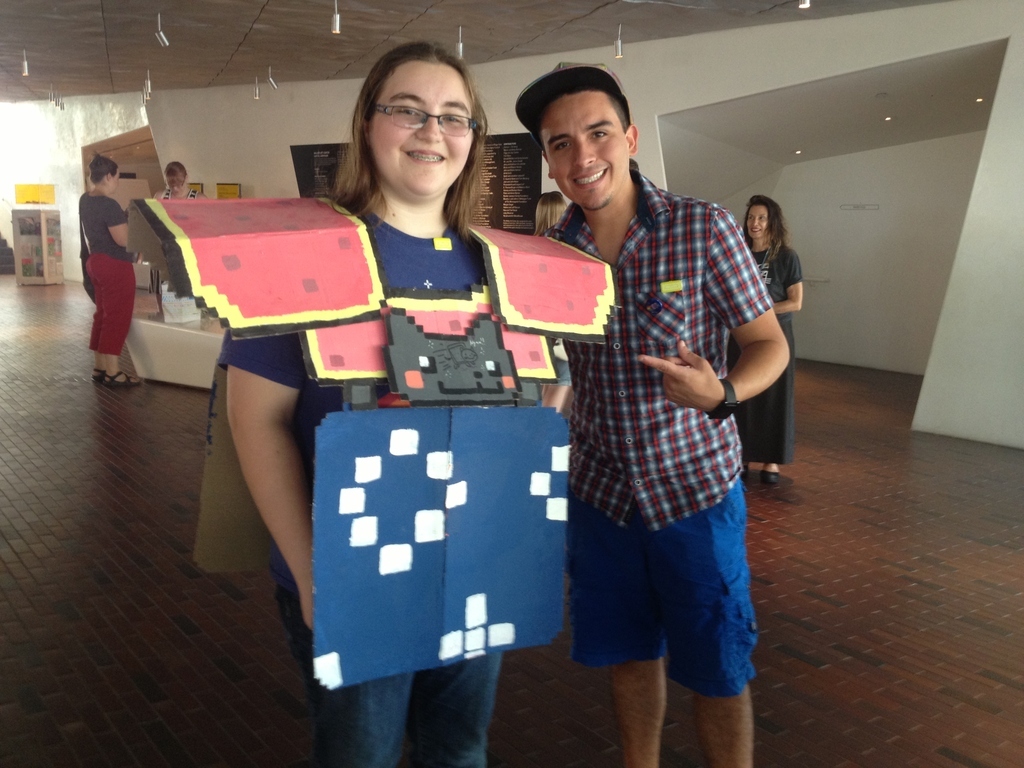 3.
Three of my favorite things — cats, memes, and pixel art — come together in t-shirt form.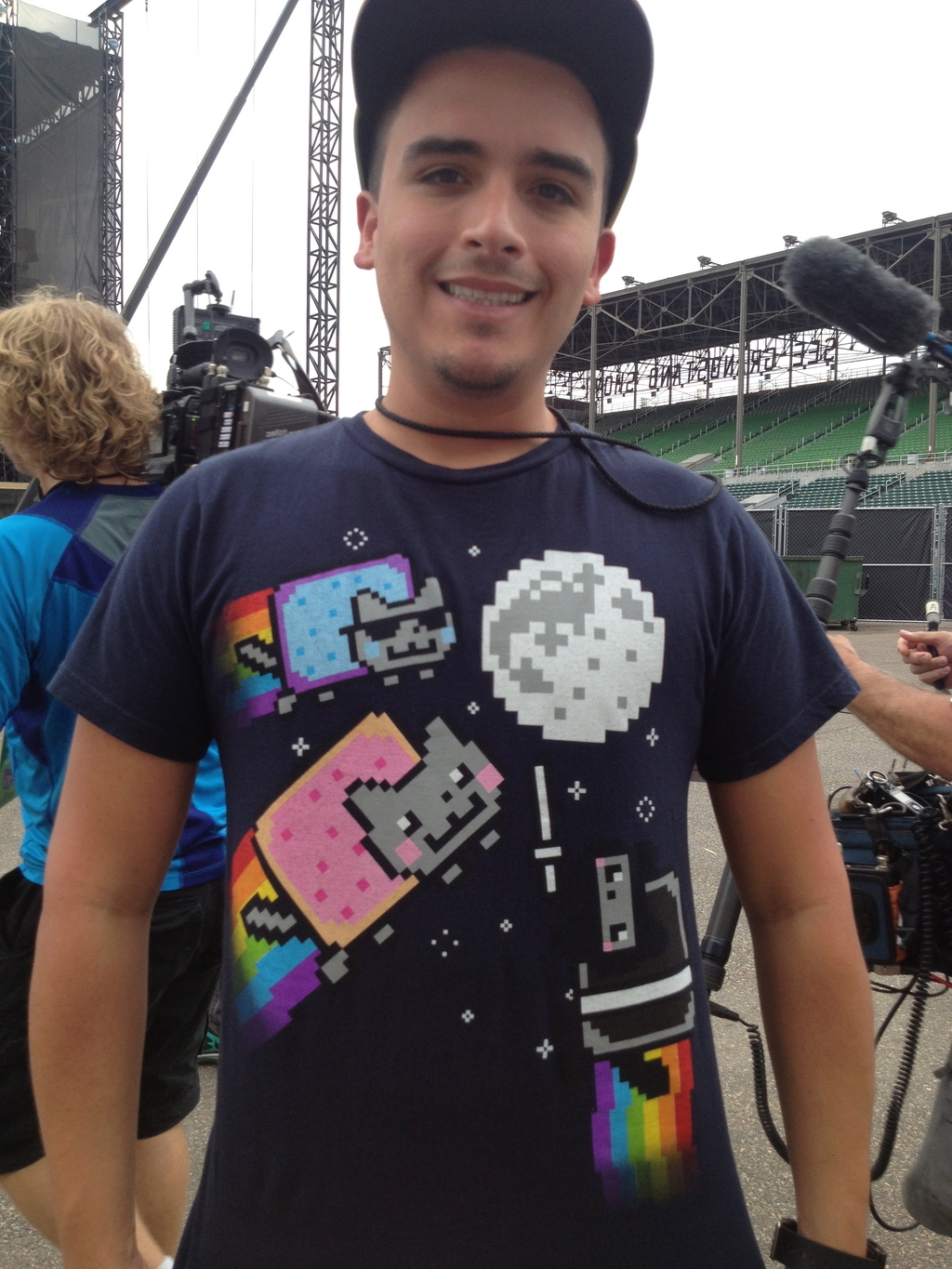 Prolly my fave t-shirt spotted at the festival's merch tent.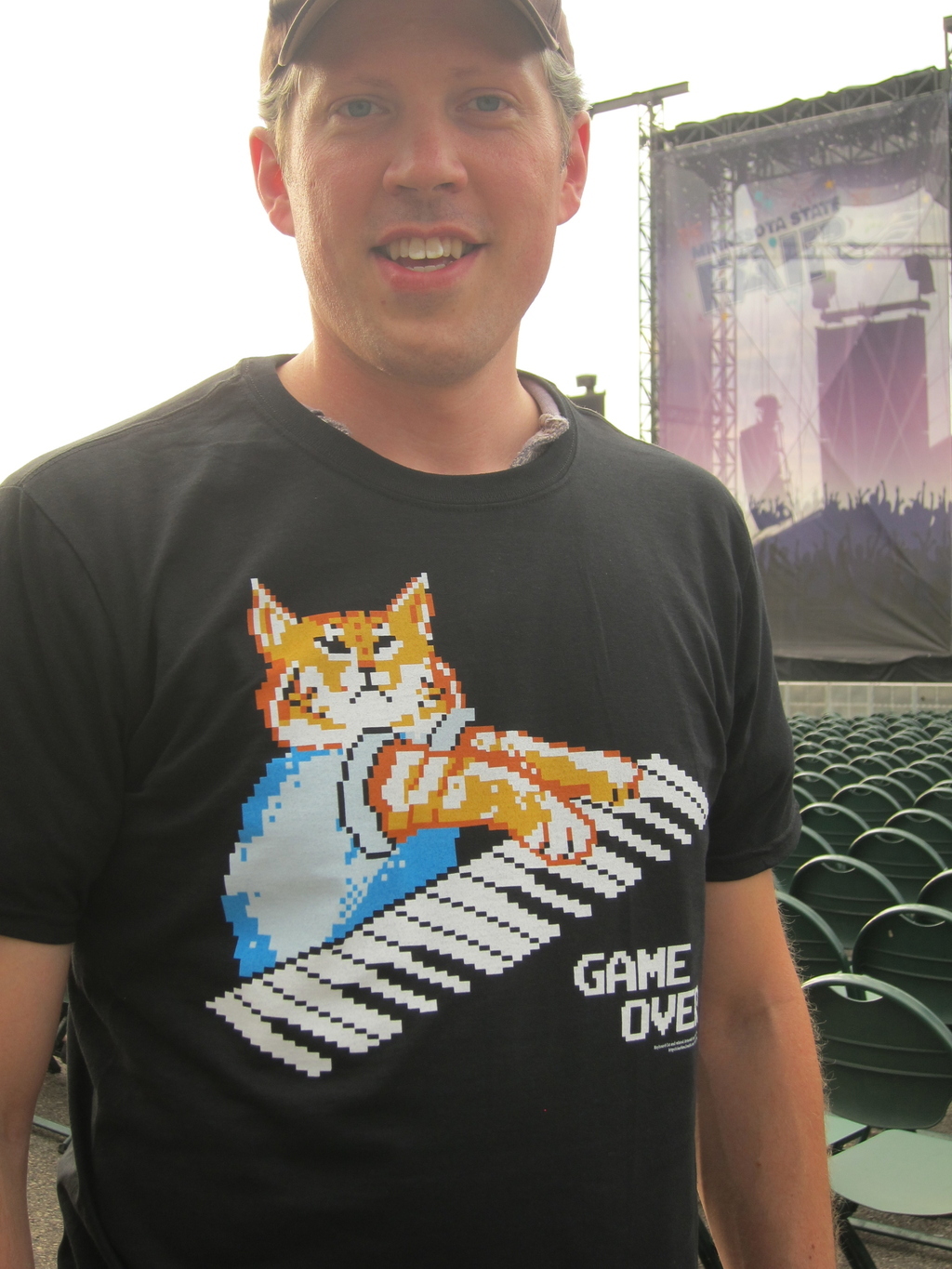 4.
Speaking of merch, here's a sampling of what was available for cat connoisseurs.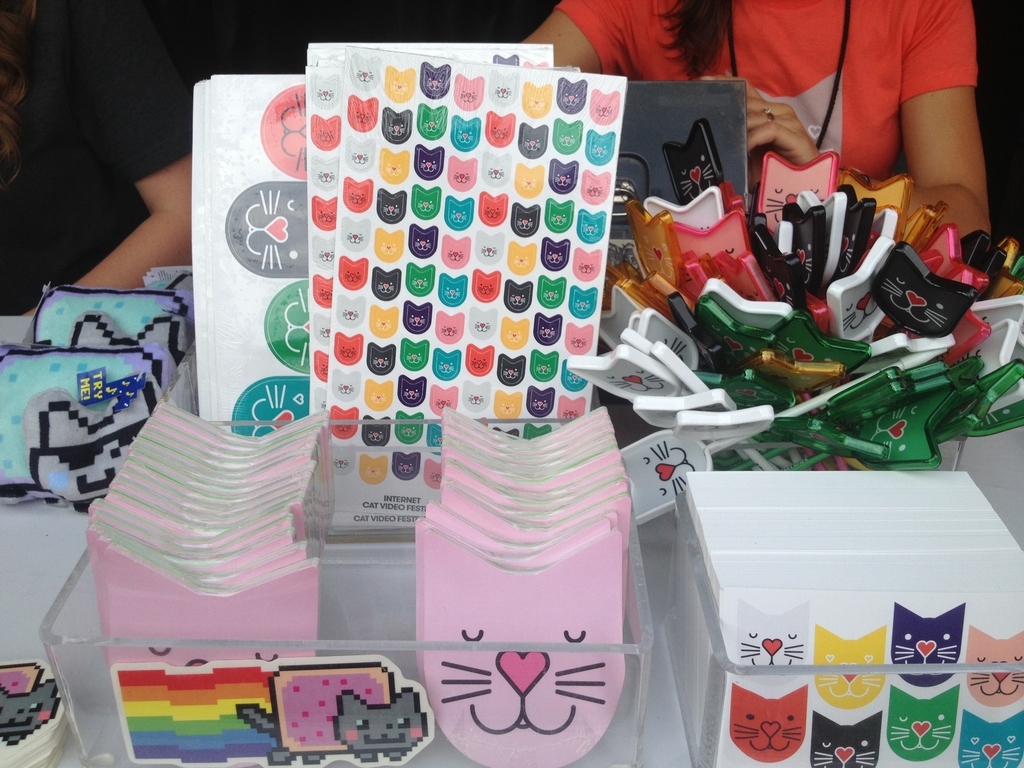 5.
Did you know that 90-pound blocks of butter are THE artistic medium of our times? Behold the majesty of the Butter Cat!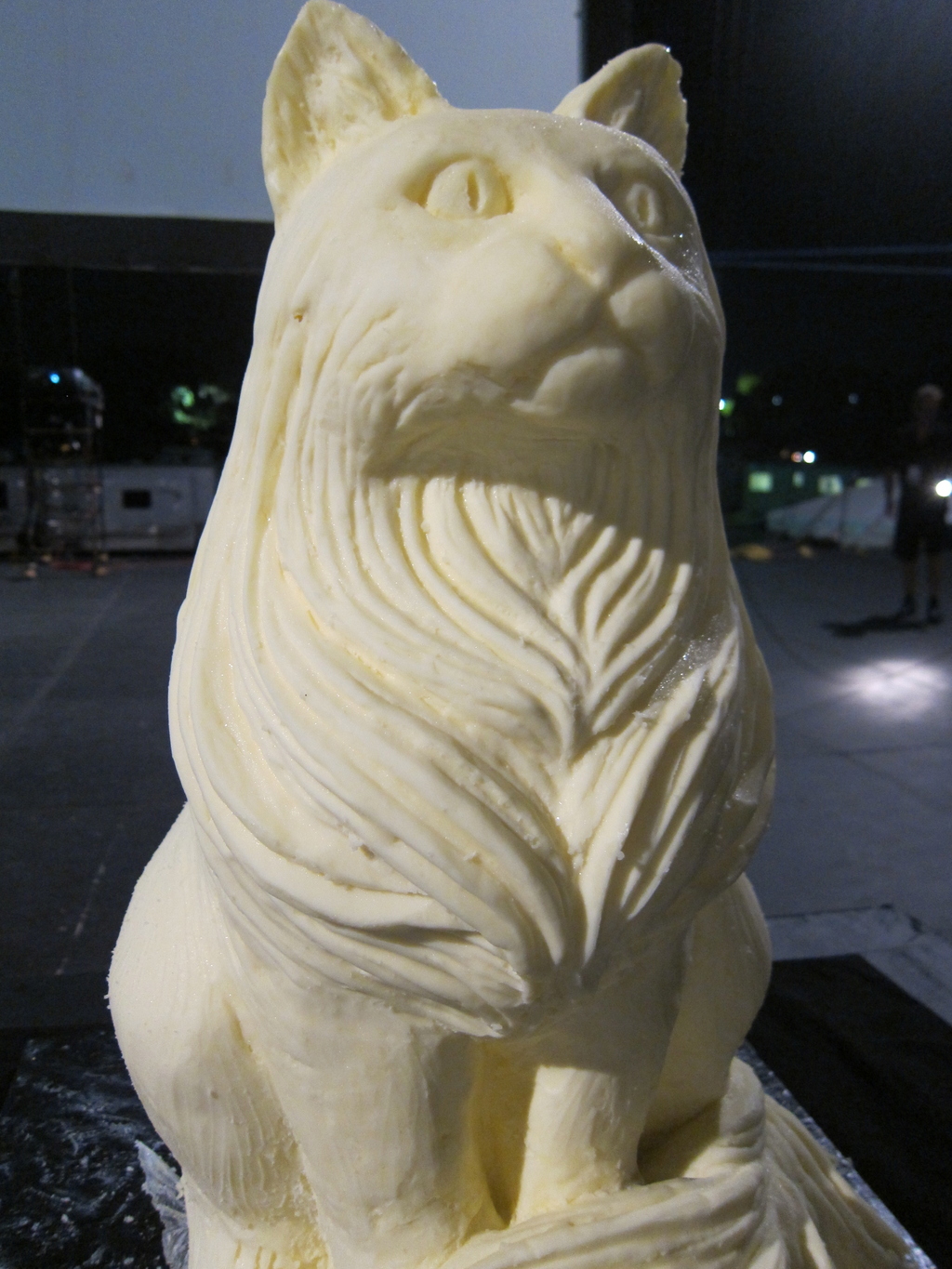 Not one to squander the spotlight, Butter Cat knows how to really sell a good punchline. Yucks all around...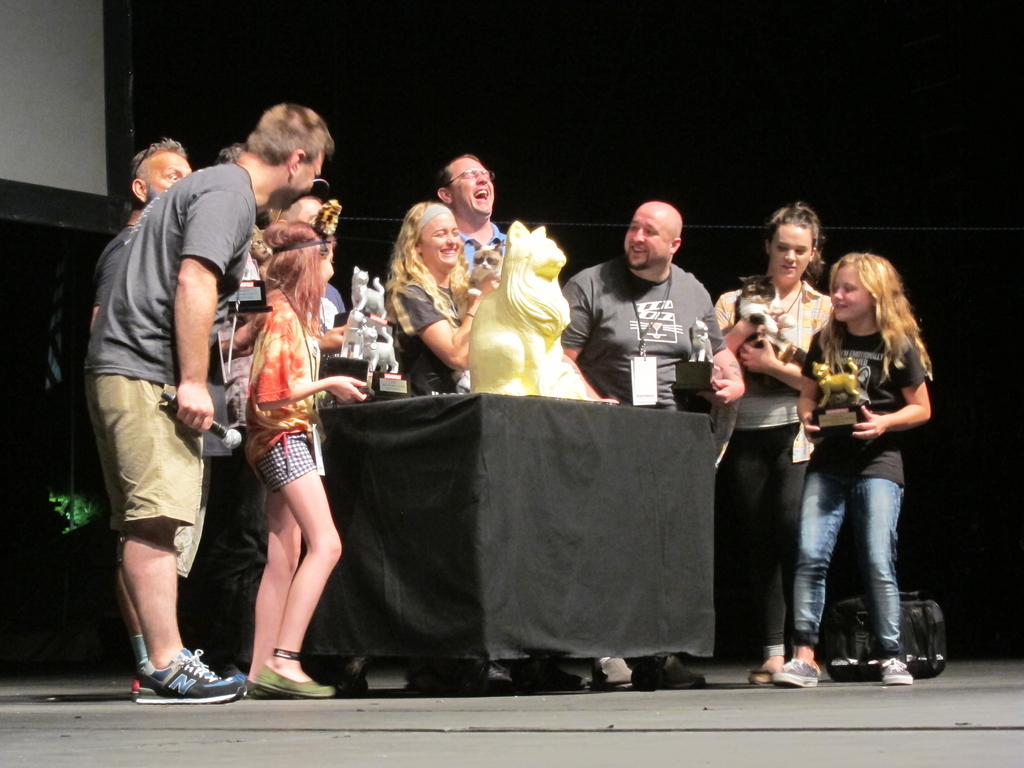 Watch a time-lapse video of the sculpting process!
6.
This girl came prepared to throw down in purrrson.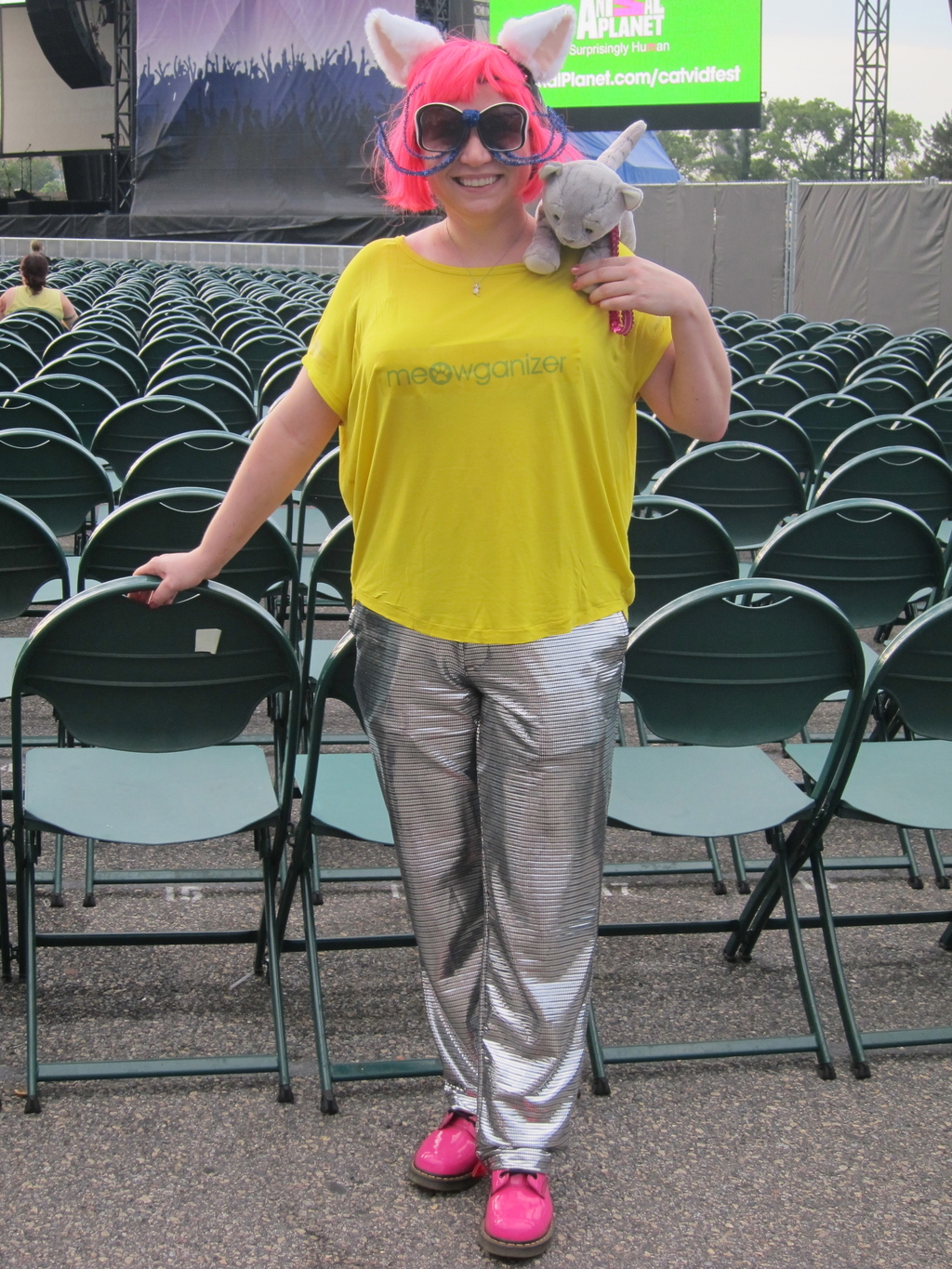 7.
These two had no shame. Sorry, not sorry.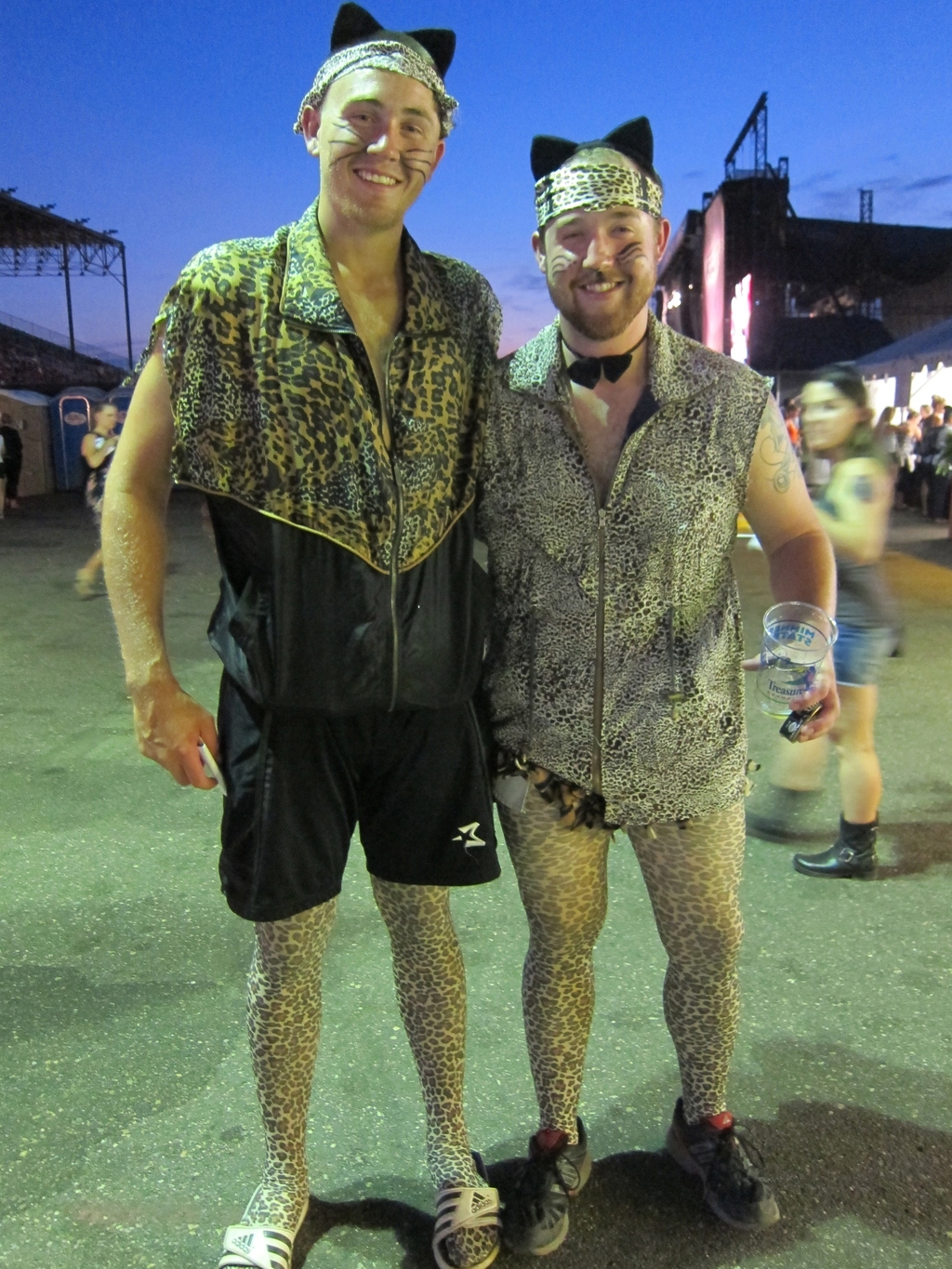 8.
Roomba Shark Cat cosplay is now a thing!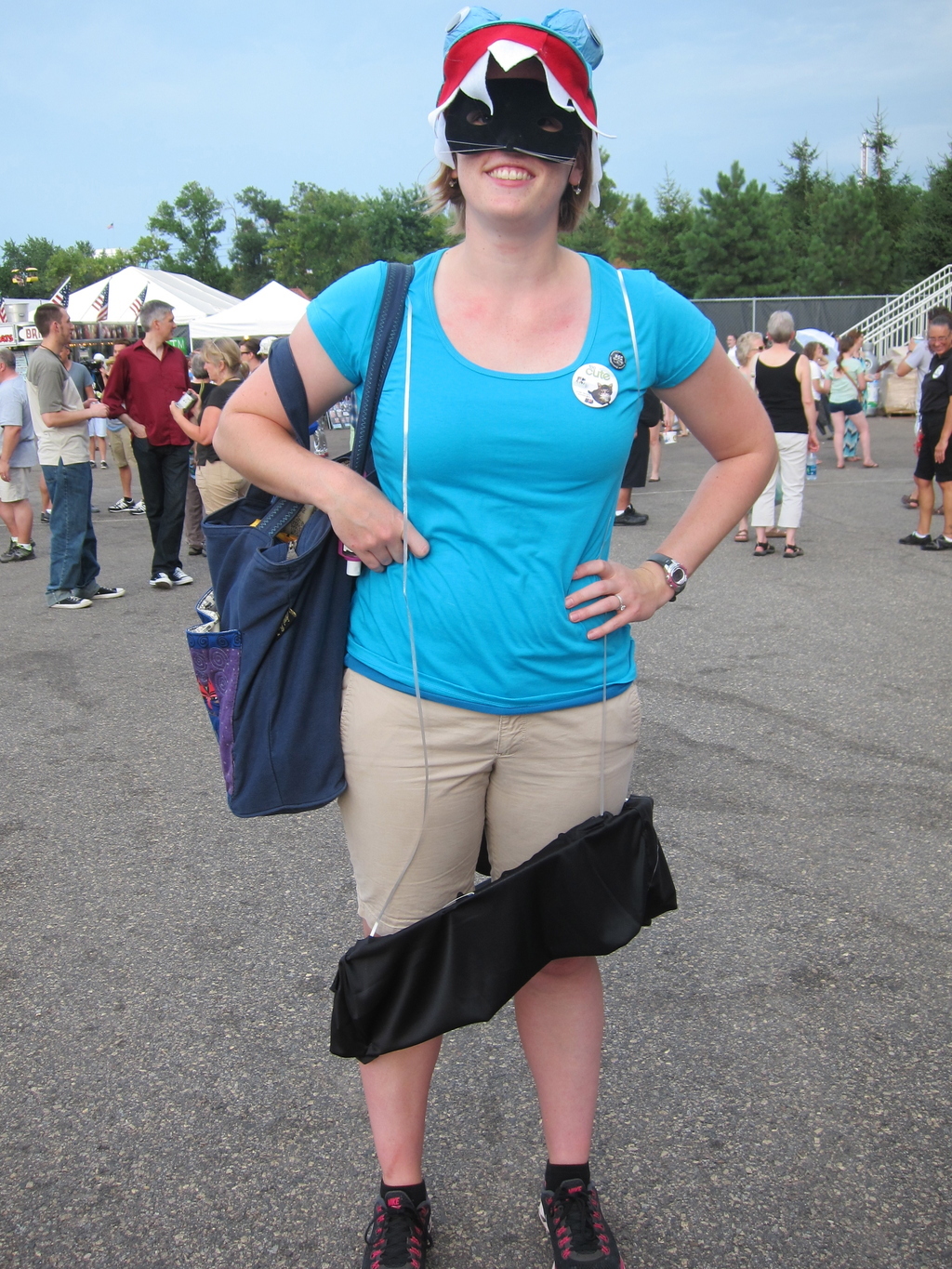 9.
Lil Bub and her owner, Mike Bridavsky, are a threat to cuddle anywhere, anytime.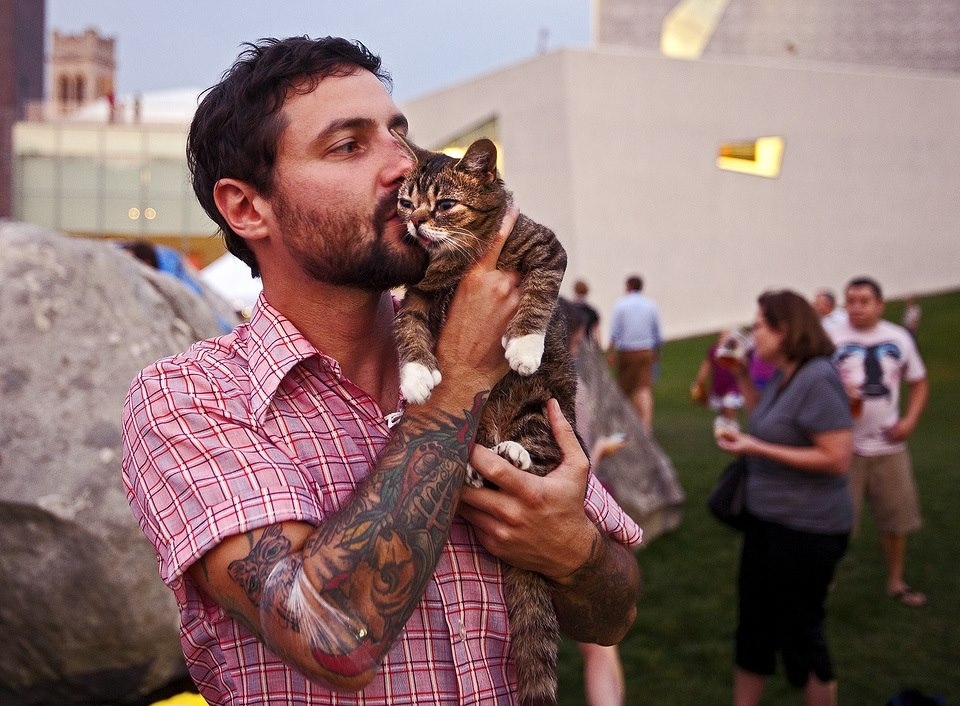 Stealing some quick zzzz's — a cat nap if you will — between appearances.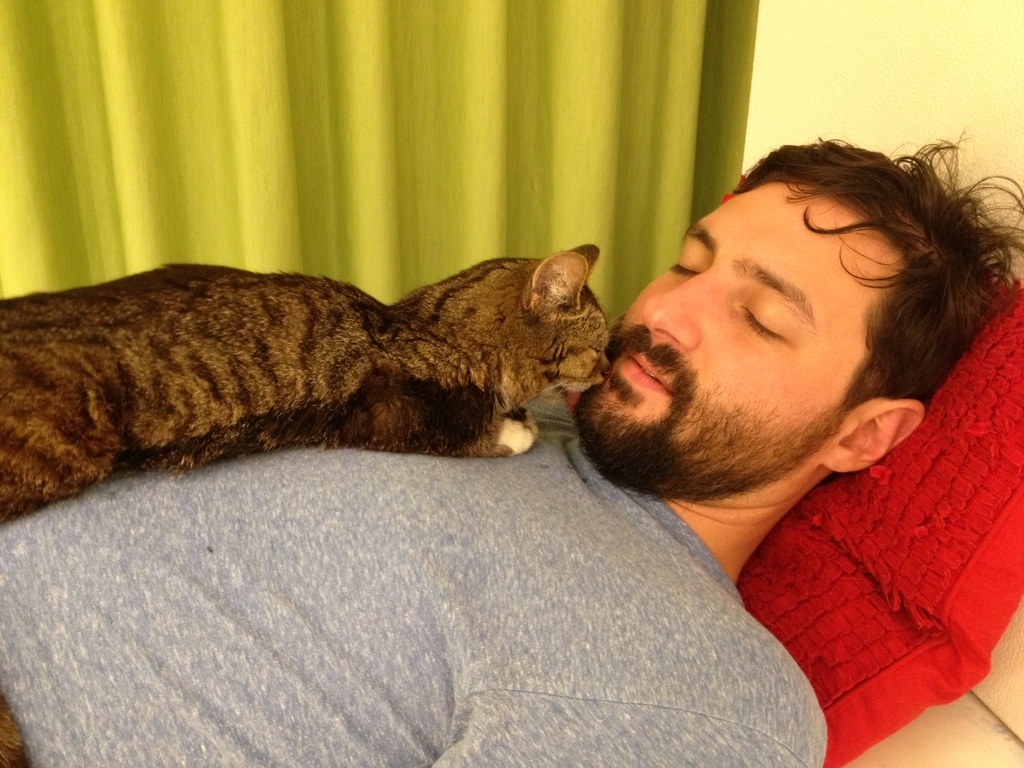 On stage, accepting accolades.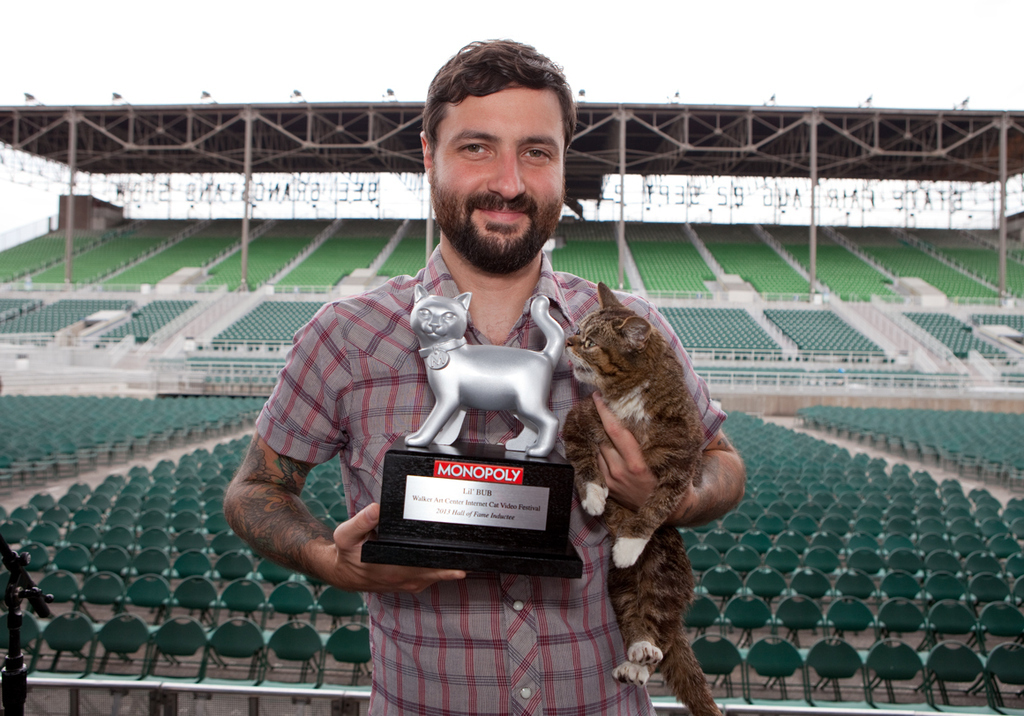 Even while mending fences. J/K, how could anyone ever be mad at Bub?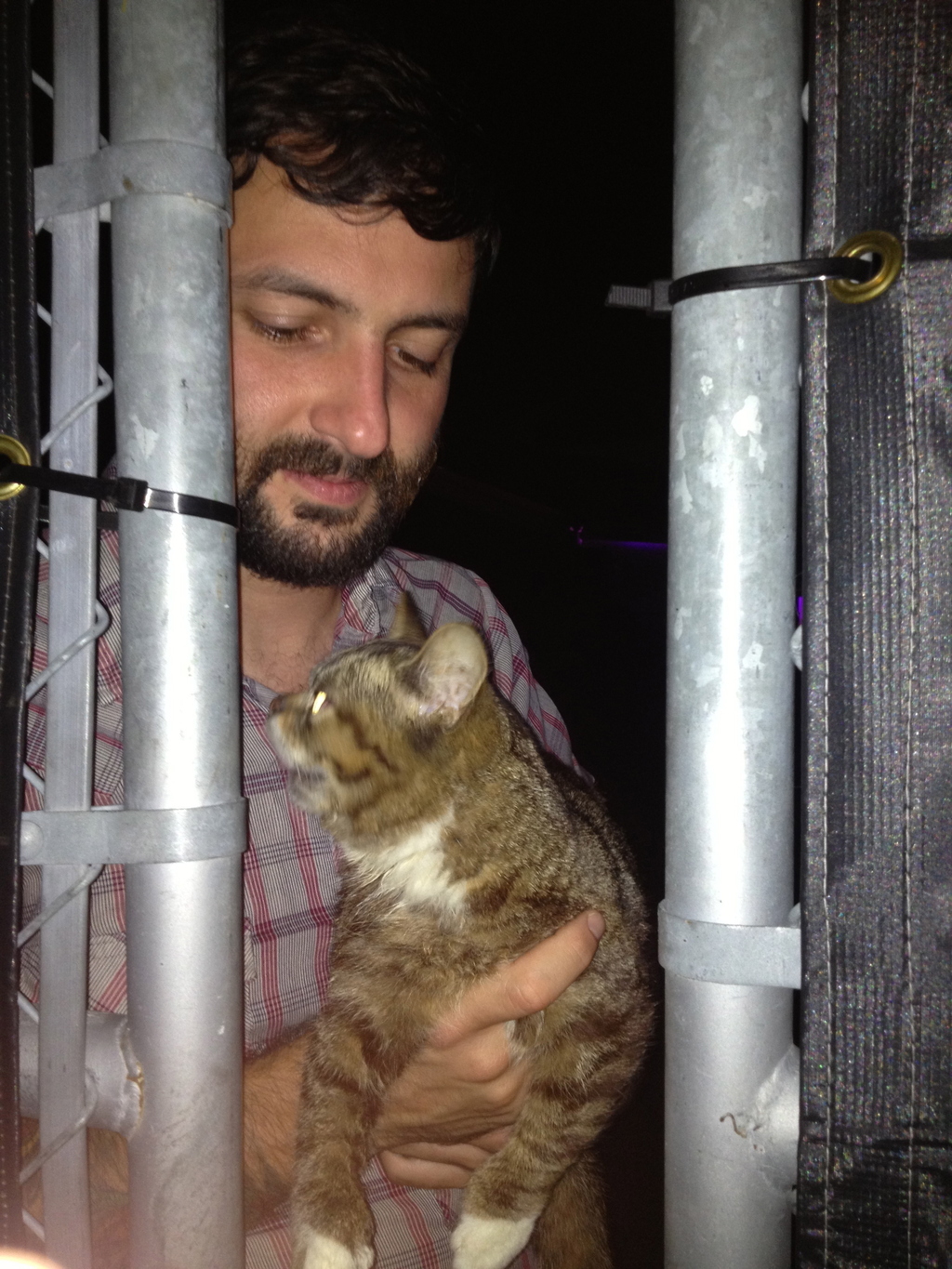 10.
The two of them are exceedingly patient and gracious with their fans.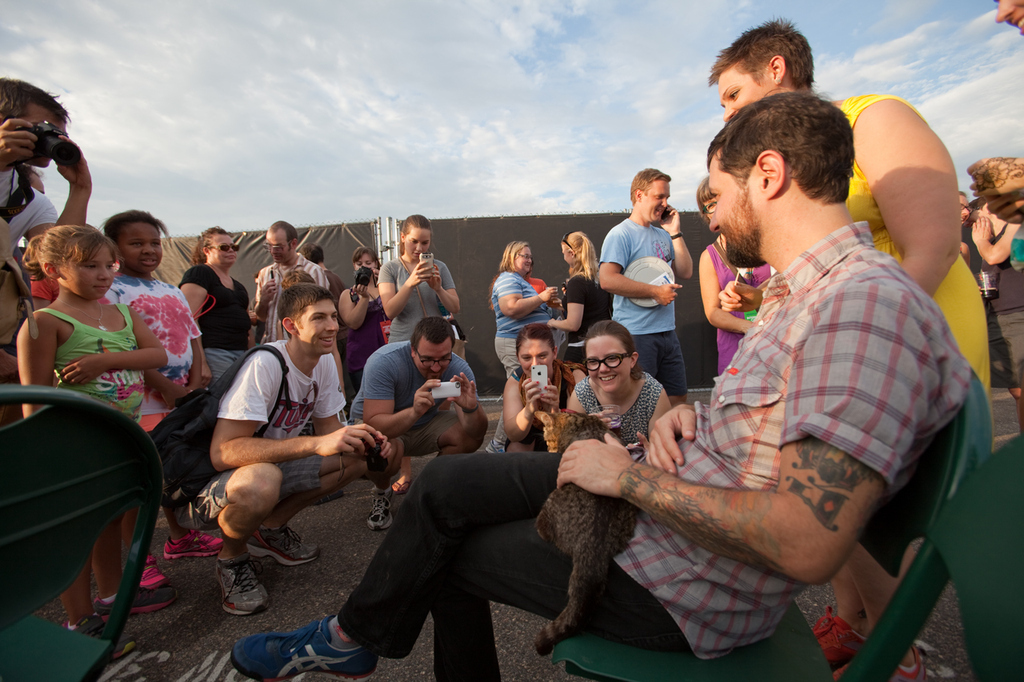 Biggest. Eyes. Ever.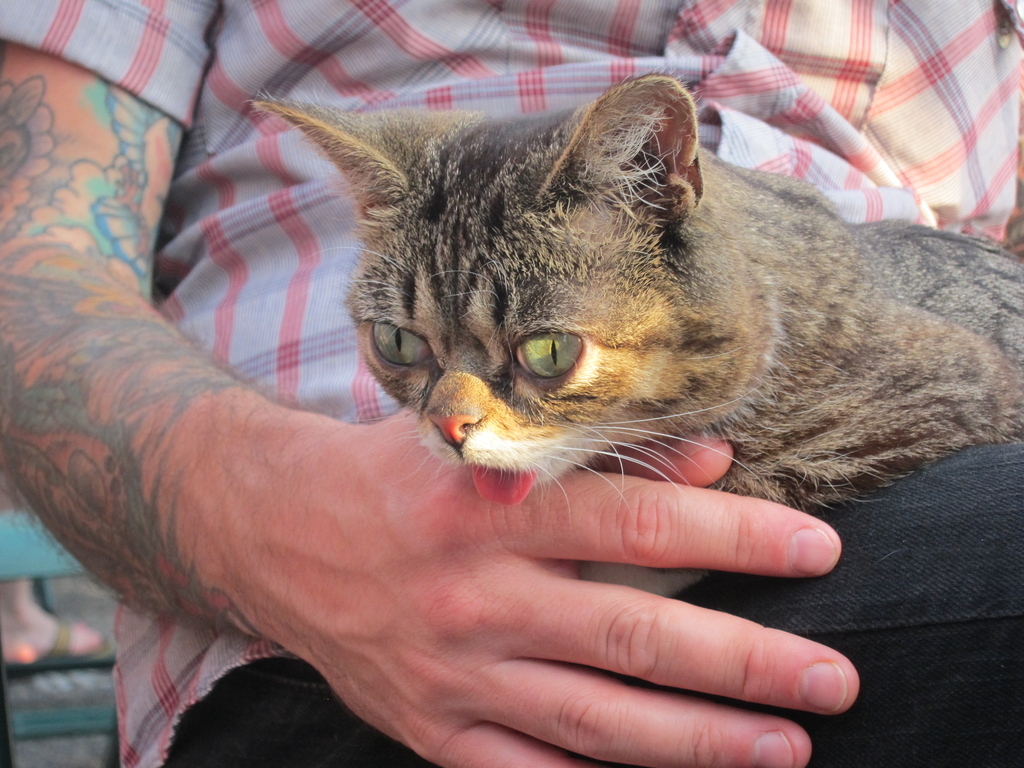 Adorbs!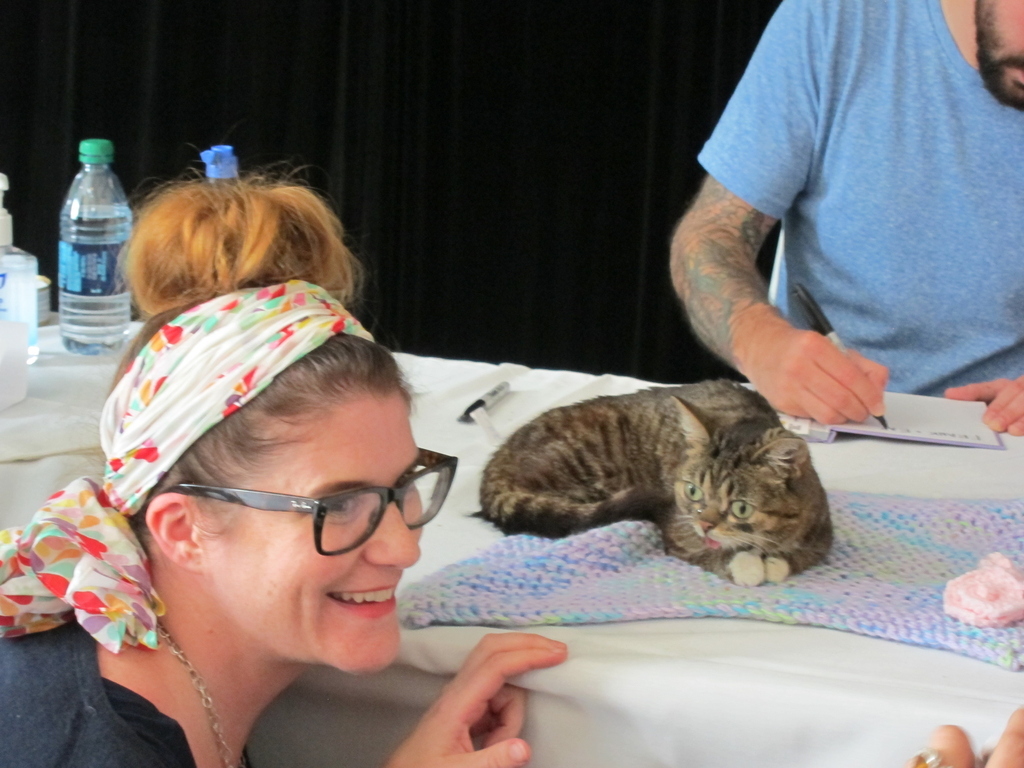 11.
LOOK! Lil Bub won BuzzFeed's "Win" badge! That's because she wrote some awesome posts that turned the Internet inside out! Did you know that anyone can contribute to BuzzFeed, even cats? Learn more here!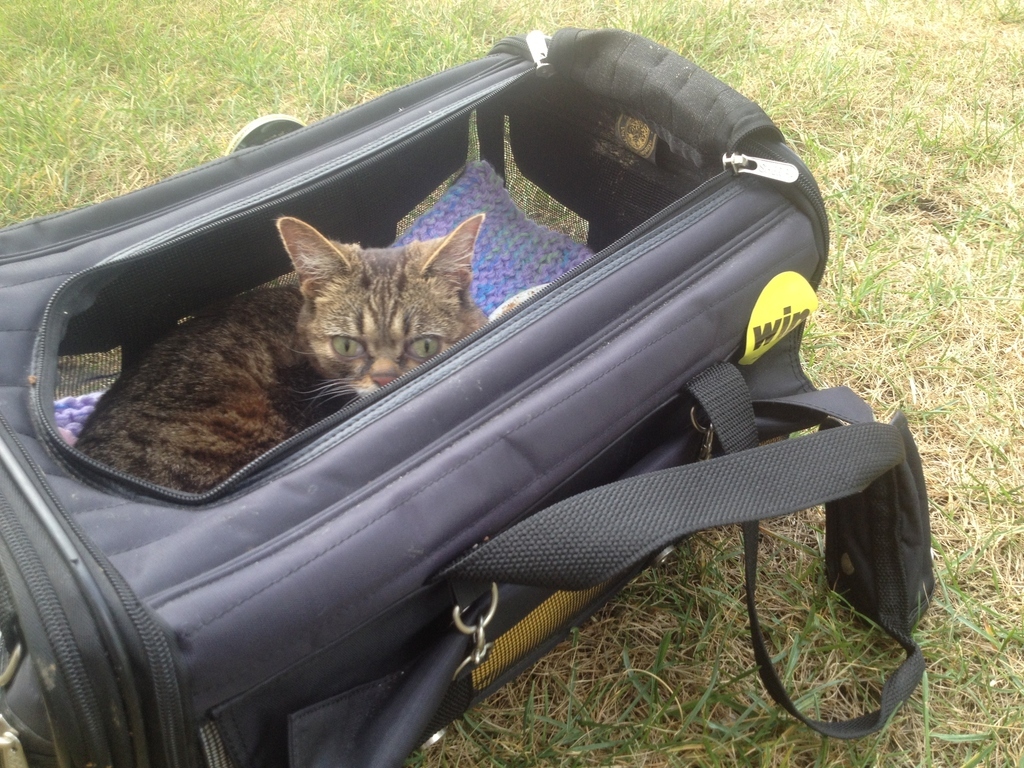 12.
Because, of course: Bub and Grumpy Cat are friends IRL!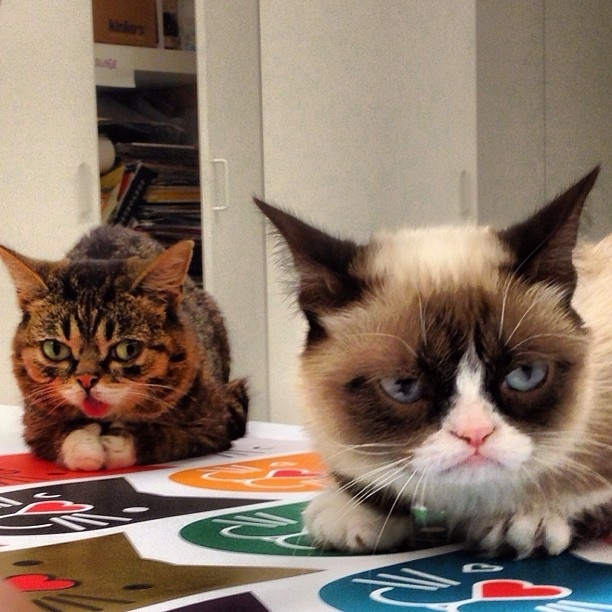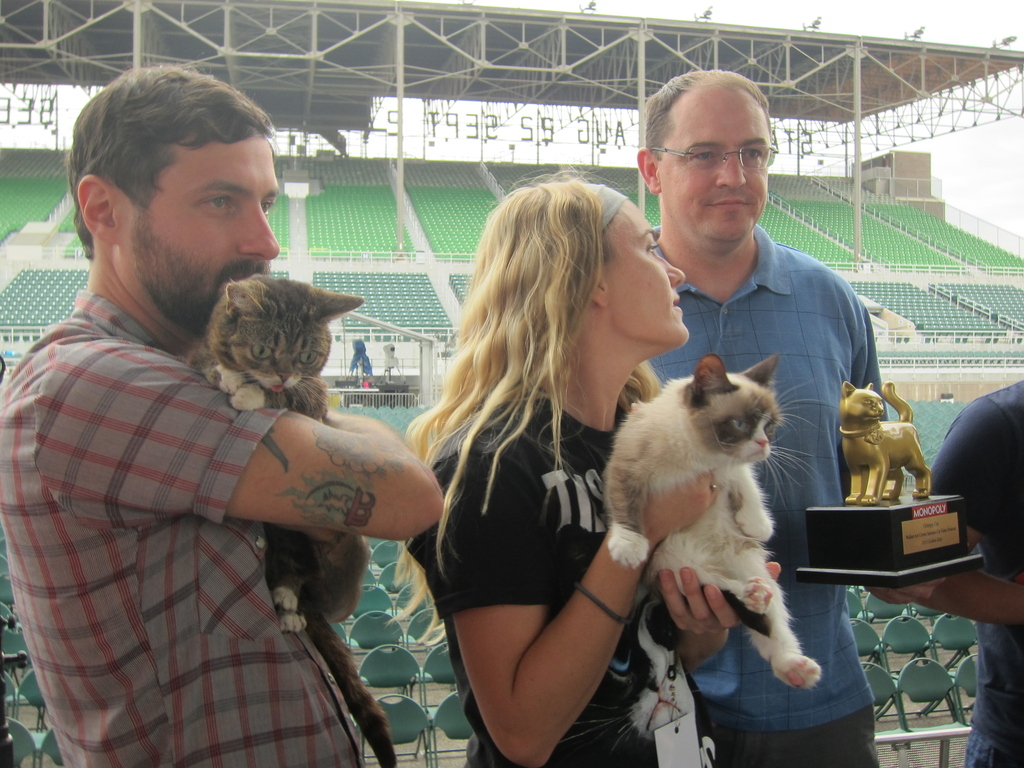 13.
These two had excellent taste in t-shirts, especially the impossible to miss tie-dye design on the left, which is simply ridic.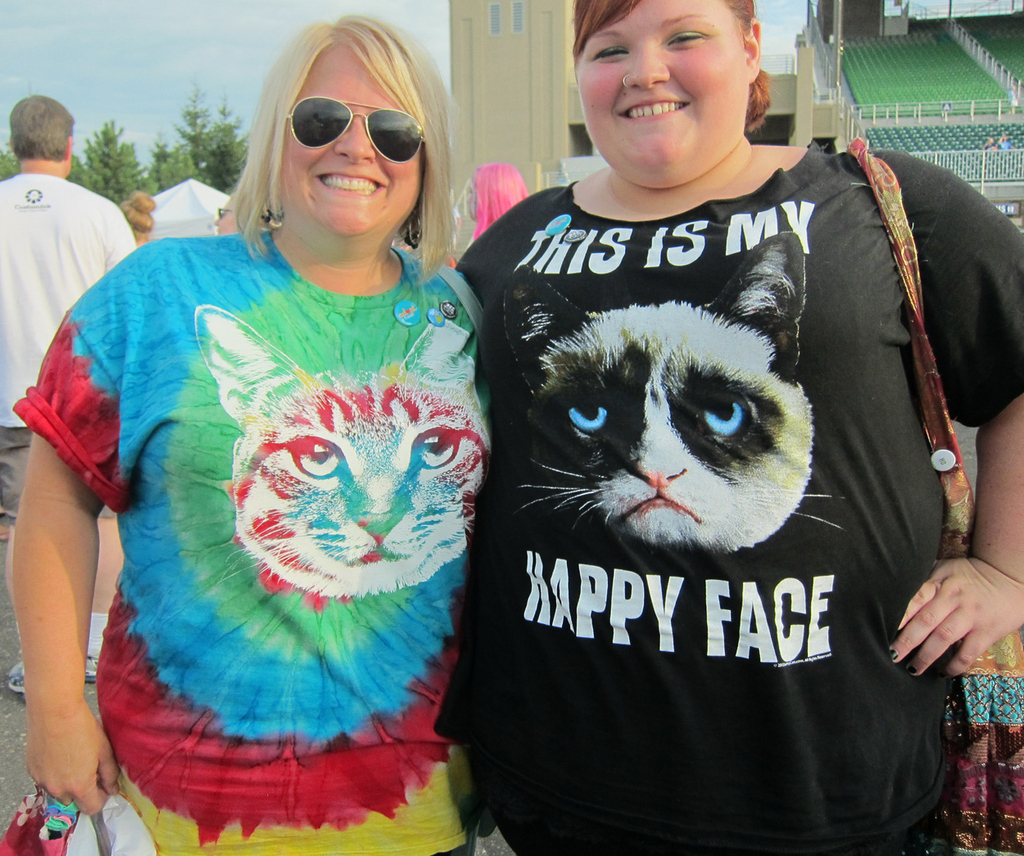 14.
You don't know what it's like to be a cat until you've walked a mile in their paws.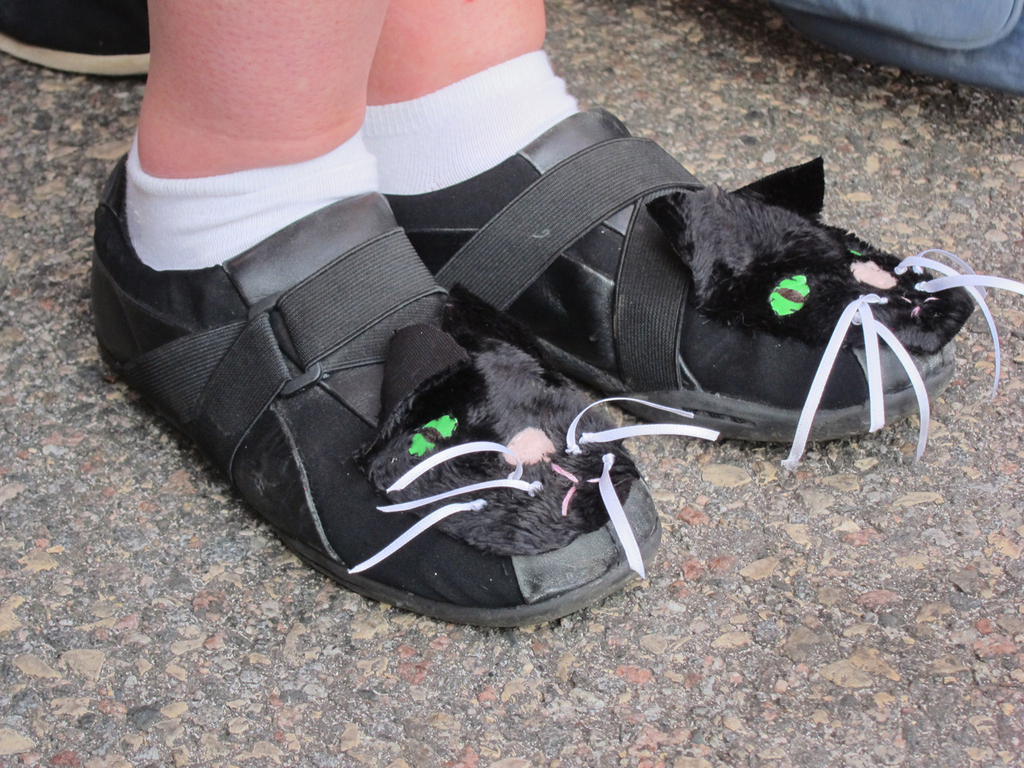 15.
This is Scott Stulen, the festival's curator. He's a cool cat, as comfortable on-stage as he is off.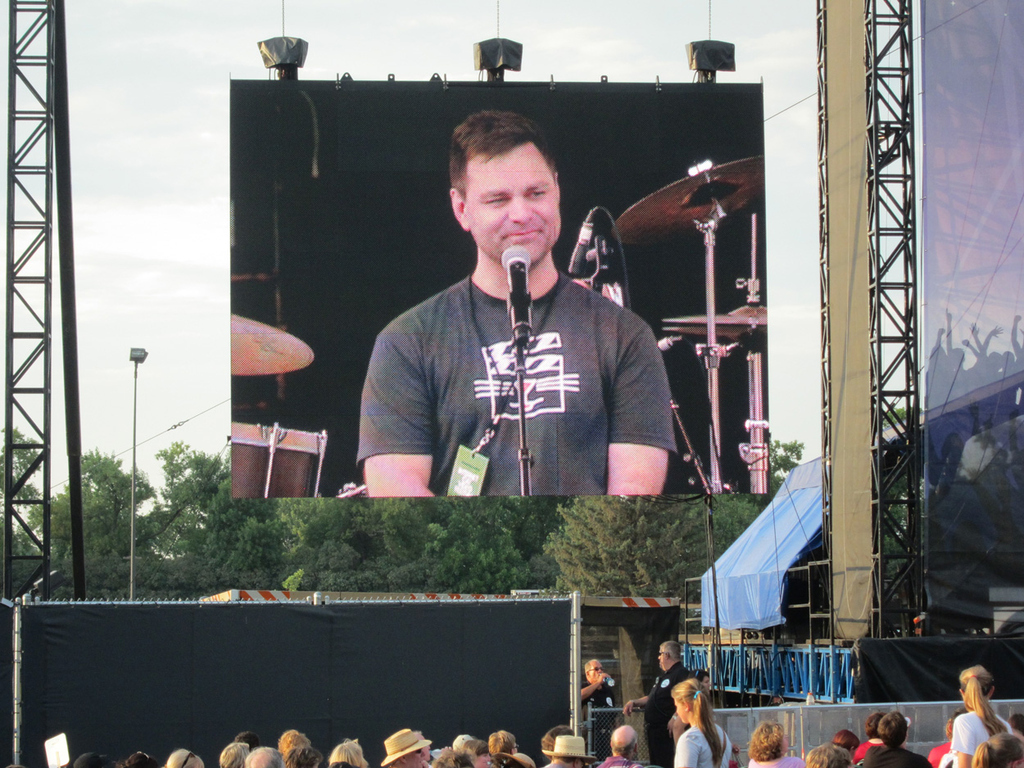 16.
CBS News correspondent Bill Geist is such a huge cat buff that he carries oversized cardboard cutouts everywhere he goes.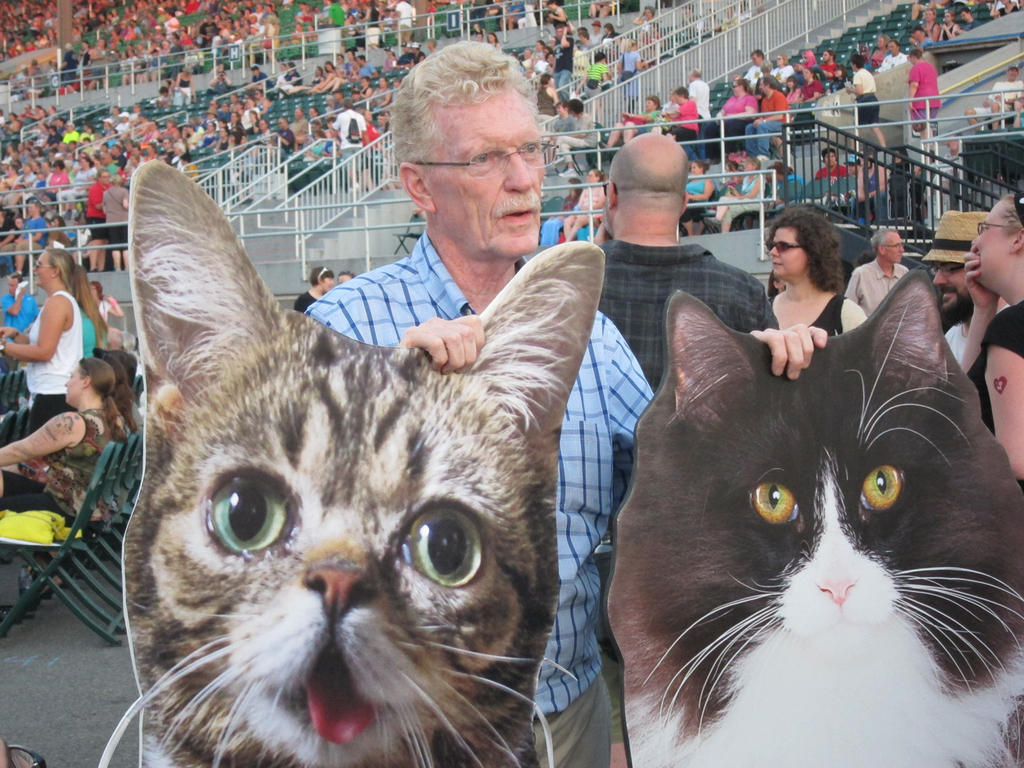 17.
This is what happens when Lil Bub meets Big Bub.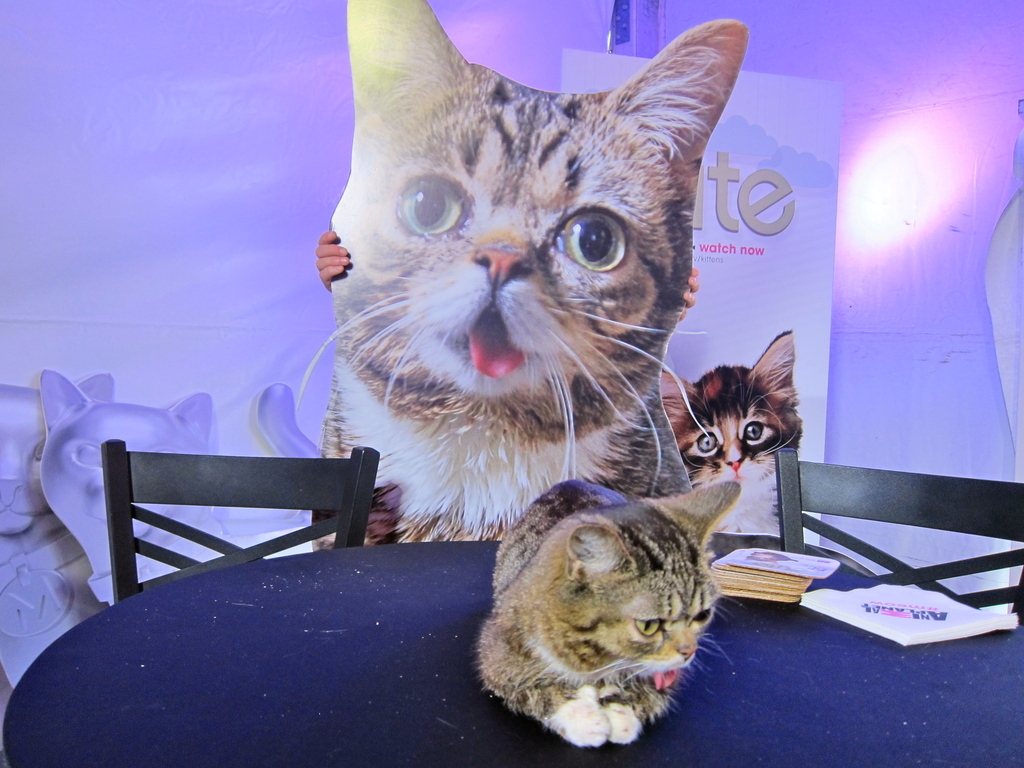 18.
Toonces, you have company: Bub gets behind the wheel.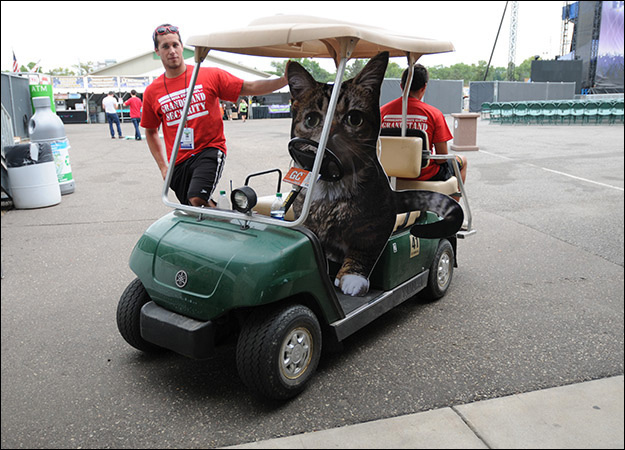 19.
The Internet Cat Video Film Festival: fun for all ages!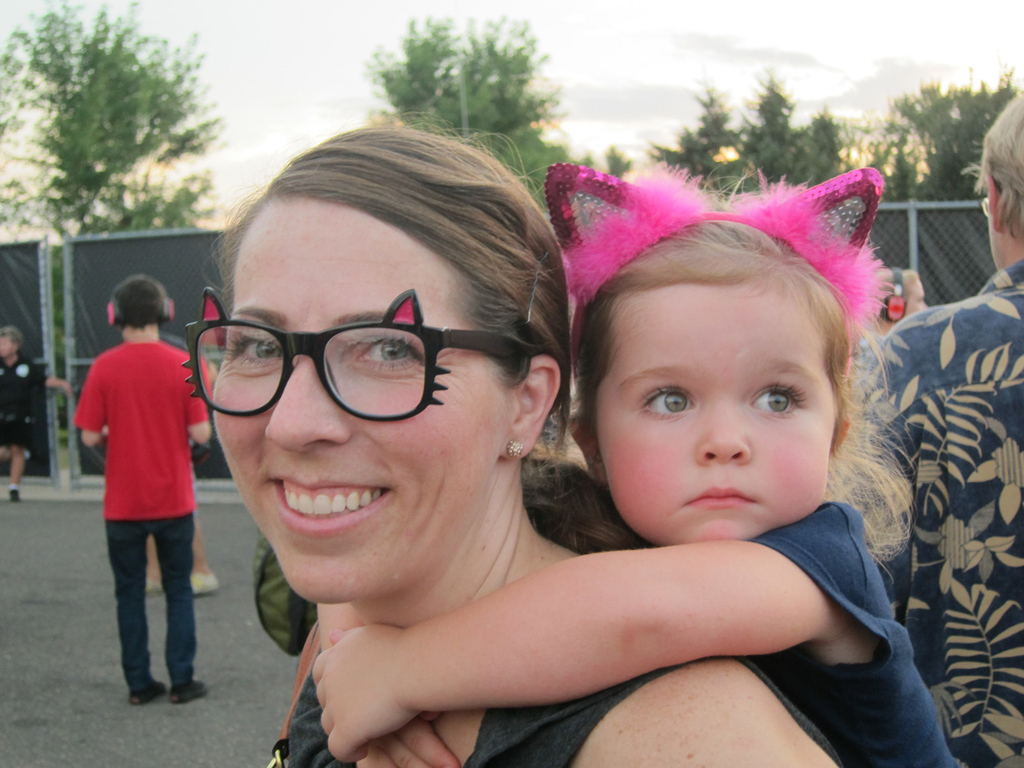 20.
It's also a great spot for date night!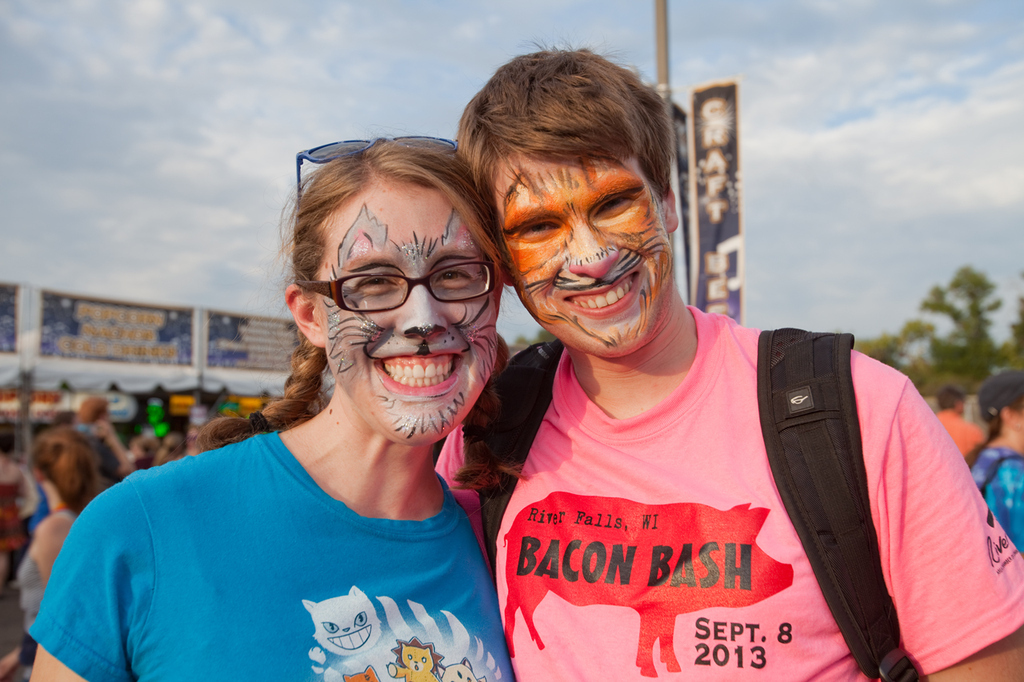 Redlining the cute meter in 3, 2, 1...
That tiger is wearing sunnies! On his face!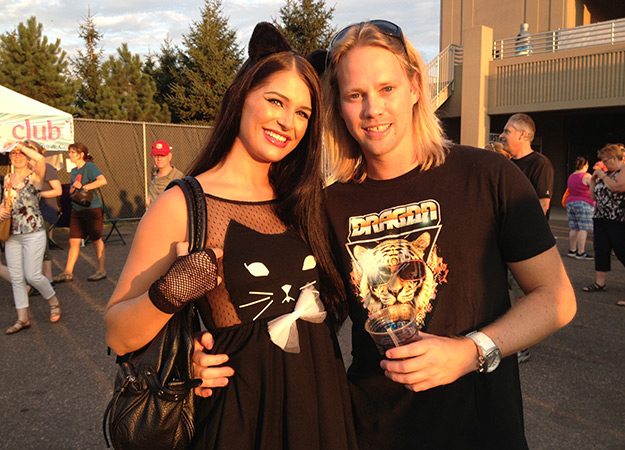 Poll: who's idea was it wear matching t-shirts? His or her's? Weigh in below!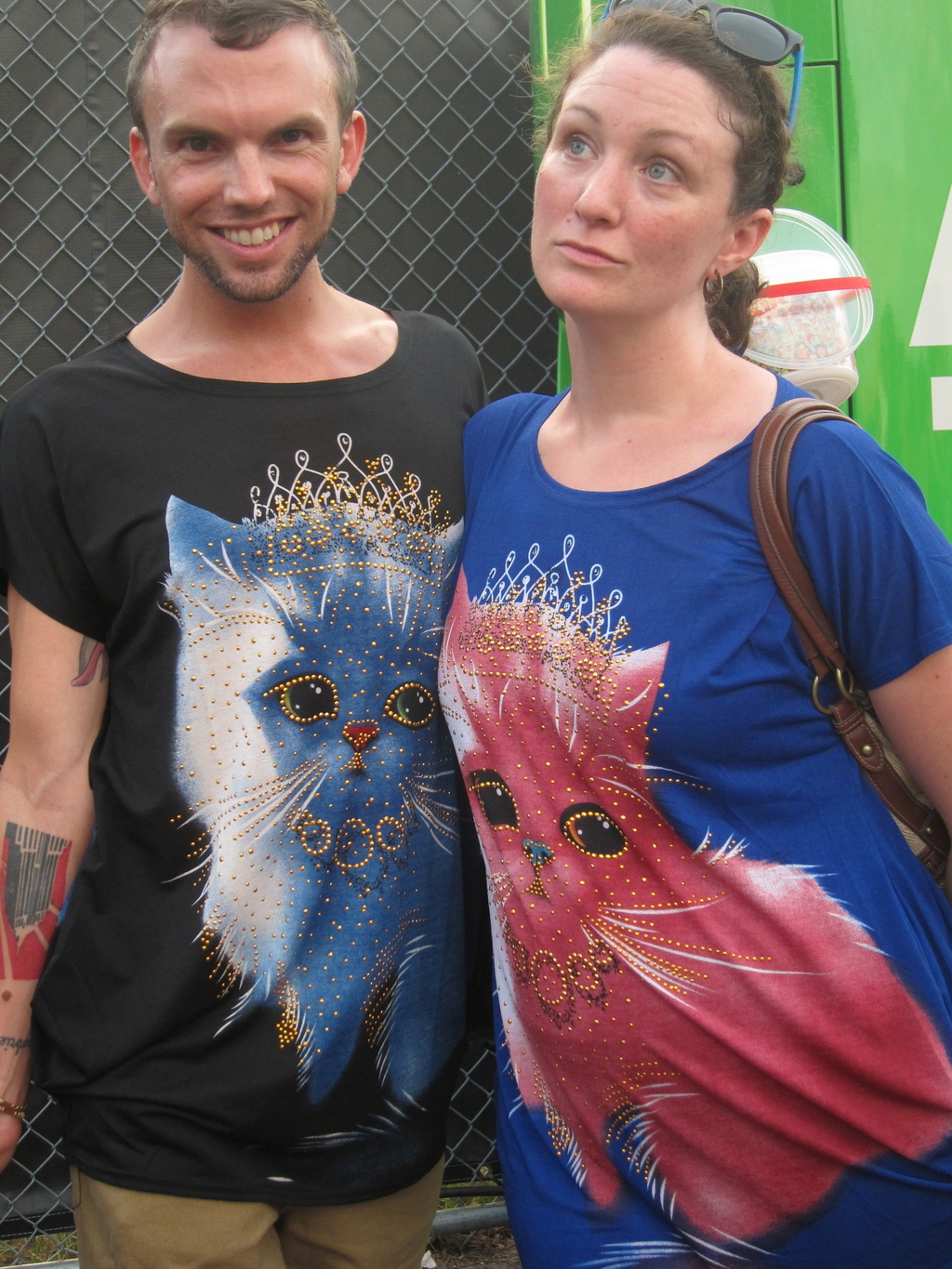 21.
Taking it all in.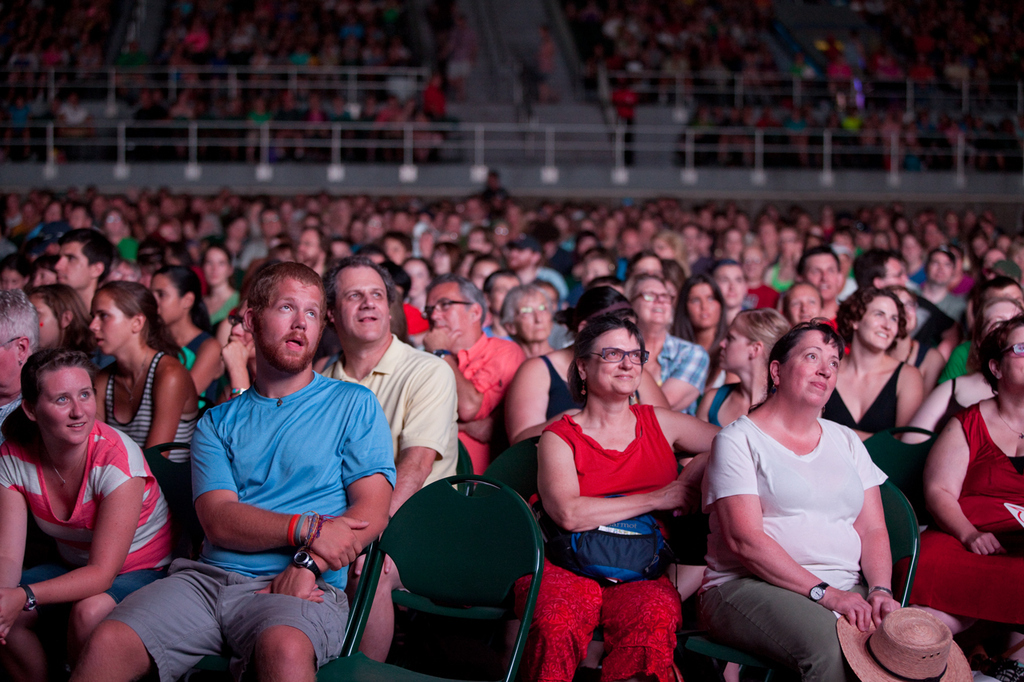 22.
Proof that 13,000 fans of cat videos can't be wrong.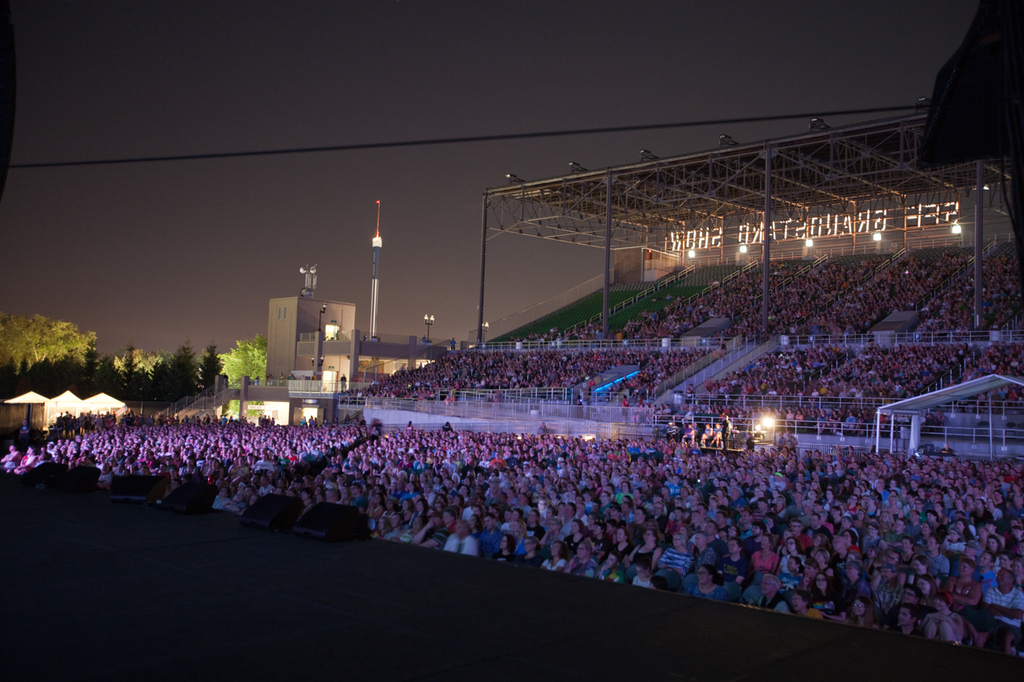 23.
The calm before the purrricane to come. (GROAN...)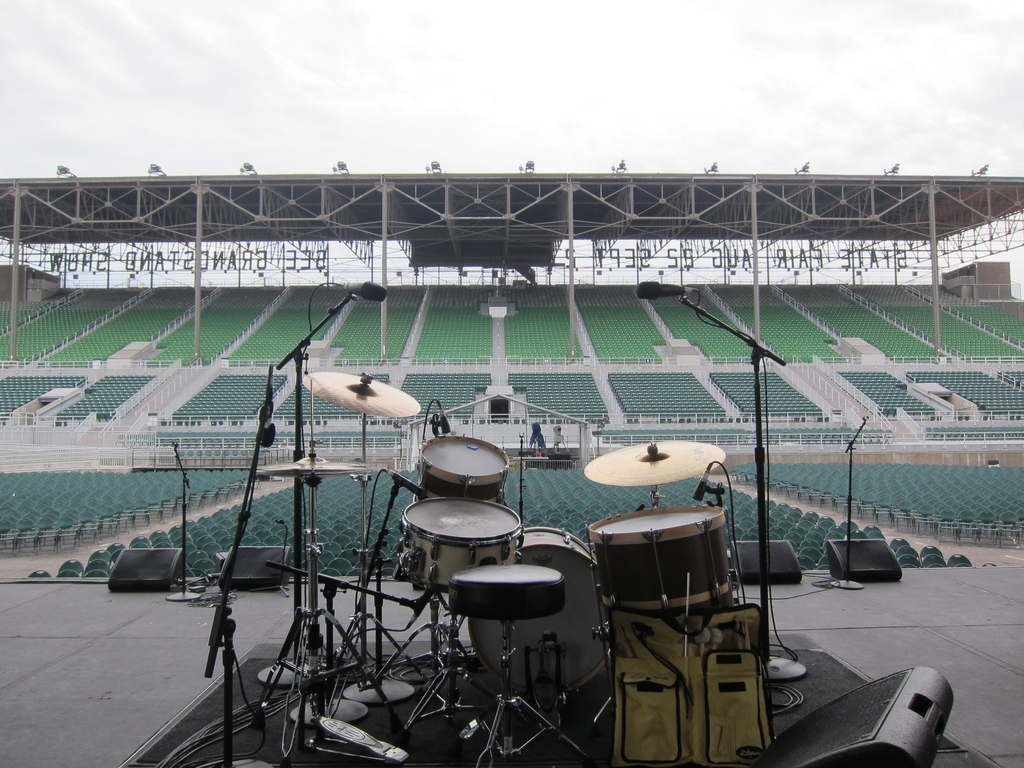 24.
FACT: Cats > The '80s. Performing at the Minnesota State Fair one night before the festival, synth pop icons Depeche Mode drew a more modest figure, an estimated audience of 10,000. (The show was fab, BTW.)
25.
Artifacts, er, cartifacts, of the viral era will be highly coveted when someone opens an Internet Hall Of Fame.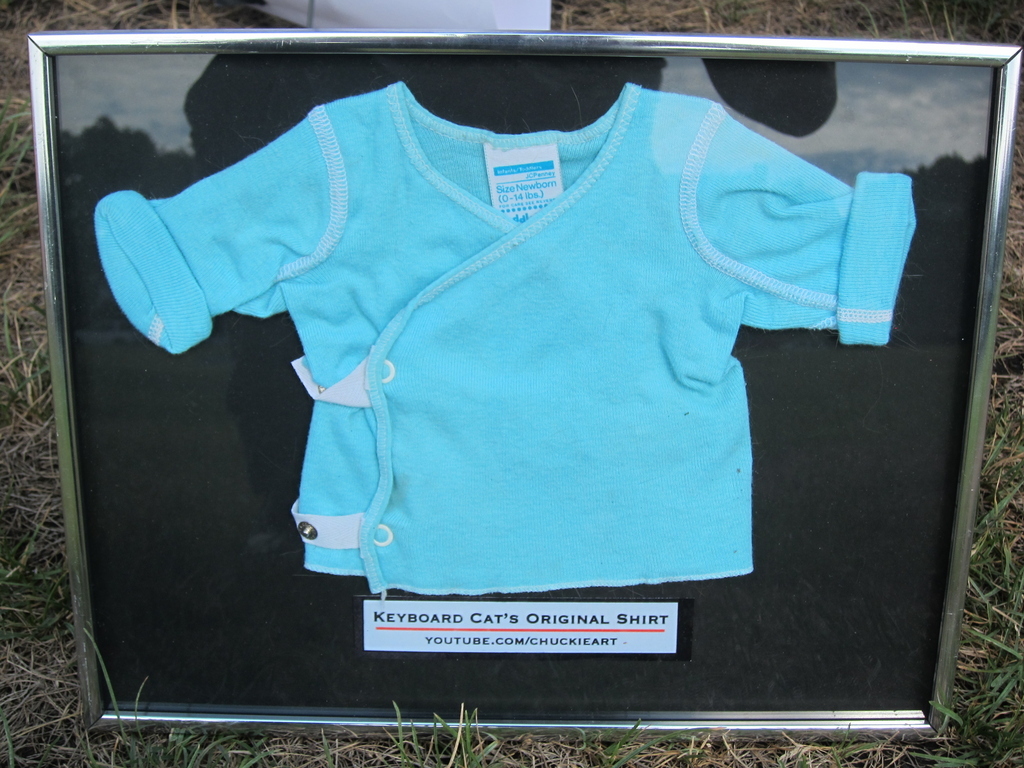 26.
The co-host of the festival, comedian Julie Klausner, is the Stanley Kubrick of cat videos. She came to the festival armed with a new short, which you can watch below!
27.
Off topic somewhat, but the Minnesota State Fair is an embarrassment of artery-clogging, caloric riches. This is a deep-fried Twinkie, drizzled in chocolate sauce and powdered sugar.
Twerking is sooooooo old hat. Twinking will be the hot trend to watch in 2014.
28.
Also spotted at the fair: buckets overflowing with cookies.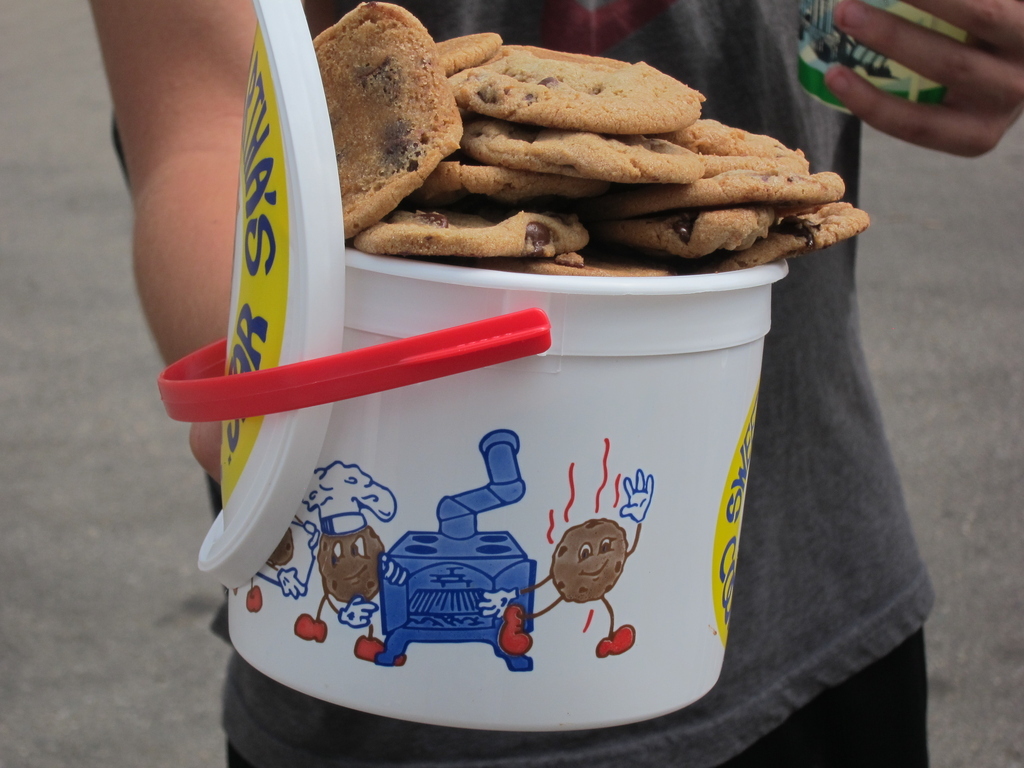 29.
Finally, can we take a moment to drool over these fried cheese curds? They were an amazing, late night snack, all the better because they were washed down with a cold, frosty Grain Belt.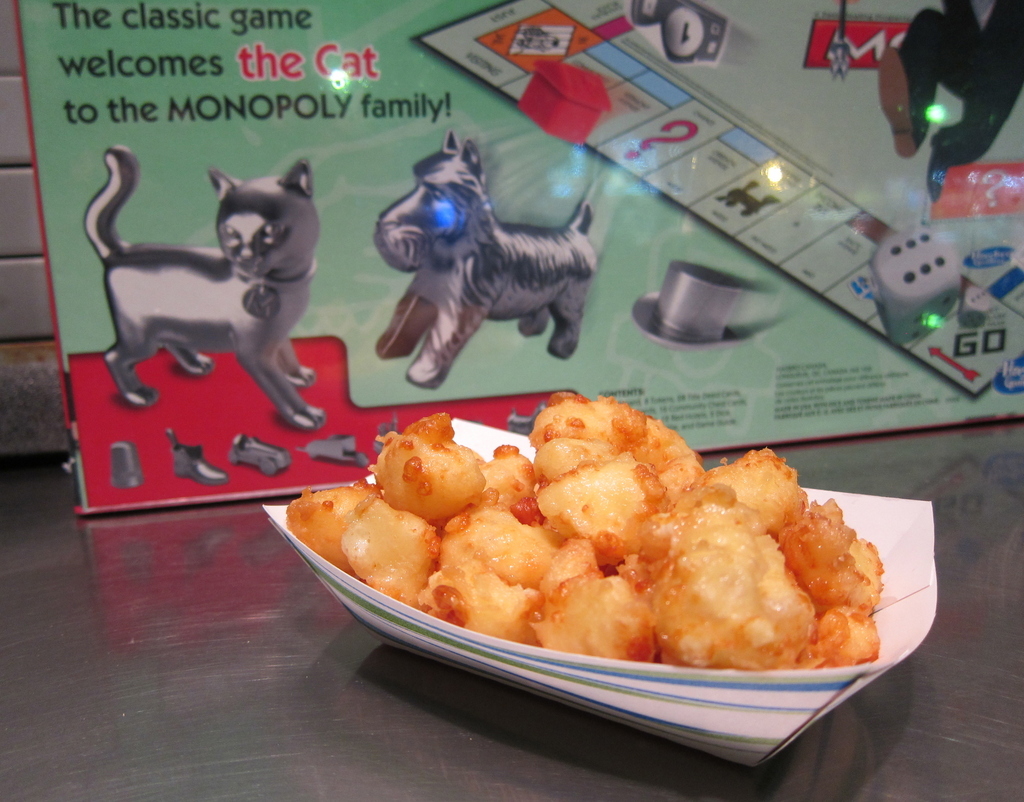 30.
Derp happens.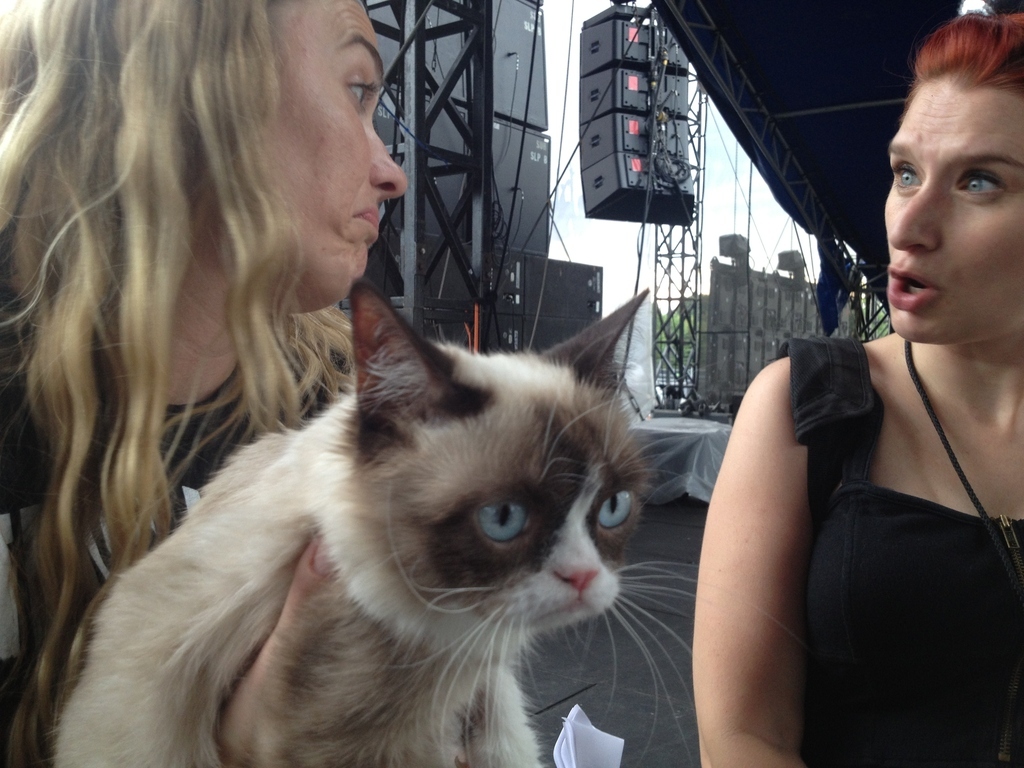 Still doesn't give any EFF's.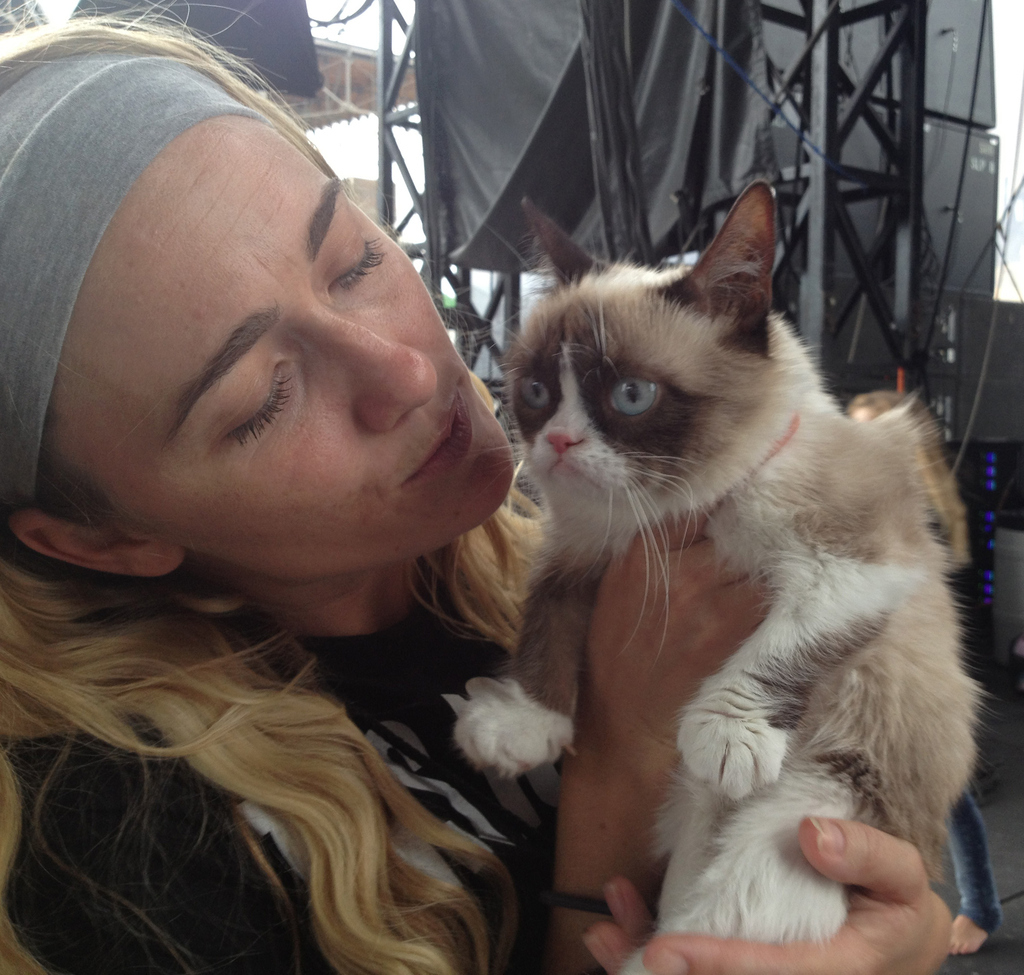 31.
Chris Torres, pictured here in a full body Nyan Cat suit. On the right: Grumpy Cat's equivalent!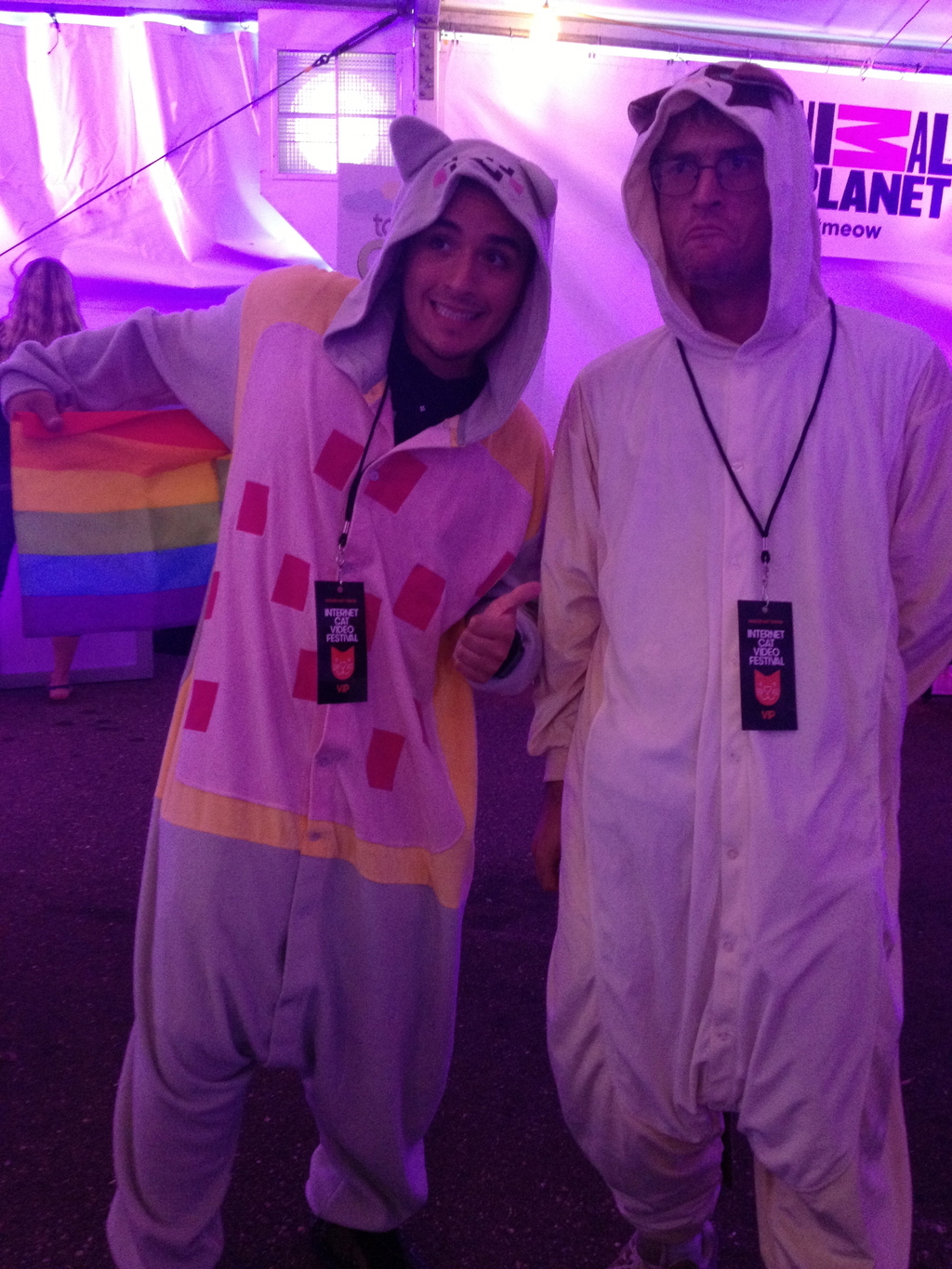 32.
There were cookies frosted with the festival's logo in Animal Planet's VIP tent! Spoiler alert: they were good!
BONUS: Putting the LOL back in lolcat lollipops.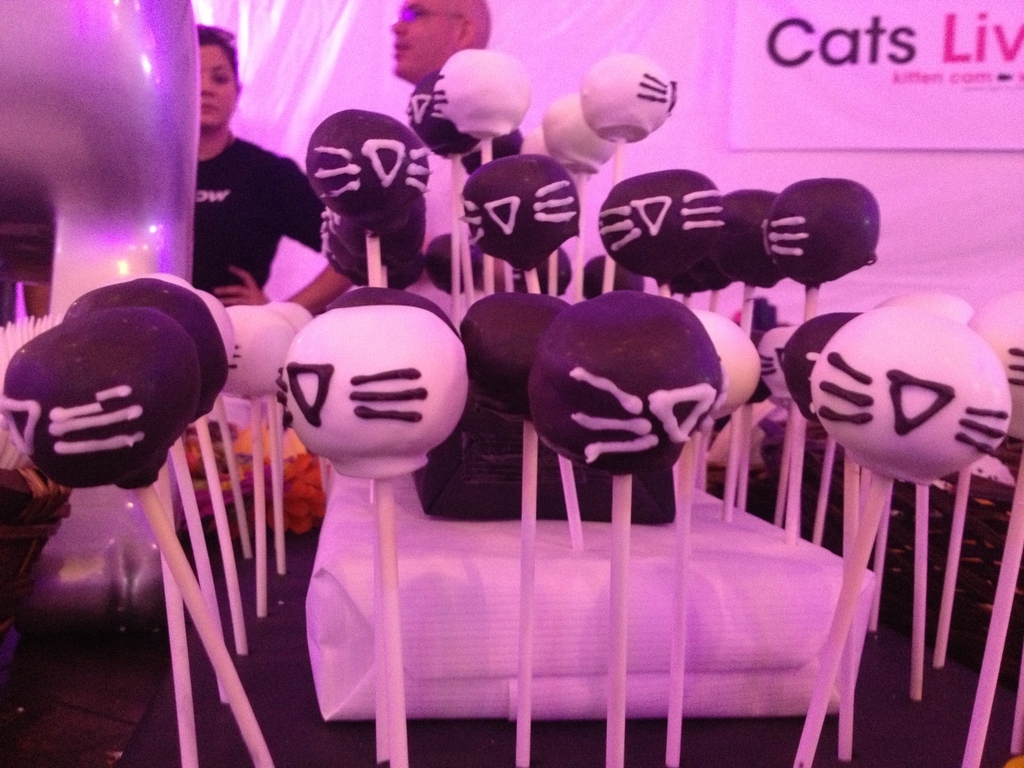 33.
Good friends are furrrever. (Question to self: Too many cat puns? Answer to self: Never!)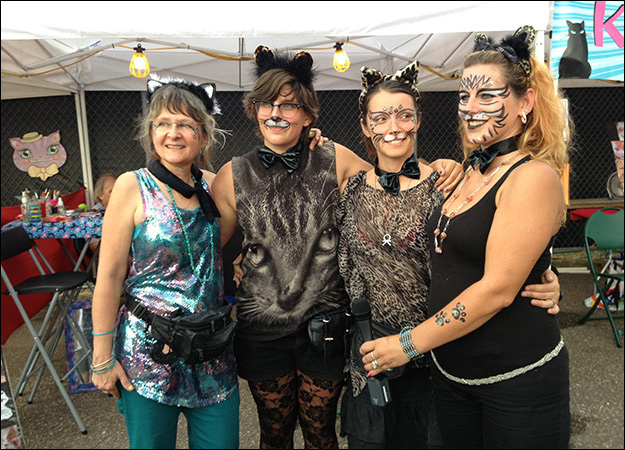 These two also seemed stoked on each other and it was endearing.
34.
Everyone has a soft spot for cats, even crusty punks with a thing for Black Metal.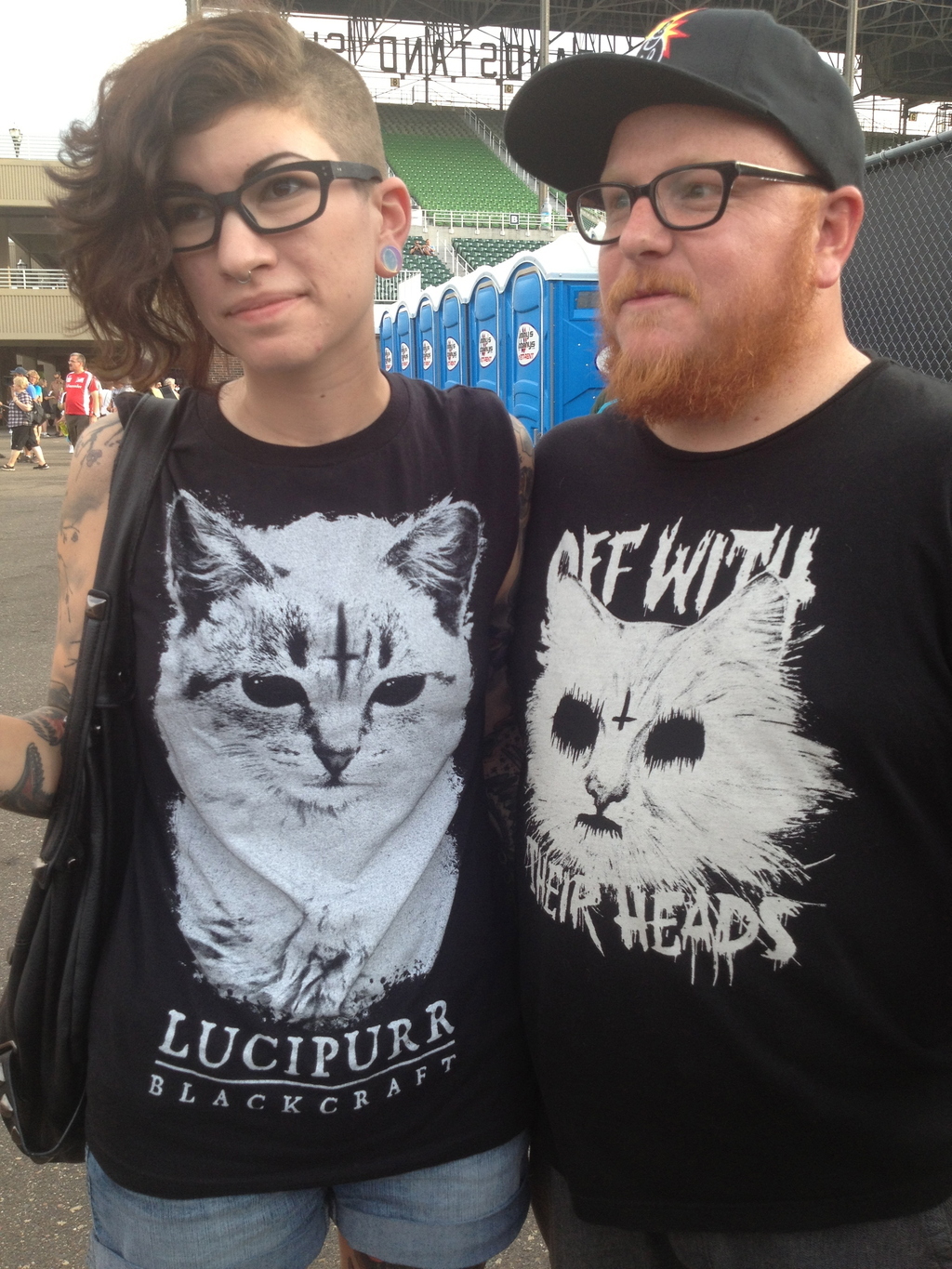 35.
We learned that... NOPE.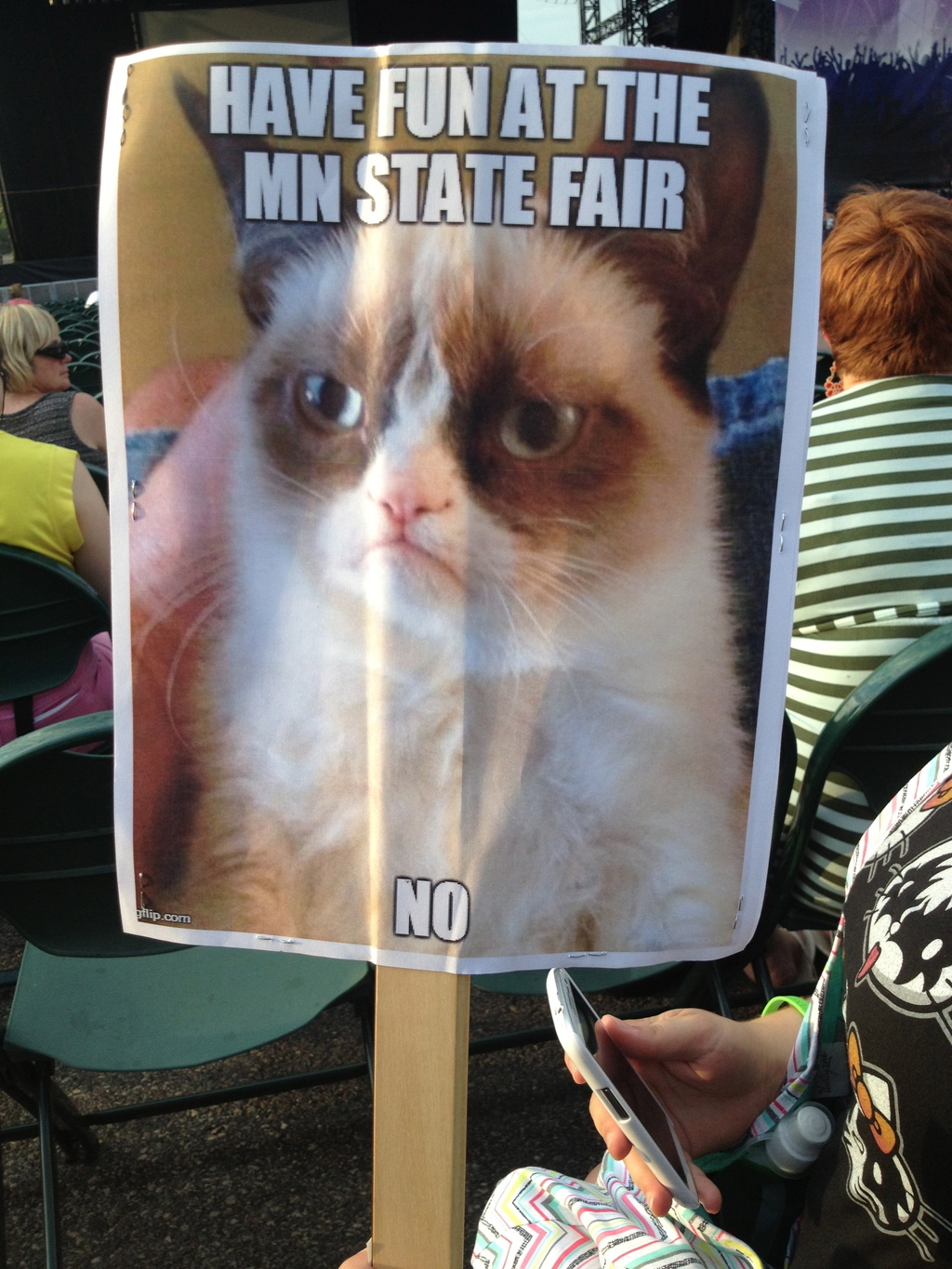 36.
These fantastic cat tights (a) exist and (b) photo like a champ.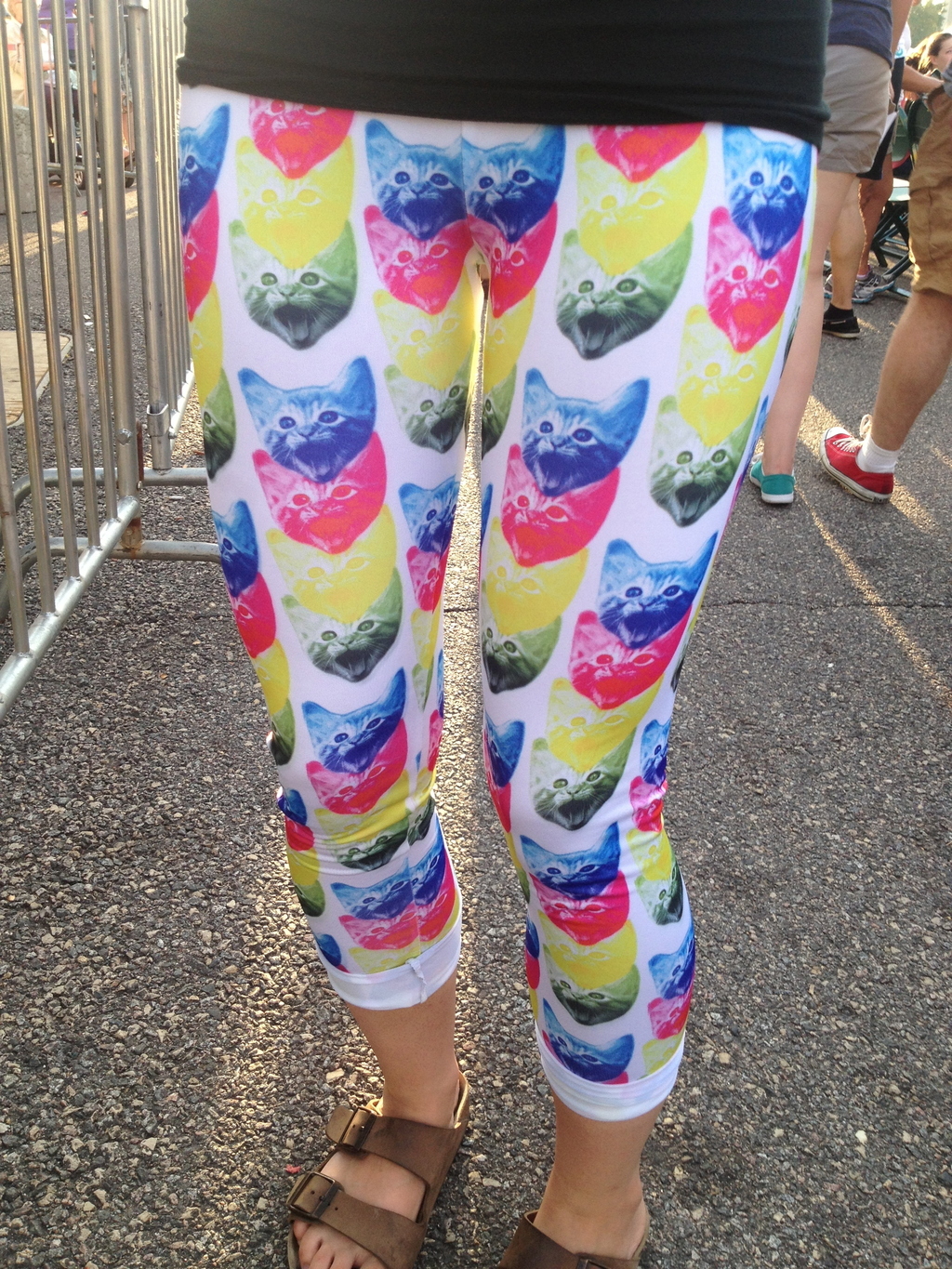 37.
Because you can never have too many feline accoutrements. CAT EARS FTW!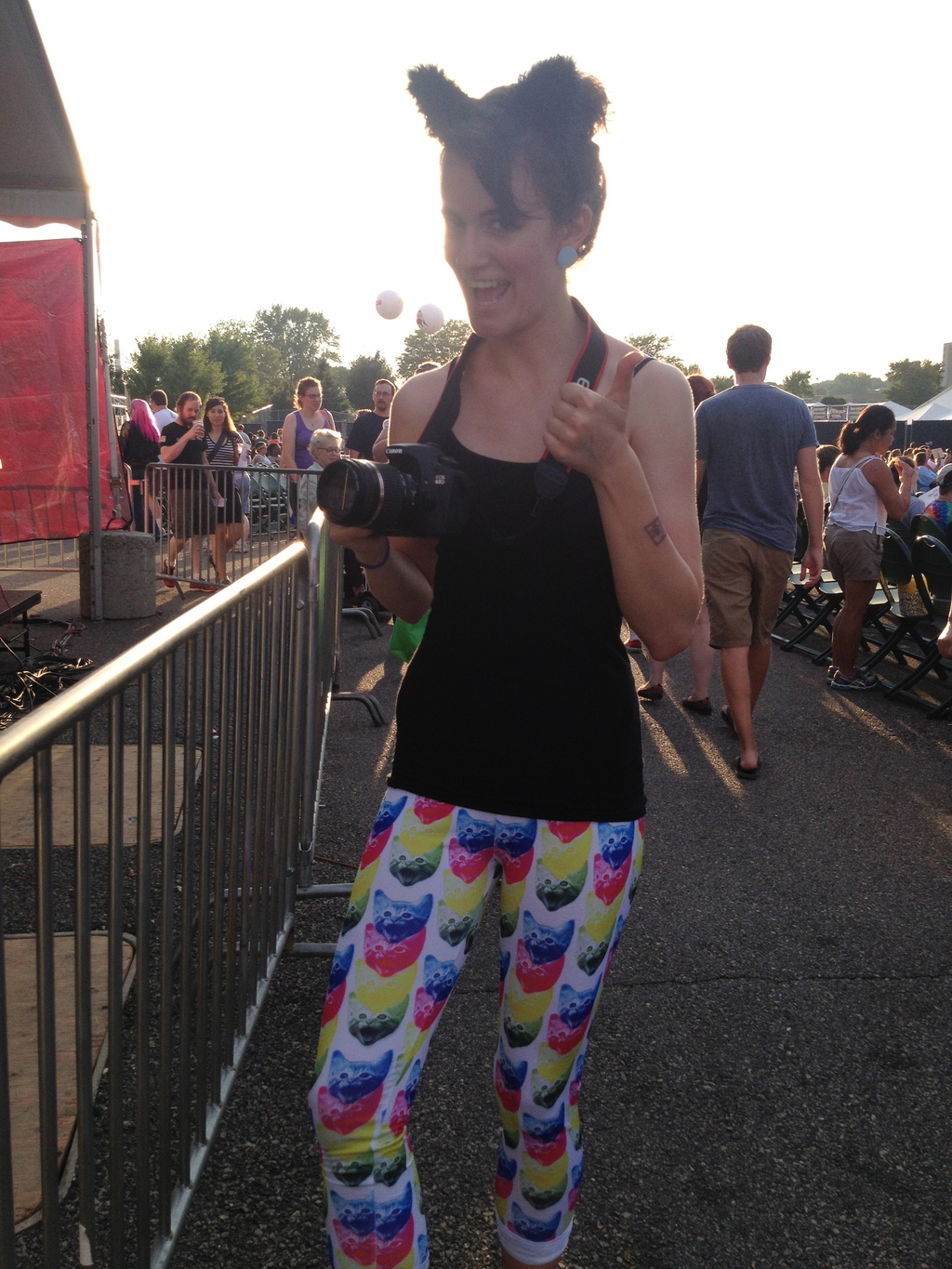 38.
Cat tights aren't just a thing, they're a trend.
39.
Kitty couture comes in many forms, some more elegant and refined than others.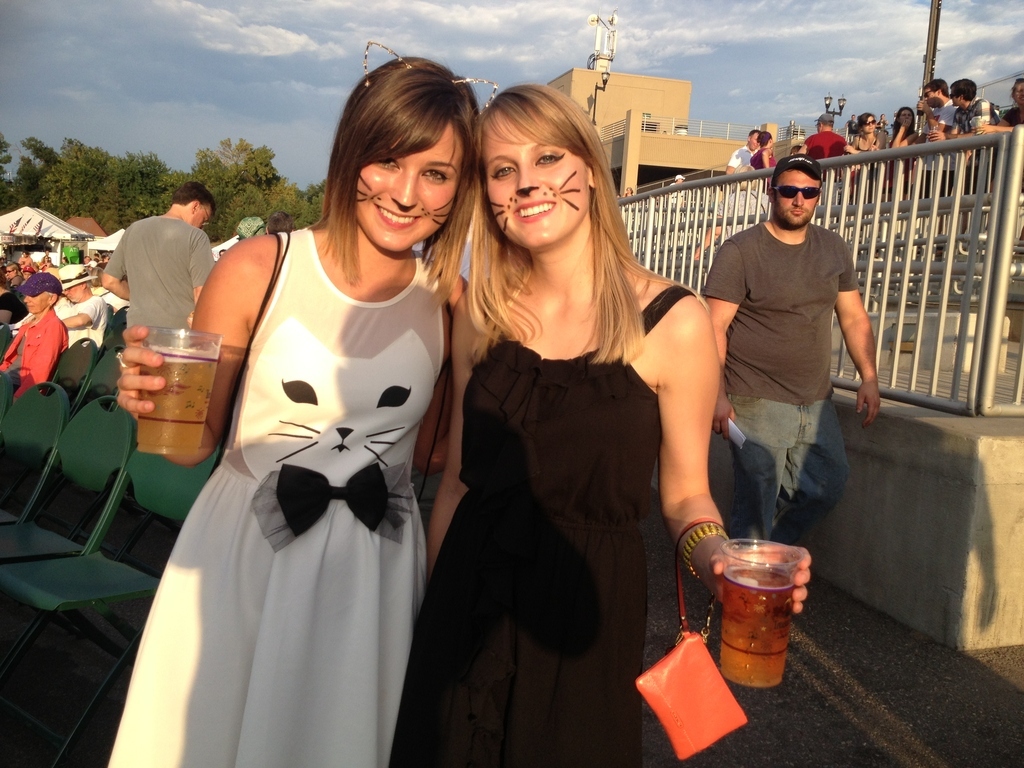 40.
Proof that method acting remains the best way to get into character.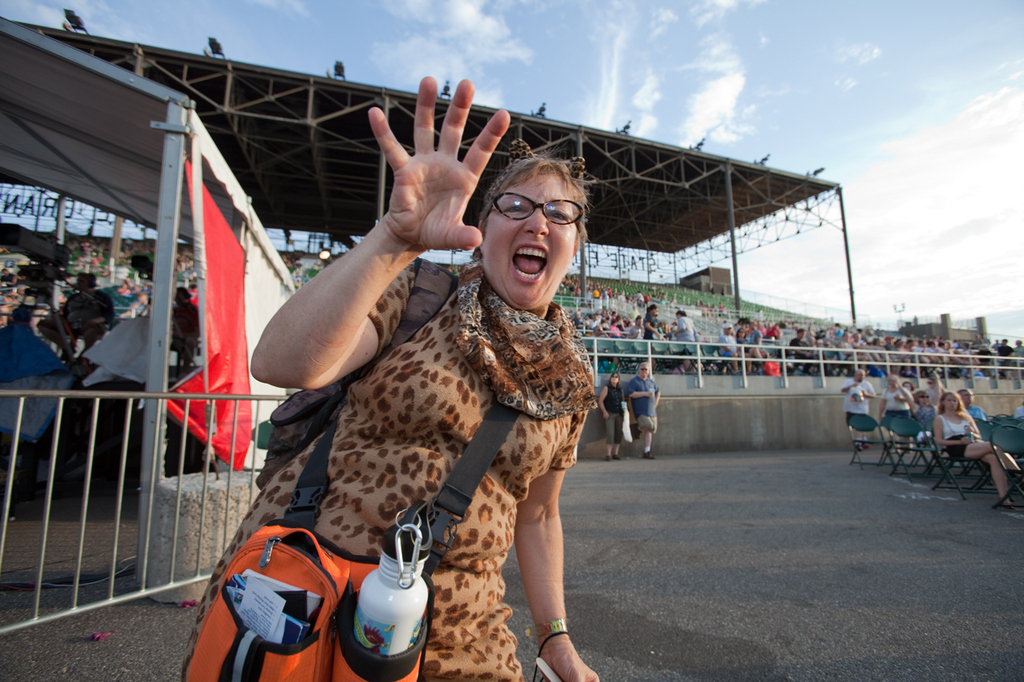 41.
Some people make it easy for photographers to do their job.
42.
Cats can surf?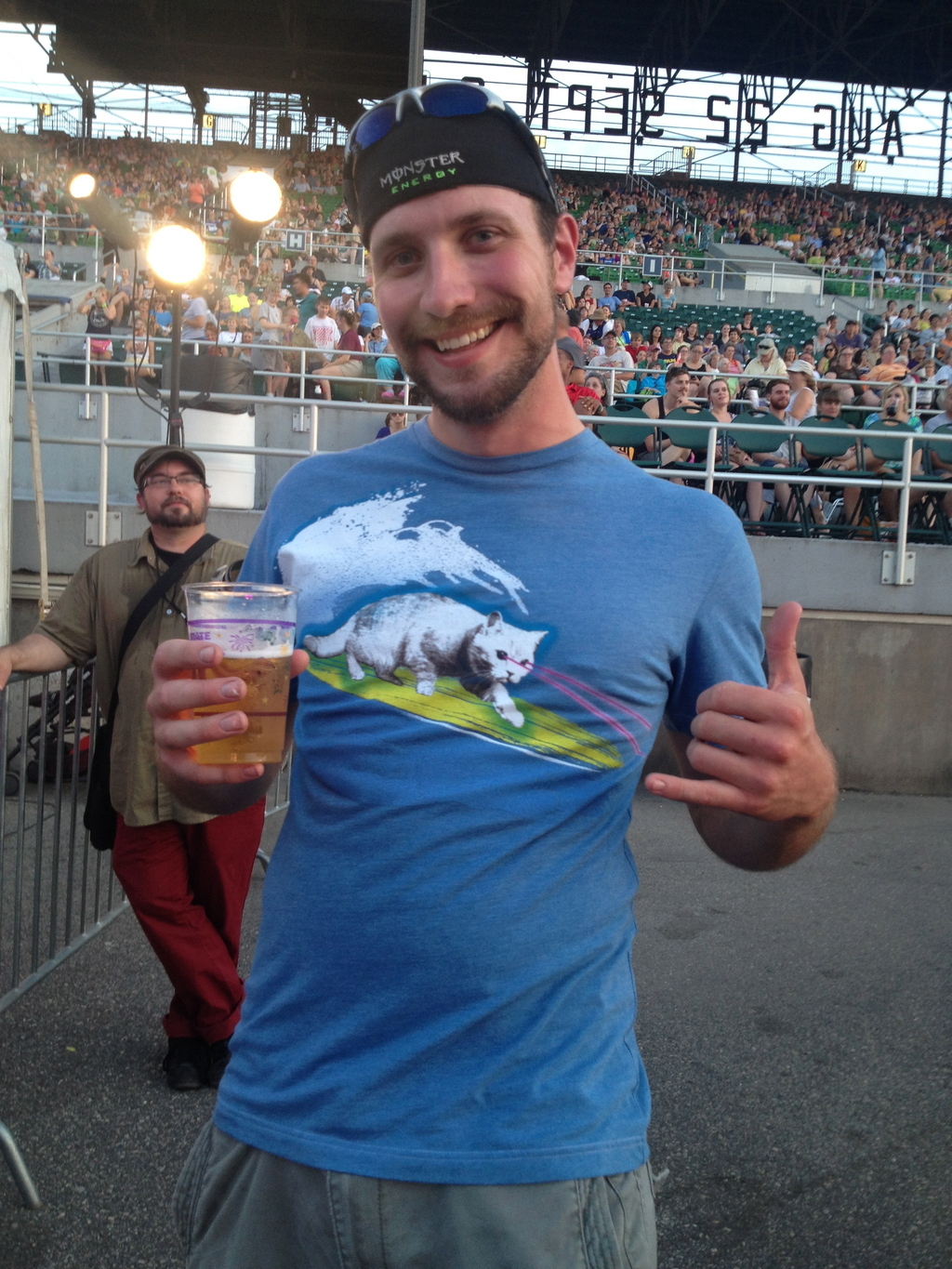 43.
When you roll with Ben Lashes, A.K.A. The Meme Manager, you roll deep.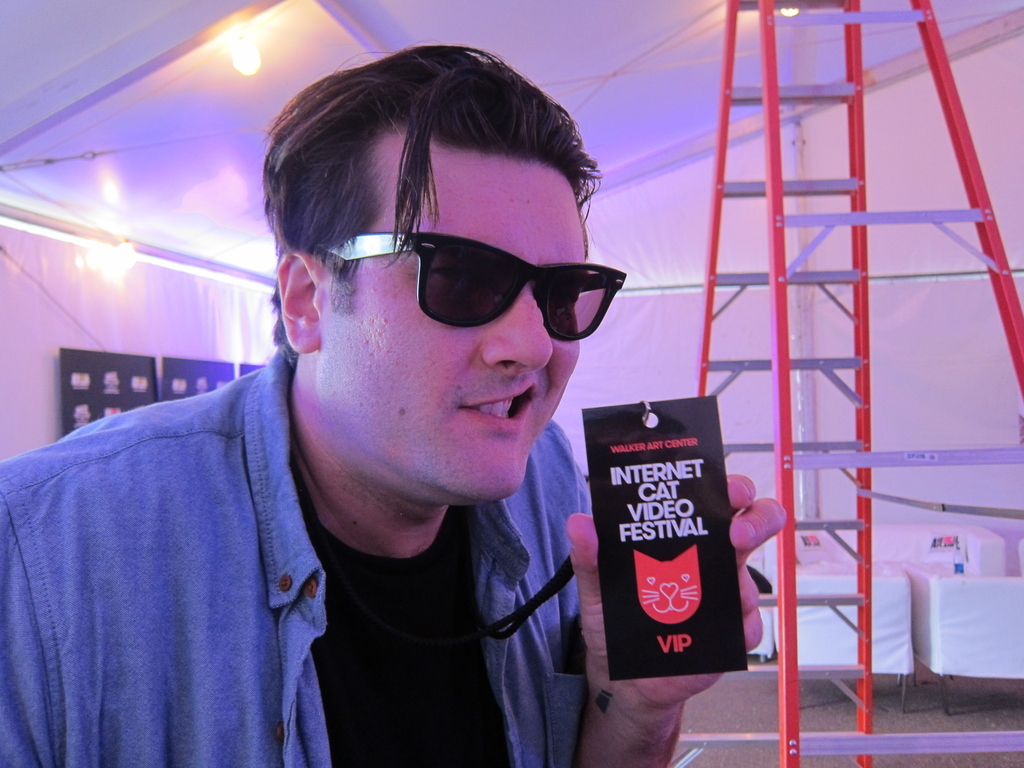 44.
It's never a bad idea to do some pre-viz before starting any project.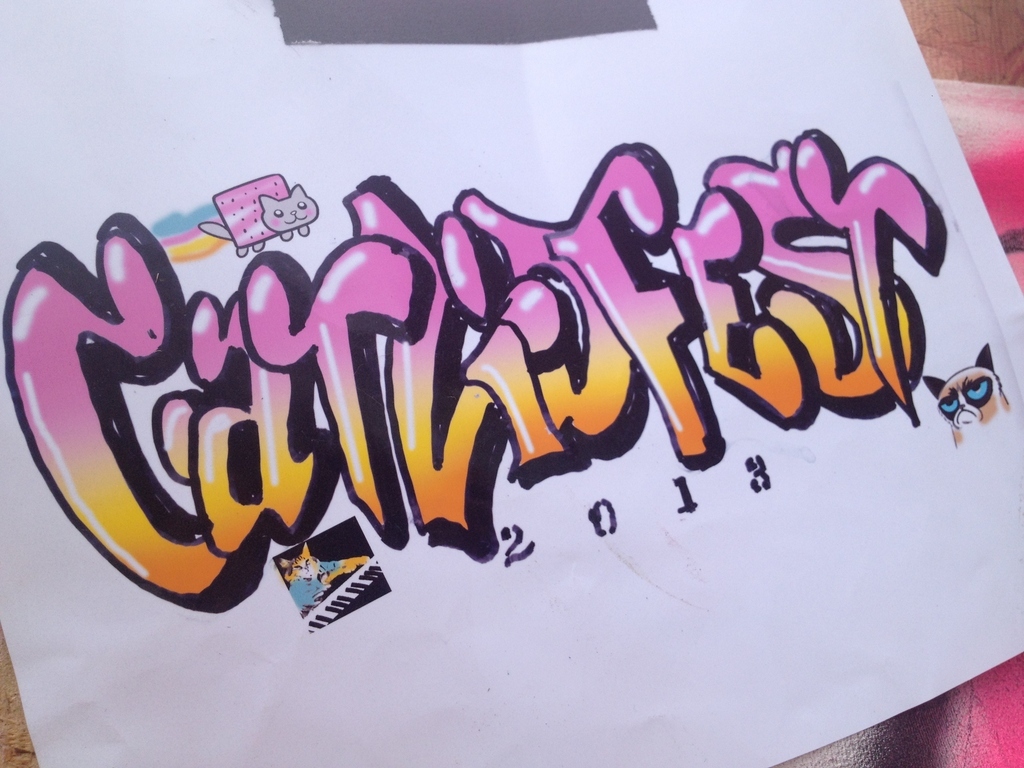 The finished product.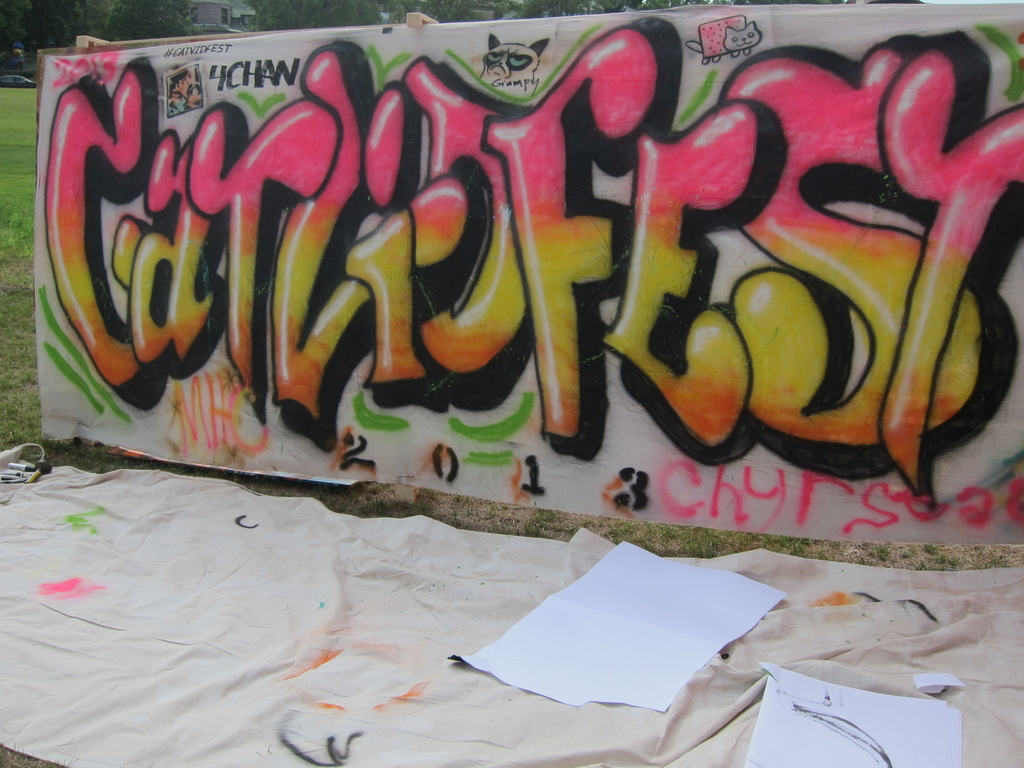 The finished product, only closer. Lots of in-jokes here for attentive readers.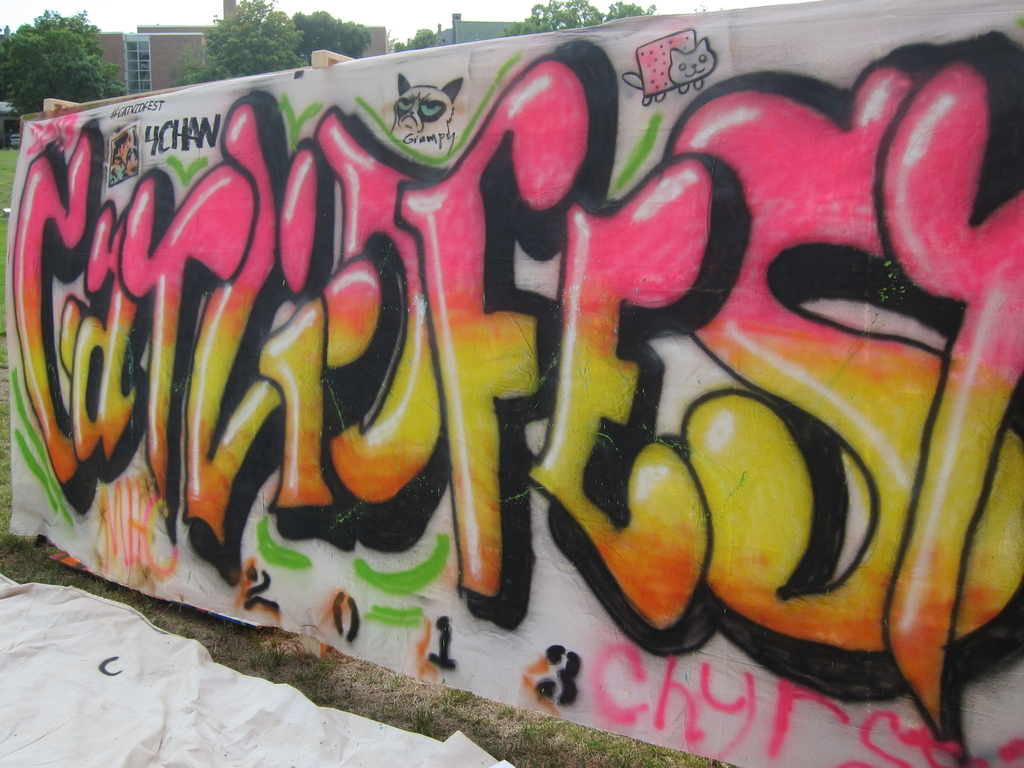 A concentration of the celebricats and their owners. Too much talent for one picture. MIND = BLOWN!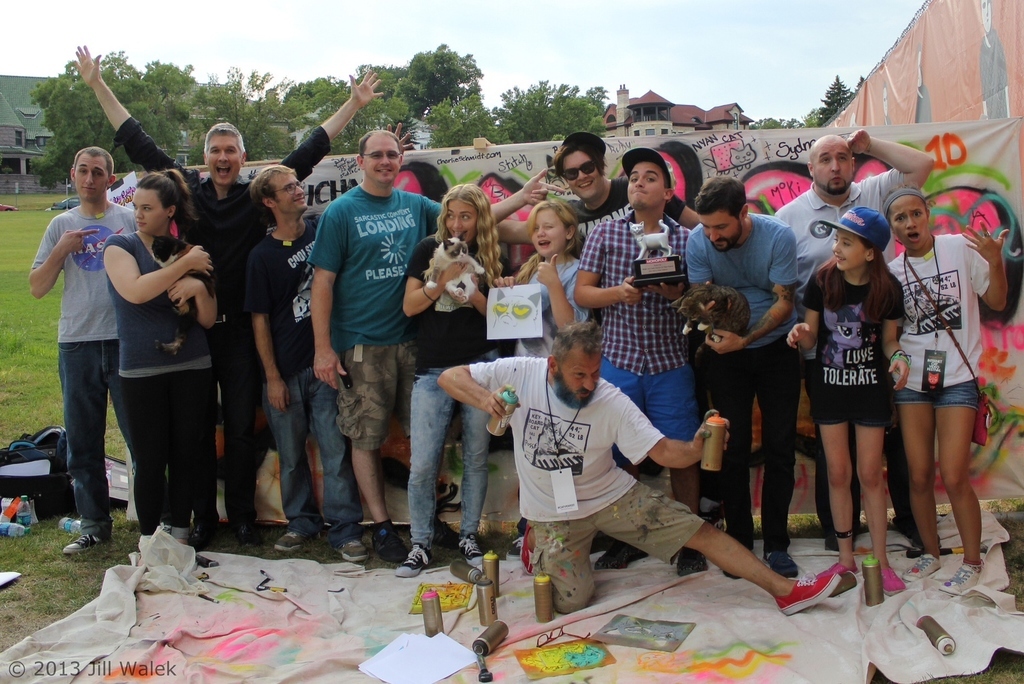 45.
Here's Charlie Schmidt, creator of Keyboard Cat. He's a tireless artist and is gifted with the spray paint cans.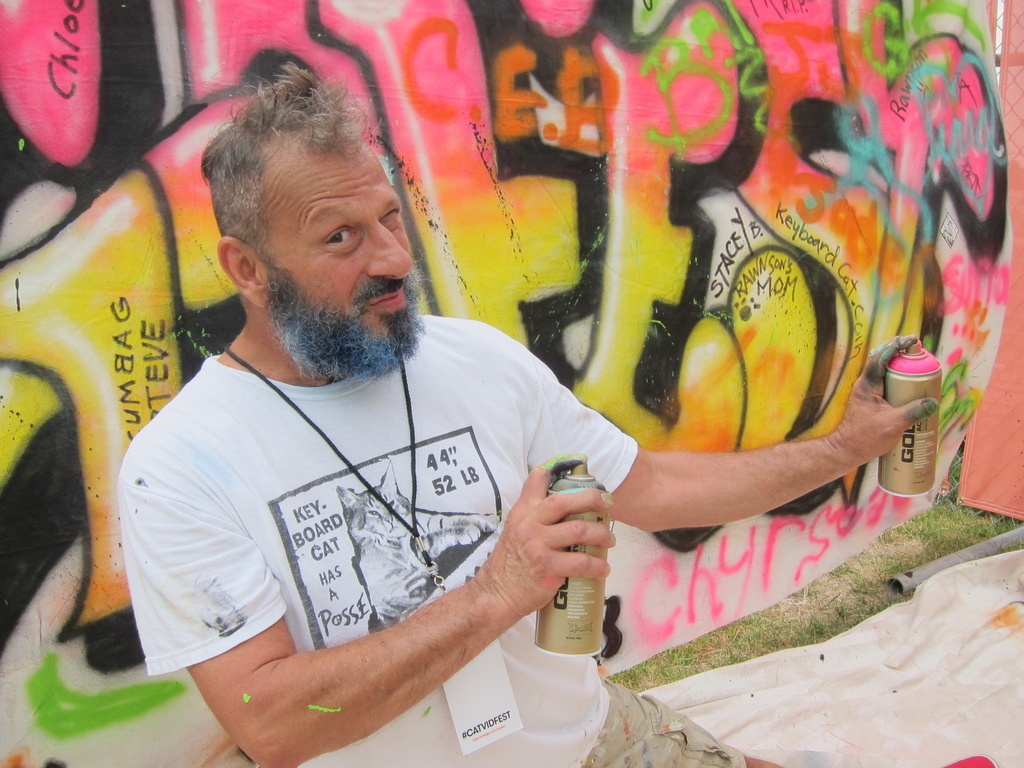 46.
On the festival's second day, he set up a work station with free stencils and art supplies in an effort to encourage collaborations with his fans.
They painted their own designs, samples of which are included below.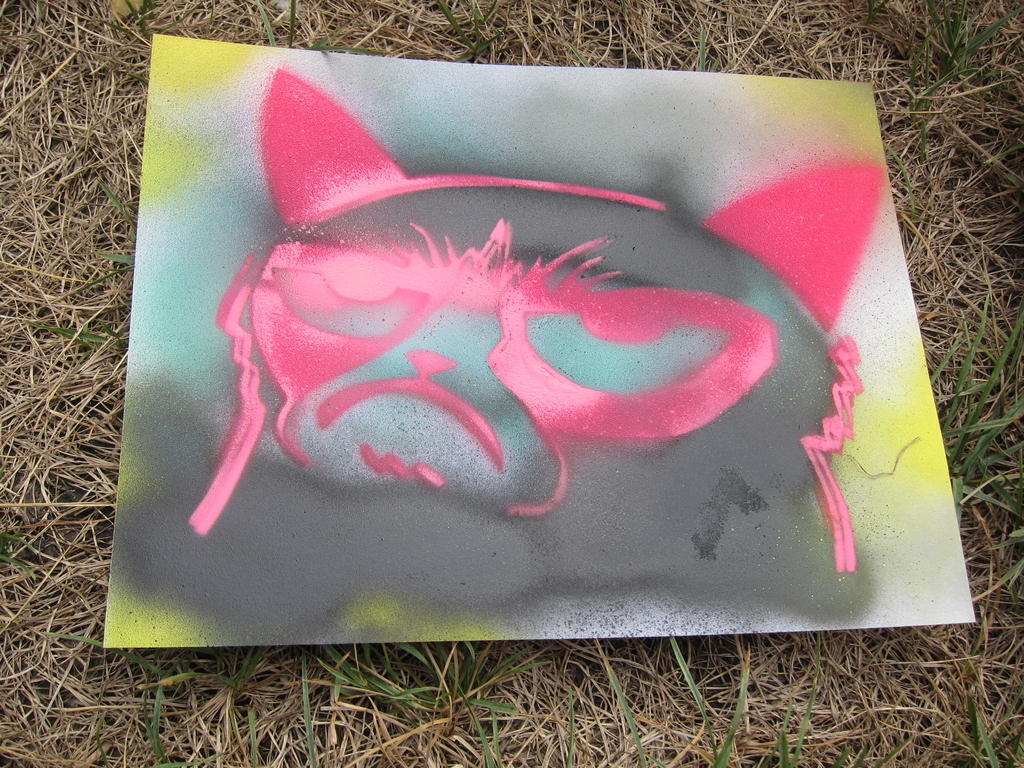 Some of which he autographed.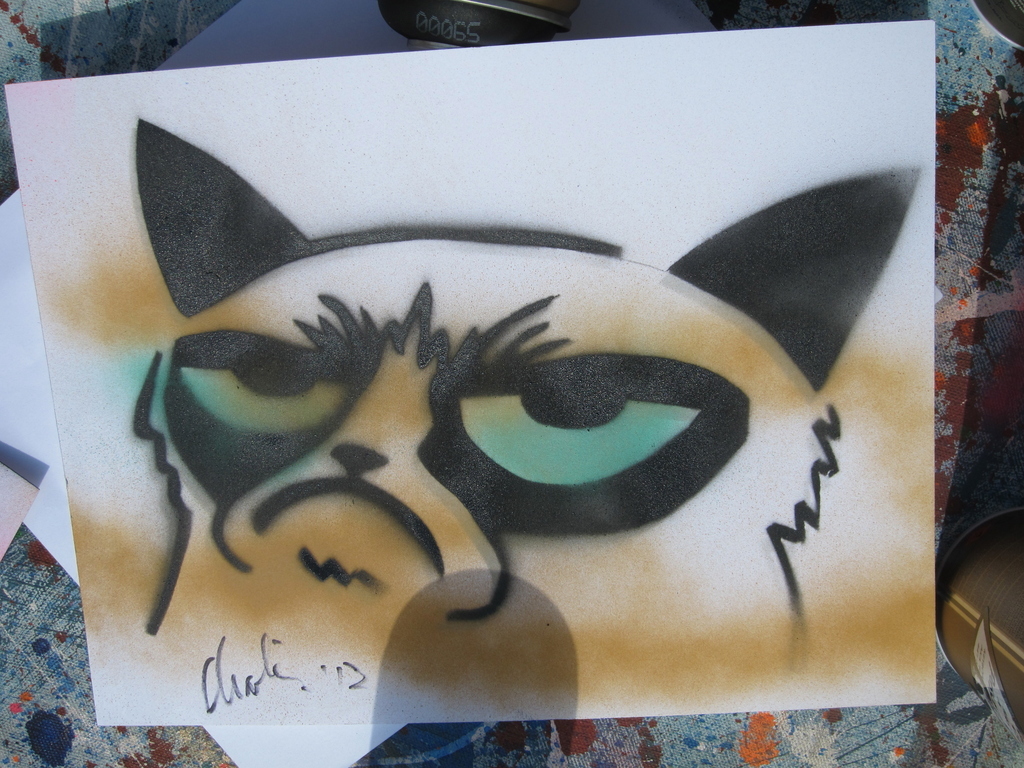 Neon Grump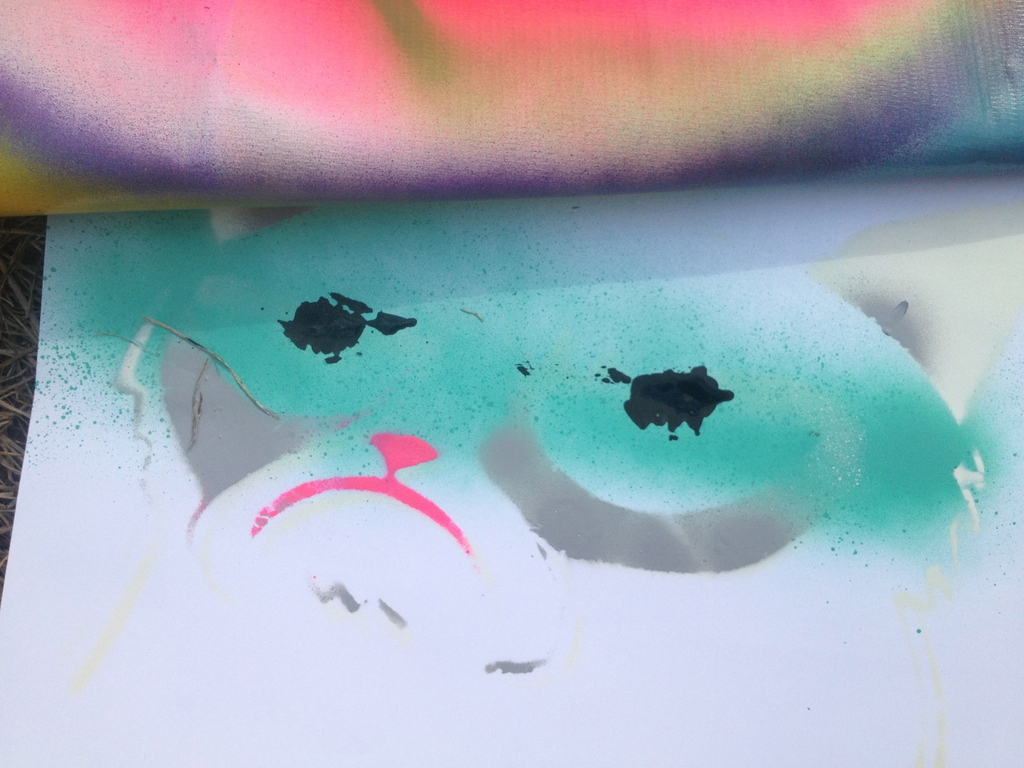 There are two kinds of stencils in this world. And I don't like them.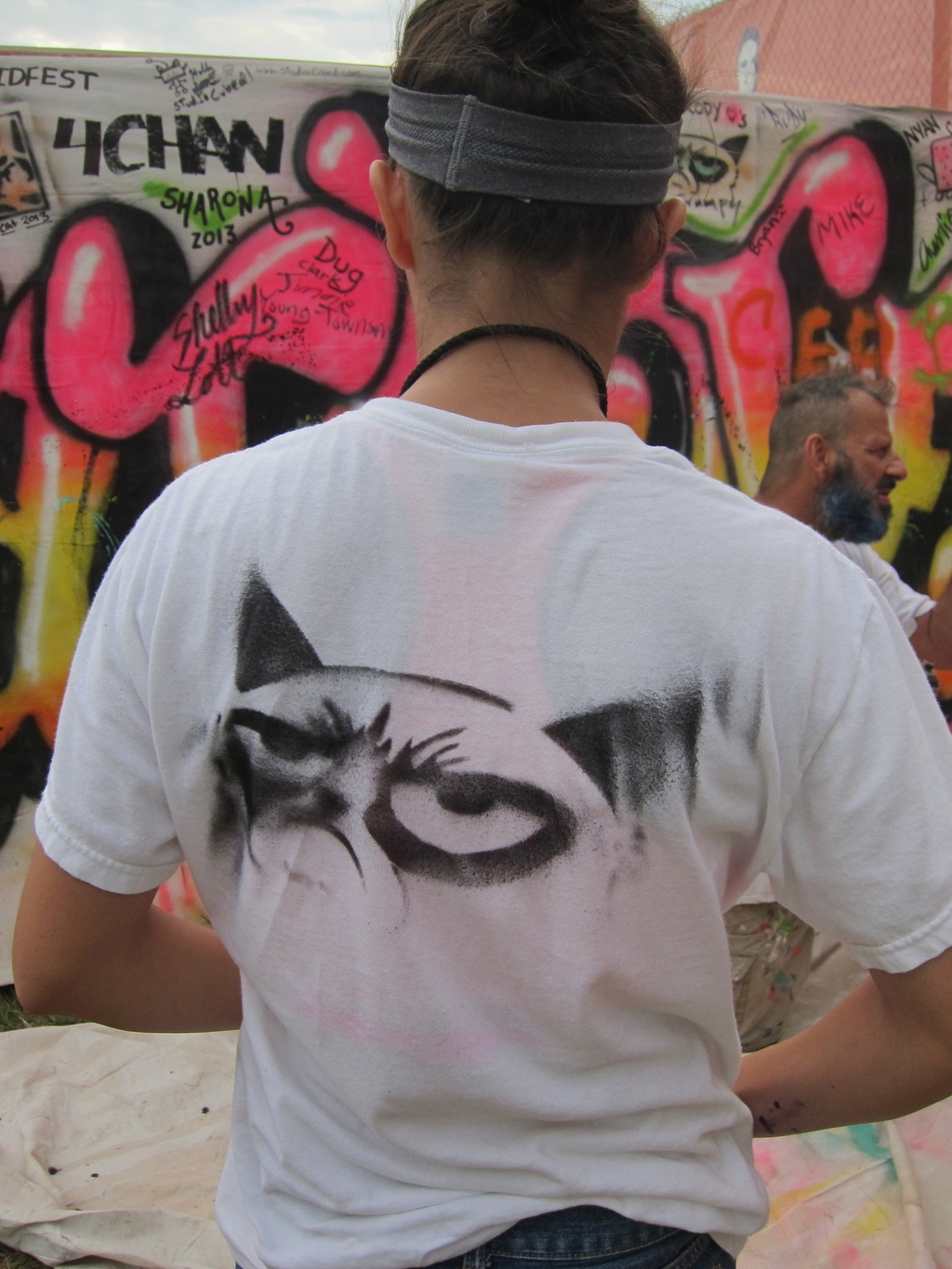 47.
Cats can DJ even if they can't scratch. (Do you see what I did there? That's a play on vinyl records, yeah, I'm old.)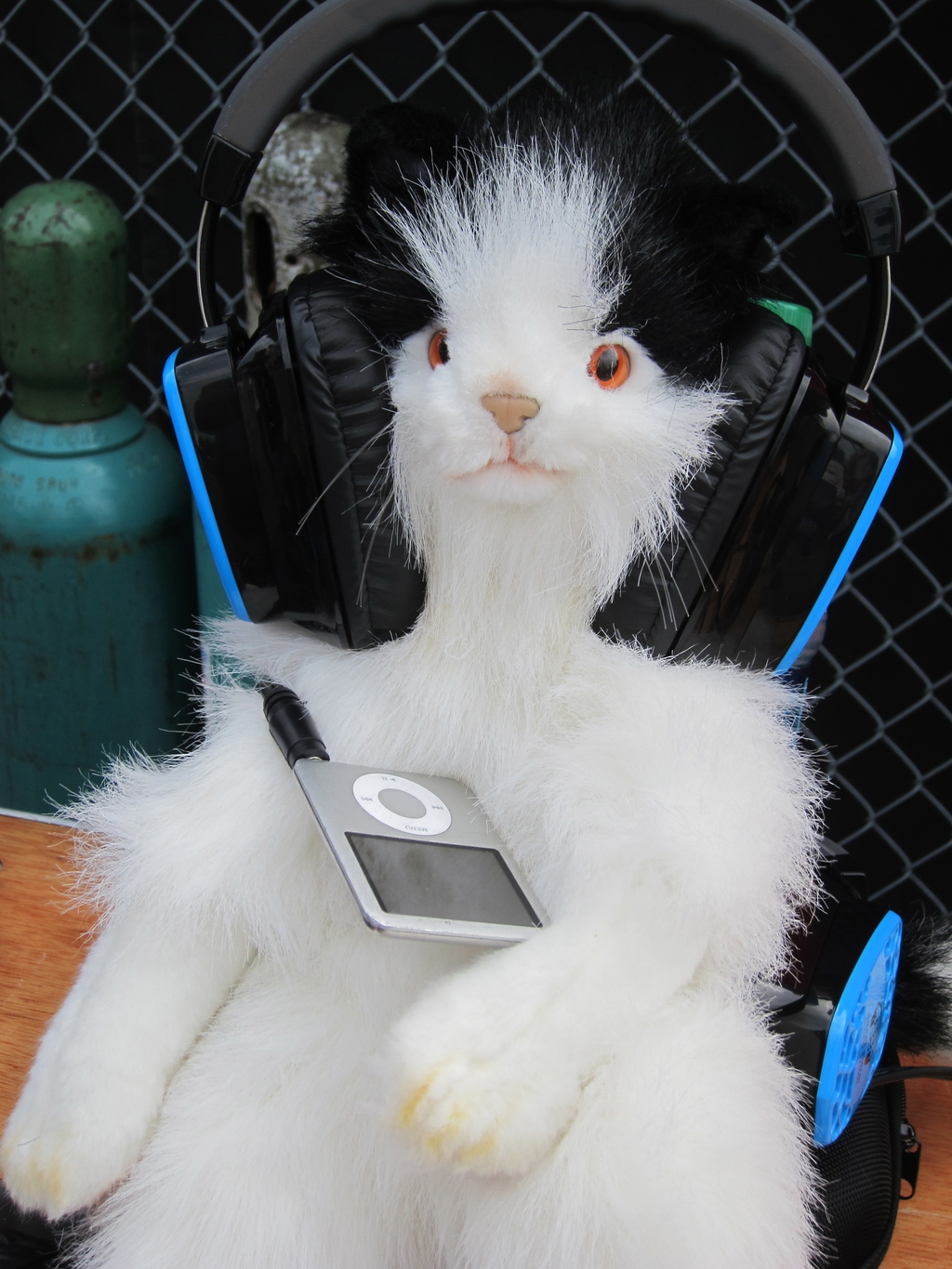 48.
Humor me here for a second but this is the largest rabbit in Minnesota. Or so the sign claims.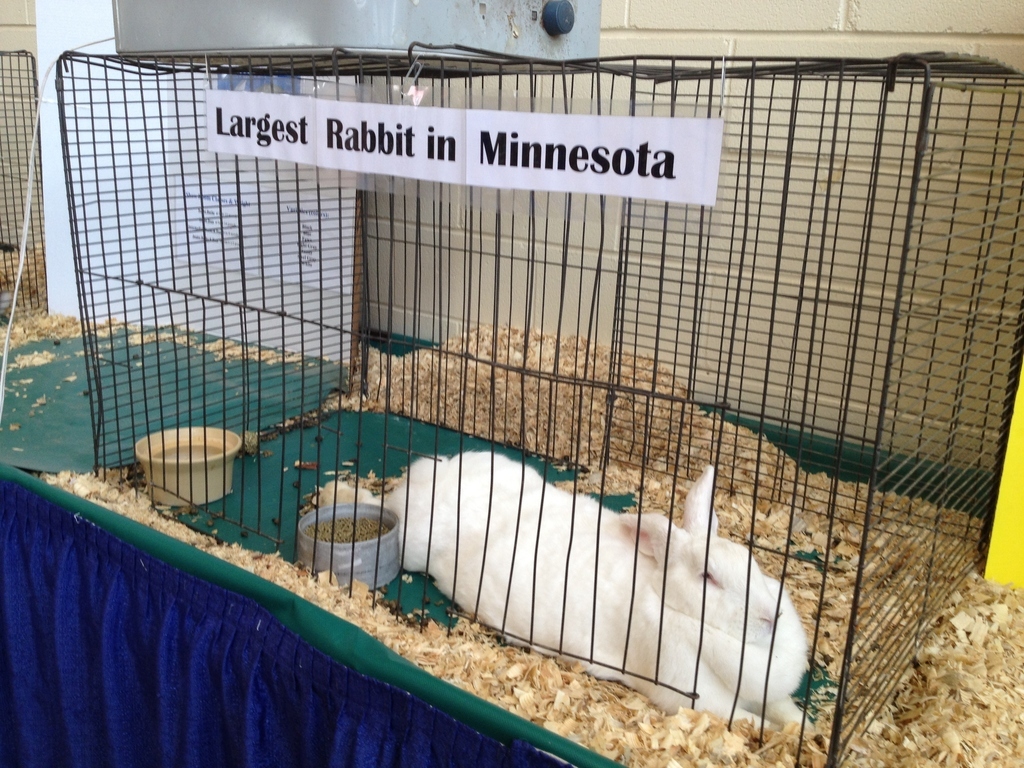 49.
You think feline flicks are easy? At the "Life As A Cat Video Creator" panel, Will Braden explained that he shoots up to 3 hours of footage per video, only to edit the best bits back into a 2 or 3 minute treatment.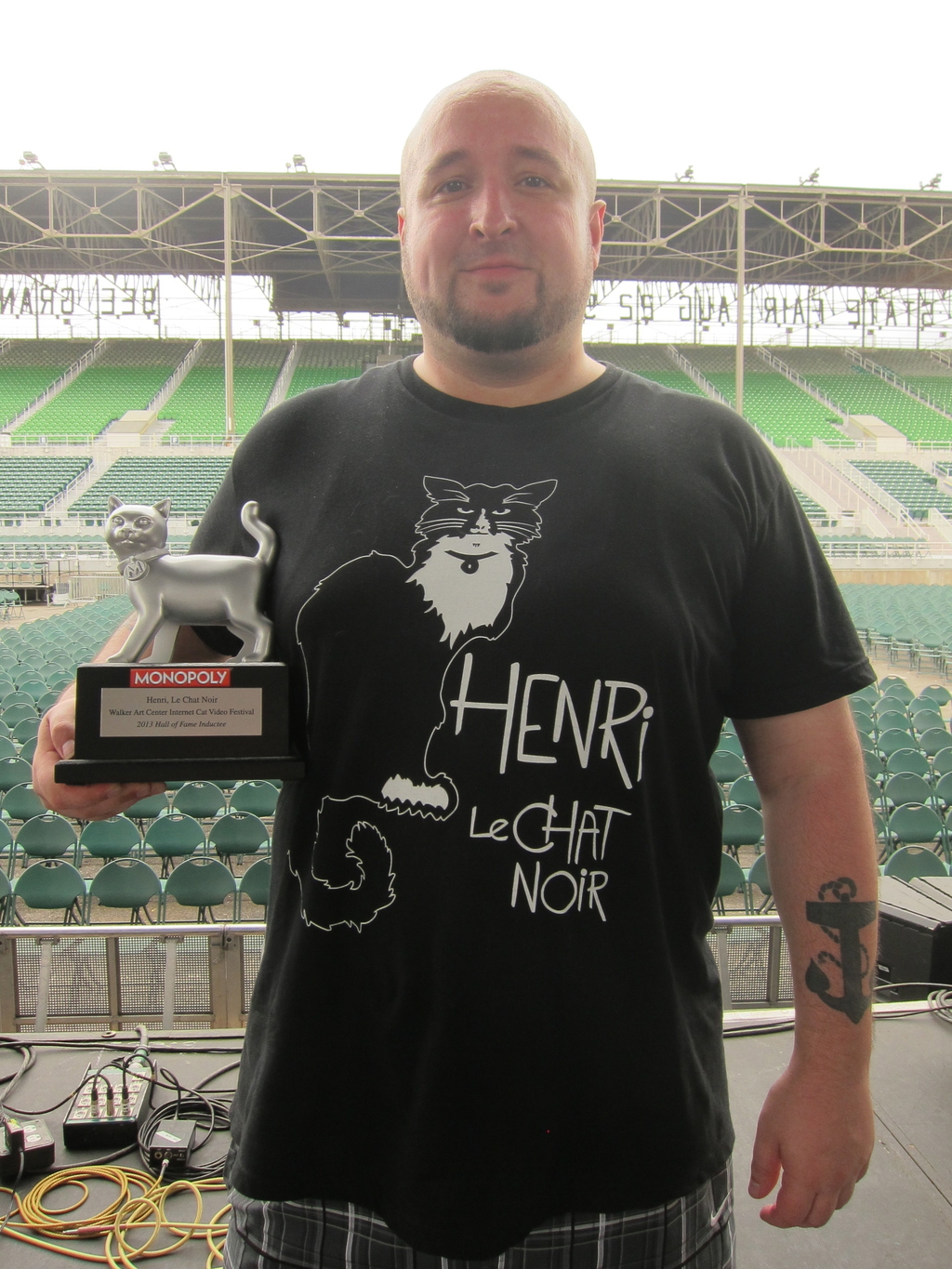 50.
Apparently, I'm not the only one to fantasize about mystical cat-unicorn hybrids...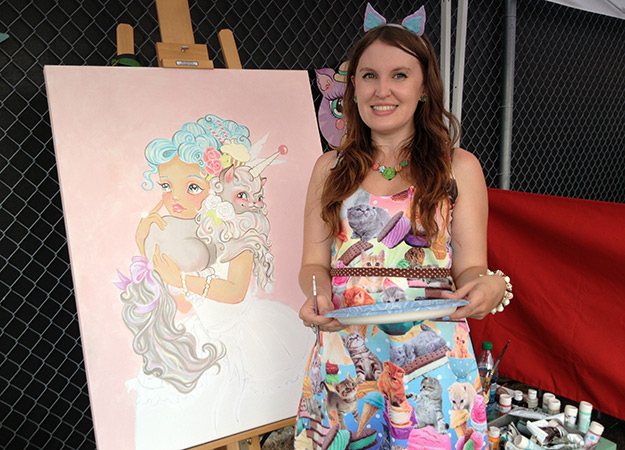 ...crowned with cupcakes?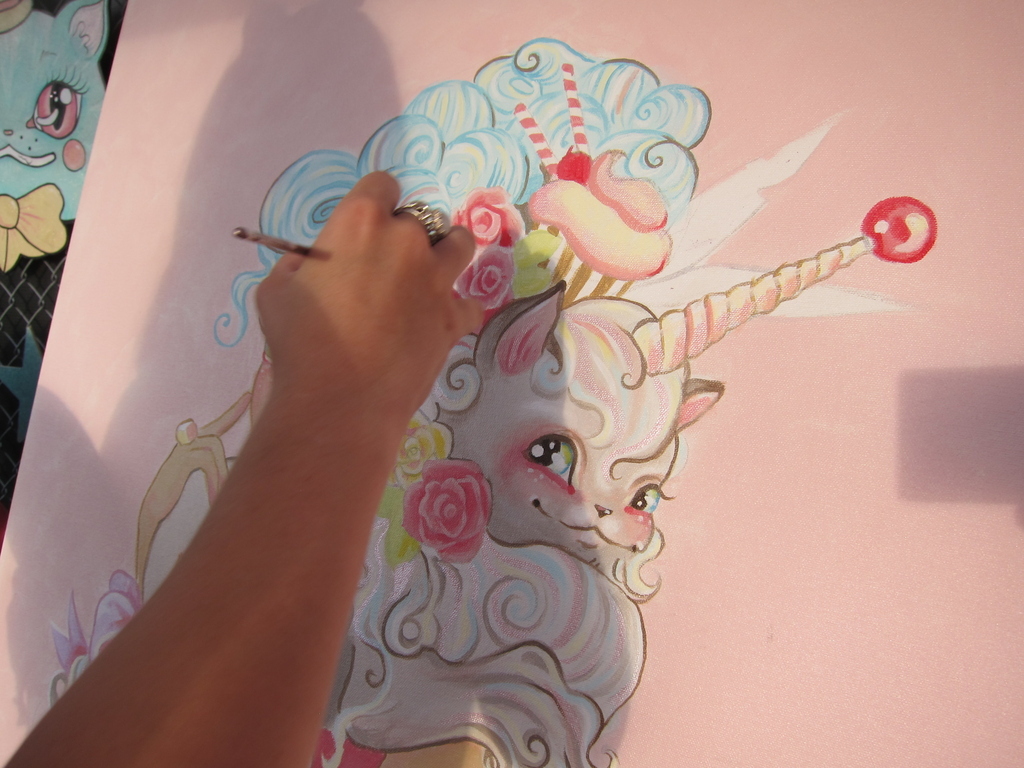 Also: can we all just take a minute to look at Rudy's amazing cat dress? It makes me feel feelings.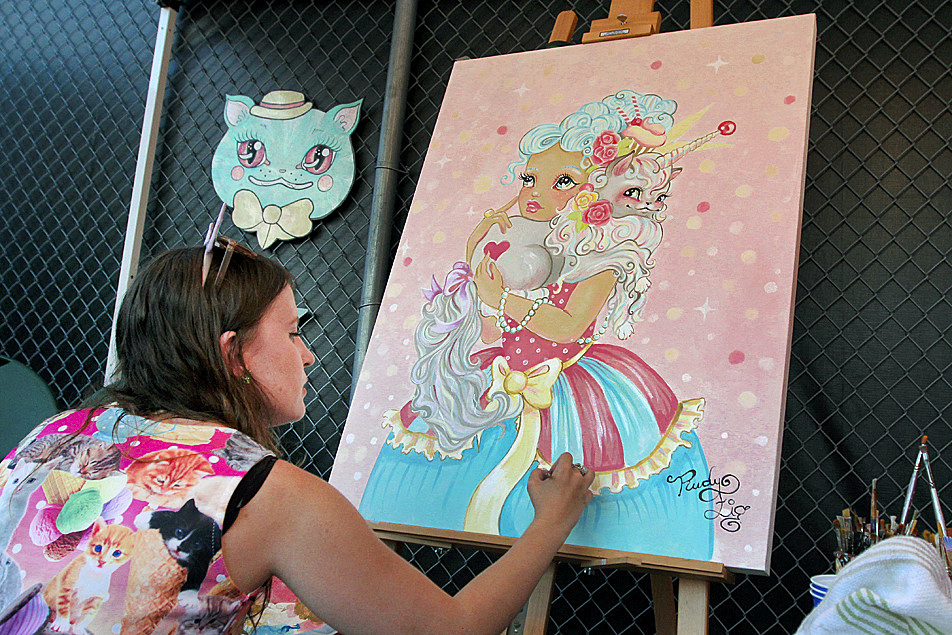 51.
The festival's highest award, the People's Choice Golden Kitty Award, went to Grumpy Cat! She outlasted four other nominees, worthy all, for the honor!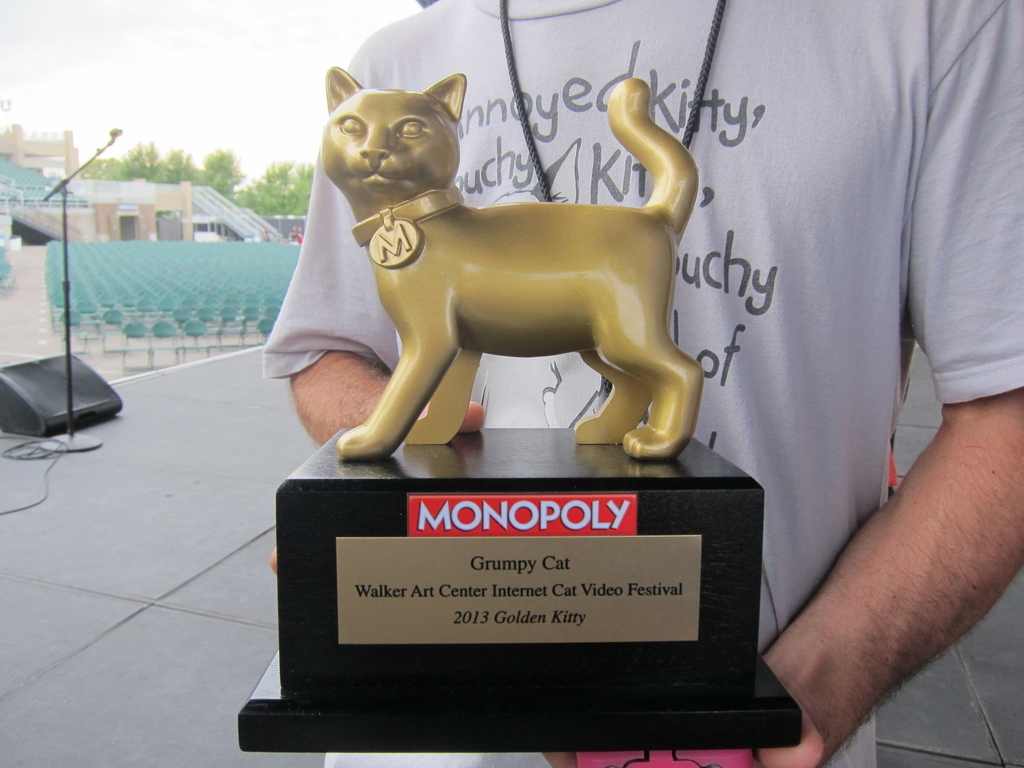 52.
This is what 180,000,000 views on YouTube (give or take a few) looks like.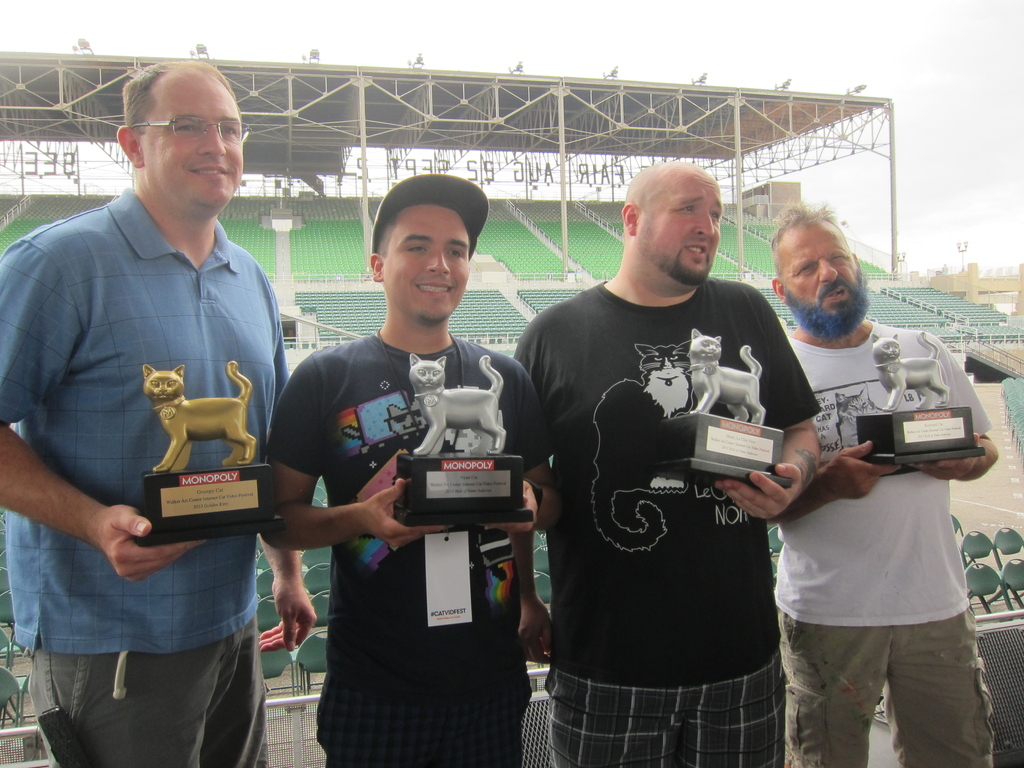 Here's a closer look at the silver statuettes, which acknowledge entry into the festival's Hall of Fame. Inducted this year: Kittens Inspired By Kittens, Maru, Lil Bub, Boots And Cats, Nyan Cat, and Henri, Paw de Deux.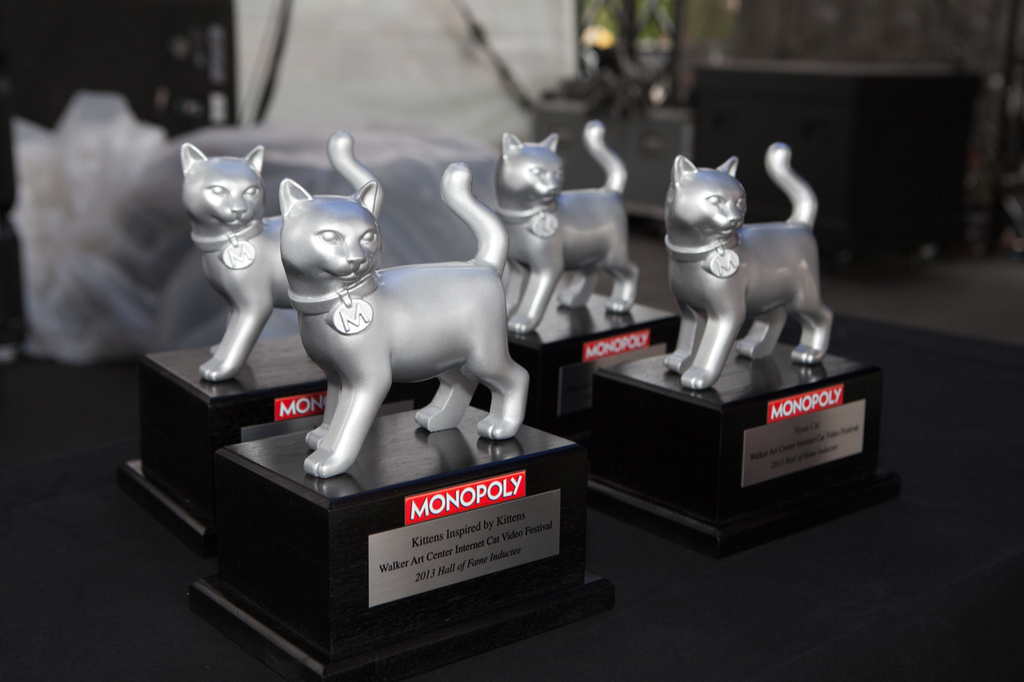 53.
Pictured here receiving her award: 12-year-old Maddie Kelly, the creator of "Kittens Inspired By Kittens". Uploaded to YouTube in 2008, the clip has logged nearly 18,000,000 views to date! She also gave a great interview at the workshop on Day 2!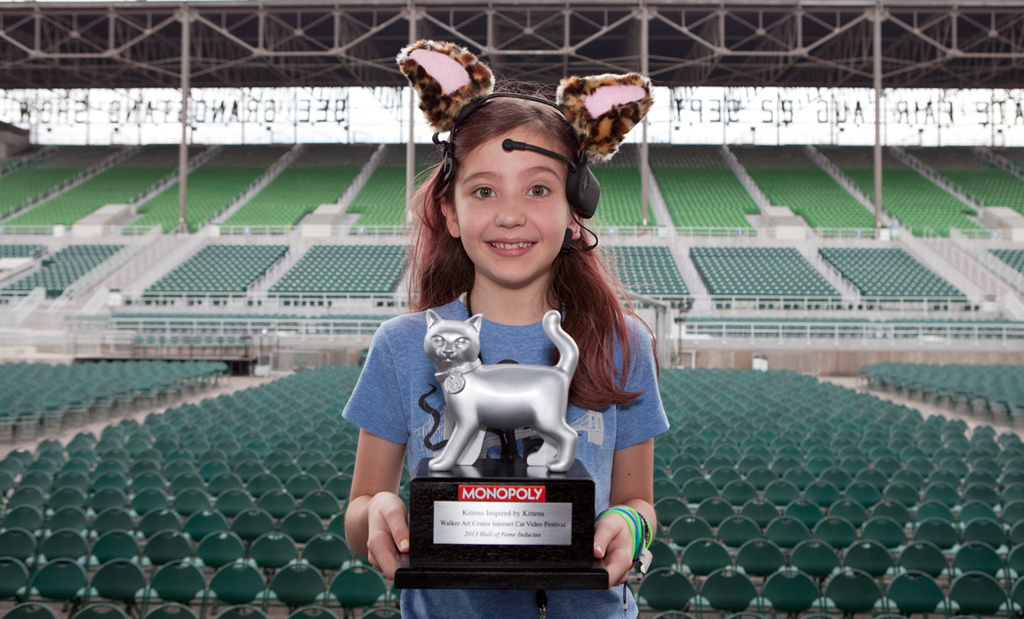 54.
We learned that Koo Koo Kanga Roo are the world's best — and only? — cat-centric Hip-Hop party band!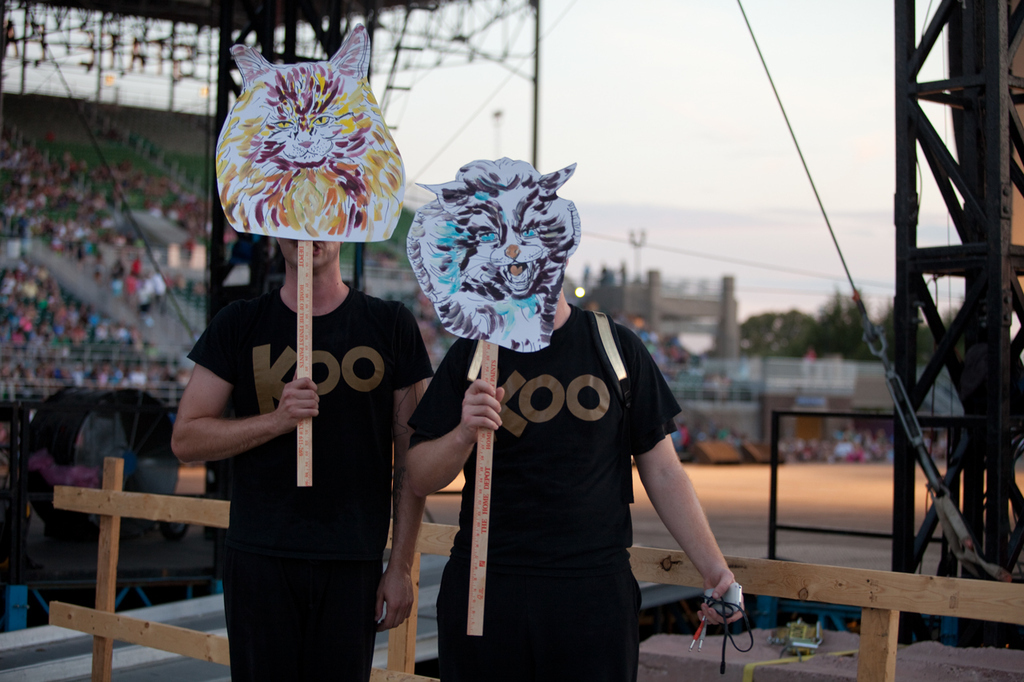 Described alternatively as a "kid's band for adults" or as "a cross between the Beastie Boys and Sesame Street", the duo recorded a new EP, "Viral: Songs About Cats And Stuff", just for the festival. Download it at the link below!
55.
Quite possibly the best t-shirt spotted at the festival. So much swagger.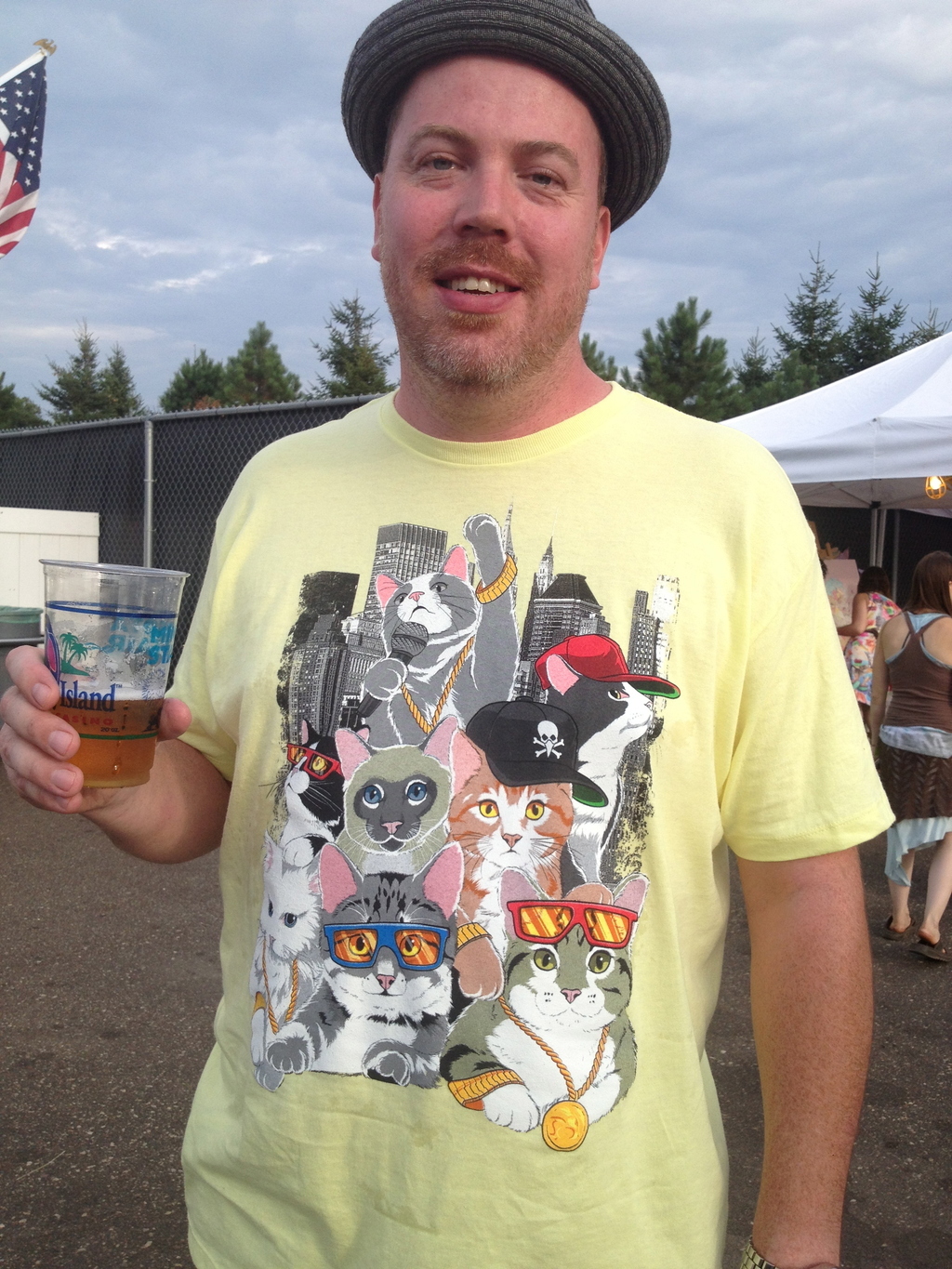 56.
"Catattoos" were, somewhat surprisingly, few in number but this one caught our eye.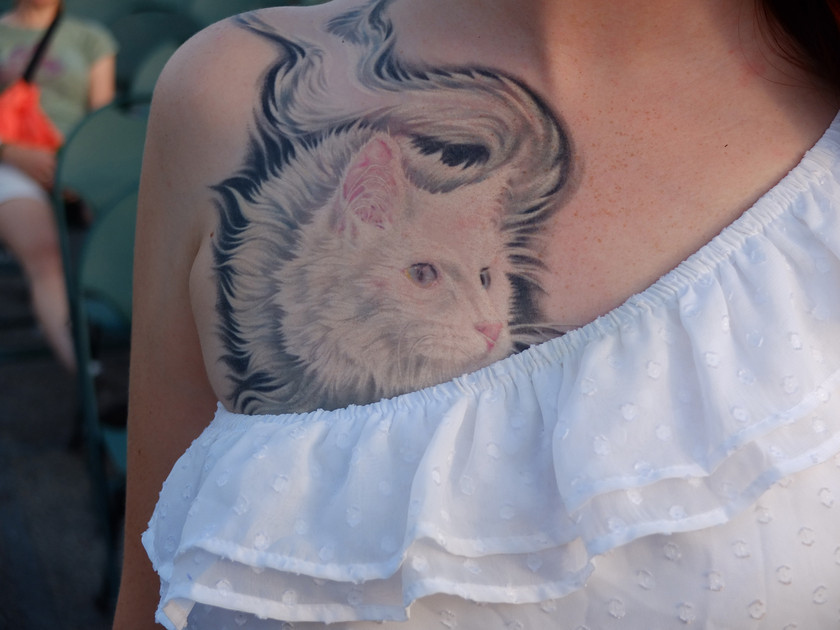 57.
Official ephemera spotted at the merch table.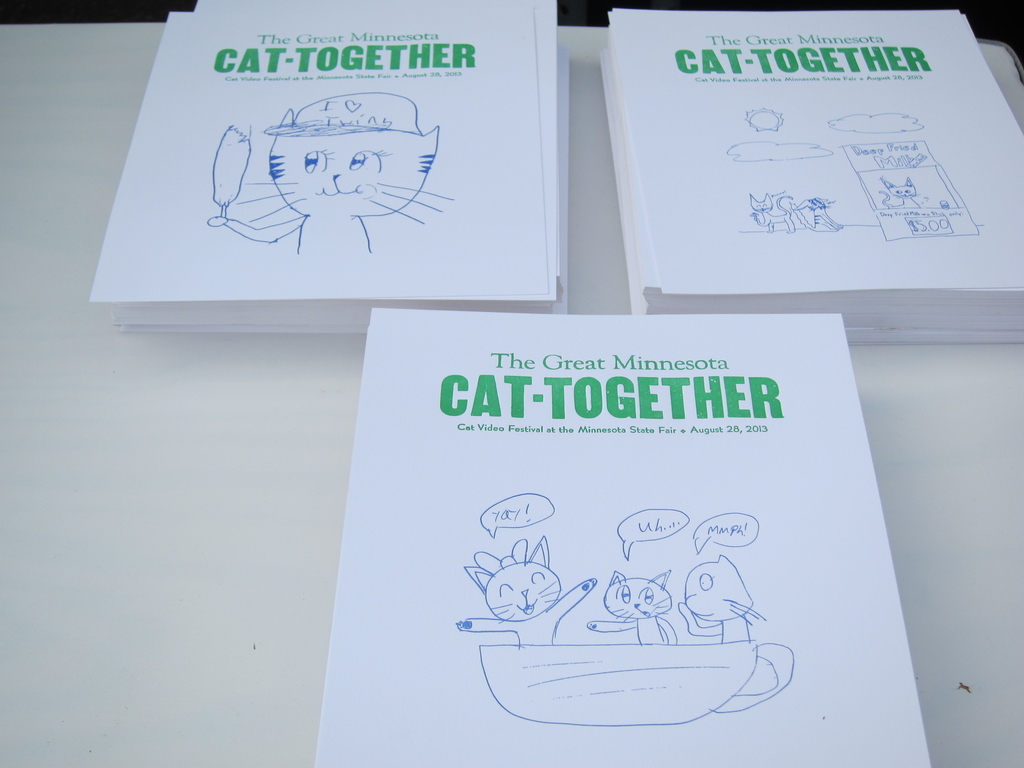 58.
Exercising his executive privilege, Keyboard Cat plays them off in the Oval Office.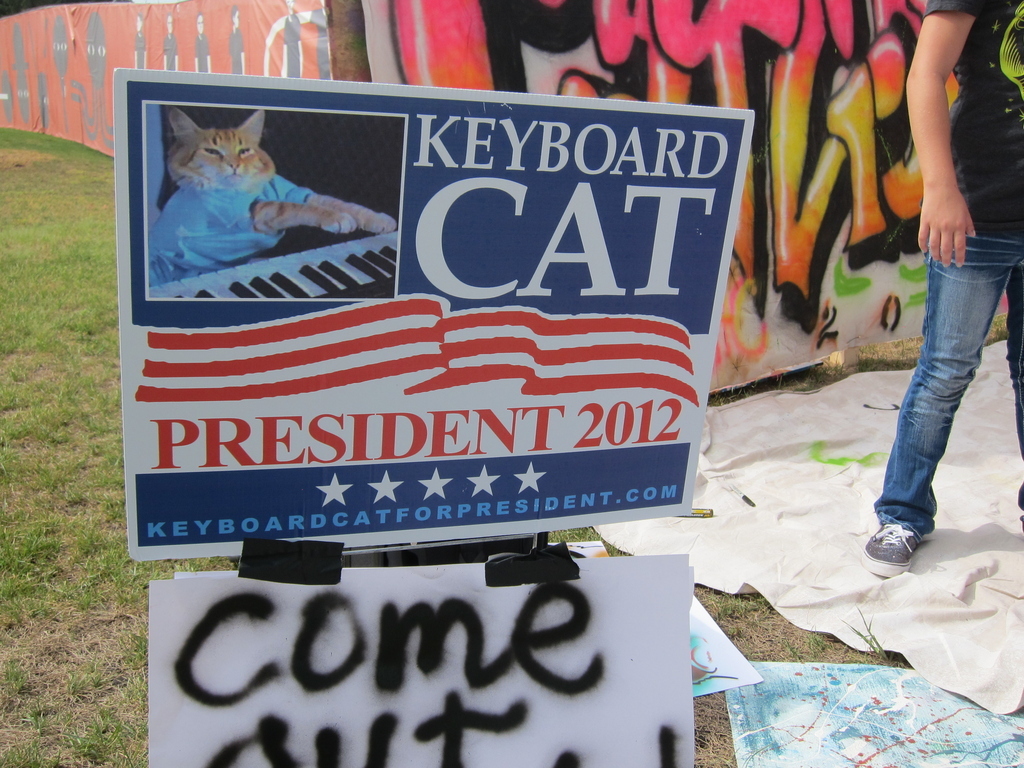 59.
SAVE THE DATE: Curator Scott Stulen will be bringing the festival to a town near you in 2013 and 2014. 11 dates have been announced thus far (below), and about 20 more will follow suit shortly! GOGOGOGOGOGOGOGOGOGOGOGOGOGOGO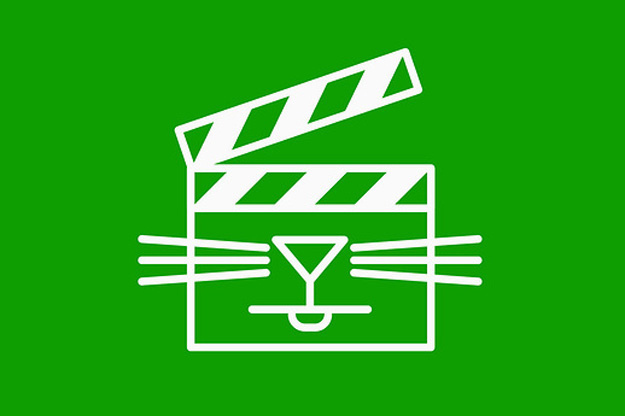 60.
A cherished keepsake: the official poster print, as signed by a number of the festival's principals.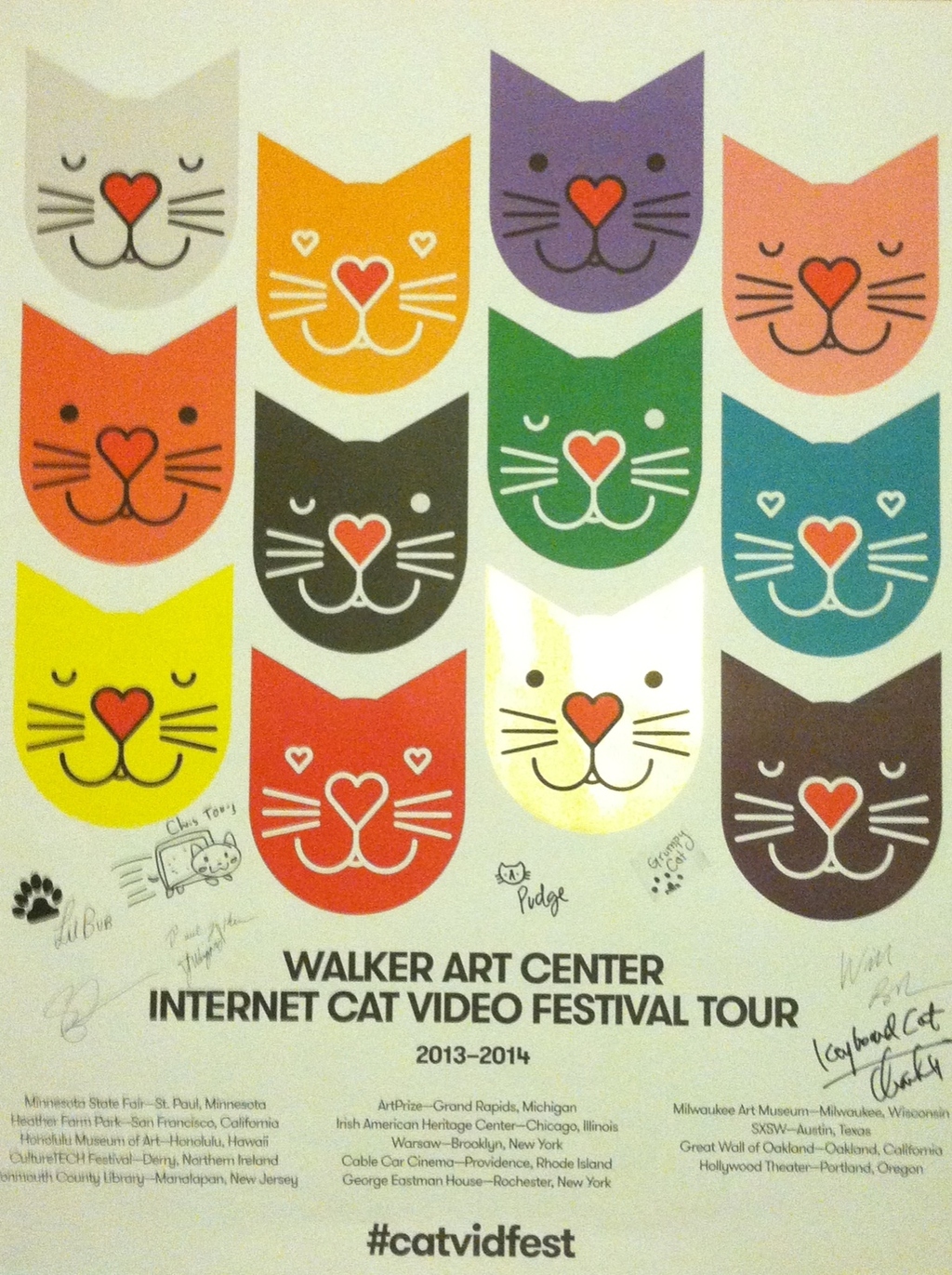 Take a closer look... before I put a frame on it and it goes on my wall.