WNBA Stars Brittney Griner And Glory Johnson Will Be On "Say Yes To The Dress"
Brittney proposed to Glory, who plays for a rival team, in August.
When Phoenix Mercury star Brittney Griner proposed to the Tulsa Shock's Glory Johnson, she became the first athlete to propose to a rival player.
Now it's time to find Glory a dress for their big day, and the journey will be documented on TLC's Say Yes to The Dress: Atlanta.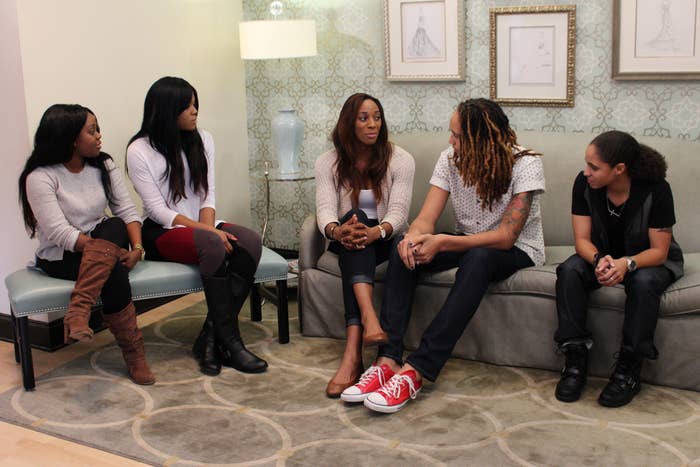 Store owner Lori and fashion director Monte originally expected to have a tough case on their hands since, as athletes, both Brittney and Glory are very competitive.
Though finding the right dress was very serious business, Brittney made time to have a little fun.
We don't know yet if it's the one she chose, but Glory was surprised to find that she actually liked the dress her fianceé picked out.
We are so thankful for the opportunity to share our story on such a large platform. I had a great time searching through hundreds of designer dresses, hoping not only to find the perfect dress, but also make sure Brittney didn't break anything in the process. Overall, the experience was memorable. We laughed until we cried, cried until we laughed, and best of all, Brittney never once complained about how long we were shopping. It was a very good day.
Congratulations to this INSANELY beautiful couple!
Brittney and Glory's episode of Say Yes to The Dress: Atlanta airs Friday, Jan. 30, at 10 p.m.