RE: BUZZFEED APPLICATION
Recently, I was part of an outreach for fans of color to participate in an episode of the podcast, Fansplaining. As an avid fangirl, I leapt at the chance to talk about anything to do with race, but when I got the actual topic it made me sit and think. They wanted us to discuss our feelings on racism within fandom pairings. This is a topic I have talked about at length, but only in more academic settings with other acafans (academic fangirls). So exploring this as more of a fangirl of color than as an academic excited me.
So how does race play into pairings? There are several ways. Many people say they chose a certain pairing because of chemistry or explain how white/white pairings are more prevalent than poc/poc or poc/white pairings because of the sheer amount of white characters out there. I truly believe that they believe this too. To an extent it is true, but there is an underlying systematic racism that influences our choices too.
There is an underlying systematic racism that influences our choices
In an effort to rebel against the heteronormativity of media, fans take characters and place them into relationships within the LGBTQ+ community. While they feel good for propping up one marginalized group, it is usually at the expense of others. Sexuality is to be explored and celebrated, while race and gender relegated to the shadows.
It would be nice if we all lived in a bubble that was not influenced by the outside world, but even in the perceived safe haven of fandom, we must deal with real world issues. One of these issues is the false perception that white is the default. It is the default for characters, hence most characters being white so they can be "universally" relatable (therefore implying that characters of color are only relatable to fans of color). It is this default whiteness that leads to most pairings being between white characters.
Take, for example, the fact that friends-to-lovers is one of the most popular tropes in fandom. One would think this means that fans love to see friends that evolve into something more and that best friends would be some of the most popular ships. But when one or both of those friends are characters of color, that love of friends-to-lovers goes out the window in favor of enemies-to-friends-to-lovers.
Fandom has the habit of fetishizing
homosexual men, especially white men.
Scott and Stiles are best friends on the MTV show Teen Wolf. They have had their ups and downs, but in the end they are always there for each other. Yet despite this, Stiles and Derek are the biggest pairing in the fandom. A relationship between a teenager and a legal adult beat out a relationship between best friends, even though almost every scene they shared together was full of violence against each other and a refusal to get along. While the ship may have some problematic issues, that is not to say people should not ship it. But why shut out a predominately loving relationship between best friends for a hostile relationship between frenemies. This is especially surprising when the person being ignored is the title character in favor of two side characters. Sadly, remembering that it is a young Hispanic male that is ignored makes it less of a surprise.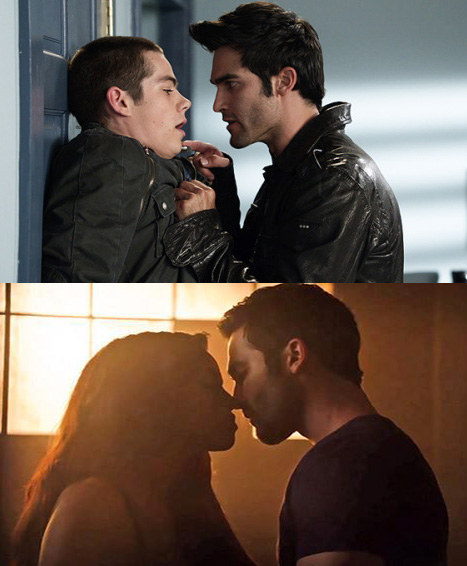 It is not only shows geared at young adults that this happens in. In USA's detective comedy Psych almost the exact same thing happens. Shawn and Gus have grown up together, Gus claims Shawn in his taxes, Shawn included Gus in his marriage proposal, Gus moved to another city just to be with Shawn, and neither can imagine a future without the other being a major part of it. None of this is fanon, but explicitly stated canon. Yet, Gus, the African-American character, is shoved aside so that Shawn can be paired with the older white male, Lassiter, in fan pairings.
This isn't something that is unique to slash or queer pairings. In the James Bond fandom, particularly of the Daniel Craig films, Bond/Q rules all. While there is a blink-and-you-miss-it scene hinting at Bond's bisexuality in Skyfall, he also has overwhelming sexual chemistry with Black British Moneypenny. She has the double edge sword of not only being a character of color, but also a woman. Fandom has the habit of fetishizing homosexual men, especially white men. So having a strong black woman as the potential canon relationship is erased and replaced by another white male in the fandom's mind eye.
It is too easy to dismiss these concerns
as just being part of fandom, just a pairing,
just the preference you express.
The list of the ships that you would expect to be more popular can go on and on. Just looking on AO3 (ArchiveOfOurOwn.org a popular fanfiction site) shows the vast difference between white ships and ships with characters of color. I looked through a few fandoms just to see how these ships stacked up, and it was not pretty.
* Tony/Rhodes (Not in the top ten in Avengers or Iron Man, no characters of color are)
* Doctor/Martha (only companion not in the top ten ships)
* Finn/Poe (#2 with 2571 fic out of 24669 fics)
* Poe/Finn/Rey (#9 with 655 out of 24669 fics)
* Finn/Rey (Not in the top ten)
* Rick/Michonne (#6 with 410 out of 9783 fics)
* Luke Cage/Jessica Jones (#3 with 60 out of 572 fics, worse considering it falls behind Jessica/Killgrave)
* Scott/Allison (Scott's most popular relationship and canon at #2 with 6432 out of 75,417 fics behind the most popular pairing by ~36,000 fics)
* Scott/Stiles (Not in the top ten)
* Braedon/Derek (Canon but not in the top ten)
* Barry/Iris (#2 with 826 out of 6439 fics)
* Cisco/Barry (#6 with 301 out of 6439 fics)
Some may think that this is a trivial matter. Why should we care what people ship? It is just the imagination of fans and has no effect on other people. It is too easy to dismiss these concerns as just being part of fandom, just a pairing, just the preference you express, but that is ignoring the very real implications these pairings have on the real world and the way we as fans, and especially as fans of color, fit in the world and see ourselves in our fandoms.
Fans, and source material, tend to treat characters of color as plot points and second class citizens even when they are the stars of the show. Too often they are relegated to the background until they can serve as a device to further the plot, while their white counterparts shine in the forefront. However, the fans often take this to another level. While characters of color have few roles, within fandom, they almost completely disappear. It is a rare character of color that stands out apart from the crowd and when they do, they are often desexualized as an excuse to not pair them with other characters.
To be fair, it is not solely on the fans. When shows do not cast actors of color in major roles, it becomes even harder for there to be more diversity in the fandom. How can you ship characters that don't exist? This should make fans strive to use the few characters of color more, when you only have a couple toys to play with you use those toy. Instead, they are cast aside for the multitude of white characters to be used again and again.
I know most people don't choose their favorite pairing because they are racist, but they are buying into a system that is built on racist premises. I am not telling you to stop shipping whatever you may enjoy, but instead, am asking you to examine what drew you to certain ships above others, why do you show a particular preference. And if your instinct was to react to this with anger and defensiveness, ask yourself why. That is all any of us can do: examine our own motivations and why we like what we like.