I'll never forget my first crush. She was in my fifth-grade choir class and had wavy, jet-black hair and these little dimples that made my heart flutter every time she smiled. Overcome with young love, I asked my mom what I should do to win her over on Valentine's Day. Her suggestion? Give her this cool pen. I did, and 16 years later, I'm still not sure if my mom was trolling me or if she genuinely thought the girl would like the pen. (She didn't, and she kissed my best friend, Jacob, that day.)
That awkward encounter served as the catalyst for my booming dating life, which has consisted of one serious relationship that lasted four months. In an effort to ~stay with the times~, I download and delete dating apps monthly. Moments of optimism will strike where I'll get to swiping, and then a few days pass with no significant matches. *deletes app*
As more and more of my friends get married, the inquiries from my mom get more frequent: "When are you going to start dating?" I've tried explaining to her the confusing state of modern romance, and so has my sister. Last summer, my sister finished post-grad and was slow to start applying for jobs. My mother, displeased with my sister's pace, set up an online dating profile for her as a malicious motivator. Her rules were simple: Every day my sister didn't apply to a job, she would message a guy of her choosing. Three weeks later, my sister accepted a job offer in DC.
This recently sparked a thought. "What if I let you use my dating apps to try to set up some dates for me?" I asked, offering her a chance to redeem herself from the Pen Fiasco of 1999.
"Deal," she said. "But I am NOT using it to help you hook up..."

If I was going to let my mom participate in this little social experiment for me, there had to be some concrete rules that weren't her own.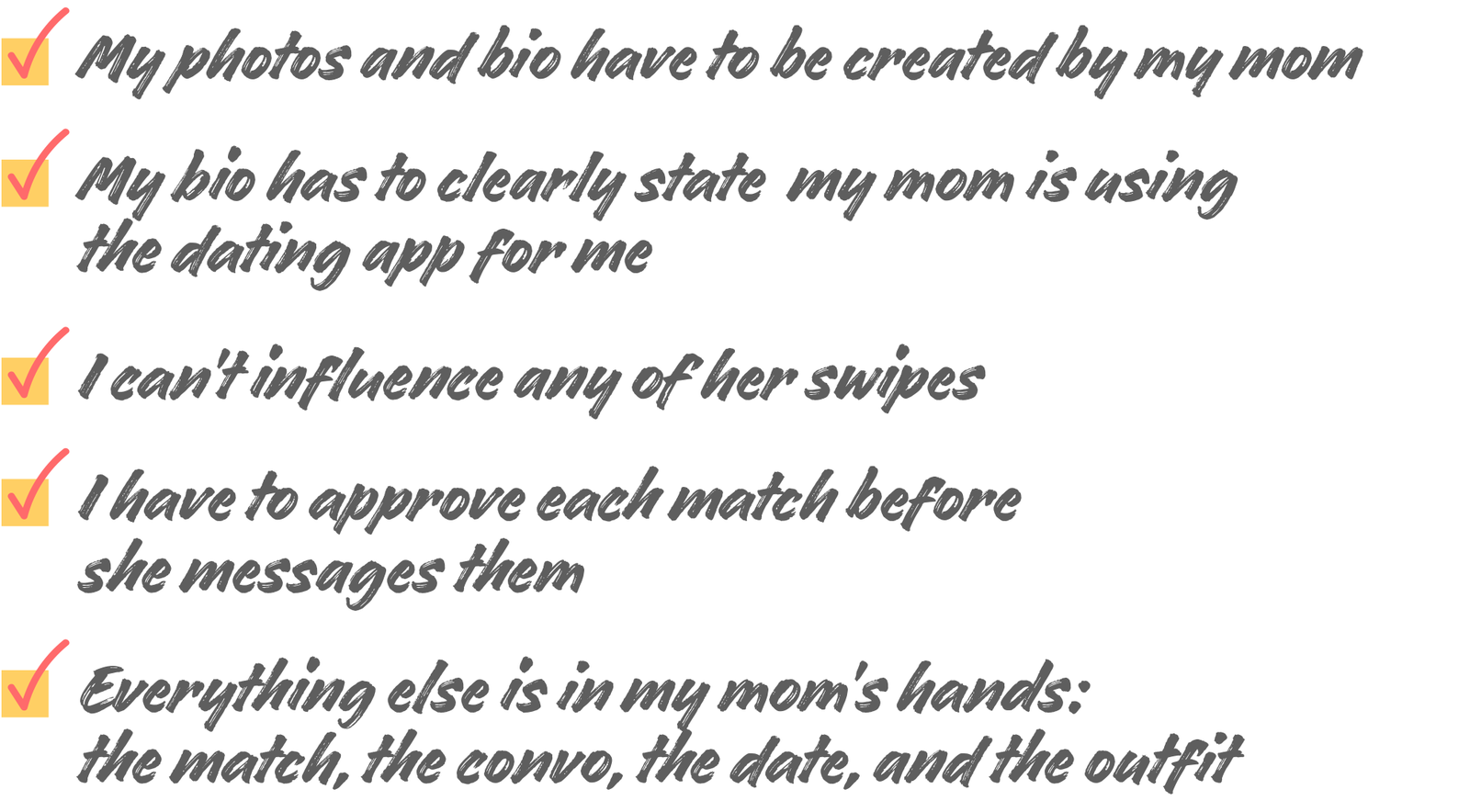 I was nervous to hand over the keys to arguably the most private part of my life, but I trusted her and was eager to see the response. My pulse quickened as I downloaded some dating apps on her phone. There was no turning back now.


Before we could get my mom swiping, I gave her a crash course in the hyperpersonal world of dating apps. Then I handed over my phone and let her pick apart my profile. I could tell she was holding back laughter. "Clark, no girl is going to want to swipe right on a guy wearing nail polish and a women's jacket..." I wanted to defend my photos but remembered the rules: This is strictly a Momma McCaskill production. After some digging, she picked her favorite photos and updated my bio. Time to swipe.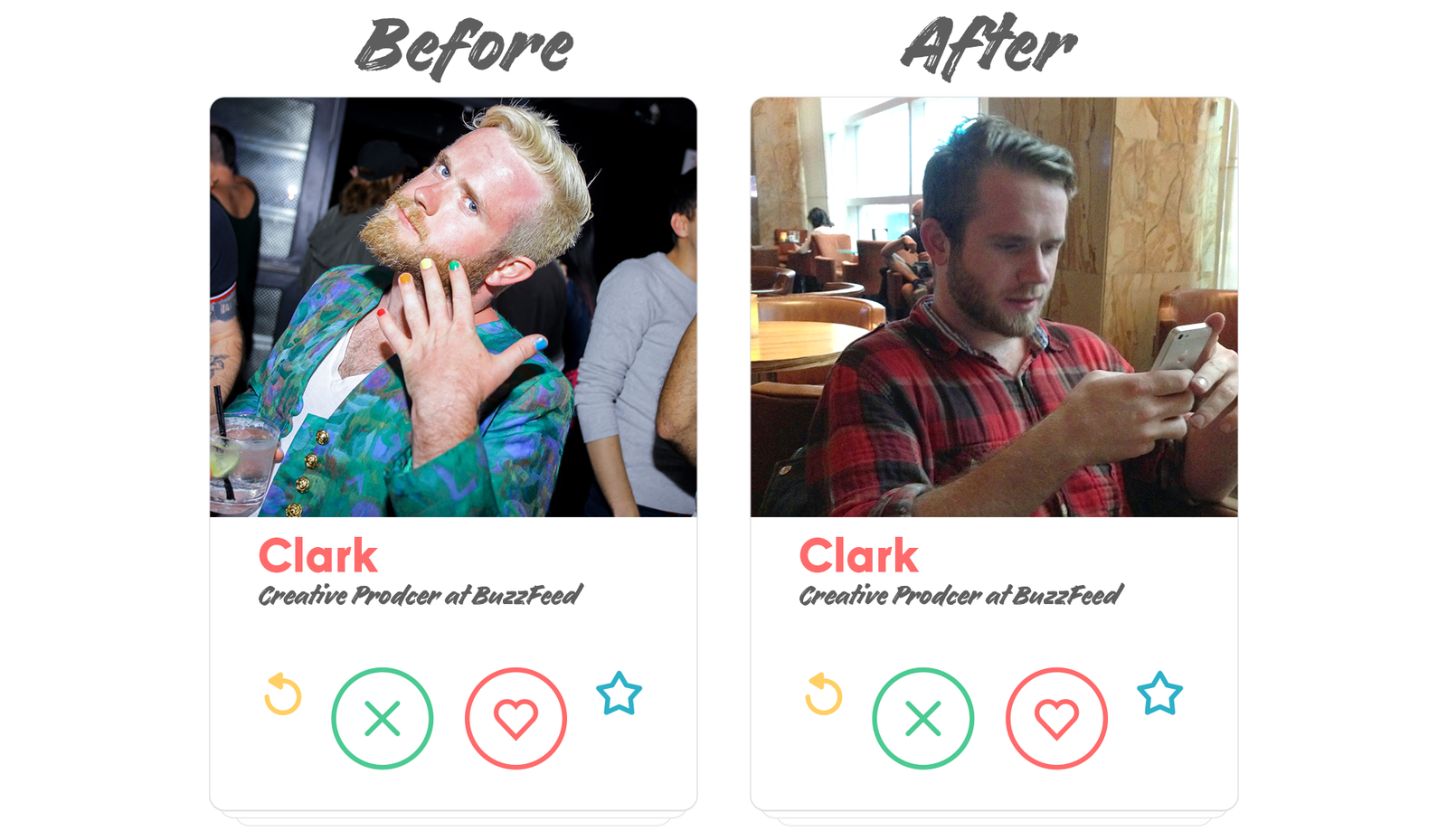 At first, she was slow and methodical, analyzing each photo and bio. Once she learned just how many profiles there were, she abandoned this strategy and started swiping more rapidly. I heard her chuckling to herself as she continued to swipe through. "Oh, Clark! Here's one who's a geoscientist!" she exclaimed as she turned her phone to me. I looked at the profile and saw someone in a T. rex costume. I'm doomed, I thought. But in addition to traveling a lot, T. rex woman went to a good college and has a great job, which scored more points for my mom. And she has a sense of humor, which is something my mom knows is crucial for me. With cheerful hesitation, my mom smiled and swiped right.

The phone buzzes... "It's a match!" My mom's eyes widened; after seeing the instant gratification of dating apps, she was hooked.

The rest of her free time was spent swiping through profiles. I asked about her criteria for a right swipe. "I'm looking for the 'girl next door,'" she said, "basically with a good education, no maple leaf emojis, and no potty mouth."

Right off the bat, my mother was seeing the good and bad of online dating. One afternoon, I got a text from her saying she matched with a cute girl named Stephanie. "She wants to video chat and meet you," she texted me before sending a link. My stomach dropped. "Don't click that!" I immediately texted back. "That's a link for a sex cam." Her response: "O.M.G."
We laughed off the close encounter, and she listed who she thought might be down for the dates and what she was planning. I was impressed and then reminded of how foreign online dating was to her when I read a message to one potential date. In true mom fashion, she was protective and made sure everyone felt comfortable meeting a stranger: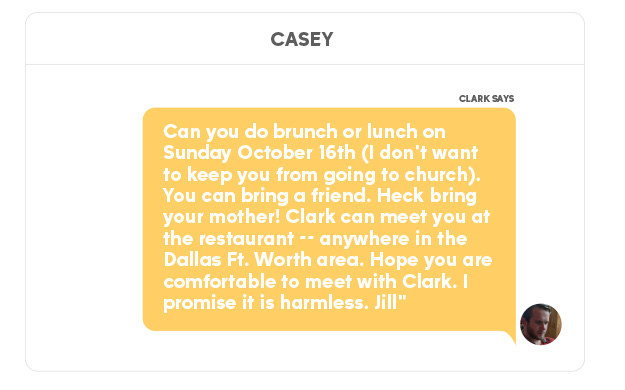 Despite her motherly messaging habits, the girls played along, and I had four dates set up over three days. I approached my weekend of dates eagerly and with an open mind. Sticking to the rules, I laid out possible outfits for my mom to pick from. She chose what she thought "was most comfortable and would hide [my] beer belly." (Note to self: Get to the gym.)

Before my first date, my mom did my hair as she shared with me her wisdom on how to treat a lady. "And at the end of the date, what do you suggest?" I asked her. "Walk her to her car so you know she gets home safely, but do not kiss her," she replied sternly. She turned off the blow dryer and gave me one last look-over. "On fleek," she said, smiling.

The weather Friday night was in the mid-70s without a single cloud to cover the night sky — glorious! I met Mary for dinner outside at this cool spot in Dallas called Sundown at the Granada. The conversation was effortless. She told me how reading a book about Jack the Ripper was what sparked her interest in law. We connected over music, and she told me how she loves to play jazz ukulele in her free time. What attracted my mom to Mary was her education, but more importantly, her cleverly named rabbit. I brought up her bunny, Audrey Hopburn, and she shot off her other dream pet names: a cat named Bing Clawsby and a dog named Groucho Barks. I died. Overall, we were a great match; good work, Mom! We finished our dessert and headed next door for some live tunes courtesy of the supergroup Big Head Blues Club. Just one date in, and I was already impressed with my mom's taste.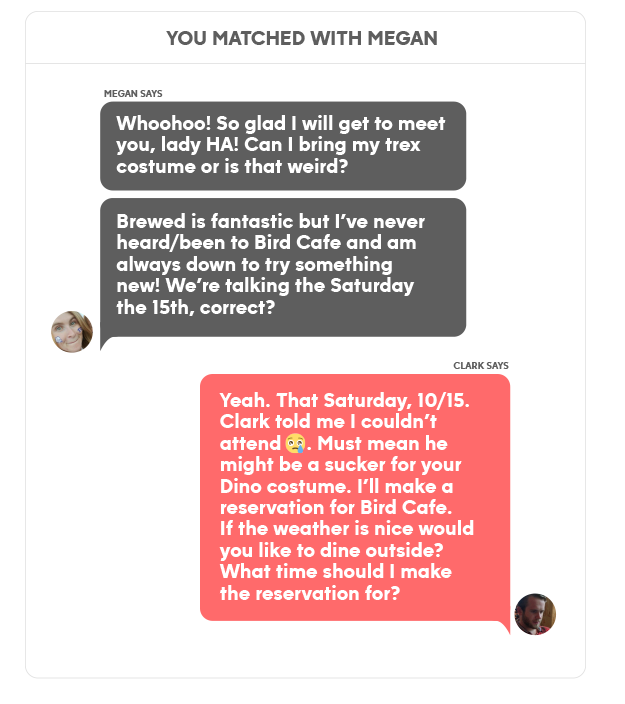 Date number two was with Megan, the dinosaur. Out of all the girls my mom had been talking to, she bonded most with Megan. Jokingly, Megan texted me, "Still bummed Mom won't be there. She's who stole my heart in the first place." It's true — looking at their messages, you could tell they hit it off. So I secretly invited my parents along on the date. After an awkward encounter with the restaurant's hostess, I explained why I couldn't sit with them, and we took our places at separate tables. Ten minutes passed, and no Megan. I was beginning to wonder if she bailed on me, and then I got a text message.

"Hey, I'll be getting there shortly... Possible to meet me outside? Hahaha no reason."
My heart stopped. She was actually going to show up in the dinosaur costume. I think I love this girl already, I thought. The other Bird Cafe patrons' heads started to turn, and people walked outside, phones in hand, as the eight-foot-tall T. rex approached the restaurant.
The costume was big and bulky, but I could still see her face grinning inside the costume. We hugged, both laughing, until she eventually removed the dino suit so we could chat over brunch. She told me all about her travels with the Traveling T. rex and the awesome stories that have come from it. We laughed about the awkwardness of this whole experiment, and she said how much she loved talking with my mom...which is when I made the secret gesture to my parents. My mom walked over and tapped her on the shoulder.

Ideally, you want to date somebody your parents approve of, and based on Megan's interaction with my folks, she got a glowing five-star review. We bid them farewell and left for the historic Stockyards of Fort Worth, an area that keeps the Wild West alive. We fed goats and pigs at a petting zoo, (poorly) navigated a large maze, ate some Texas BBQ, and rode a mechanical bull. There was obviously a connection between us as we jumped from activity to activity like kids at an amusement park.

With two dates under my belt, I had a realization: Online dating only sucks because I allow it to suck. The two dates I'd been on were great, and I connected with people I never thought I would.

Date number three was with Casey, a red-headed Realtor whose collegiate experience won my mom's interest. We met at Smoke, one of my favorite restaurants in Dallas, which has stunning views of the skyline. Casey was cute and quirky, telling me over dinner of her dreams of becoming a spy. Afterward, we went to walk with the dead in Deep Ellum for the annual zombie walk. We shared drinks and took shots of "Drano" (made with gin, Pop Rocks, and dry ice). As the Pop Rocks fizzled in our mouths, Casey told me of one of her favorite bars where the outdoor seats are...toilets? Odd but OK! We arrived at the bar, drank adult Yoo-hoos, and listened to some great local music. It was fun to experience some of Casey's favorite spots in Dallas, allowing me to see my hometown through different eyes.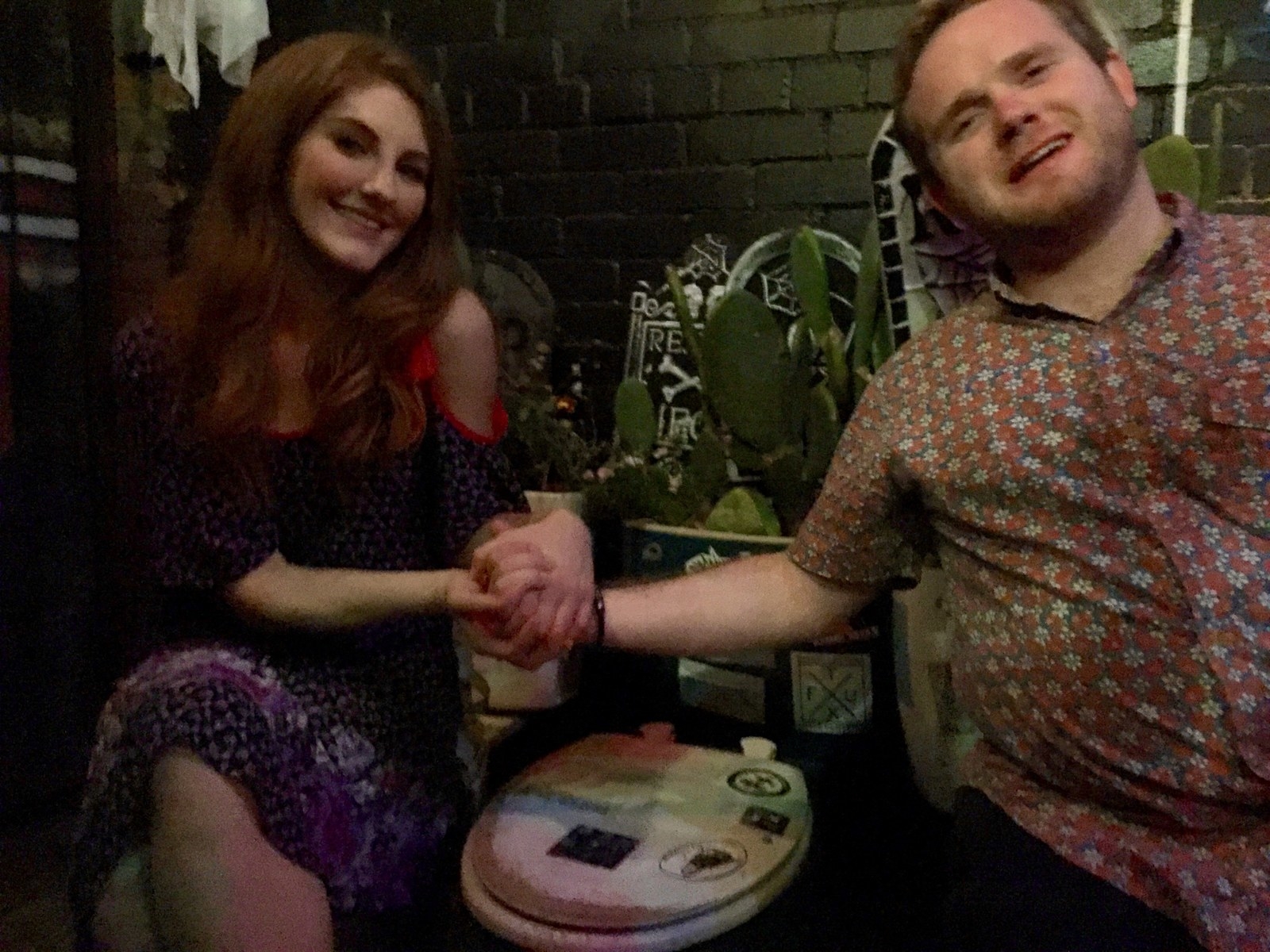 By Sunday, I was exhausted. I had already gone on more dates in two days than I had in two years. But there was one final date, and I was excited.

I met Kari at Meddlesome Moth, a restaurant in the Design District of Dallas. We instantly hit it off, laughing about how weird the whole thing was. If I'd learned anything, it was that being self-aware is one way to tackle the awkwardness of online dating! We shared tapas and stories of bad dates. After dinner, we headed to Bowl Lounge for some good one-on-one competition. Hits from the '90s played as we sipped IPAs in between turns. Kari introduced me to a new game called "charades bowling." One person gives you an action, and that's how you have to bowl. She was compassionate and intriguing, and I was thoroughly impressed by her '90s music knowledge. Plus, she works with kids. After bowling our last round (Kari won two out of three games), she drove me to meet my parents.

Before this weekend, I felt pretty defeated when it came to online dating. Each day, I'd come home to my cat and picture myself 20 years in the future, alone, in a studio apartment in Greenwich Village (which, to be fair, doesn't sound so bad). But this weekend gave me some perspective. It made me more optimistic and reminded me how fun dating can be. Watching my mom carefully review each profile, making sure each girl was a fit for both her and me, was a little scary, pretty exciting, and definitely eye-opening. I learned a lot, but most importantly...
...I should always listen to my mother.
All images via Clark McCaskill, unless otherwise noted.
Banner and design by James Devogelear.
Don't let anything hold you back. Be bold and live boldly with Toyota Corolla.