Sweet Tea Fried Chicken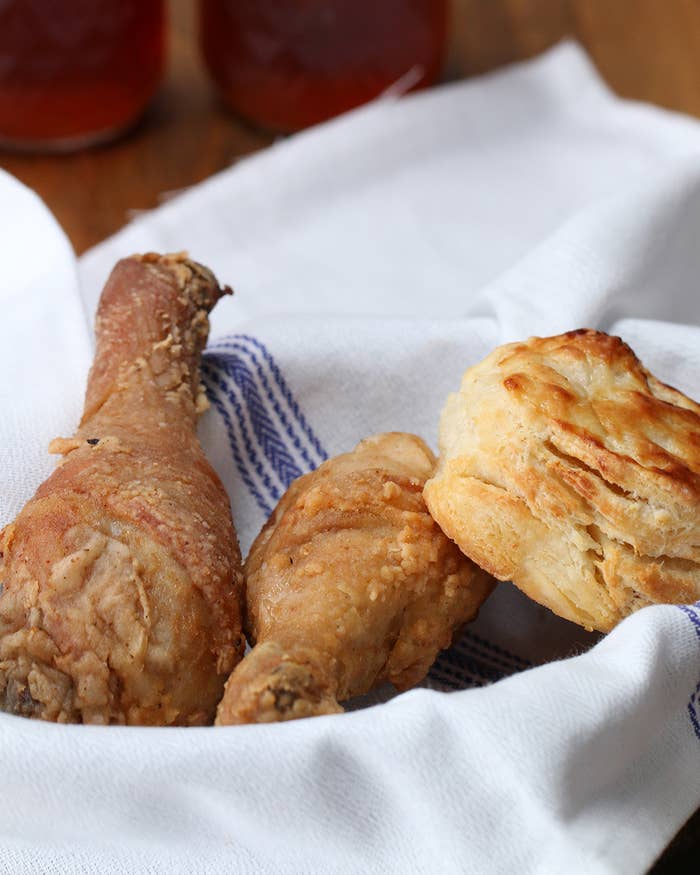 INGREDIENTS
Servings: 4-6
10 chicken drumsticks
2 quarts hot water
16 black tea bags
1 quart ice
4 lemons, sliced
1 cup sugar
½ cup kosher or sea salt
Coating
2 ½ cups flour
2 teaspoons salt
1 teaspoon black pepper
1 teaspoon cayenne
Oil for frying
PREPARATION
1. In a large bowl, steep tea bags in hot water for 5 minutes. Remove tea bags and add ice, lemons, sugar, and salt. 

2. Stir to dissolve sugar and salt, and add chicken to the brine. Cover and refrigerate for 8 to 24 hours.

3. Stir together flour, salt, black pepper, and cayenne in a paper bag or large bowl. Remove chicken from brine and toss in coating mixture. Shake off excess flour and dry let dry for at least 15 minutes.

4. Heat at least 1 inch of oil to 320˚F/160˚C. Fry chicken on both sides until golden brown, about 10-12 minutes.

5. Remove to a paper towel–lined tray to dry.

6. Enjoy!