Media Noche Sliders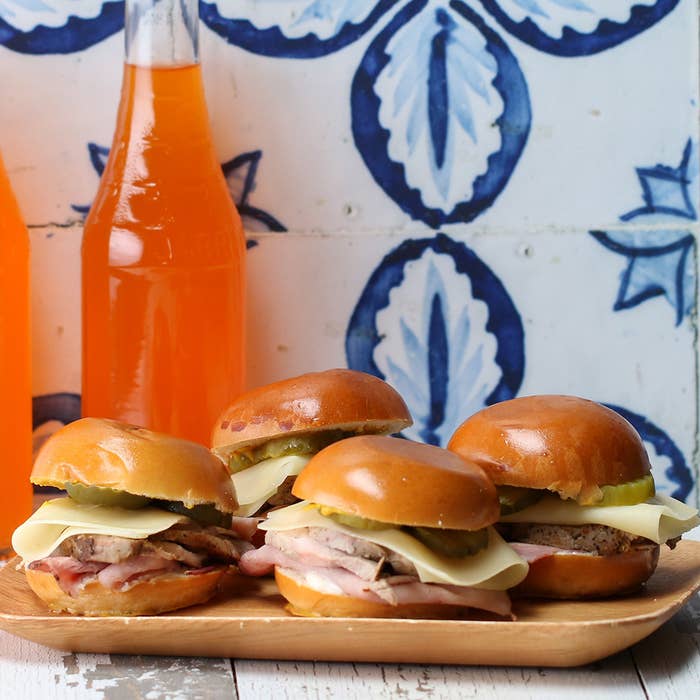 INGREDIENTS
2 oranges, 1 sliced and 1 juiced
2 limes, 1 sliced and 1 juiced
3 cloves garlic, chopped
2 teaspoons cumin
2 teaspoons salt
2 teaspoons black pepper
1 pound boneless pork tenderloin
8 sweet rolls or slider buns
2 tablespoons yellow mustard
2 tablespoons mayonnaise
8 slices deli ham
8 slices Swiss cheese
24 pickle slices
PREPARATION
1. Preheat oven to 400˚F/200˚C.

2. Combine orange juice, lime juice, cumin, salt, pepper, and garlic in a medium bowl and whisk until combined.

3. Place tenderloin on a lined baking sheet and baste with orange juice mixture. Bake for 20-25 minutes or until internal temperature reaches 160˚F/70˚C. Rest for at least 10 minutes and slice thinly.

4. Spread mustard on the top half of a roll, and mayonnaise on the bottom. Build a sandwich with one folded slice of ham on the bottom, then three slices of roasted pork, a folded slice of Swiss cheese, and three pickle slices on top.

5. Enjoy!