If you have submitted your name, phone number, credit card, or payment details to an online service provider for purchasing tickets,subscribing services, registering membership, there is a large chance you could be targeted by phishing scams. Your personal information could either be sold by the unethical database provider or hacked by malicious attackers. After accessing - your contact details, the fraudsters pretend they are from a genuine company, a mobile network operator or a bank in order to steal your assets by sending bait messages.
According to UK Finance data, these kinds of scams in the UK are rising in both volume and value. Indicatively there was an increase of as much as 93% in volume, when comparing data from 2017 and 2018. The same problem has been brought up repeatedly across the world leading to, among other things, increased operational costs for banks. They have to add precocious steps to remind customers about the risks involved or contact them before any suspicious transactions can occur.
The solution for banking fraud, especially email or SMS phishing has always been passive, despite different endeavors having been introduced. There hasn't been a way to prevent it from happening, or predict it. For example, authorities maintain a blacklist of untrusted numbers and at the same advocate vigilantes to report fraud numbers etc. However, this is exactly as inefficient as it sounds. The anti-fraud journey becomes a war which sees both sides upgrading their equipment constantly. The fraudsters have developed ways of sending messages disguised as trustworthy numbers, as seen in the simplified diagram illustrated below.
As a result, there are posters warning about scams all around the physical and digital world, which actually produce a counter effect and desensitize people making them more prone to falling victims to the scammers.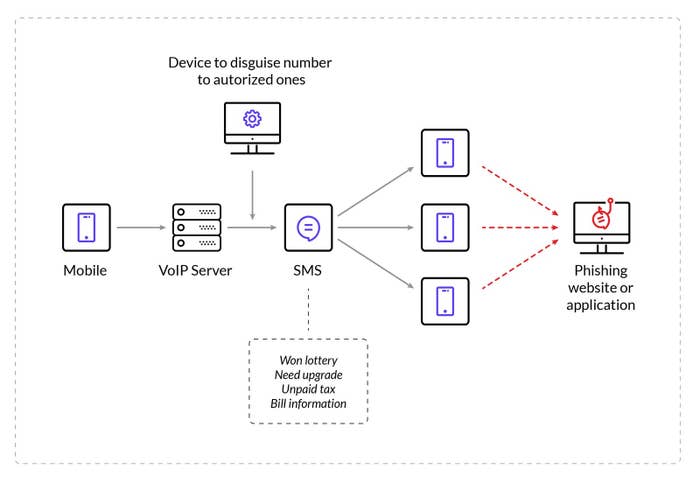 This year, the scammers also boarded the AI train, making robocalls to scam people. First Orion, a company that provides spam call filters to various carriers, predicted that nearly half of all calls to mobile phones will be fraudulent in 2019. Scammers are all around us, across all platforms. It feels like an endless war.
Rather than passively reporting a scam number, maintaining a blacklist, or manually telling people there are risks that you may be scammed, we need to come up with a better solution. Joined efforts are required, especially between banks and mobile network operators who are the sources of each message and also the authorizer of services based on user IDs.
In 2019, the Telecom Regulatory Authority of India (TRAI) has asked telecom service providers to use the distributed ledger technology to control the flow of commercial communication. Using innovative technology especially to reduce the telemarketing spams.
A big step in this direction was taken by the China-based cloud communication provider Montnets together with QLC Chain has offered the blockchain solution that allows everyone to check if the SMS comes from an authorized bank number or other entities.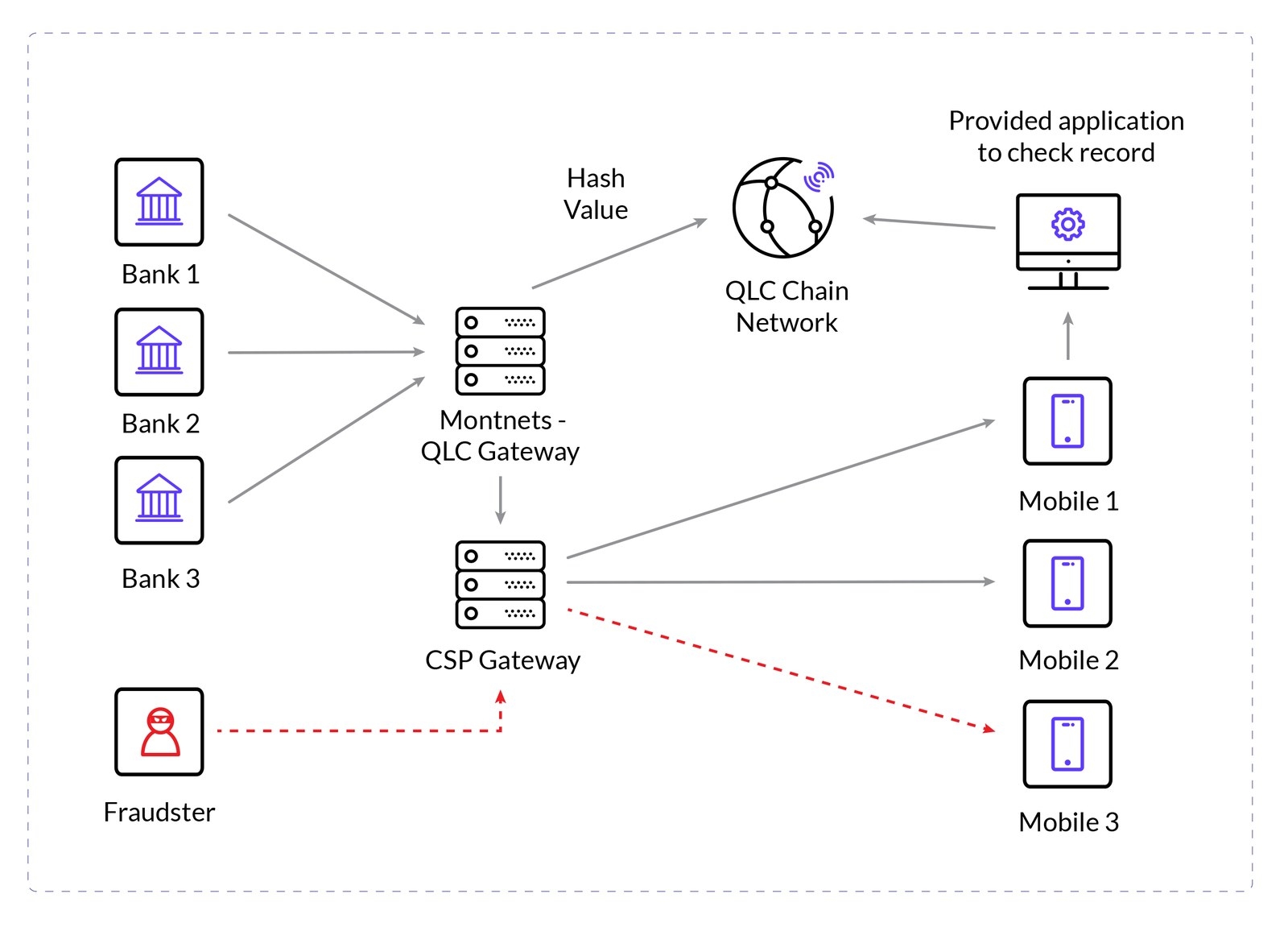 As seen in the above-illustrated process, if the fraudster's virtual number disguised as the banks to send a fraudulent text message, the bank customer can easily check the credibility of the communication source through various access methods provided by Montnets. This is a reliable source traceability platform built on the communication network and the Internet.
The solution is available now. QLC Chain launched its network alongside with the SMS Billing system, Montnets' clients can record the hash value of each SMS on the QLC Chain ledger. This initiative will, to a great extent, reduce banking fraud as users can search and verify the origin of each message they receive and find out whether the senders are credible.
QLC team has also released the public chain explorer which supports the search of SMS senders, receivers, sending times and receival statuses based on phone numbers if admitted. In addition, the QLC Chain will introduce a privacy protection feature to secure SMS transactions. The system will provide transparency of the market transactions and benefit the whole communication industry by preventing fraud.