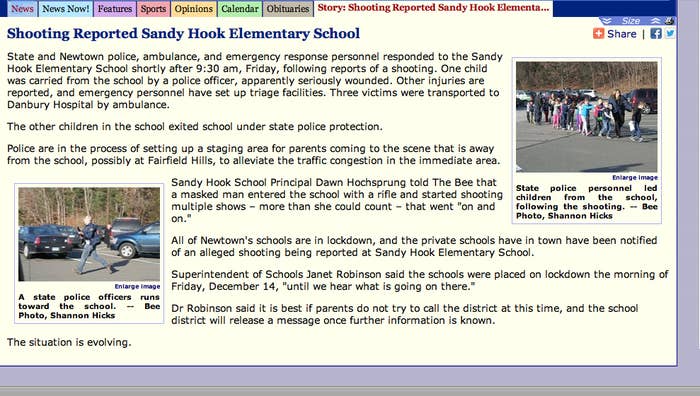 When the story first broke on the horrible shooting at Sandy Hook Elementary in Newtown, Connecticut, some information was released before it was properly verified, such as the shooter's identity (Adam Lanza, not his brother, Ryan).
However, the first report from the Newtown Bee, a weekly newspaper located in the town, somehow includes a comment from Sandy Hook Principal Dawn Hochsprung. As you can see in the screengrab above, the articles says the following:
Sandy Hook School Principal Dawn Hochsprung told The Bee that a masked man entered the school with a rifle and started shooting multiple shows (sic) – more than she could count – that went "on and on."
As the investigation of the shooting continued over the weekend, the timeline revealed that Hochsprung was shot and killed when she and two other administrative staff members left a conference room to see what was happening when the shooting began. It is unclear when she was able to give her comments to a reporter.
A subsequent story posted on the Newtown Bee's Facebook account scrubbed the quotes from Hochsprung. However, if you go to the weekly paper's homepage and click the headline "Shooting Reported Sandy Hook Elementary School," the original story is still live.