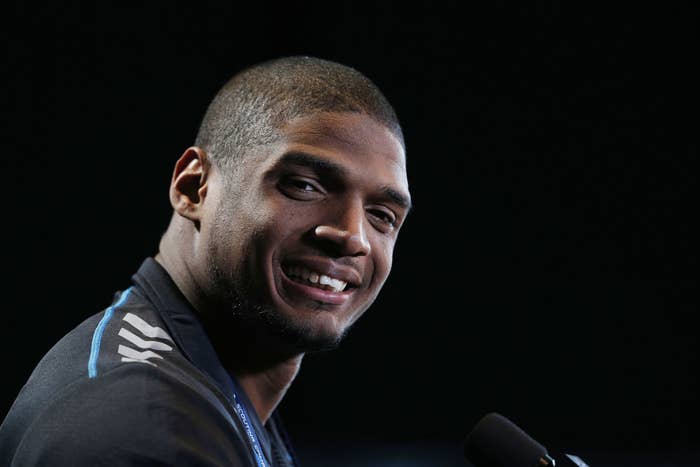 When he publicly came out as gay in February, Michael Sam, then a defensive end for the University of Missouri, became the first out player to be considered for the National Football League's draft — beginning Thursday. If chosen by one of the league's 32 teams, Sam would make history as the NFL's first out player.
There are no federal — or nationwide — laws that prohibit discrimination based on sexual orientation in employment. Seventeen states ban sexual orientation and gender identity discrimination in employment, with another four protecting sexual orientation but not gender identity-based discrimination.
That, however, leaves 29 states without any statewide protections against employees being fired — or not hired in the first place — simply because they're gay.
While the NFL has its own company-wide policy banning discrimination based on sexual orientation, its teams operate in 18 states that lack such protections statewide. And while most of those teams are in cities with some type of municipal-level protections against sexual orientation discrimination, five NFL teams are in cities with neither state nor city-based protections.
Five teams are based in cities and states that lack bans on discrimination based on sexual orientation in employment:
1. Jacksonville Jaguars (Jacksonville, Fla.)
2. Houston Texans (Houston, Texas)
3. Tennessee Titans (Nashville, Tenn.)
4. Arizona Cardinals (Glendale, Ariz.)
5. Carolina Panthers (Charlotte, N.C.)
Thirteen teams are in states with no laws banning sexual orientation discrimination in employment, but the teams are in cities that do ban such discrimination:
1. Indianapolis Colts (Indianapolis, Ind.)
2. Atlanta Falcons (Atlanta, Ga.)
3. Pittsburgh Steelers (Pittsburgh, Pa.)
4. New Orleans Saints (New Orleans, La.)
5. Philadelphia Eagles (Philadelphia, Pa.)
6. Dallas Cowboys (Dallas, Texas)
7. Miami Dolphins (Miami, Fla.)
8. Cincinnati Bengals (Cincinnati, Ohio)
9. Cleveland Browns (Cleveland, Ohio)
10. Tampa Bay Buccaneers (Tampa, Fla.)
11. Kansas City Chiefs (Kansas City, Mo.)
12. Detroit Lions (Detroit, Mich.)
13. St. Louis Rams (St. Louis, Mo.)
Statewide LGBT employment protections currently: