Team USA's 100-Day Countdown To Sochi Games Met By LGBT Protest
Activists chanted "Don't buy Putin's lies" and held rainbow banners at a kickoff event for Team U.S.A.'s road to the Sochi Olympics in Russia. The latest action against Russia's anti-LGBT laws.
by
,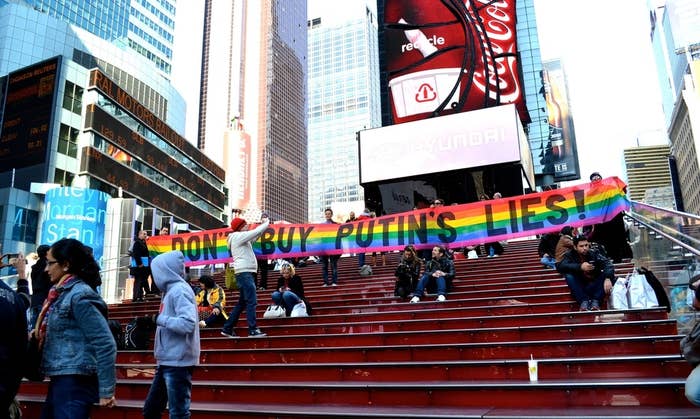 NEW YORK CITY — About two dozen LGBT rights activists attempted to disrupt a kickoff event Tuesday for the U.S. Olympic Committee's 100-day countdown to the 2014 Winter Olympics in Sochi, Russia.
"We're aware that things are going on," USA women's ice hockey player Meghan Duggan told BuzzFeed after the protest. "But we're hockey players. We're excited to represent USA and USOC and our job is to be focused on what's going on inside the glass."
Queer Nation NY announced the planned action by stating Monday that the road to Sochi is "paved with blood" because of Russia's anti-LGBT laws and reports of violence against LGBT people.
"The point of today's protest is that we have 100 days left for us to drive home the point that we can affect change and history," Ken Kidd of Queer Nation NY said Tuesday. The group has staged similar demonstrations in recent months, such as one outside opening night of New York's Metropolitan Opera.
Chanting "Don't buy Putin's lies" and "Homophobia has got to go," the protesters held 50-foot long rainbow banners while U.S. Olympic Committee members, Team USA athletes, supporters and media gathered at the event. At one point, the protestors asked athletes to join them, but none came.
Short of moving the games to another host city, the activists demand that the International Olympic Committee (IOC) issue an apology for choosing Sochi and push Russian President Vladimir Putin to strike down the anti-LGBT policies.
On Tuesday, however, IOC President Thomas Bach said he is "very satisfied" with Putin's most recent assurances to Olympic officials, in which he said Olympic athletes and guests will fee comfortable in Sochi "regardless of nationality, race or sexual orientation," according to Around the Rings.
"You cannot be clearer than he was yesterday both in the meeting and then afterwards saying that everybody is welcome and that there will not be any kind of discrimination in the Games," Bach said.
USA women's ice hockey player Julie Chu said the USOC and Team USA have taken strong stances to ensure that everyone is welcome at the games.
"That's the amazing thing about the Olympic movement is that it's about inclusion, not exclusion, and I think that's what we're going to see come February," Chu told BuzzFeed. "The thing I love about the U.S., too, is that we have freedom of speech. And that's the reality. We have the right to have our opinions."
However, Kidd and other activists said they "don't buy Putin's lies."
"Putin's assurances are as fake as the snow they're making in subtropical Sochi," Kidd told BuzzFeed. "Moscow went so far as to ban pride events for the next 100 years and there are roving bands of anti-LGBT violent packs. So while all of this is going on, Putin wants everyone to stop wording an be happy? How can anyone do that?"
In addition, Queer Nation NY wants the games' major corporate sponsors like Coca-Cola and McDonald's to make initiatives to support LGBT Russians. The economic impact of the hosting the Olympics in Russia will only further Putin's "regime of intolerance" if these brands decline to take a stance, Kidd said.
Security and police scrambled to keep the demonstration from crossing gates closing off the event, but did not force the protestors to disperse. A spokesperson for Team USA declined to comment on the demonstration.