Six Days Before Closing Ceremony, LGBT Advocates Shift Focus To IOC Policy "After Sochi"
"IOC President Thomas Bach must learn the lesson from the anti-gay fiasco in Russia and ensure this never happens again."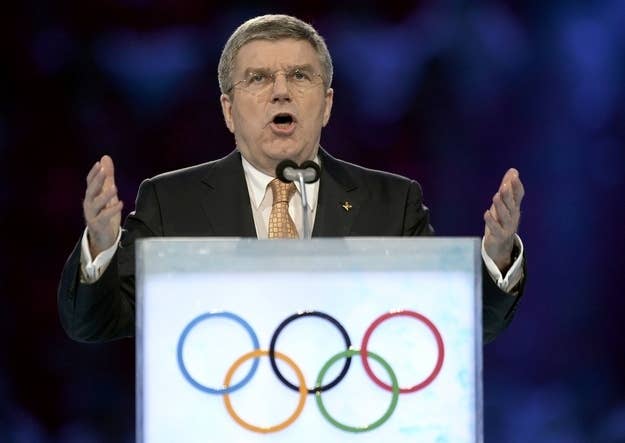 With six days remaining of the Winter Olympics in Sochi, LGBT advocates said Monday they are taking their demands for equality and human rights beyond their opposition of Russia's anti-LGBT laws — specifically pointing to what's "after Sochi."
"IOC President Thomas Bach must learn the lesson from the anti-gay fiasco in Russia and ensure this never happens again," said Andre Banks, co-founder and executive director of All Out, an international advocacy organization that has mobilized in opposition of Russian's controversial anti-LGBT laws. "We are calling on Bach to make upholding the Olympic Principle of nondiscrimination a binding condition for all future Olympic host applications."
All Out, Athlete Ally, and out gay Olympic diving champion Greg Louganis are urging International Olympic Committee President Thomas Bach to add human rights requirements to the Olympic host city application process so that countries with discriminatory policies will be disqualified from hosting future games.
Additionally, the advocates demand that the IOC include input from human rights advocacy organizations during the selection process, and that when a city is chosen, forbid the host nation from enacting any new policies that would discriminate against LGBT people or violate human rights. Russia passed the anti-LGBT propaganda law last summer — long after winning its bid to host this year's winter games.
The new demands add to advocates' already-intense focus on what happens after Sochi, and Banks told BuzzFeed they will continue "to fight the anti-gay crackdown in Russia" even after the closing ceremonies next Sunday.
"We are hoping to also use the last days of the Olympics in Sochi to underscore the IOC's critical opportunity to be a force for good on these issues in Russia and beyond," he said. "The IOC can and should begin the process of altering their rules to make it impossible for a country with anti-gay or blatantly discriminatory laws to host the Olympics while the world's attention is focused on these important issues."
The organizations want people to start thinking about the IOC's critical role before the attention turns away from the games, according to Hudson Taylor, executive director at Athlete Ally.
The changes would put the host city application process in line with Principle 6 of the Olympic charter, which states, "Any form of discrimination with regard to a country or a person on grounds of race, religion, politics, gender or otherwise is incompatible with belonging to the Olympic Movement," according to the groups.
"Hosting the Olympic games is an honor," said Taylor. "It should only be bestowed upon countries that demonstrate a commitment to human rights and the principles of the Olympic Games. Future games cannot take place in countries with laws that undermine everything for which Olympic movement stands."
The organizations previously launched the Principle 6 campaign, which aims to highlight the Olympic principle of non-discrimination and provide a way to speak out against Russia's anti-gay laws. The campaign has drawn the support of over 50 Olympic athletes and several celebrities.
The closing ceremony will take place Feb. 23, at 11 a.m. ET.