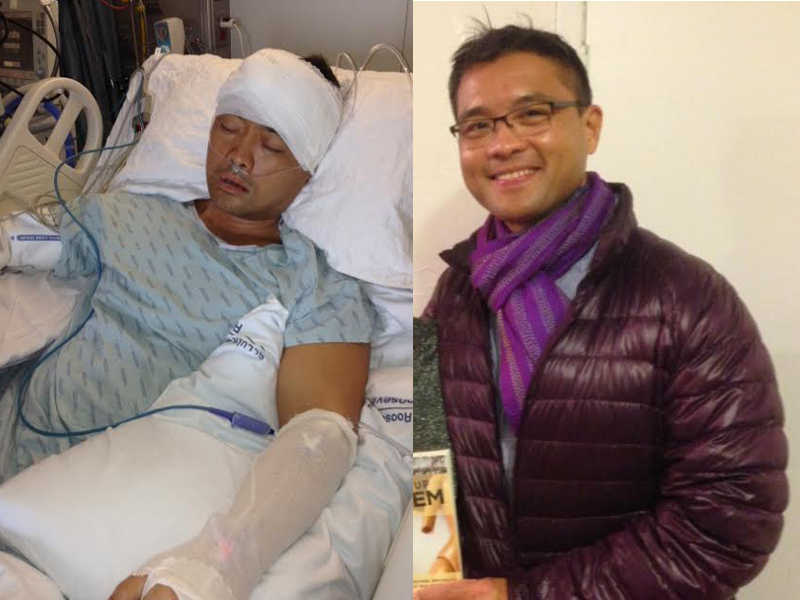 The New York Police Department's hate crimes unit is investigating a Jan. 17 attack in Midtown that left a gay journalist with serious brain injuries.
Randy Gener, a journalist who covers theater and culture and has written for publications such as the New York Times and the Village Voice, remains in the intensive care unit at a local hospital due to a skull fracture and swelling in his brain, according to his husband, Stephen Nisbet.
"His condition is improving, but he is still in the acute stage of the traumatic brain injury," Nisbet told BuzzFeed. "The swelling has begun to go down."
Gener, 46, was found unconscious with severe head trauma around 3 a.m. Jan. 17 near West 54th Street and 7th Avenue — just a block away from his Hell's Kitchen neighborhood home, according to police. Investigators say the attacker punched Gener in the face, which caused him to hit his head on the ground.
On Monday morning, the police's hate crimes unit released a sketch of a suspect in connection with the attack, who is described as standing about 6 feet tall with short black hair and weighing approximately 160 pounds. The assailant did not take anything from Gener before fleeing in a silver four-door Nissan with a Mississippi license plate, according to police.
"We are pleading for someone to come forward and do the right thing," said Gener's sister, Jessica Blair-Driessler, in an interview with BuzzFeed. "Unfortunately, Randy cannot remember what happened that night."
Investigators have seen progress in the case since it was assigned to the hate crimes unit, she said. But the family's top concern now is seeing Gener through his next step of recovery. Blair-Driessler traveled from her home in San Francisco to be at her brother's side.
"The next medical goal now is to get him out of ICU and get him into a step-down unit," Nisbet said. "At that point, he can receive friends and begin to get some rehab and move to the next level, stage of this. It's one hour at a time, one day at a time."
Since the attack, Gener has been in stable condition at St. Luke's Roosevelt Hospital, where he will likely undergo another surgery before entering rehabilitation. He is able to recognize family members and eat, but speaking is a challenge. He has also seen televised news coverage of his attack, which has left him confused about what happened and where he is, Nisbet said.
"Luckily, it was the right side of the brain," he said. "If it had happened on the left side, he wouldn't remember us — he would have a completely different personality and would have to start over. Thank god that did not happen."
Gener and Nisbet married two years ago and have been together for over 19 years. Because they are married, Nisbet was able to be at his side through every step of the way except for a four-hour brain surgery. Nisbet has also included Gener on his health insurance plan.
And although unclear at this early stage, Gener's road to recovery could take a long time. Doctors have told his family he could be in rehab for as long as a year and it could be weeks before they transfer him from the intensive care unit. This could present a challenge for the family because the insurance will only cover the first 60 days of rehab. In response, Gener's friends have created an online fund to cover the additional medical costs, and so far, have raised over $35,000 at the time of publication.
"We're so focused on taking care of him now and it's hard to think about so many steps ahead and his friends are doing that for us and I am just overwhelmed," Blair-Driessler said. "It's overwhelming in a wonderful way."
Friends, family, and supporters staged a candlelit vigil near the crime scene Sunday night and are also planning a prayer vigil at 7 p.m. Monday at the Philippine Consulate General's office. Friends will also hold a fundraiser Feb. 23 at the Purple Yam in Brooklyn to help cover the rising medical costs.
Blair-Driessler said they are hopefully that surgery and rehab will "bring him back to as close of the person as he was before."
"He has a real strong spirit," Nisbet said. "He gets from his mom, I think. He's my husband and I love him."