Judge: Kentucky Must Recognize Out-Of-State Marriages Of Same-Sex Couples
Kentucky's constitutional marriage ban treats gays and lesbians in a "way that demeans them," U.S. District Judge John G. Heyburn II wrote in his ruling.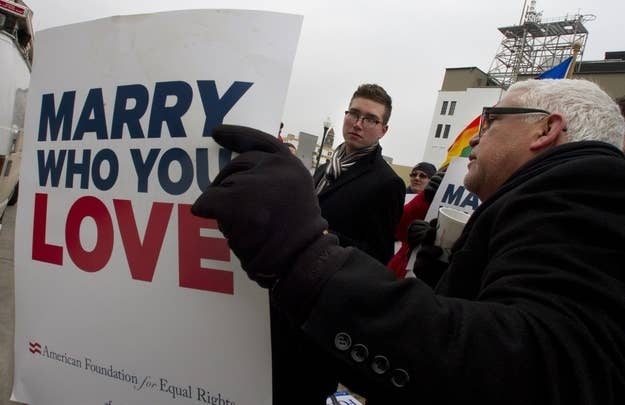 A federal judge ruled Wednesday that Kentucky must recognize the marriages of same-sex couples performed in other states, ruling part of the state's ban on such marriages unconstitutional.
The decision, handed down by U.S. District Judge John G. Heyburn II, concludes that Kentucky's ban on the recognition of same-sex couples' marriages violates the U.S. Constitution's guarantee of equal protection under the law.
The ruling, however, does not involve whether the state would be forced to perform marriages for same-sex couples within the state. It is the result of a lawsuit brought by four same-sex couples demanding the state recognize their out-of-state marriages.
Heyburn II, in his analysis of the state's 2004 constitutional ban on marriage for same-sex couples, which also bans those performed out of state, wrote, "[I]t is clear that Kentucky's laws treat gay and lesbian persons differently in a way that demeans them."
The judge issued an interim order saying a hearing will be set to determine relief under his ruling and the timing of its effect.
The judge's interim order: