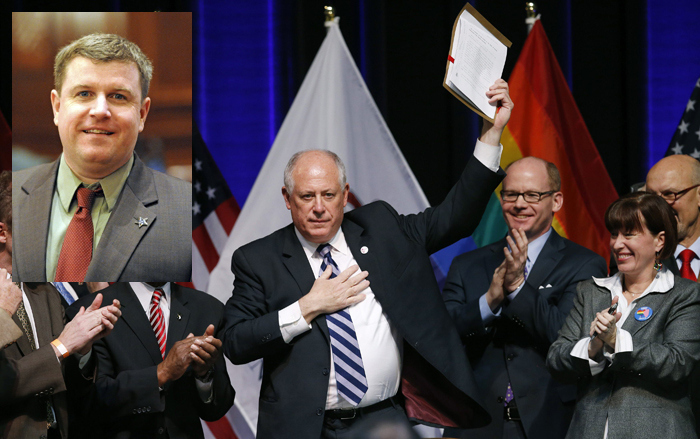 A Republican state representative in Illinois introduced legislation Wednesday that would amend the state's new marriage equality law to broaden religious exemptions.
Rep. Josh Harms, a freshman lawmaker from Watseka, Ill., introduced House Bill 4263, which would expand religious facilities the state would consider as exempt from solemnizing or hosting marriages for same-sex couples under the law, which takes effect this June.
Marriage equality supporters in the state say the language Harms is proposing is too vague and question the representative's intentions, seeing as the bill would face a House controlled by Democrats and because he is up for reelection later this year.
"I just want to know -- the biggest thing is -- what is the intent here?" said Anthony Martinez, executive director of The Civil Rights Agenda.
Specifically, the bill would add "places of worship" and religious schools to the list of religious facilities exempted under the law, which already includes sanctuaries, parish halls and fellowship halls. But Martinez is concerned the phrase "places of worship" could potentially be applied to a number of things, he said.
Bernard Cherkasov, CEO of Equality Illinois, said he does not expect the measure to gain traction. Both chambers are controlled by Democratic majorities who just approved the marriage equality law last November.
However, the legislation and another bill introduced Tuesday to outright repeal marriage equality, "demonstrate that marriage opponents are not giving up and they're not closing up shop in Illinois," Cherkasov said.
Peter Breen, vice president and senior counsel at conservative legal group the Thomas More Society, which opposed marriage equality legislation, said he and his organization welcome additional exemptions for religious organizations -- though it's too early in the legislature's filing period to back Harms' bill, he told BuzzFeed.
Earlier this week, Jim Walder, the owner of a bed and breakfast in central Illinois said his business won't host weddings for same-sex couples when the law takes affect because of his Christian religious beliefs on marriage, a violation of the state's Human Rights Act. He already faces a complaint pending before the Illinois Human Rights Commission for refusing to host civil union ceremonies at his venue.
"With regards to the bed and breakfast, the couple believes truly that they have a moral obligation to deny same-gender couples who want to be married there," Martinez said. "And so with a deep religious belief such as that, does that mean that if they pray three times a day in their bed and breakfast that it's now a place of worship?"
The introduction of the bill comes just a day after Sen. Kyle McCarter, a Republican, introduced legislation that would repeal the marriage equality law outright. Martinez said McCarter's move, too, was motivated by politics in an election year.
Harms voted "no" when the House passed the marriage equality bill, the Religious Freedom and Marriage Fairness Act, in a 61-54 vote last November. Gov. Pat Quinn signed the bill into law Nov. 20.
Messages were left at Harms' district and capitol offices seeking comment.