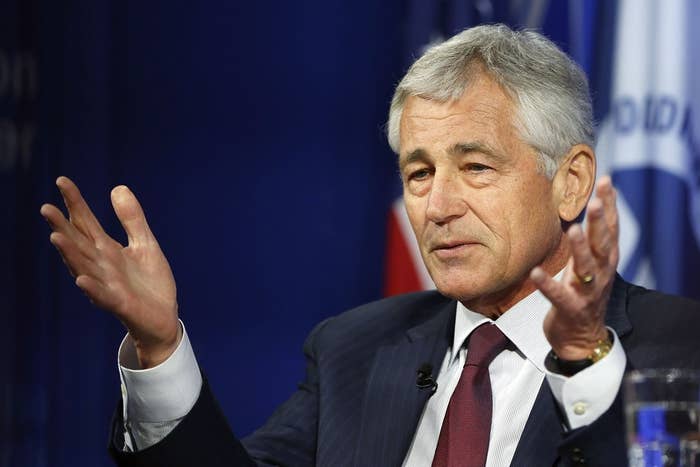 United States Secretary of Defense Chuck Hagel told ABC News he believes the policy prohibiting transgender people from serving in the military should be reviewed.
"I do think it continually should be reviewed," Hagel said in an interview with ABC News reporter Martha Raddatz that aired on This Week with George Stephanopoulos. "I'm open to that, by the way. I'm open to those assessments." Hagel didn't say, though, if he thinks the policy should be overturned, according to the ABC News report.
Additionally, Hagel said transgender people serving in the military is "an area that we've not defined enough." The military's policy banning out gay and lesbian service members, "don't ask, don't tell," was repealed by Congress in 2010 and ended Sept. 20, 2011. As for transgender service members, the issue "is a bit more complicated," Hagel said.
"Again, I go back to the bottom line — every qualified American who wants to serve our country should have an opportunity if they fit the qualifications and can do it," he said. The defense secretary said he is most concerned about providing transgender service members with the proper medical care when they are sent to "austere locations."
An independent report by a think tank at San Francisco State University in March estimates that more than 15,000 transgender people already serve in military forces and urged officials to drop the ban, which it described as "an expensive, damaging, and unfair barrier to health care access."
SPART*A, an LGBT military organization which includes several hundred transgender members currently serving in uniform, said it looks forward to prompt review of the medical regulations since U.S. allies such as the U.K., Australia, and Israel already allow transgender people to serve "with pride and honor," said SPART*A Policy Director and former Army Captain Allyson Robinson in a statement.
The policy is more than 30 years old and is based on outdated science, Robinson and many other advocates have said.
"These regulations are based on prejudices and stereotypes about who transgender people are and need to be updated to comport with modern medical science," Mara Keisling, executive director at the National Center for Transgender Equality, said of the policy in a statement welcoming Hagel's comments. Officials' willingness to evaluate the policy is "overdue," Keisling said, but welcome.
"We look forward to working with the Pentagon to end these outdated rules that harm our military," Keisling said. "…If the Secretary were able to meet and talk with the trans service members I've met, he'd understand the answer is self-evident. These are amazing people who serve even though they must hide a basic part of who they are."
James Esseks, director of the American Civil Liberties Union's LGBT project, said Hagel's new comments give transgender service members "a measure of hope."
"As Secretary Hagel said, 'Every qualified American who wants to serve our country should have an opportunity if they fit the qualifications and can do it,'" Esseks said.