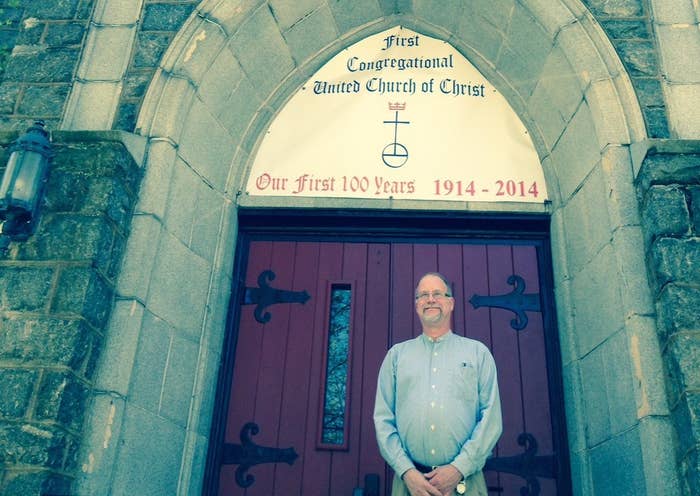 The leadership body of the United Church of Christ, clergy, and same-sex couples in North Carolina filed a lawsuit Monday, challenging the state's ban on marriage between same-sex couples and laws making it illegal for clergy to perform wedding ceremonies for same-sex couples.
The lawyers filing the case, General Synod of the United Church of Christ v. Cooper, say it is the only lawsuit challenging a state ban on marriage for same-sex couples that includes claims based on First Amendment religious freedom protections. In other words, same-sex couples in the case seek the right to marry in the state, while religious leaders and clergy seek the ability to perform wedding ceremonies for them.
"In addition to bringing 14th Amendment claims under equal protection and due process, this lawsuit introduces a First Amendment claim that the marriage ban in North Carolina violates the right to the free exercise of religious beliefs by denominations, clergy, and congregants who believe that same-sex marriages are theologically valid and want to perform marriage ceremonies," said Jake Sussman, a partner at Tin Fulton Walker & Owen and lead counsel in the suit.
North Carolina's 2012 constitutional ban on marriage for same-sex couples states, "Marriage between one man and one woman is the only domestic legal union that shall be valid or recognized in this State. This section does not prohibit a private party from entering into contracts with another private party; nor does this section prohibit courts from adjudicating the rights of private parties pursuant to such contracts."
Another section of state law prohibits clergy from performing any ceremony of marriage without a marriage license having been obtained (reprinted below), and lawyers for the plaintiffs say those laws prohibit clergy from performing religious marriage ceremonies for same-sex couples, even where allowed by their church and religious beliefs. As such, they argue, those restrictions violate their religious liberty.
"The core protection of the First Amendment is that government may not regulate religious beliefs or take sides in religious controversies," said Jonathan Martel, a partner at Arnold & Porter LLP and counsel in the case. "Marriage performed by clergy is a spiritual exercise and expression of faith essential to the values and continuity of the religion that government may regulate only where it has a compelling interest."
With that argument, the General Synod of the United Church of Christ, or the church's leadership body, is leading the case as the main plaintiff. The church, a mainline Protestant denomination, has more than 150 congregations in North Carolina and over 1 million members nationally. In 2005, the church declared support for marriage equality, according to the suit. "The United Church of Christ has a rich history of boldly joining faith and action, and we filed this landmark lawsuit against the State of North Carolina to protect the religious freedom of our ministers — one of the essential freedoms of all Americans," said the president and general minister of the UCC, Rev. Geoffrey A. Black, in a statement.
The UCC is joined by several other clergy from across the state, including Rev. Joe Hoffman of First Congregational United Church of Christ in Asheville, N.C.; Rev. Nathan King of Trinity United Church of Christ in Concord, N.C.; and Rev. Nancy Kraft of Holy Trinity Lutheran Church in Charlotte, N.C., among other church leaders.
"As senior minister, I am often asked to perform marriage ceremonies for same-sex couples in my congregation," Rev. Hoffman said. "My denomination — the United Church of Christ — authorizes me to perform these ceremonies. But Amendment One denies my religious freedom by prohibiting me from exercising this right."
The case, filed in U.S. District Court For the Western Division of North Carolina, also includes six same-sex couples, many of which are members of these congregations.