Chris Christie Vetoes Pro-LGBT Bill Allowing For Easier Birth Certificate Changes
The legislation sought to streamline the process of amending state birth certificates and removed the sex reassignment surgery requirement in the state's current law.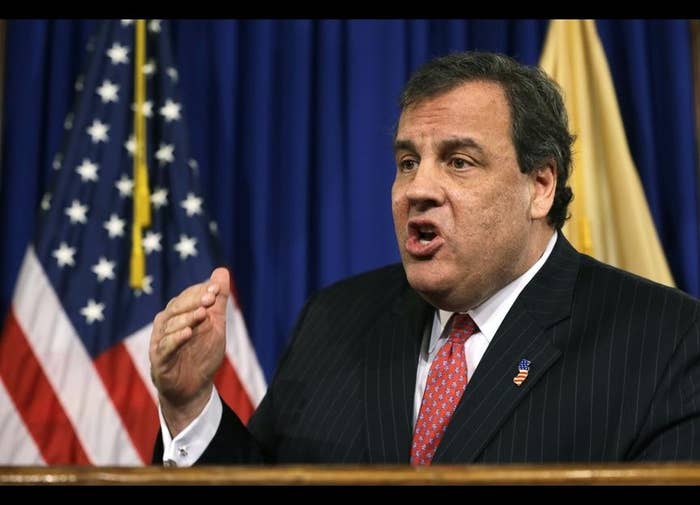 In what some LGBT advocates are calling a "vindictive move," New Jersey Gov. Chris Christie vetoed legislation Monday that would allow for easier changes to gender markers on state birth certificates.
The legislation would have allowed transgender people to amend the gender marker on their birth certificate to be in accord with their gender identity and to match other vital documents, such as driver's licenses and passports without having to undergo sex reassignment surgery.
"[Christie's] veto of this legislation was a vindictive move to punish the LGBT community after a year of tremendous progress," said Troy Stevenson, executive director of Garden State Equality, an LGBT rights group. "This was a simple bureaucratic change, which would have offered tremendous support to the transgender community, and have zero effect on anyone else."
Specifically, instead of undergoing surgery, applicants seeking to amend their birth certificates must show that their name has changed and provide certification from a licensed physician that they have received "clinically appropriate treatment for the purpose of gender transition" in line with current medical standards. In a statement regarding his veto, though, Christie said in a veto statement that the legislation opens the door for fraud and breaches in security.
"Unlike many other states, New Jersey already has an administrative process in place to streamline applications to amend birth certificates for gender purposes without court order," he stated. "Under the proposal before me, however, the sponsors seek to alter the amended birth certificate application process without maintaining appropriate safeguards. Consequently, further consideration is necessary to determine whether to make such significant changes to State law concerning the issuance of vital records."
But that argument is "disingenuous at best," Stevenson said. Barbra Casbar Siperstein, political director at Gender Rights Advocacy Association of New Jersey, sharply criticized Christie for the move and questioned if the governor read the legislation.
"Governor Christie's veto statement clearly indicates that he did not read the bill and conflated this legislation with legislation from another state," said Casbar Siperstein. "Endorsed by the NJ Bar and compliant with contemporary medical standards, new Federal standards, revenue positive, it appears that this veto is arbitrary, capricious and designed to harm transgender people who are the most vulnerable among LGBT New Jerseyans."
Advocates and sponsoring lawmakers plan to reintroduce the bill in the upcoming legislative session along with a public education campaign to build awareness around what would change under the law, Stevenson told BuzzFeed.
The New Jersey Senate voted 21-11 to approve the bill last December after the state Assembly passed it last June. In order to override Christie's veto, sponsors of the legislation need a two-thirds majority vote in both chambers, but that is unlikely seeing as the current legislative session is almost over.