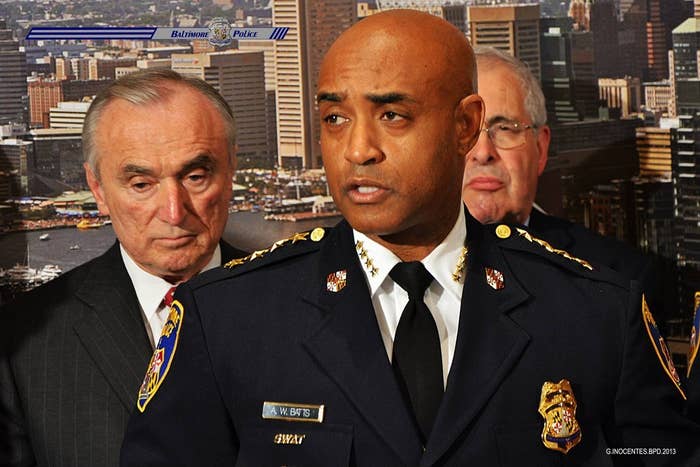 Baltimore police said Thursday that homicide detectives in the city are investigating the murder of a transgender woman and whether it was a hate crime — but acknowledge they have little information in the case.
"There is not a lot of information at this time," said Sgt. Jarron Jackson of the Baltimore Police Department. Authorities and LGBT advocates are calling on the community to come forward with any tips that could help investigators in the case.
Kandy Hall, 40, was found dead early Tuesday morning in the 1400 block of Fillmore Street of northeast Baltimore in a field between a post office and the Coldstream Park Elementary-Middle School. When asked, police wouldn't say if there were any witnesses.
Carrie Evans, executive director at statewide LGBT rights group Equality Maryland, said "it's been a really frustrating 48 hours" since learning of Hall's murder, but that advocates and police are working together on the case.
"We actually met with the police yesterday to see what was going on with the investigation and what we found out from the police was that nobody was coming forward with any information and leads," Evans said. "Nothing is off the table. They don't know if it's a hate crime, or if it was personal, or random at this point, but they are pursuing any leads and any evidence they can."
Police and advocates involved in the department's LGBT advisory council will hold a community meeting Friday so that authorities can update the community on the case and take questions. Police Commissioner Anthony Batts established the advisory council last summer.
"There is a historical distrust between the transgender community and the Baltimore Police Department, but this is really a time when people should come forward with any info that would help with the investigation," Evans said. "It is incumbent upon all of us to come forward for everyone's safety."
Police have already increased their presence in the neighborhood where Hall was found and have issued fliers from Metro Crime Stoppers offering a reward to anyone who can provide information that will lead to an arrest and indictment in the case.
"Our detectives have been working diligently to bring closure to this case for her family and friends," Jackson said.
Police said Hall was found with trauma to her body, but as of Thursday police do not yet know the exact nature of the injuries or how she died, as an autopsy has not been completed, Jackson said.