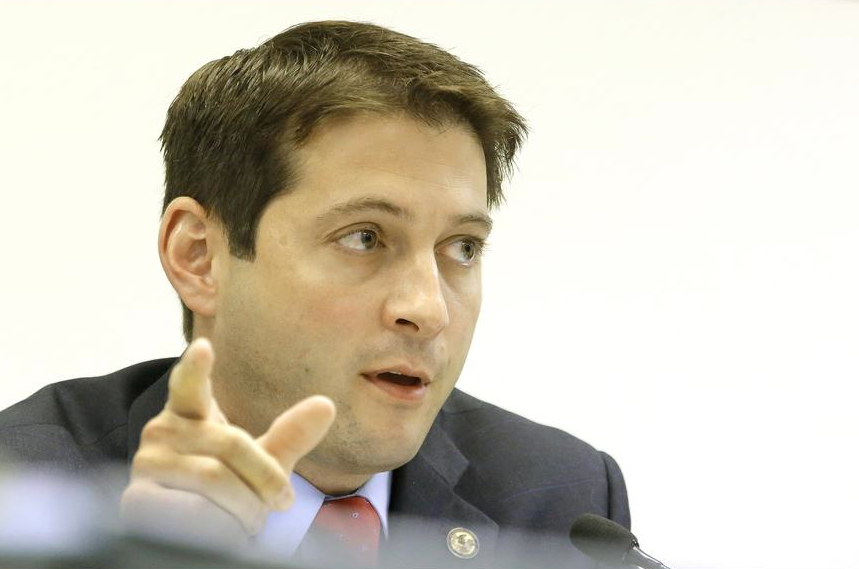 When the Illinois Senate passed a bill that would legalize marriage for same-sex couples last Valentine's Day, only one Republican — a freshman senator from Central Illinois — stood up in support of it, saying, "For me, this is simply the right thing to do."
Now — well over a year later — as the state's marriage equality law finally takes effect across Illinois Sunday, Sen. Jason Barickman of Bloomington, Ill., told BuzzFeed that "even more so today, I feel that I made the right decision."
"As with any vote we take, some votes you might say are more difficult than others," Barickman said. "You take them as they come and this is one where I'm glad to have been a part of it … I hope that others — through a law like this — I hope that others can enjoy the same happiness and challenges that other families have."
With the law taking effect, same-sex couples are eligible to apply for marriage licenses in all of the state's 102 counties, a handful of which opened on Sunday for such couples who are eager to tie the knot. Dozens of couples were married in Chicago at marriage equality celebrations.
For months, a patchwork of marriage equality existed in Illinois, with at least 16 counties offering marriage licenses to same-sex couples ahead of the law's June 1 start date — the result of a February federal court ruling in Chicago which found the state's ban on marriages for same-sex couples as unconstitutional. About 1,600 same-sex couples already received licenses as of last Thursday, according to Cook County Clerk David Orr.
But last year, marriage equality in Illinois was far from a sure thing. Although, the bill sailed through the Senate on Feb. 14, 2013, in a 34-21 vote, it stalled in the state's House for months when support in the Democrat-controlled chamber faltered. The House, including three Republicans, finally passed the bill Nov. 5 and Gov. Pat Quinn signed it into law on Nov. 20.
"I think it's a generational issue that finds more resistance in the Republican Party," Barickman said. "Illinois and other states around the country are moving in the direction that they are, and with that, I think you will find other Republicans that will stand up on this issue and others that are important to lots of people."
In recent weeks, key Republican figures signaled that the fight against marriage equality could very well be over. One such Republican, U.S. Sen. Orrin Hatch, said, "Anybody that does not believe that gay marriage is going to be the law of the land just hasn't been observing what's going on. The trend right now in the courts is to permit gay marriage, and anybody who doesn't admit that just isn't living in the real world."
Barickman said that the Republican Party has traditionally stood up for fairness under the law — and marriage equality is a part of that now.
"As Republicans, and I'm sure this is along the lines of what I said then, I think that Republicans have an opportunity to stand up and remind others that we are a party that values the freedom individuals have in making decisions about their life and we are a party that has historically stood for fairness under the law," he said. "So, these are principles that we can stand strong on."
Barickman, who is serving a four-year term, did not face a primary election earlier this year over the issue like Rep. Ron Sandek, Rep. Ed Sullivan Jr., and Rep. Tom Cross, the three Republicans who voted in favor of the bill in the House, but said he doesn't know what opposition may come when he's up for reelection. Both Sandek and Sullivan advance out of the primary as well as Cross, who is running for state treasurer.
Barickman described his district as "a very Republican district," but that constituents there are focusing on fiscal issues the state faces, not the issue of whether same-sex couples should be able to legally marry.
"I certainly know individuals around Central Illinois who are personally impacted by this change in law, he said. "But by and large, outside of those have a personal interest in this, our state faces huge financial issues and most that I interact with, including Republicans, want our state to solve its fiscal problems and would like to see some energy placed on that."
Meanwhile, LGBT advocates at Equality Illinois and other proponents of marriage equality have pushed the issue to the Republican challenger in the race for governor in the state, Bruce Rauner. In an open letter to Rauner, Equality Illinois CEO Bernard Cherkasov, condemned the candidate for not coming out in support of the bill.