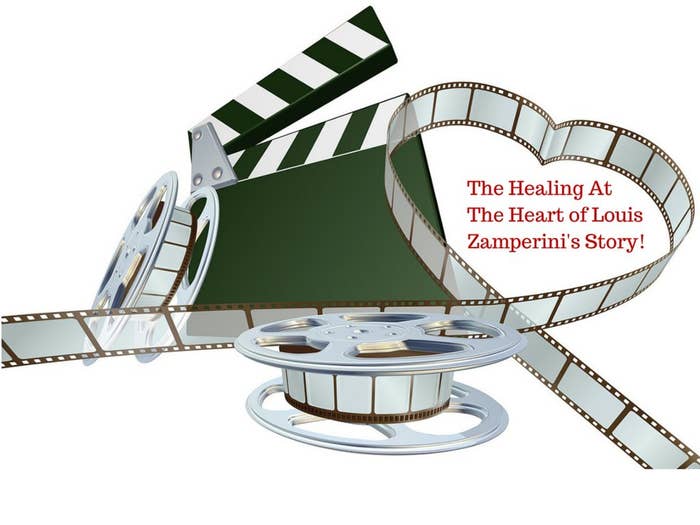 Angelina Jolie's third outing as a director has been a stirring success.As an "inspirational film"

Unbroken

's Christmas day launch turned into box office gold, taking in almost $50 million dollars in its first few days,

according to Variety

. It is

expected

to be right up there in the top three again during the "post-holiday weekend".But her biopic has also courted controversy by omitting overt references to the deep Christian faith at the heart of her protagonist's life."The actor's third film as a director tells the incredible true story of Louis Zamperini, but skips the half that makes it all resonant," complained

BuzzFeed's

Alison Willmore. The movie, she added, is "stripped of...the complications of recovery and faith" which it "chooses not to touch".Likewise,

Variety's

Chief Film Critic Justin Chang credits the movie with showing Zamperini praying his way through his ordeal, but also saw the production as a missed opportunity."Zamperini's post-rescue conversion and his subsequent attempts at a moral reckoning with his captors are dispensed with in the closing titles, leaving you blinking at the unrealized potential of a longer, bolder and more spiritually inquisitive movie than this one," he wrote.So, another case of the secular world marginalising the Christian message?Not quite. As Jolie has pointed out, the omission was actually Zamperini's choice - a point confirmed by his son, Luke."The great commandment is that we preach the gospel to every creature, but neither God nor the Bible says anything about forcing it down people's throats," he

recalled

his father saying.However, the fact remains the movie omits a very special moment - a moving healing that is a highlight of the biography on which Jolie's film is based. Leaving this out robs Zamperini's story of his threshold experience - exchanging years of hell for over six decades of comparative heaven.Of course, biographer Laura Hillenbrand's work on Zamperini also stresses the heroics of the US Olympian's terrifying war experience - plane downed, weeks adrift on a raft, brutal captivity. But, just as importantly, it details the spiritual salvation of a man who

was

broken, terribly broken. Back home, Zamperini spent five long years struggling with alcoholism, deep depression, traumatic nightmares and a raging desire for murderous revenge. These nearly cost him his marriage.But all that changed literally overnight when a Christian tent meeting prompted a seismic spiritual shift in his thinking. He recalled a promise he'd made to God when adrift: "If you will save me, I will serve you forever!" He

had been saved

, he realised, but had lost sight of his vow.The change was dramatic. That night he disposed of his cigarettes, a cache of liquor and "a secret stash of girlie magazines". Then, for the first time in years, he slept sweetly. The nightmares - featuring his violent prison camp tormentor, "the Bird" - had disappeared for good.And as if that transformation wasn't enough, Zamperini dusted off his Bible the next day, sat under a tree reading it and experienced a holy moment of healing.Hillenbrand wrote: "Resting in the shade and the stillness, Louis felt profound peace. When he thought of his history, what resonated with him now was not all that he had suffered but the divine love that he believed had intervened to save him. He was not the worthless, broken, forsaken man that the Bird had striven to make of him. In a single, silent moment, his rage, his fear, his humiliation and helplessness, had fallen away."What a powerful moment! A moment seeing that divine Love's ever-presence was right there where his problems had seemed so insurmountable. A moment in which years of emotional baggage instantly evaporated. A moment in which a full-on case of Post Traumatic Stress Disorder yielded to a "profound peace"... never to return in the remaining two thirds of his 97-year life.That's a moment other PTSD sufferers might welcome hearing about, because similar moments are potentially available to us all. Like

many people

, I've had healings that echo Zamperini's experience - in which a dark, material sense yields to a deep spiritual calm which, in turn, restores wellbeing.Clearly, Christians don't have a monopoly on such moments. But as a Christian Scientist I would describe the understanding which consciously connects anyone to the Divine as the coming of the Christ - a heart's awakening to a more spiritual sense of life and intelligence. This, in turn, can restore health to minds and bodies, as Jesus consistently proved in his healing ministry.Jesus was unique because he was "endowed with the Christ, the divine Spirit, without measure", as

Mary Baker Eddy

, the Founder of Christian Science, puts it. But - as the term "Science" suggests - Eddy saw that spiritual good as not being haphazard, but a universal law, and that all have access to this divine, restorative power through prayer and humility.Finding such prayer and humility was at the heart of Zamperini's remarkable transformation from broken to free. Like him, many of us discover there are limits to the strength of the "human spirit" and yearn for deeper answers.That is what the Christ brings us. No matter how we've suffered or sinned, it reassures us that one thing remains

forever unbroken

- our connection to a God whose very nature is to love and heal.
For more articles by Tony...