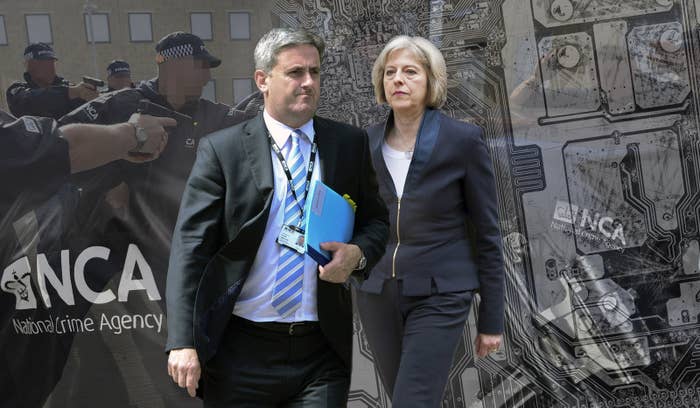 The National Crime Agency has been warned that Britain's system for detecting money laundering and terrorist financing has such serious flaws that it risks tipping off criminals that their finances are being monitored.

Documents seen by BuzzFeed News raise fresh questions over the ability of the NCA to track billions of pounds of dirty money flowing through the UK every year.
The agency has admitted that its system for suspicious financial transactions is "not effective or efficient". The failings prompted the Home Office to order a review this year but it has refused to publish the findings.
Now, BuzzFeed News has obtained submissions to the consultation from the Law Society and the Electronic Money Association, and those documents detail serious and ongoing failings:
A crucial database is "slow and cumbersome" and frequently crashes when lawyers and financial industry professionals try to file "suspicious activity reports" (SARs), which are the bulwark of Britain's money-laundering defences.

Delays in checking transactions risk tipping off criminals that their finances have been flagged.

Lawyers have said that NCA officers have a lack of money-laundering knowledge.
The revelations come less than two weeks after BuzzFeed News revealed that every single one of the NCA's live criminal cases is in jeopardy because it has been using unlawful warrants to raid properties and seize evidence.
On Tuesday, Keith Bristow, the embattled agency's outgoing director general, is due to appear before the Commons home affairs select committee to be questioned by MPs over the unlawful raids.
Keith Vaz, the committee's Labour chair, told BuzzFeed News that Bristow will also now be grilled on the latest revelations about the financial transactions system. "These latest reports regarding the National Crime Agency are deeply concerning," he said. "It is essential that any databases used by an organisation as important as the NCA are impenetrable and fit for purpose."
These new revelations about the NCA will place further pressure on home secretary Theresa May to explain blunders at the agency. She launched the NCA in October 2013 to replace the much-criticised Serious Organised Crime Agency (SOCA), which had failed in its aims to take down the UK's most hardened gangsters.

At the heart of the agency's system for monitoring financial transactions is a database called ELMER that processes the hundreds of thousands of SARs that banks, law firms, and other key financial institutions must file when they detect financial activity that raises red flags. ELMER sifts the reports and guides NCA officers to individuals who may be trafficking dirty money.
But ELMER is so overloaded that it is at "substantial" risk of failure, Her Majesty's Inspectorate of Constabulary (HMIC) warned last year. The system was built 20 years ago to handle about 20,000 SARs a year but is now deluged with 330,000 a year, HMIC found. It also discovered that the NCA's technology was so outdated that most staff couldn't access the internet from their computers.
Despite being "fully aware of the weaknesses", the NCA had not addressed them, HMIC said, urging the agency "reinvigorate its efforts" to do so.
However, recent NCA board minutes confirm that the system is still suffering from undisclosed "problems". No solution has yet been found and the agency is searching for "medium-term options" to mitigate the "vulnerability" of the system.
Amid repeated warnings from industry that the UK's system for detecting money laundering was falling apart, the Home Office launched a review of the regime in February. But it has repeatedly rebuffed requests to make the findings public, arguing they will be included in an action plan to be published by next year.
The consultation closed in March. In October the Home Office separately published a money-laundering and terror-financing risk assessment, acknowledging that problems with the NCA's system could "create risks to the effectiveness of the UK's anti-money-laundering regime". It warned: "Money laundering represents a significant threat to the UK's national security" and "there is a marked overlap between money laundering and terrorist financing".
The NCA told BuzzFeed News that it had admitted publicly that its anti-money-laundering system was "not effective or efficient for either the reporting sector or law enforcement" but said it had "fully engaged" with the Home Office's SARs review and was looking for ways to "radically improve" the system and update its infrastructure.
In its submission, the Law Society, the professional body representing all solicitors in England and Wales, said the system was "slow and cumbersome", "difficult to use", and "largely unsuited for most reports from the legal sector".
The society raised concerns that NCA staff handling suspicious activity reports by its members showed a "lack of knowledge and understanding" of key legislation and the sorts of transactions handled by the legal profession. Its own money-laundering task force had repeatedly offered to provide training to NCA staff on these issues but this had not been taken up. The NCA has previously admitted in a report into the SARs regime that it has lost many officers in its financial investigation unit and that, while it is now fully staffed, there "is a gap in experience which will take some time to replace".
The Law Society's submission also criticised "a fundamental lack of information being made available by law enforcement" about the types of financial activity lawyers should be looking out for.
Scott Devine, the society's money-laundering policy adviser, said the current system's consent regime – in which the NCA reviews transactions after receiving SARs to either permit or deny suspect transactions – caused such serious delays that it risked the NCA's targets being alerted to their finances being flagged. "It's a difficult situation when you've made a report but can't tip your client off but at the same time they are wondering why things have stalled and they are asking questions," he said.
Similar concerns were raised in a submission by the Electronic Money Association, which oversees wire transfers from remittance shops and online. It said the consent regime was so slow that it "can serve to alert organised criminals to the fact a suspicion has been raised".
Wire transfers have been identified by Scotland Yard's counter-terrorism command as a major source of concern as a channel for financing of terror groups such as ISIS.
BuzzFeed News has confirmed that the Metropolitan police, the City of London police, and the Serious Fraud Office also submitted responses to the Home Office's review of the SARs regime, but they have all refused to release them despite requests under Freedom of Information laws.
The NCA is not subject to the same transparency laws that apply to regular police constabularies because it has been classed as a "security body" by the government.
The agency has faced massive difficulties with the chaotic IT system it inherited from its predecessor, the Serious Organised Crime Agency (SOCA).
The Major Projects Authority, the government body that oversees significant government infrastructure projects, rated the status of the NCA's programme to overhaul its IT systems as "Amber / Red" in its 2015 assessment. This means that the success of the NCA's technology upgrade is "in doubt" with "major risks or issues apparent in key areas".
The NCA admitted in its 2015 accounts that its policing work is affected by "sub-optimal" systems and equipment.
The most recent Civil Service Survey into the NCA revealed that staff morale is at rock bottom. A quarter of the agency's workforce said in 2015 that they wanted to leave within the next 12 months, and there was a stark lack of confidence in senior management, with only 27% of NCA employees reporting that its leadership inspired them to do their best and just 35% saying the organisation was led "with confidence".