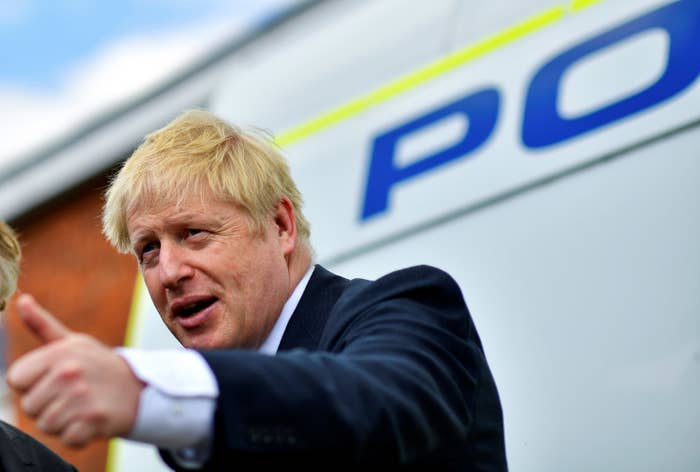 Boris Johnson won't say why he attended a secretive meeting at the restaurant of a telecoms tycoon whose company is under investigation for criminal money laundering.
The potential future prime minister dined this spring at Bella Cosa in Canary Wharf, two sources told BuzzFeed News. The Italian bistro is owned by Lycamobile. The telecoms giant faces a French probe into whether it laundered millions of euros through its sprawling offshore network, after BuzzFeed News first revealed its suspicious cash movements in 2015.
One source told BuzzFeed News that Johnson met with Lycamobile's founder and chairman, Subaskaran Allirajah, and other company executives at Bella Cosa's private upstairs dining area to drum up support for his nascent campaign for prime minister. Johnson received at least £10,000 in campaign donations from Lycamobile in support of his 2012 mayoral campaign, and is a longstanding ally of Allirajah.
Lycamobile was the Conservatives' biggest corporate donor under David Cameron's government, with gifts totalling £2.2 million, but the party announced last year it had stopped accepting money from the embattled telecoms giant.
Johnson and his press team have refused to answer whether he attended the restaurant, whether he met Allirajah, or whether he has discussed accepting any future donations from the embattled tycoon, ignoring emails, texts and 18 unanswered phone calls from BuzzFeed News. Johnson's campaign has been marked by a resolute determination to avoid certain press enquiries, including his ongoing refusal to discuss why police were called to a noisy row he had with his girlfriend at her Camberwell flat.
The source told BuzzFeed News that at the dinner Allirajah offered to bankroll Johnson's leadership campaign. It is not known how Johnson responded to such an offer, and no donations from either Allirajah or his company have been publicly announced.
Another source said he did not know who Johnson was meeting with, but said that the restaurant treated Johnson as a VIP guest, closing off the upstairs area to regular customers while he ate.
Johnson's Labour rivals blasted him for the meeting soon after this story was published on Thursday. "Boris Johnson's association with a company being investigated for money laundering makes him wholly unfit to be Prime Minister," said Labour's Shadow Chancellor, John McDonnell MP.
The telecoms giant is among the world's largest mobile virtual network operators, buying international airtime in bulk from the main networks and selling it to millions of customers around the world on inexpensive prepaid calling cards. Its dubious business practices first came to light in 2015 when BuzzFeed News secretly filmed cash couriers depositing cash-stuffed rucksacks at Post Offices scattered across London.
Lycamobile — which reported an annual turnover of €1.5 billion in 2014 and has legally avoided corporation tax by moving money to the tax haven of Madeira through its vast network of more than 60 offshore companies — has always insisted that its business is wholly aboveboard. It said that the cash drops caught on film by BuzzFeed News were just "day to day banking" of legitimate takings from the sale of its international calling cards.
The company is suing BuzzFeed News for libel in France over our reporting on the Paris raids. It did not answer repeated requests for comment about Johnson's dinner.
French prosecutors launched a major probe into the firm and three years ago arrested 19 people accused of using its accounts to launder money from organised criminal networks. The French investigation has continued to gather steam, and Lycamobile was ordered to pay €20 million in bail after its two French companies were formally charged with money laundering in a Paris court.
BuzzFeed News revealed last year that the British government had refused to raid Lycamobile's UK headquarters on behalf of the French authorities, citing the fact that the company is the "biggest corporate donor to the Conservative party" and gives money to a trust founded by Prince Charles.
The Chancellor Phillip Hammond later admitted that had been a "huge error of judgment".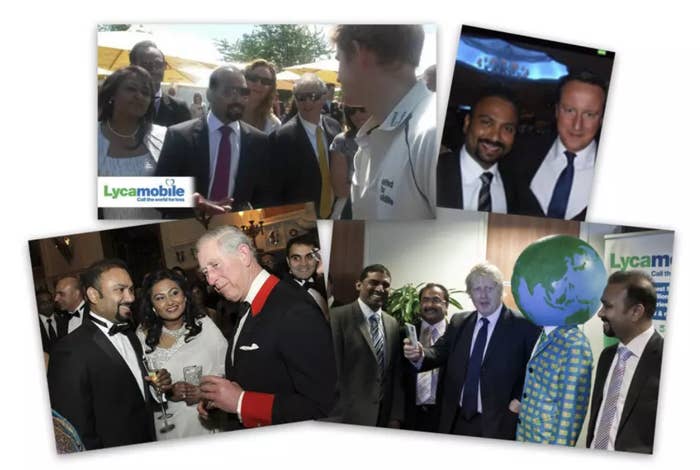 Allirajah's status as one of the Conservative Party's biggest benefactors earned him access to the highest echelons of the party, and he was a member of the Leader's Group, a dining club for superdonors to mingle with then-prime minister David Cameron.
He also took an active role in Johnson's campaign for re-election as mayor of London in 2012. He gave Johnson use of Lyca's Canary Wharf offices to conduct telephone canvassing sessions on at least five occasions and showered him with champagne, flowers, and gift hampers, according to the official mayoral register of gifts and hospitality.
Johnson attended several of the firm's big company events and spoke fondly of Lycamobile's "wonderful business". In 2011 he attended a "birthday" event for the company, where he stood grinning and clapping next to Allirajah whilst the tycoon cut pieces from a globe-shaped birthday cake. Johnson wished Allirajah "every success in the years to come".
After Lycamobile's suspicious cash handling practices first emerged, a reporter quizzed Johnson at the Tory party conference about his relationship with the firm. Surrounded by minders, the usually loquacious politician refused to answer any questions, rushing instead into a private lounge for the party's donors — and away from any further questions.
UPDATE
Updated to include comments from Labour's John McDonnell MP.