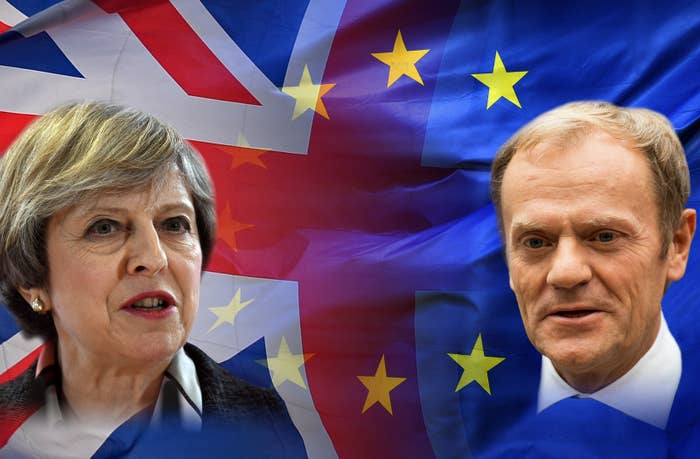 A new survey has uncovered what the British public want Theresa May to achieve in the Brexit negotiations, a week ahead of the UK triggering the formal process to leave the European Union on 29 March.
The poll of more than 2,000 adults by NatCen Social Research shows May faces a tough task, with Leavers and Remainers alike largely united on wanting free trade with the EU, to retain many of the perks of membership, but an end to free movement – a position numerous EU leaders have said will be impossible to achieve.
However, in the event the UK faces the choice of accepting freedom of movement as a condition of free trade, Remain and Leave voters are divided – with a large majority of Remainers feeling the trade-off would be worthwhile, and Leavers strongly disagreeing.
"For the most part, Remain and Leave voters are not at loggerheads on the kind of Brexit they would like to see," said the author of the NatCen report, Professor John Curtice.
"Many Remain voters would like to see an end to the less popular parts of Britain's current membership of the EU, while many Leave voters would like to retain the seemingly more desirable parts, such as free trade, cheap mobile phone calls, and clean beaches.
"This is perhaps typical of the pick-and-mix attitude to the EU that has characterised much of Britain's relationship with the institution during its 44 years of membership so far."

Here is what the public wants from Brexit:
Remain and Leave voters want an end to EU freedom of movement.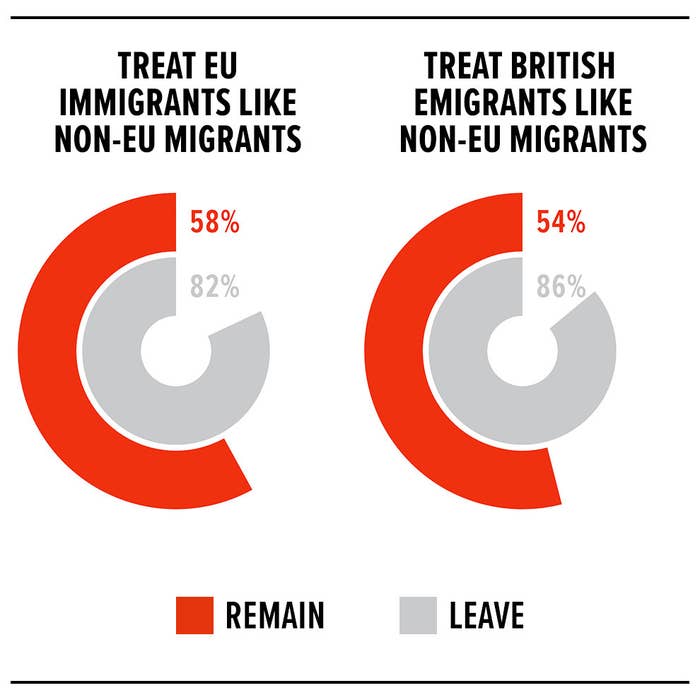 A majority of Remain and Leave voters want EU citizens to face the same immigration rules as non-EU citizens after the UK leaves. Unsurprisingly, Leave voters are much more likely to back this policy, but a clear majority (58%) of Remain voters back this too.
Voters also expect and support prospective British emigrants to the EU facing the same restrictions as non-EU citizens – suggesting that on this issue at least, the UK is not asking for unequal treatment: 86% of Leave voters and 54% of Remain voters think UK citizens should face immigration checks in EU nations.
Finally, 77% of Leave and 51% of Remain voters want EU citizens to be completely ineligible for any UK welfare benefits – which would probably mean UK citizens across the EU would receive the same treatment in turn.
Remain and Leave voters overwhelmingly want to be able to trade freely with the EU.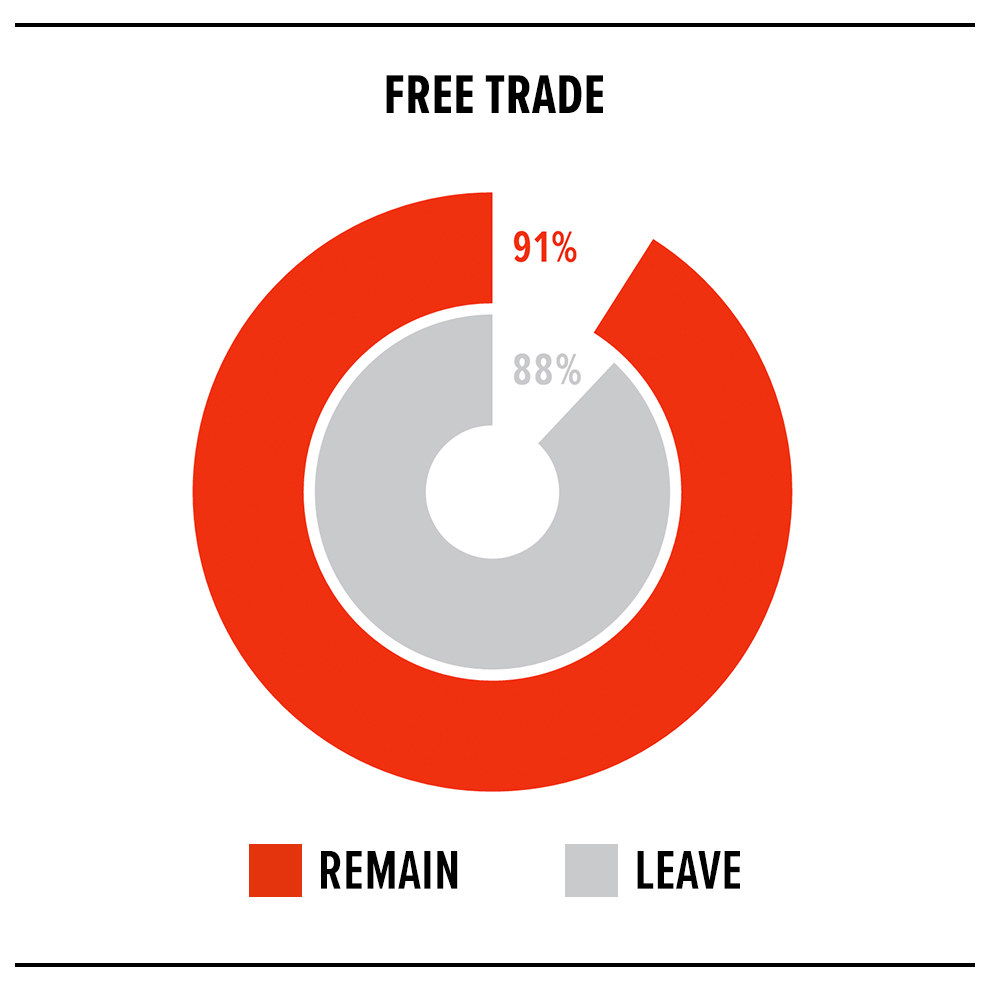 The vast majority of voters want to be able to continue trading freely with the EU after Brexit – which could prove a difficult challenge for May, who has committed to leaving the single market and customs union, which allow for tariff-free trading without customs checks.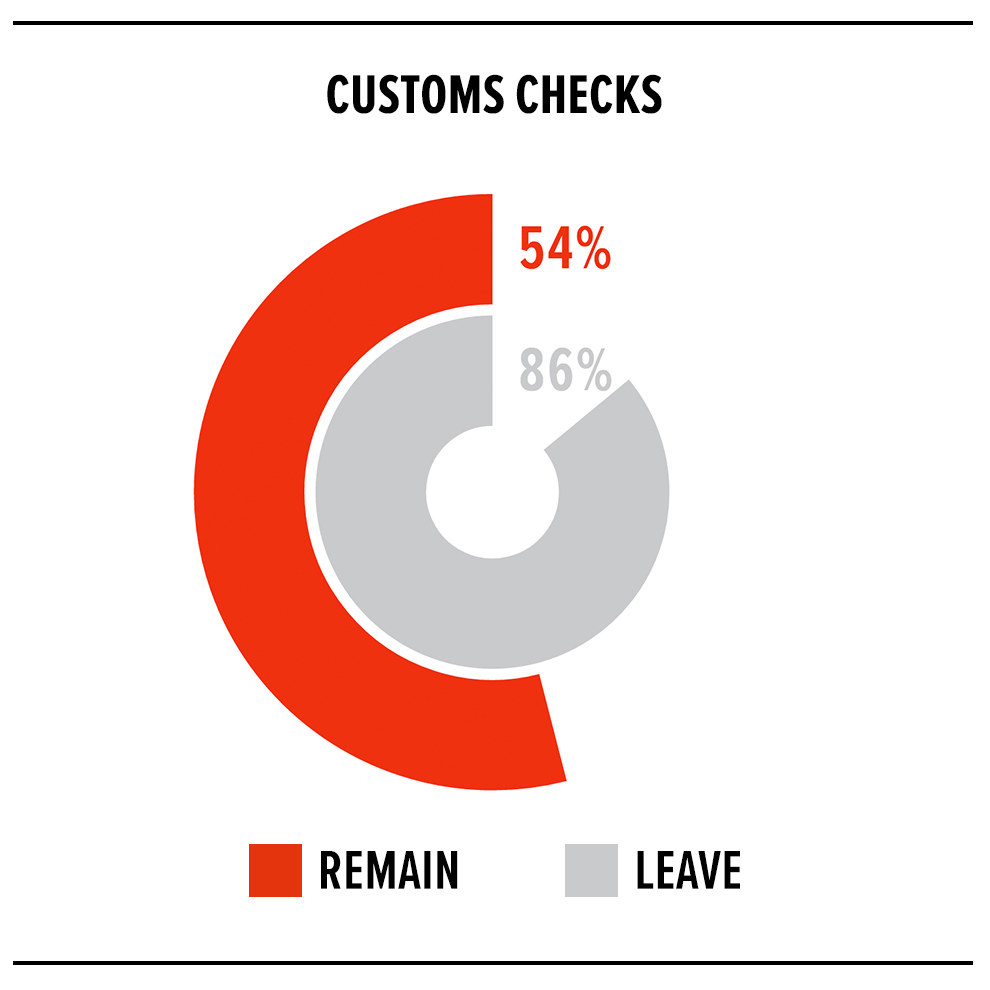 However, despite backing free trade, most Remain and Leave supporters want to reintroduce customs checks at the UK border – which most free trade deals try to eliminate – suggesting a certain degree of confusion as to which aspects of free trade genuinely enjoy public support.
UK voters – Leave and Remain alike – want to keep other perks of EU membership post-Brexit.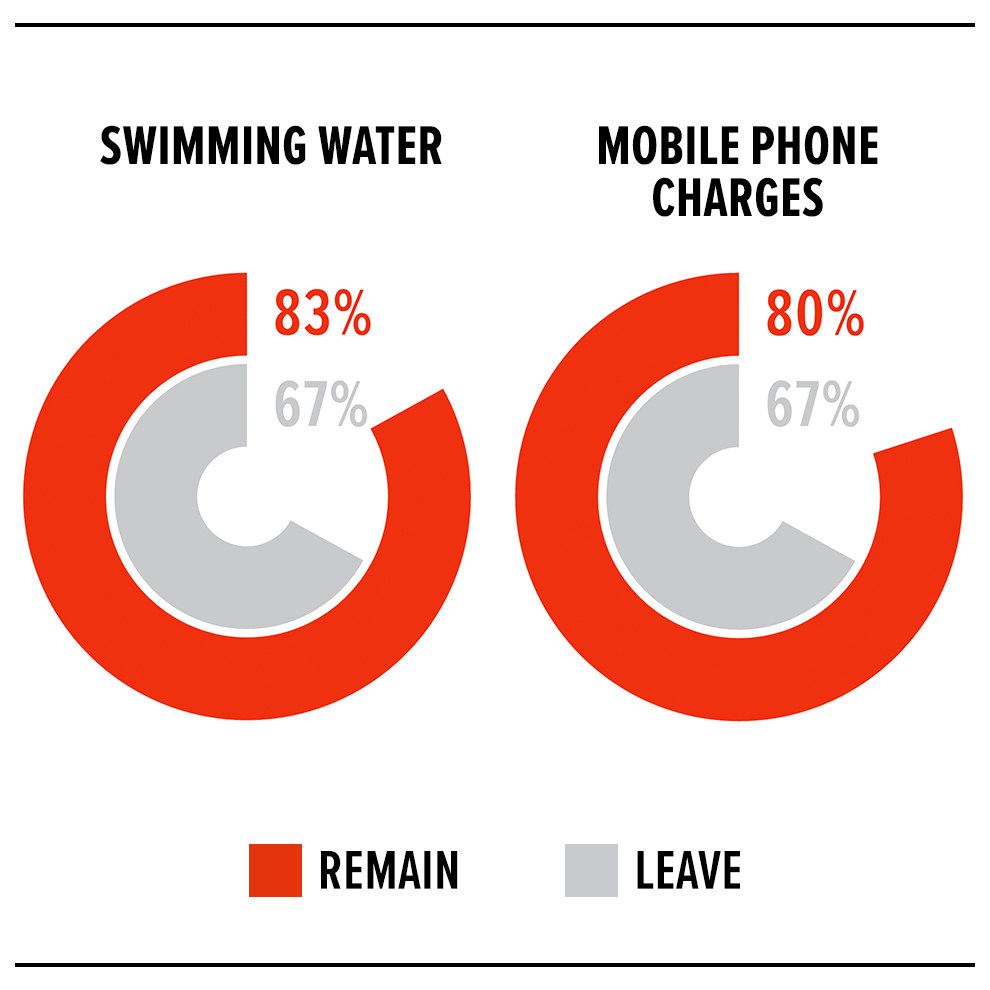 The two charts above show that 83% of Remain and 67% of Leave voters want to retain EU regulations governing clean water at beaches, and 80% of Remain and 67% of Leave voters also want to keep EU rules that keep roaming charges for UK travellers across the EU to a minimum.
A majority of UK voters – however they voted in the referendum – also want to keep EU rules on compensating passengers after flight delays, as well as continue to participate in EU-wide university research programmes.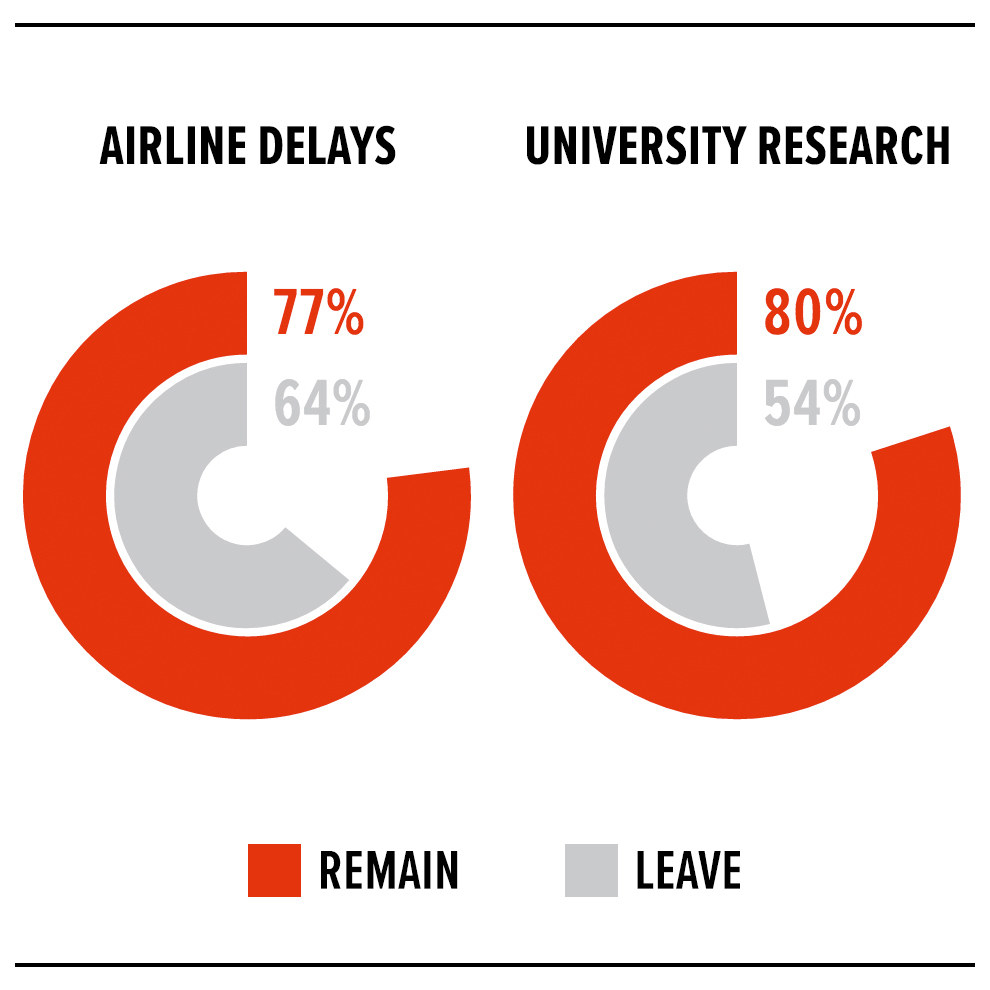 Voters were also asked whether they wanted an end to free healthcare across the EU for British tourists – and perhaps unsurprisingly, most did not: Only 28% of Remainers and 46% of Leavers supported this proposition.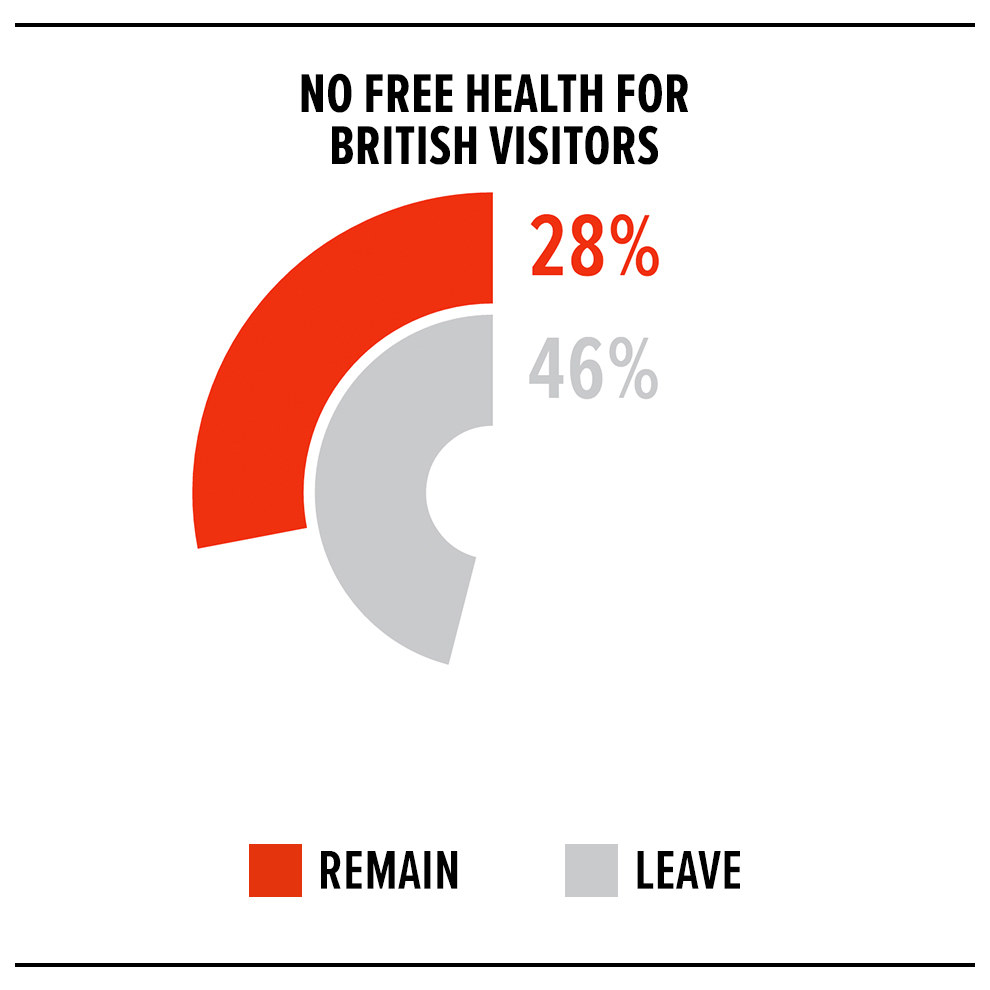 Similarly, a majority of voters want to keep EU rules governing which pesticides farms can use. In a rare case of Remain and Leave voters being divided, though, Remain voters want to keep EU rules on the minimum amount of annual leave to which UK workers are entitled (currently 20 days plus national holidays), while Leave voters narrowly wish to scrap them.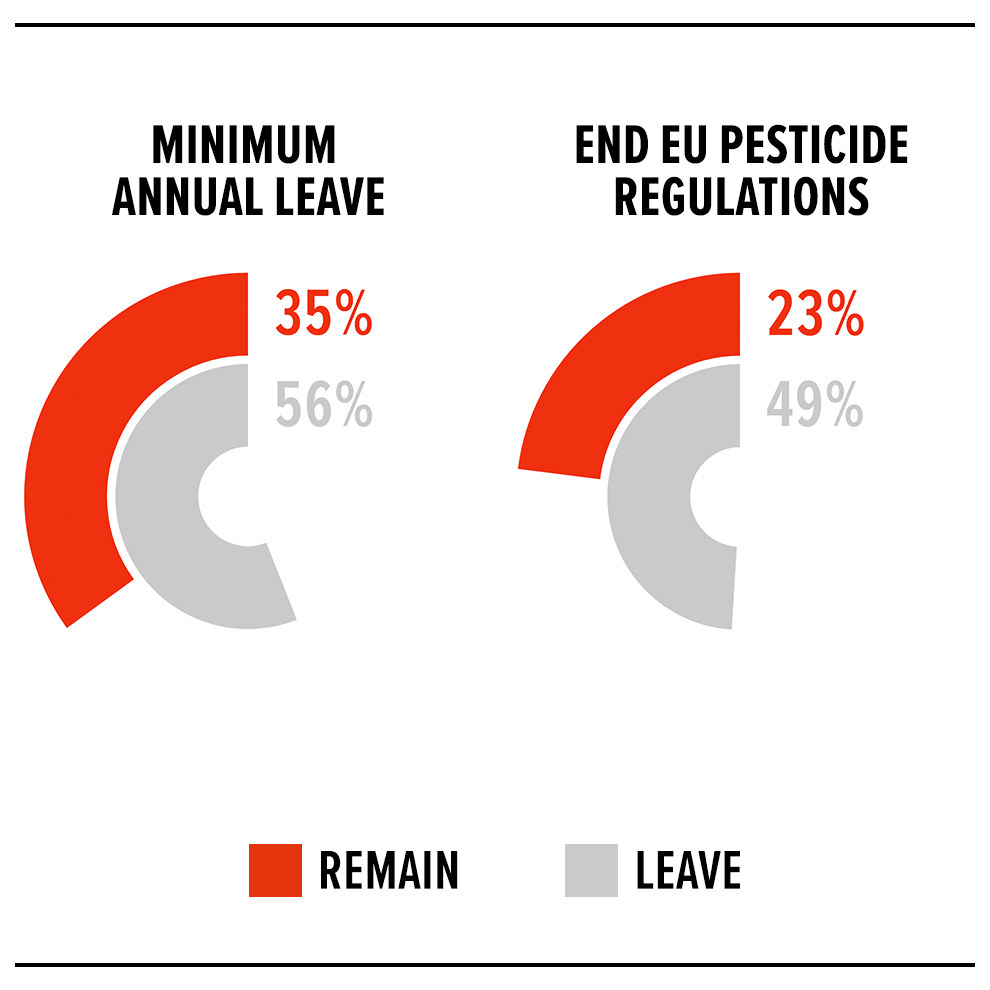 Remain voters would sacrifice controlling our borders to keep free trade. Leave voters wouldn't.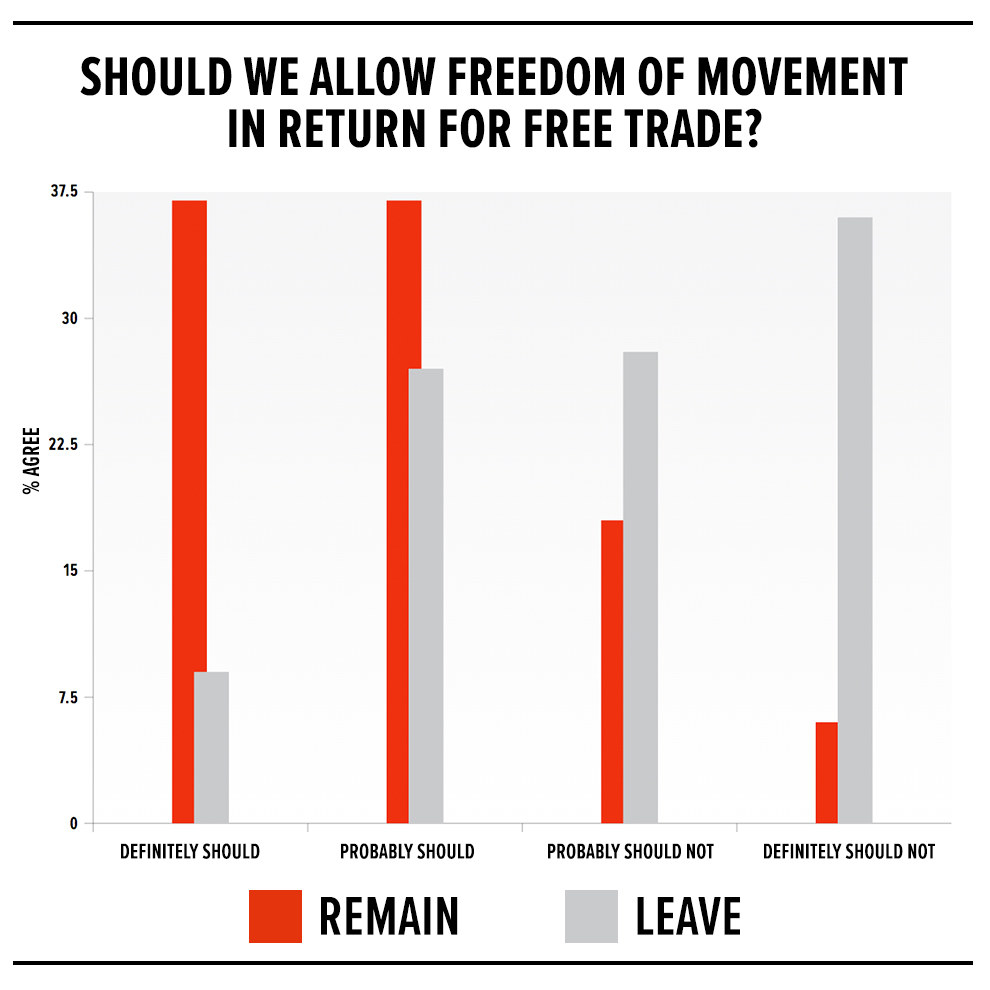 Remain and Leave voters might both agree on wanting to be able to have greater control over UK immigration rules on EU citizens – but their priorities differ when it comes to picking one over the other.
Around three-quarters of Remain voters say the UK "definitely" or "probably" should allow free movement in exchange for free trade if that's the choice the UK ends up facing at the negotiating table – while only around 1 in 3 Leave voters say the same.
Perhaps more interesting still is the fact that Labour voters are more likely to prioritise free trade than Conservative supporters – a reversal of the parties' traditional positions on free trade – though the Tory voters are very narrowly divided, spelling out a potential future headache for the prime minister.
"The stance taken by the UK government of wanting to end freedom of movement but maintain free trade fits well with the views of most Conservative voters," said Curtice.
"But it also means that they are also the group that are most likely to be disappointed if they were to come to the conclusion that the government has failed to achieve that objective. Theresa May could be faced with political difficulties at home if she struggles to achieve her key objectives in Brussels."