Black Friday, the day after Thanksgiving, is a retail sales extravaganza that usually attracts general mayhem. This year was no different, though things did seem to be calmer than in previous years.
In Norwalk, California, officials said two women got into a pushing and shoving match over a Barbie doll. This happened on Thanksgiving evening, CBS reported:
Sheriff's Deputies has to be called to the Walmart store in the 11700 block of Imperial Highway after reports of the fight broke out.

Deputies were able to diffuse the situation and said no one was arrested.

"The whole thing was pretty stupid," said a shopper named Sonia, "that was very dumb."
At a Michigan City, Indiana Wal-Mart, this guy in a Bears jersey wrestled a Sony speaker set away from other shoppers:
Demonstrators protesting the grand jury decision in Ferguson also showed up a stores in Missouri and New York City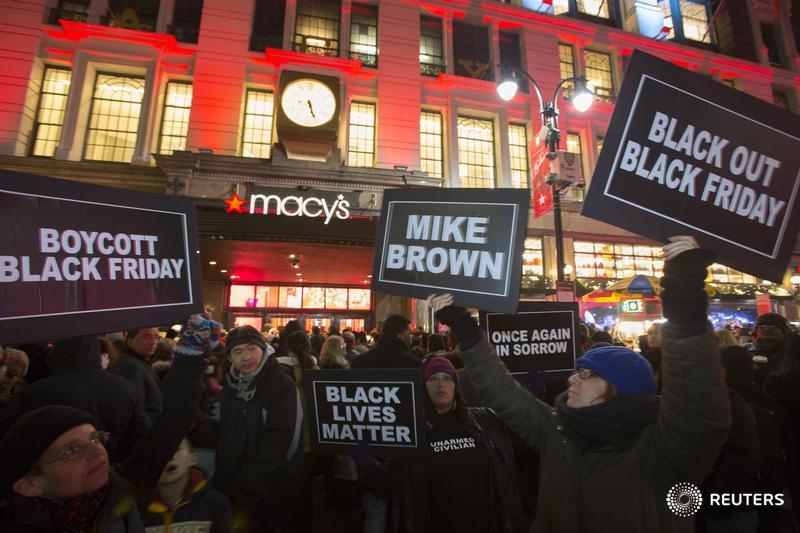 Reuters reported that the crowds weren't as thick as previous years.
Mall crowds were relatively thin early on Black Friday in a sign of what has become the new normal in U.S. holiday shopping: the mad rush is happening the night of Thanksgiving and more consumers are picking up deals online.

Most major retailers now open their doors Thursday evening and offer extended holiday deals rather than limiting them to one day. The result is a quieter experience on what has traditionally been the busiest, and sometimes most chaotic, shopping day of the year.

"It just looks like any other weekend," said Angela Olivera, a 32-year old housewife shopping for children's clothing at the Westfarms Mall near Hartford, Connecticut.
On Thanksgiving, online sales were up 14.3% percent over the same period compared to 2013, IBM said, and shopping on mobile devices accounted for 52.1% percent of all online traffic, an increase of 22.4% when compared to this tie last year.
Online sales on Thanksgiving Day were $1.33 billion, and 29% of that was from mobile devices, Adobe said, adding, "early Black Friday data shows an increase of 24% in spending."
On Black Friday, online sales were up 6.4% compared with 2013, IBM reported, and shopping on mobile devices took up 45% percent of all online traffic, an increase of 21.7% from last year.
Tom Namako is the deputy news director for BuzzFeed News and is based in New York.
Contact Tom Namako at tom.namako@buzzfeed.com.
Sapna Maheshwari is a business reporter for BuzzFeed News and is based in New York. Maheshwari reports on retail and e-commerce.
Contact Sapna Maheshwari at sapna.maheshwari@buzzfeed.com.
Got a confidential tip? Submit it here.