Which Dinosaur Is Nearest To Your House?
Dozens of species of dinosaurs lived in Britain. Find your local monster.
by
,
Between 245 million and 65 million years ago, the forests and seas of Britain were home to huge monsters.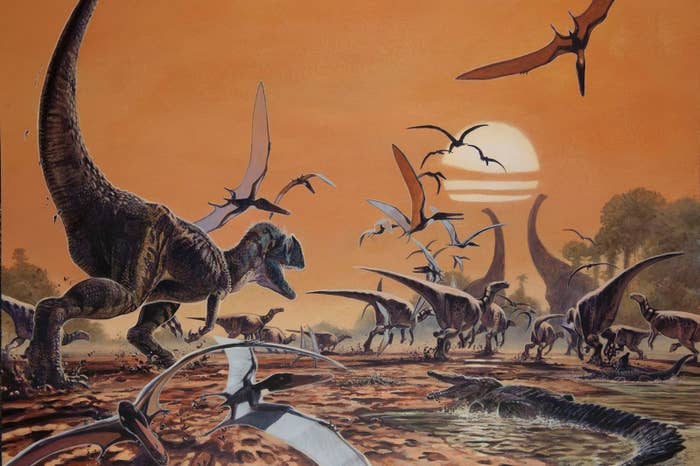 Stegosaurs stomped through the plains of Cambridgeshire, and giant plesiosaurs swam off the coast of Dorset. But which was closest to where you are right now?
Click anywhere on Britain on the map below to find your nearest dinosaur. (Technically a few of these are not dinosaurs. And one of them's a fish. Still, they're pretty impressive.)

Images via: Dacentrurus armatus, Becklespinax altispinax, Hypsilophodon foxii, Eustreptospondylus oxoniensis, Baryonyx walkeri, Plesiosaurus dolichodeirus, Rhomaleosaurus cramptoni, Megalosaurus bucklandii, Iguanodon bernissartensis, Cetiosauriscus stewarti, Leedsichthys problematicus, Hylaeosaurus armatus, Lexovisaurus durobrivensis, Dimorphodon macronyx, Neovenator salerii, Pelorosaurus brevis, Camptosaurus dispar, Polacanthus foxii, Proceratosaurus bradleyi, Eotyrannus lengi, Sarcosaurus woodi, Camelotia borealis, Thecodontosaurus antiquus, Temnodontosaurus platyodon, Cetiosaurus oxoniensis, Valdosaurus canaliculatus, Saltopus elginensis, Scelidosaurus harrisonii, Dracoraptor hanigani, Pantydraco caducus, Edmontosaurus regalis, Wahlisaurus massarae, Goniopholis crassidens, Istiodactylus latidens, Mantellisaurus atherfieldensis, Aristosuchus pusillus, Duriavenator hesperis, Nuthetes destructor.