What Are Exit Polls, And How Accurate Are They?
The Tories are apparently in the lead, but exit polls are fallible and this is a particularly complex election.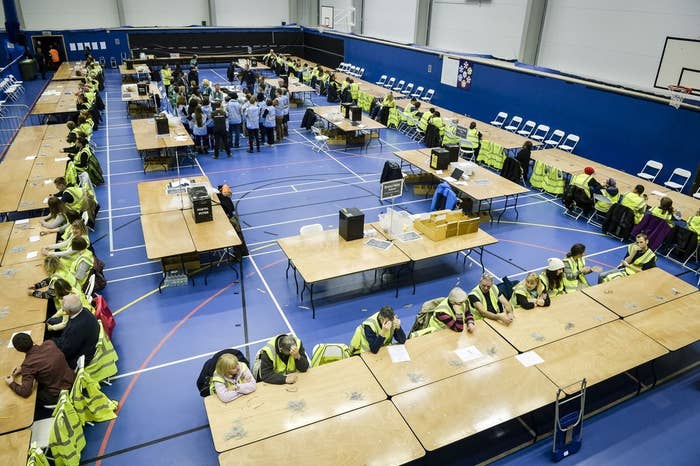 They suggest that David Cameron's Conservatives will win 316 seats while Labour will get just 239.
The poll was carried out on behalf of the BBC, Sky, and ITV, and released by them simultaneously.
Exit polls are a sample of how people voted.
People stand outside polling stations – 140 of them around the country. Pollsters at the stations ask a random selection of people, perhaps every 10th voter, to tell them who they voted for. Over the course of the day, the findings from those voters are collated in the pollsters' central office. They can't be released until the polls close at 10pm – but by then, the data has already been sifted, so all the information can be released at once.
They have significant advantages over the ordinary polls during the election campaign.
For one thing, they samplie people who've already voted, rather than people who say they'll vote. For another, they are often much larger samples than the rest of the polls. Tonight's exit poll asked around 22,000 people, compared to 6,000 for some of the later polls.
At the last two elections, they correctly predicted the number of seats won by the largest party. In 2010 and 2005 the exit polls got the number of seats the Conservatives and Labour won precisely right. However, in earlier elections, admittedly using a different system, they were wildly wrong: In 1992, the two exit polls, for the BBC and ITV, were 62 and 70 seats out. Five years later they were wrong by 29 and 21 seats.
So there's still a long way to go before we know what's really happened.