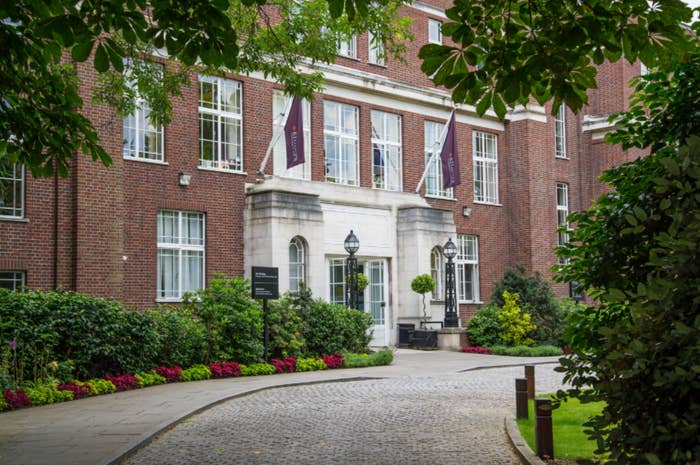 Regent's University London, an independent university and registered charity, has allowed its premises to be used to host a series of events and programmes which promote "pseudoscientific" treatments.
A member of the House of Commons science and technology committee told BuzzFeed News that any universities "lending their good name" to such events risked giving credibility to "unproven quack cures".
On Saturday, Regent's leased space for a conference by Lifestyle Prescriptions (LP). Proponents of "lifestyle medicine" claim on the LP website to teach people how to "stop or reverse" cancer and other illnesses. Practitioners of another health programme linked to LP's founder have been blamed for the deaths of three cancer patients in Norway who stopped taking conventional treatments.
In the last month, the university was scheduled to host a talk by Samir Chaukkar – an Indian homeopath who apparently believes vaccines cause autism and that autism can be treated with homeopathy – and a screening of Vaxxed, the film by the disgraced, struck-off doctor Andrew Wakefield. Chaukkar's talk was cancelled after pressure from activists.
The university also hosted the UK's only degree course in homeopathy, accredited by Middlesex University but held on Regent's property, and in the last year it was used to host a "homeopathy beginners' course", an event by the Faculty of Homeopathy, another talk by Chaukkar, and a £70-a-ticket course by another homeopath.
Homeopathy is a pseudoscientific treatment that claims diseases can be treated by enormously diluted preparations of substances that cause the symptoms of those diseases – so onion juice, which causes runny eyes and sniffles, might treat the common cold.
The preparations are usually so diluted that no molecules of the original substance remain. A 2010 House of Commons investigation found that homeopathy was not effective for any diseases and described its purported mechanism as "scientifically implausible".
Matt Warman, MP for Boston and Skegness and a member of the Commons science and technology committee, told BuzzFeed News: "Universities, private or otherwise, should take care when promoting or lending their good name to events which promote scientifically unfounded claims, as the use of their premises can add legitimacy to such claims and may serve to mislead attendees or observers.
"There's no excuse for blurring the boundaries between rigorously researched scientific work and pseudoscientific claims about unproven quack cures."
Chaukkar's talk, "Kingdoms in Homeopathy", was cancelled by Regent's after an autism rights activist, Fiona Pettit O'Leary, rang to ask the university about it. He also spoke at the university last year, in a two-day, £140-a-ticket seminar on how to treat addiction and skin diseases with homeopathy.
Chaukkar runs Homeopathic Health Solutions (HHS), an Indian company. HHS's Facebook page repeatedly claims that homeopathy can treat autism, and Chaukkar says as much in a video on the site. He has also, in that video and elsewhere, quoted another pundit who believes that autism is caused by vaccines – the HHS page quotes a doctor who claims that 70% of autism can be blamed on vaccination.

The £160-a-ticket "homeopathy beginners' course" was in January, and the £70 "Practical Approach to Managing the 21st Century Patient" by the homeopath Nimisha Parekh was last year.
Parekh also organised both Chaukkar talks at Regent's, the 2016 one and the cancelled 2017 one. Previously she organised a conference held at University College London's Institute of Neurology in 2016 from two homeopaths, Indian brothers Prasanta and Pratip Banerji, who claim to treat cancer using homeopathy.
Lifestyle Prescriptions was founded by Johannes Fisslinger in 2016; on its website, practitioners of the "lifestyle medicine" it promotes claim to be able to teach how to "prevent and heal diabetes, heart disease, obesity, autoimmune disease, cancer and many other health issues", and a practitioner claims to be able to "heal cancer".
The blogger Dean Sterling Jones, who has investigated Fisslinger, claims that "lifestyle medicine" is based on "meta-medicine", a scientifically unfounded practice that says there are links between psychological traumas and specific illnesses – for instance, a woman seeing her child in danger might get breast cancer.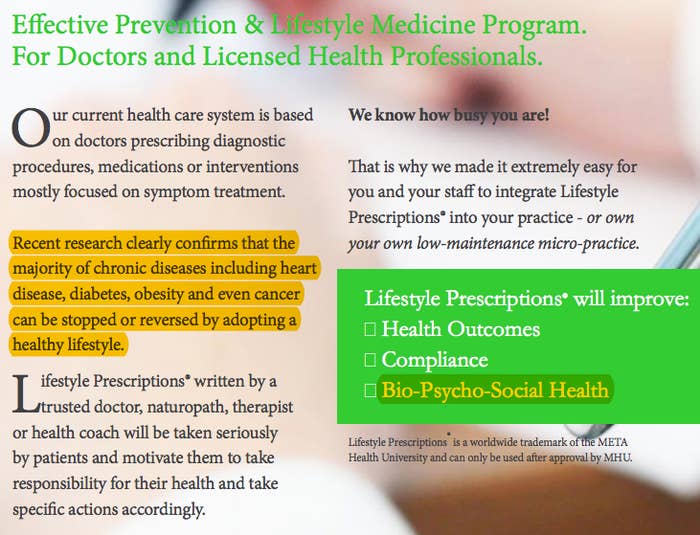 Previously, Fisslinger ran the International Meta-Medicine Association (IMMA). A 2009 report by a Norwegian TV station said three cancer sufferers died after being advised by IMMA practitioners to stop taking conventional treatment.
Fisslinger denies that LP promotes any treatments, says LP is not based on meta-medicine, and says it is "totally irresponsible" to tell patients to stop any conventional treatment. He said "it's a scientific fact that traumatic life events and negative emotions affect our health – nobody would deny that". He also says he has not been involved with IMMA for several years.
The beginner's course, homeopathy degree course, and a one-year foundation course in homeopathy, all until last month held at Regent's, are run by the Centre for Homeopathic Education (CHE), a London-based body that has a longstanding relationship with Regent's University. However, that relationship has apparently soured. The Vaxxed screening at Regent's was booked in the CHE's name; Regent's says it was not told "the name and content" of the film and is "re-vetting all clients" in the aftermath.
The CHE denied that the film was anti-vaccination, but told BuzzFeed News that the "negative media backlash from the screening meant that Regent's University has ended our relationship, and we will no longer be holding classes there".
Regent's University London is a registered charity. It had a turnover of £52 million in 2014-15, and made about £200,000 from renting its rooms and facilities out for events, according to its 2016 accounts.
It is also one of only five private universities in the UK. Unlike other universities, private institutions receive no funding from government, although they can receive tax-free charitable status. They must still meet government-set quality standards for their teaching, including ensuring "reputation of the UK higher education sector as a whole is protected".

A 2013 report by the Higher Education Commission warned that it was "concerned" about "a growing unregulated sector of higher education that may be offering insufficient provision to students", and called for stricter regulation of private higher education.
A spokesman for the University and College Union, which represents academics, told BuzzFeed News: "At a time when expertise and reason are under attack, universities of all places must take care not to undermine their credibility by being associated with, or giving credence, to pseudoscience and quackery.
"Our global reputation must be protected and government proposals to make it easier for private universities to receive taxpayers' money must be opposed."
Regent's said in a statement: "Regent's University London's commercial business arm leases space to a range of clients to make the best use of its campus, as many other universities do.
"Despite a vetting process for external clients, the name and content of the film shown on our campus on 14th February 2017 was not disclosed to us. As a result we are reviewing all of our clients and acting accordingly.
"The reported content of the film shown is against all of Regent's University London's values and we took the decision to immediately terminate our relationship with the organisation which screened the film.
"A private event, provisionally booked to take place at Regent's University London's campus on 25 and 26 February 2017 was cancelled as part of this ongoing review of our external clients." It said that the other bookings were also commercial bookings, rather than the university's own events.
Fisslinger, the founder of Lifestyle Prescriptions, told BuzzFeed News that he will "personally distance" himself from "anyone claiming to heal any diseases, especially cancer", and said "lifestyle medicine is helping people to be healthier".
"We don't make any of these claims," he said. "These are statements from leading lifestyle medicines featured in the lifestyle medicine summit.
"We make it very clear to anyone using Lifestyle Prescriptions to follow the legal requirements for their profession, and especially always work with their local doctor and never tell or even suggest clients stop any form of treatment or making any claims to heal anything."
He added: "It's not about treating something, but rather prevention and healthy living."
Chaukkar did not respond to repeated attempts to contact him. Parekh directed BuzzFeed News to contact the British Homeopathic Association, which said it had "no idea why you were put in contact with us".