This Is Why People Are Calling West Ham's Stadium The "Boleyn Ground"
Tl;dr: because that's its name.
West Ham United FC played their final game at their east London stadium last night, after 112 years there. They're moving to the Olympic Stadium in Stratford next season.
They beat Manchester United 3–2, keeping their Europa League hopes alive while dealing a severe blow to Man U's chances of qualifying for the Champions League. It also all got a bit tasty.

But people are confused about what the old stadium is called. Most people know it as Upton Park, but some are calling it "the Boleyn Ground".
"Upton Park" is the area it's in, on the border of East Ham and West Ham – but officially, the stadium itself is known as the Boleyn Ground.
It used to be called "the Castle", when West Ham moved there in the 1904/05 season, although fans called it "the Cabbage Patch".
According to the club's website, "The field in which the pitch was to be laid was originally used to grow potatoes and cabbages and, as such, the pitch was often referred to by the locals as 'The Potato Field' or 'The Cabbage Patch', while the ground itself was originally named 'The Castle'."

The reason it was called that is because it was built in the grounds of an old stately home, called Green Street House but widely known as "Boleyn Castle".
That's Green Street House, or "Boleyn Castle", there.
It dates back to the 16th century, and local legend has it that it was built by Henry VIII for Anne Boleyn, his second wife, although there's no evidence that that's true.
The house appears to have been built for a man called Richard Breame, one of Henry's servants. He or his descendants may have boasted that the king courted Anne in Green Street.

It was used as a Catholic school in the 19th century, then a maternity house, and then was leased to West Ham. During the war, the Boleyn Ground was hit by a V-1 flying bomb and severely damaged.
Anne Boleyn ~actually~ grew up in Hever Castle, Kent, about 30 miles outside London.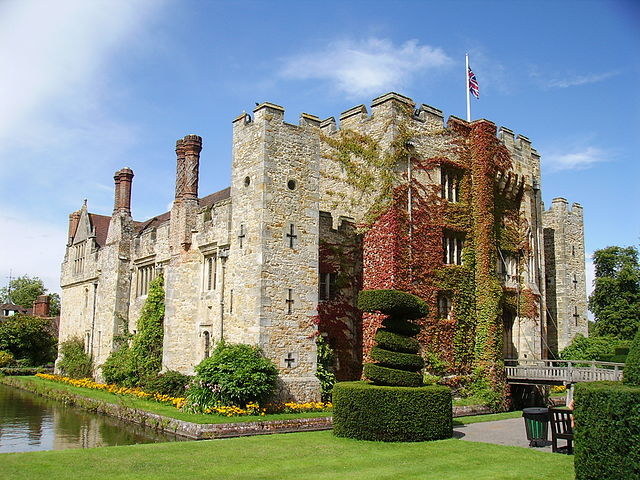 It's very nice.
After the stadium was built, Green Street House fell into disrepair and was demolished in 1955.
But the club's crest showed a castle, to commemorate the "Boleyn Castle". It's been removed ahead of the 2016/2017 season because the club is no longer at the Boleyn Ground.

The Boleyn Ground has now been sold to developers and will be converted into "housing, retail and leisure facilities".