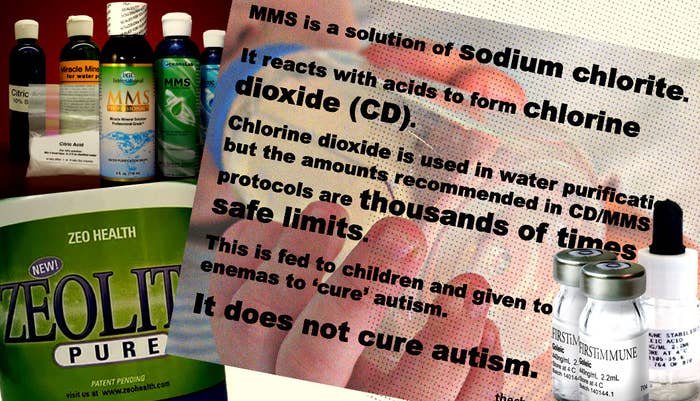 A registered British autism charity has promoted "dangerous", "harmful" unlicensed medicines and made unfounded claims about the risks of vaccines, BuzzFeed News can reveal.
The Autism Trust UK is based in Camberley, Surrey, and describes itself as a "vocational training and support centre for individuals with autism and families". It was founded in 2007 by Polly Tommey, a noted anti-vaccine campaigner whose son Billy had been diagnosed with autism.
BuzzFeed News has established that over the last five years, the charity's social media accounts have linked to sites apparently promoting various pseudoscientific "treatments" for autism, long after some of those treatments were widely condemned as dangerous.
The charity has also repeatedly raised unfounded links between vaccines and autism, and suggested that other vaccines, such as the human papilloma virus (HPV) vaccine, have injured or killed children.
The Times revealed last week that Tommey has close links to Andrew Wakefield, the disgraced anti-vaccine campaigner and struck-off doctor behind the vaccine-autism scare.
The treatments promoted through its social media accounts include:
• GcMAF, a scientifically unfounded stem-cell treatment made from human blood that its producers have claimed can "eradicate" autism, along with HIV, cancer, and dozens of other diseases;
• Mineral Miracle Solution, or MMS, a chlorine-based bleach that, it is claimed, can "restore partial or full health" to sufferers of a wide variety of illnesses, again including autism, cancer, and HIV, when given orally or as an enema;
• "chelation", the chemical removal of heavy metals from the bloodstream;
• vitamin B12 injections for "methylation".
In this tweet from June last year, the Autism Trust UK's Twitter account linked to the Facebook page of a book called Healing the Symptoms Known as Autism (HTSKAA). The book is by Kerri Rivera, an LA-based homeopath. The HTSKAA page claims that "More than 250 children have recovered" from autism using MMS. Rivera has recommended giving MMS eight times a day, or rectally two to three times a week.
The UK's largest autism charity, the National Autism Society (NAS), describes MMS as a "bleach banned for human consumption", and it has been linked to at least one death. The Food Standards Agency warned about its use in 2010, calling it an "industrial-strength bleach". The HTSKAA page angrily rejects these warnings, dismissing those who call it a bleach as "propaganda trolls".
The Autism Trust Twitter account also links directly and repeatedly – in at least three tweets in November 2016 alone – to sites selling "chelation", a therapy which claims to treat autism by removing heavy metals such as mercury from the blood.
At least three deaths, including that of a 5-year-old autistic boy, have been linked with chelation, according to the US Centres for Disease Control (CDC). The UK's National Institute for Health and Care Excellence (NICE) explicitly warns that chelation should not be used as a treatment for autism in either children or adults.
The Autism Trust UK's Facebook page also linked to the website of a clinic offering the pseudoscientific treatment "methylation", or vitamin B12 injections, to treat autism. The NICE guidelines say "do not use vitamins, minerals and dietary supplements" for the treatment of core autism symptoms in adults.
In this tweet last month, the Autism Trust linked to a Facebook post trying to help a mother called Dana in Chicago find someone who has experienced "rerum", another name for GcMAF, and asked to be put in touch with "groups who would be helpful to me". The post was live on 6 February when BuzzFeed News contacted the charity, but two days later it thad been deleted.
Several research papers about GcMAF have been withdrawn by the journals that published them due to irregularities in the data. The UK medicines regulator, the MHRA, has warned that GcMAF poses "a significant risk to people's health". The NAS says that GcMAF is "dangerous" and "harmful" and warns people to "not use [it] in any circumstances".
A spokesperson for the Charity Commission told BuzzFeed News: "The commission is assessing the issues raised in the media regarding the Autism Trust Limited and has contacted the charity to determine what, if any regulatory role there might be for us."
The commission's "public benefit requirement" states that the benefit of a charity to the public must be "capable of being proved by evidence where necessary", and "any detriment or harm that results … must not outweigh the benefit – this is also based on evidence and not on personal views".
The Autism Trust UK's Twitter feed also regularly posts updates from a Facebook page called Autism Mothers, which was set up by Tommey. Her email address is the only one listed on the Autism Mothers contacts page. Almost every single tweet from the Autism Trust in February 2017 was a cross-post with Autism Mothers.
Autism Mothers has linked to websites selling MMS and GcMAF, albeit before the official warnings about the two were issued, although after the 2009 death of a Mexican woman and the 2008 hospitalisation of a man in Canada, both linked to MMS. It has promoted an online conference featuring Rivera, four months after she was prohibited from promoting or selling MMS in the state of Illinois.
It has also twice highlighted a conspiracy theory claiming that Jeff Bradstreet, one of the main proponents of GcMAF and a prominent believer that vaccines cause autism, was murdered. According to local law enforcement, Bradstreet killed himself in North Carolina in 2015, a few days after an unlicensed GcMAF factory he apparently ran was shut down.
It has also posted at least five direct links to websites selling chelation treatments, and in the most recent post, in January this year, it described the treatment as "inexpensive".
The Autism Trust UK's Twitter feed appears to have highlighted unfounded vaccine scares on at least 10 occasions, including a December 2016 link to an Autism Mothers post by the anti-vaccine campaigner Del Bigtree describing the "fallen soldiers in the pro-vaccine war" and a June 2016 video claiming that the MMR vaccine had caused a boy's autism.
The Autism Mothers Facebook page has made similar claims, including one video in which a woman claimed that her daughter's leukemia had been caused by the HPV vaccine.
The National Autism Society says that it is "clear that there is no link between autism and the MMR vaccine". The NHS describes the HPV vaccine as "safe", saying it could save 400 lives a year in the UK from cervical cancer, and that while it has side effects they are either mild or extremely rare.
Tommey herself has a long history of claiming that vaccines are dangerous. She is listed as a producer of the film Vaxxed, directed by Wakefield, which itself links the MMR vaccine to autism and claims that the CDC covered up evidence for that link. The Autism Trust UK Twitter account has also promoted Vaxxed.
A source sent BuzzFeed News screenshots of messages in which the general manager of the Autism Trust UK, Mo Wilson, offered to sell Vaxxed merchandise privately, although Wilson said that she was doing it as a personal favour, and that the Vaxxed team and the Autism Trust are "totally separate" and refused to give advice on how to get hold of pseudoscientific treatments.
Tommey has been filmed in the past saying that "paediatricians are dangerous" and that there is "no such thing as a safe vaccine", and, while promoting Vaxxed with another of its producers, Del Bigtree, that "there's no school, no job, no house, no anything worth putting a vaccine in your child".
Recently, Vaxxed has been withdrawn from planned screenings at the Tribeca film festival in New York and at the Curzon cinema in Soho, London. On 9 February it was to be screened at the European parliament, hosted by Michèle Rivasi, a French Green MEP, but it has since been withdrawn following news coverage and public pressure.
Emma Dalmayne, an advocate for autistic people, told BuzzFeed News: "The fact that registered charities are promoting these things to vulnerable parents, which in turn affects autistic children, is of great concern to me as an autistic mother to autistic children. It has such a detrimental effect on the advancement of the autistic rights movement."
Fiona O'Leary, another campaigner, agreed: "My autistic children have to live with this rhetoric and pseudoscience."

BuzzFeed News contacted the Autism Trust UK for its response to our findings. The charity's general manager, Mo Wilson, forwarded that email to Tommey, who sent a detailed reply by email. She also then published a Periscope video that was posted on the Vaxxed and Autism Mothers Facebook pages and retweeted by the Autism Trust UK Twitter page, titled "BuzzFeed Right of Reply", urging the BuzzFeed News reporter to be "on the right side of history".
In both the video and the email, Tommey repeatedly denies knowing what GcMAF or MMS are. However, she is in a video last year in which Wakefield discusses both treatments knowledgeably. And in July, the Facebook page for Vaxxed called for "action" against a Sunday Times reporter, Josh Boswell, who had emailed with concerns that Tommey and Wakefield had promoted the substances. The post was widely shared, and Tommey was tagged in it.
Tommey confirms that she believes vaccines cause "devastation". She said MMT was a "dangerous vaccine, as is the DTap [diphtheria vaccine]", while HPV vaccine causes "horrific injury and death … There is nothing safe about the HPV Gardasil vaccine."
She also confimed in both the video and the email that she is "concerned" about the manner of Bradstreet's death, saying in the email: "I don't know what happened but I think suicide is highly unlikely." However, she said didn't know who posted the conspiracy theory.
She said she did not run the day-to-day business of the Autism Trust, and insisted the Autism Mothers Facebook page was an open, uncensored forum.
On 7 February, Tommey released another video talking about the "BuzzFeed silliness", thanking people for their support, and saying she'd offered to step down from the Autism Trust UK, although she says that that offer had been rejected by the charity. She denied again knowing what GcMAF and MMS are, saying she didn't remember Wakefield's explanations.
On 8 February the Autism Trust UK put out a press release "in response to the Times article on 2.02.17 and future articles from BuzzFeed.com or other media" decrying "inaccurate and misleading information regarding The Autism Trust UK" that "puts at risk the futures of the young adults" they work with. It describes Tommey as "a tireless campaigner for vaccine integrity".