Leading scientists are worried that Britain's exit from the EU will hurt international scientific collaboration and prevent the UK from gaining access to science funding and major projects, despite Theresa May's efforts to reassure them otherwise.
In a major speech on Brexit on Tuesday, May said Britain "will welcome agreement to continue to collaborate with our European partners on major science, research and technology initiatives".
However, when contacted by BuzzFeed News, scientists said that while her positive words were welcome, the other objectives she outlined for post-Brexit Britain would make such collaboration difficult.
"I don't think she's said anything meaningful," Dr Andrew Steele, a computational biologist at the Crick Institute in London and chair of Science Is Vital, told BuzzFeed News. "I think it's a good sentiment to be expressing, but it's going to be very, very difficult to maintain our current level of engagement in the science programmes given her other negotiating objectives."
He and others pointed to the example of Switzerland, which voted to restrict freedom of movement from the EU in a 2014 referendum. It then almost lost access to Horizon 2020 – a major EU scientific funding programme from which Britain gains about a billion pounds a year more than it puts in.
Switzerland has now been given that access again, but only after its government agreed to reinstate free movement. In her speech, May said Britain would be leaving the European single market in order to restrict immigration.
"It's far from clear how any deal would be achieved, given the determination to take back control over immigration," Stephen Curry, a professor of structural biology at Imperial College, London, told BuzzFeed News. "This seems to be a red line for the EU."
Other non-EU nations, such as Israel, have access to Horizon 2020, "But they're much smaller," said Steele. "They don't take up a huge section of the EU science budget like we do.
"It's good that they're making it a key objective, but I think it's going to be very hard."
Britain's strength as a scientific nation could help it here, said Curry: "We're the strongest scientific nation in Europe. Maybe that's so valuable to the EU that they would be prepared to negotiate [on freedom of movement].
"I haven't seen any sign of slippage on that point from Brussels but I hope at the very least May's government will press for some sort of deal."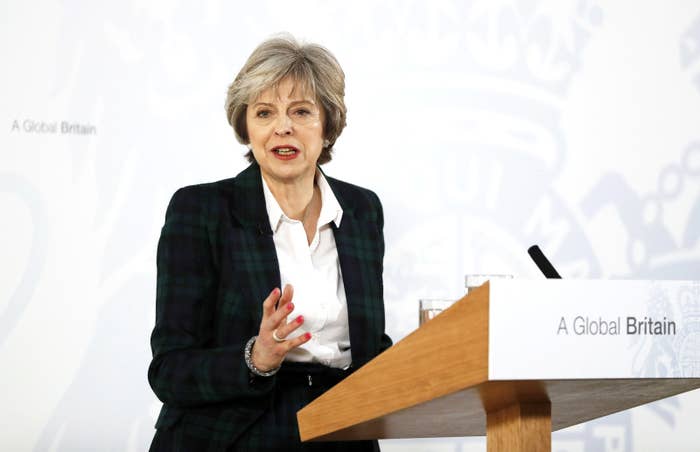 Others are more pessimistic. An American academic based at Oxford University who wished to remain anonymous told BuzzFeed News that "if it weren't for Trump, I'd be gone" and called May's commitment to collaboration "meaningless".
Scientific collaboration and access to funding would be much harder to obtain outside the EU, he said: "Other countries do it, like Switzerland and Israel, but there's a 'second-class' status that goes along with it.
"It's much more difficult to lead a project, and it's much harder to coordinate – large-scale EU science projects are suddenly at risk of death by a single nick, so a lot of effort is spent on risk mitigation." There might be enough academics leaving the US because of Trump to "slow the brain drain" for a while, he added, but as German universities became more willing to let academics teach in English, more and more English-speaking academics would be likely to go there.
However, there were some positives, or at least meaningful statements, in the speech, Dr Sarah Main, the director of the Campaign for Science and Engineering, told BuzzFeed News: "If you look at what she's drawn lines around – no single market, no associate member, no free movement; but we still want to be a partner, and we may make some small payments to the EU – it's a new model, not like Norway or Sweden or Israel.
"So I do think the speech has told us something. It's told us a few things about what our model [for cooperation with the EU] won't look like. It lets us cross a few things off the list."
What will be important now, she said, is making the new model work for British science – finding ways of ensuring that skilled scientists and engineers can still come to work here, which, she said, was something favoured by the large majority of Britons. But ending freedom of movement remained the main hurdle, in her view. "The EU has been crystal-clear that [access to Horizon 2020] relies on freedom of movement," she said. "May says that's not happening, so we're into the political realms of negotiation."
Dr Rupert Beale, a nephrologist at the University of Cambridge, told BuzzFeed News that in comparison with earlier pronouncements, he was reassured by the conciliatory tone of May's speech. "It's partly expectation management," he said. "But if you compare it to her speech at the Conservative party conference, which was almost recklessly irresponsible – it sounded like Trump or Farage or Le Pen – it was much better. The tone is important."
He still thinks that whatever deal Britain gets will be "a lot worse" than what we have now, but if the positive tone of this speech is maintained, "I doubt we'll get anything really punitive." He added: "I'm not optimistic, but I'm less pessimistic."