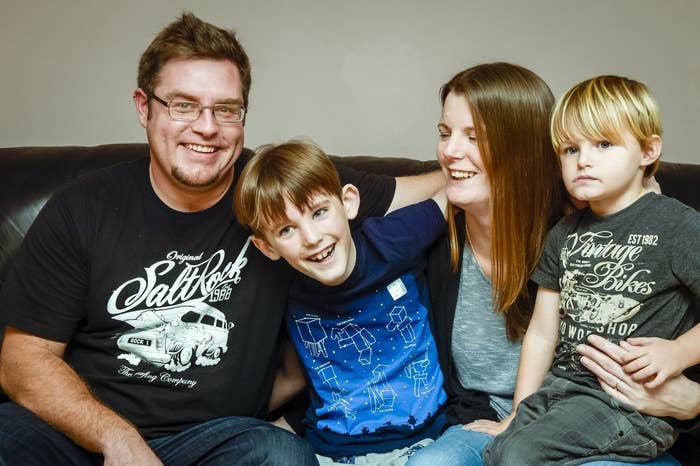 A 9-year-old boy has had part of his testicle removed and frozen so that he can have children later in life — the first time such an operation has been performed in the UK.
Nathan Crawford was diagnosed with a kind of brain tumour called a glioma, after after experiencing headaches and blurred vision in January. The tumour could not be removed through surgery as the risk of brain damage was too high.
Instead, doctors will attack the glioma with radiotherapy and chemotherapy. But these aggressive techniques are likely to leave Nathan unable to have children.
The tumour is noncancerous and manageable with treatment, but if left untreated it would grow as Nathan gets older and could "be life-threatening", according to Nathan's stepfather.
Nathan's mother, Donna Hunt, said that giving Nathan the chance to have children of his own made their decision easier.
"Nathan loves children and so we told him this would increase the chances he can have his own children," she said. "Our decision-making process regarding whether Nathan should have chemotherapy was made so much easier thanks to the fact Oxford could offer this storage of Nathan's cells."
His stepfather, Jonathan Alison, said that Nathan was coping well with the treatment. "He's coped really well and hasn't suffered too much from side-effects, just some jaw ache and a bit of sickness," he told the Press Association.
"He loves riding his bike and scooter and he's very into science. He loves to see how things are made and loves learning about everything around him.
"He's very much looking forward to Christmas and we couldn't be prouder of the way he has taken it all in his stride."
Nathan, who is from Bude in Cornwall, underwent an operation at the John Radcliffe hospital in Oxford to remove a wedge-shaped piece of his testicular tissue. It will be frozen and re-implanted when he is older.
The tissue contains stem cells. When they are thawed out and reconnected to Nathan's blood supply, and after Nathan has reached puberty, they should start producing sperm.
Dr Sheila Lane, a consultant oncologist at the John Radcliffe, said: "These tumours can possibly be cured with intensive chemotherapy. Patients can have a long and happy life without any problems."
Kate Lee, the chief executive of CLIC Sargent, the children's cancer charity, said in a statement: "Every year, thousands of parents who receive the devastating news that their child has cancer can then face additional worries that their child's life-saving treatment could leave them unable to have their own family.
"Although at this early stage it is difficult to predict how successful this new technique will be, it is certainly a fantastic opportunity for the young boy and family involved, and a positive step forward. We hope that, in the future, many more children and young people who go through cancer treatment will be able to access fertility preserving techniques."