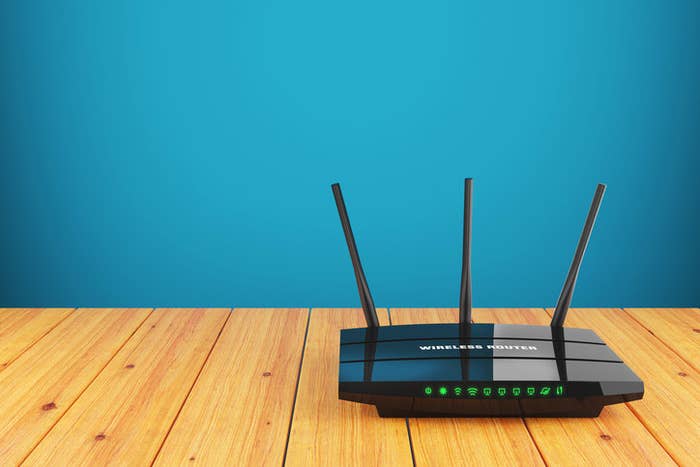 A paper in a respected psychology journal claiming Wi-Fi causes "neurological and cognitive effects" similar to autism that was picked up by national media has been accused of pseudoscience, cherry-picking articles, and misrepresenting research.
The journal Child Development published what was described as a "review article" –an assessment of existing literature – by Cindy Sage and Ernesto Burgio. It was titled "Electromagnetic Fields, Pulsed Radiofrequency Radiation, and Epigenetics: How Wireless Technologies May Affect Childhood Development", and was published in a "special section" of the journal addressing technology and children.

The paper got picked up by the UK national media. An article in the Express, published in May, asked: "Could wireless technology be causing MAJOR health problems in your children?"

It said: "Wireless mobile phones, laptops and tablets could be causing major health problems in children and contributing to autism and hyperactivity, a new study warns," and said that these devices, "which even include baby monitors, emit radiation and electromagnetic fields that pierce thin skulls, harming memory, learning and other mental skills".

However, a forthcoming paper by Dorothy Bishop, a professor of developmental psychology at the University of Oxford who specialises in developmental conditions such as autism, and David Robert Grimes, a medical physicist also at the University of Oxford, has issued severe doubts about the study. They said its claims are "devoid of merit" and "should [not be] given a veneer of legitimacy". A version of the Bishop-Grimes paper has been made available ahead of publication.
The Child Development paper claimed that phones, Wi-Fi, and other sources of electromagnetic fields (EMFs) "are widely documented to cause potentially harmful health impacts that can be detrimental to young people".
The article itself said: "Overall, the scientific evidence is suggesting that chronic exposure to wireless emissions can have detrimental effects on the fetus, infant, young child and adolescent in terms of neurological development, memory, learning, attention, concentration, behavior problems, and sleep quality."

Its footnotes referenced 59 studies, many of which appear to link EMF to these negative outcomes.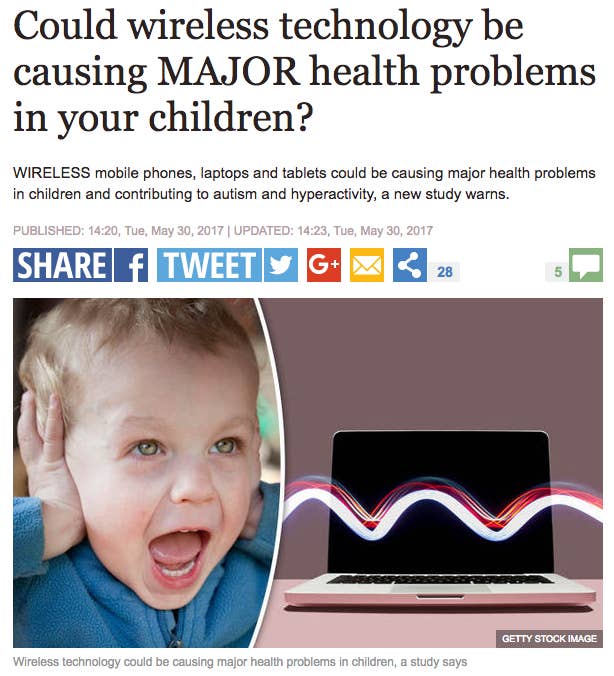 But Bishop and Grimes said "this piece has potential to cause serious harm". They said there is no scientifically believable way that Wi-Fi could cause these effects, because the energy in Wi-Fi radiation is so much lower than even visible light, and that the authors of the Child Development study "provide no potential mechanism" for the purported effects.
They also said the evidence the Child Development piece presented was often not peer-reviewed. In particular they claimed that one piece of evidence cited in the paper was a widely discredited 2012 study called the BioInitiative Report, which was carried out by Cindy Sage, one of the authors of the Child Development study.
Sage took issue with this, telling BuzzFeed News the BioInitiative Report was "not debunked", and that its "great strength" was that it had been carried out "independent of governments, existing bodies and industry professional societies that prop up grossly inadequate public safety standards".
She went on: "Precisely because of this, there are the usual detractors. ... The BioInitiative Report is an internationally acclaimed scientific and public health report on potential health risks of electromagnetic fields and radiofrequency / microwave radiation and has stood assault from industry and its supporters for more than a decade."
Bishop and Grimes also claimed the paper failed to include major relevant studies, and said neither of its authors have extensive academic credentials, which "should function as a warning sign for reviewers and editors to be especially vigilant" for signs of pseudoscience.
Sage responded: "Child Development has considered our qualifications, invited us to submit, conducted peer review on our manuscript, accepted it for publication, and published it in May 2017. Our credentials were judged to be solid, the opinions of Grimes and Bishop notwithstanding."

She called into question the relevant credentials of Bishop and Grimes themselves, saying: "Bioelectromagnetic research is not a strong suit for either Bishop or Grimes, according to Google Scholar. Bishop is an experimental psychologist who is well published in the area of childhood language impairment.
"Grimes is a physicist and postdoctoral research associate who has published in various areas of science, but has not published in the field of bioelectromagnetics. He writes science opinion pieces and [is a] radio/television contributor (citing his blog)."
However, other scientists BuzzFeed News spoke to agreed that in their opinion there were many problems with the Child Development review article. Dr Andrew Przybylski, an experimental psychologist at the Oxford Internet Institute, said the review failed to reference some very important studies, while including some that it shouldn't.
For instance, Przybylski said, it discusses a link between EMF and cancer. But the largest-ever study into the issue, a "really rigorous" piece of work following tens of thousands of Australians for 30 years, found no link, and isn't mentioned. "There was some pretty blatant stuff missing," he said.
Grimes, one of the authors of the new paper, told BuzzFeed News that the BioInitiative Report the Child Development study relied upon is "a piece of work which has been roundly criticised by the scientific community and effectively debunked" by several national and international health bodies. The BioInitiative Report was itself coedited by Cindy Sage; six more of her citations in the footnotes are of her own work.
Dr Pete Etchells, a psychologist at Bath Spa University, told BuzzFeed News that the review article refers to American Academy of Paediatrics guidelines on screen time that were issued in 2012 and have since been changed. "They're not citing up-to-date stuff," he said. "They're citing cherrypicked stuff to promote a certain viewpoint."
The review article's findings were not supported by the bulk of mainstream science, according to the scientists we spoke to. Andy Lewis, the author of the Quackometer anti-pseudoscience blog and himself a former radiation protection officer with a PhD in nuclear physics specialising in how radiation interacts with human tissue, told BuzzFeed News: "This is a well-understood area of science with an overwhelming consensus that the exposure we have to these technologies does not present a health risk."

All of the scientists we spoke to said it was surprising that this paper was published by Child Development, which has already reclassified Sage and Burgio's paper as a "commentary" and is expected to publish another by Grimes and Bishop in coming months.
"The report is highly selective and unbalanced in its evidence and does not present the prevailing countering view in any meaningful way," said Lewis. "This is basic nonsense, there's no science," said Etchells. "It's an essay, basically, and not a very good one."
CORRECTION
PeerJ Preprints is a preprint service, not a journal, and the Sage-Burgio paper was a review, not a study.