A major London cinema has pulled a screening of the premiere of a documentary directed by Andrew Wakefield, the disgraced, struck-off doctor behind the MMR scare which led to a collapse in vaccination rates in the UK and elsewhere, following an outcry from scientists and members of the public.
Vaxxed: From Cover-Up to Catastrophe was to be shown at the Curzon Soho cinema on 14 February; it was first noticed by the blogger Andy Lewis. The ticket sales page said that in addition to seeing the film, cinemagoers "will have the privilege of attending a panel discussion with several well-known experts in the field, including Andrew Wakefield". Last year, the film was intended to be shown at the Tribeca film festival, co-founded by Robert De Niro, but was pulled before it was screened.
Wakefield, who was struck off the medical register as a doctor and shown to have committed fraud over his discredited research suggesting a link between vaccines and autism, is now a powerful anti-vaccine voice in the United States, where he has met with the then president-elect, Donald Trump, and was a guest at one of Trump's inauguration balls. He is now expected to tour Europe with his film, including speaking at the European Parliament in Brussels.

Wakefield's untrue claims about the impacts of vaccines are behind a resurgence of measles in this country, according to government research, and scientists told BuzzFeed News that Curzon Soho's decision to screen the film would have had "real impacts on real children's lives".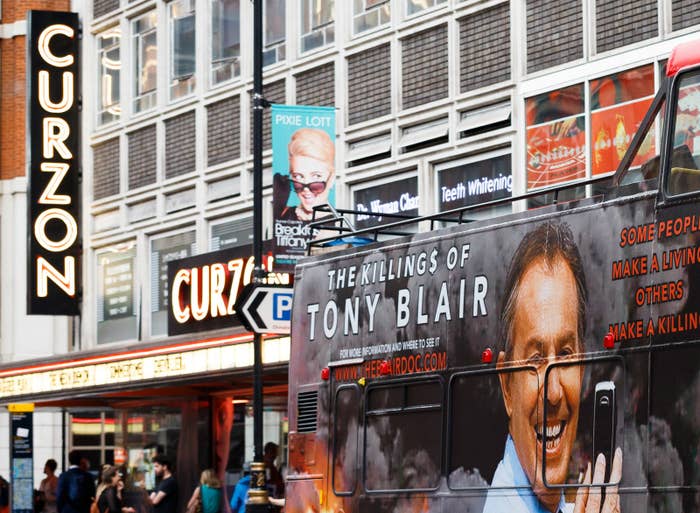 In 1998, Wakefield published a study in the Lancet suggesting a link between the measles, mumps and rubella (MMR) vaccine and autism. The study has since been retracted for a series of errors. In 2010 Wakefield was struck off the medical register for serious professional misconduct in the way he carried out the research, for carrying out invasive tests on vulnerable children without ethical approval. In 2011 he was also shown to have committed deliberate fraud in the way he gathered the data.

However, the 1998 study gained enormous publicity – research found that in 2002, more than 10% of all science stories mentioned MMR, and more than two thirds of those suggested it was unsafe. This led to a huge drop in the number of children being vaccinated in the UK. MMR uptake rates in England dropped from 92% before the publication of the study to below 80% in 2004, and in 2007 and 2008 there were 2,349 measles cases in the UK – as many as in the previous 11 years combined. Measles can cause blindness, brain damage and death; two unvaccinated children have died since 2006, and several more have suffered severe long-term effects.
Dr Simon Singh, a physicist and science writer who founded the Good Thinking Society promoting scientific scepticism, told BuzzFeed News, ahead of Curzon's decision to pull the film, that the screening was "hugely unhelpful" for parents and children. "We're just getting over the collapse in vaccination figures," he said. "They're providing a platform not just for the film but, with the Q&A, for Wakefield himself.
"It's my local cinema, it's a prestigious place, but is this the sort of thing you want associated with the brand? It doesn't make us feel that you value good documentary filmmaking, rather than profiting from scaremongering." He added that although deaths from measles are thankfully rare, one in every 1,000 cases leads to encephalitis, roughly 1 in 20 children with measles develop pneumonia, and 1 in 4 people with measles are hospitalised.
Dr David Grimes, a physicist and cancer researcher who has debated with Wakefield in the past, told BuzzFeed News that the vaccination debate is an example of "false balance". "The mistake made is to assume that because there are two opposed views they're equally worthy of consideration. That's not the case.
"One is buttressed by years of data and has saved more lives than any public health intervention except clean water. The other one is based lies, fraud and conspiracy theory."

Dr Adam Rutherford, a geneticist and broadcaster who has made a documentary about Wakefield, also speaking before Curzon pulled the film, told BuzzFeed News that Wakefield's links to Trump are particularly troubling. "He's had one-to-one meetings with Trump, who's moved to install [the prominent vaccine sceptic] Robert F Kennedy Jr to head his vaccine commission.
"We're facing a situation where there's a massive, influential anti-vaccination movement in the US, led by people who are opposed to the science, and one of whom has been shown to be fraudulent. I'm concerned that [Wakefield's] presence and his film is yet again promoting an antiscientific stance, from a demonstrated fraud, that has a direct public health outcome."
Wakefield is expected to attend a screening of his film and speak at a debate at the European Parliament in Brussels, titled "Vaccines: Their Safety in Question", on 9 February, and in Paris on 13 February. The Brussels event is organised by Michèle Rivasi, a Green MEP and former head of Greenpeace in France.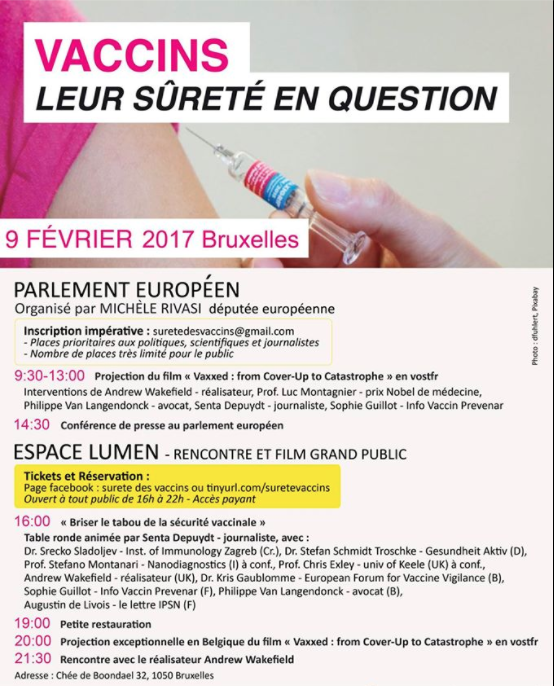 Curzon said in a statement: "It has been brought to our attention that a large number of the general public have strong concerns about the upcoming presentation of Andrew Wakefield's documentary, Vaxxed, at our venue, Curzon Soho.
"The screening is not part of the Curzon programme; rather it is a private hire hosted by the filmmakers themselves. Part of our business is to provide an entirely impartial, democratic event space in which anyone can hire our screens for events and film screenings. All private hires are unaffiliated with the Curzon brand or any of our venues and we consider such events to be an entirely separate concern from that of our public-facing activity.
"The presentation of Vaxxed is an example of this distinction being unclear and we now unwittingly find ourselves at the heart of the discussion around it, to a degree where we must take a stance on the material.

"In light of the responses we have received from members of the public, we have decided to cancel the private hire contract and pull the film from our venue. We do not wish to profit from a film that has demonstrably caused great distress."

Philippe Diaz, the CEO of Cinema Libre Studios, which produced the film, said in a statement: "It is extremely unfortunate that misinformed people will put highly inappropriate pressure on theatres and other venues to suppress public forums where these ideas are being discussed.
"The film is definitely not anti-vaccine and only calls for unbiased studies on the MMR to be conducted. Predictably, there are some people who will be against unbiased vaccine safety studies, namely those who are funded by the pharmaceutical industry. It seems that asking for safe vaccines is too much of a threat to those who profit from their ties with the pharmaceutical industry."
BuzzFeed News has contacted Wakefield and will add any comment when it arrives.