Global carbon emissions in 2017 are expected to be around 2% higher than last year, hitting a new, unwanted record high. The news is a blow to hopes that emissions had peaked, and to efforts to keep global warming below 1.5°C, as agreed in the Paris climate accords.
New research by scientists at the University of East Anglia and the Global Carbon Project suggests that after three years of little to no growth in total global carbon emissions, 2017 will see a relatively major spike. The precise figure is unknown, partly because the year is not yet complete and partly because there is uncertainty in the statistics, but emissions are expected to be between 1% and 3% higher than 2016, with a best estimate of 3%.
Projected global emissions to rise: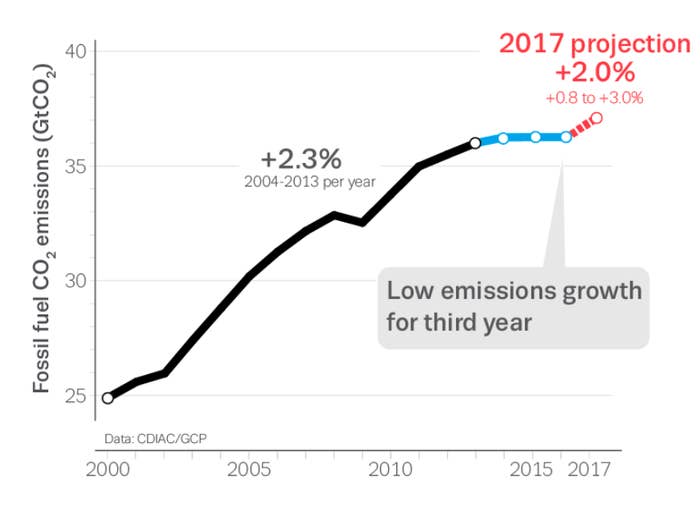 The research is published simultaneously in the journals Environmental Research Letters and Nature Climate Change and was announced at the United Nations Climate Change conference, known as COP23, in Bonn.
The increase is driven in large part by an end to China's steady decrease in emissions, and by growth throughout the developing world. Previously, much of the increased emissions from the developing world was offset by reductions in the US and EU's rate, but those reductions have now slowed.
The news follows a more optimistic assessment in September that suggested that, given "ambitious" but realistic carbon reduction, the world had a good chance of meeting the Paris targets.
Dr Glen Peters of the CICERO Center for International Climate Research in Oslo, who led one of the studies, told a press briefing at COP23: "The headline is that in the last three years we've had some good news, with almost no growth in emissions, but in 2017 we're expecting it to pop up around 2% to a record high.
Emissions by country:
"We can't be complacent that we're going into a flat period."
He said the Chinese building boom that drove extremely strong growth in emissions in the 2000s ended in the 2010s. But this year, Chinese emissions jumped back up by around 3.5%, partly due to there being less rain this year, meaning less energy coming from hydro power.
Andrew Watson, a professor of atmospheric science at the University of Exeter, felt the news was not universally bad. He told the Science Media Center: "Overall there continues to be grounds for optimism: Emissions have not peaked yet, but they are definitely levelling out, despite continually increasing global economic activity.
"This is a hopeful sign that we can avoid the most damaging effects of climate change, while still enjoying economic growth, provided we can keep up the trend of the rapid switch away from fossil fuels and towards renewables."
But Myles Allen, a professor of geosystem science at the University of Oxford, warned that there were other signs of bad news. He told the SMC that as well as the growth in emissions, there was evidence that warming was happening faster than scientists had realised: "Even after we filter out the impact of El Niño, the underlying warming trend is faster than ever.

"Human-induced warming has accelerated over the past few years despite the slowdown in carbon dioxide emissions because of other drivers of climate change, notably methane."