This self-proclaimed beauty addict made her first lipstick at university as part of her dissertation. Six months later, and with a degree in cosmetic science under her belt, she launched MDMFlow from her home lab, aka her parent's shed. Now, three years on, MDMFlow lipsticks are stocked in Topshop Oxford Street and Nasty Gal.
"I had no idea the brand will get this big," she says, checking her Instagram with one eye. "I actually wanted to be a pharmacist, but after my dissertation project I decided I wanted to make lipsticks for a living. I wanted a lipstick brand that had a range of colours. I remember really wanting a blue lipstick and I couldn't find it anywhere. So I made it myself."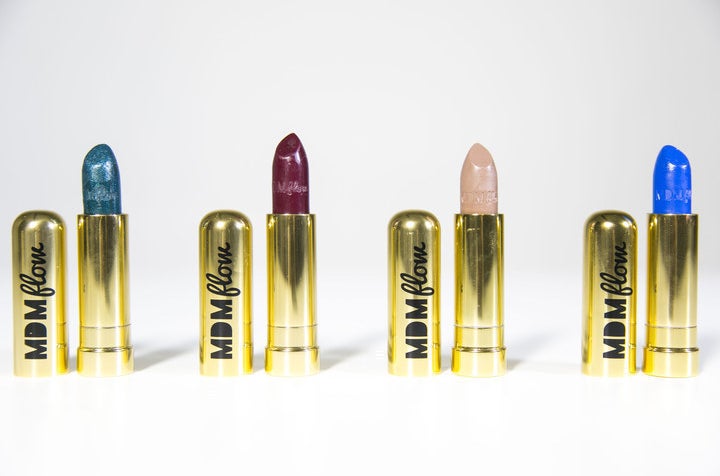 Like Florence, I had no idea her brand would get this big. You see, I went to college with her. And yes, her makeup game was always on point, but I didn't think it was possible for a girl from Essex to actually make a living out of lipsticks.
But from knowing her, it's clear why MDMFlow is such a success. Florence is confident, knowing, and bold: Her long braids, her bright orange lips, and the best blusher application I've ever seen are proof that she takes pride in looking and feeling beautiful.
Within the first 20 minutes of meeting up, she's taking business phone calls, making on-the-spot decisions about product colours and names and generally running the show.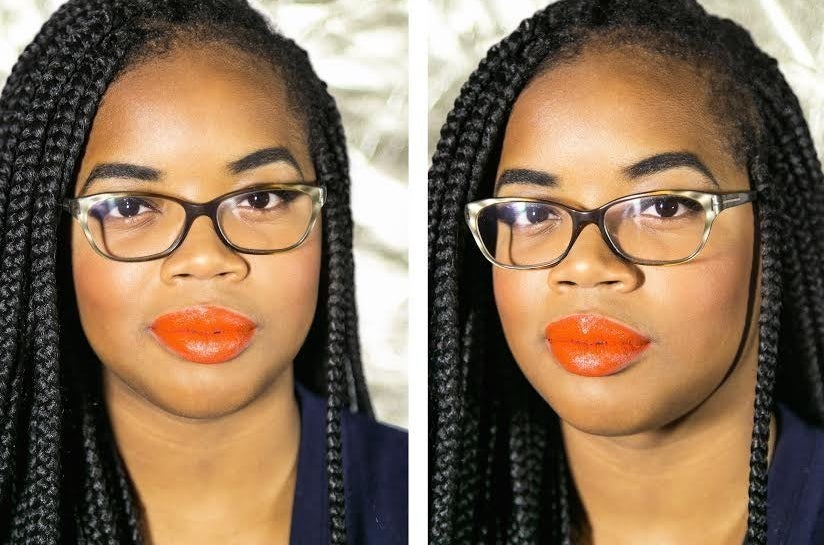 Like any other black girl interested in makeup, Florence has found that buying beauty products for dark skin can be a a real bitch. "I have had so many issues with makeup brands not working for my skin tone. Sometimes you get beauty products that everyone raves about and it just doesn't work for dark skin."
It's talking about the struggles of being black in the beauty industry that really gets her going: "It gets me so mad – black people love beauty too. Sometimes you get a foundation range that only has three shades for black people. It's so underwhelming.
"So when I make my lipsticks, black girls are at the forepoint. If it doesn't suit me or my black friends, then I scrap it. I'm a black girl, and a lot of my friends are black, so what sense does it make for me to make a product we can't use? Yes, MDMFlow is for everyone, but black girls need to be able to wear it too, otherwise there's no point. And I think the whole industry should be like that. If a certain race can't wear your lipstick it shouldn't be on the market."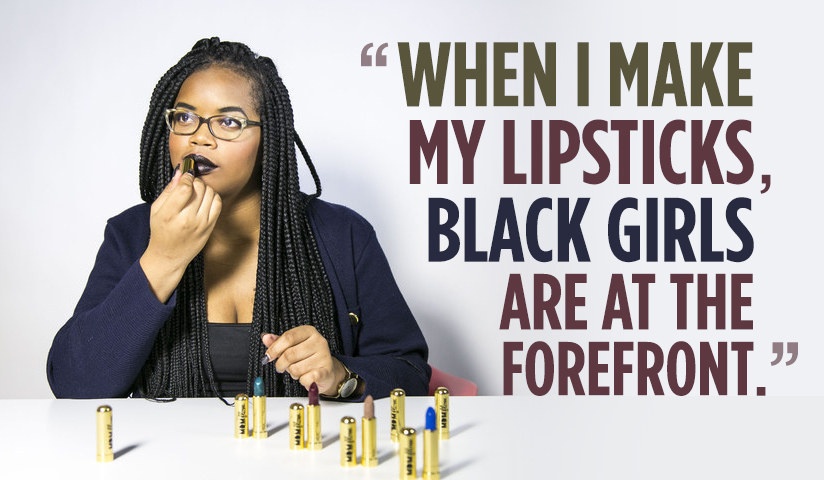 Her lipsticks currently come in eight different shades and are heavily influenced by hip-hop culture. "Hip-hop is my life, and it's a huge influence on the brand, from the colours, to the designs, to the names," she says. Two of the shades – Bossy and Milkshake – are named in tribute to Kelis, one of her favourite artists.
"Hip-hop to me was the first real measure of success," she says. "I would look at Mary J. Blige living that life and Kelis being cool AF and be so inspired. Hip-hop is so unashamedly badass and a little outrageous – I love that, and I want my brand to be that. I find pretentious brands boring, which is why I take so much from rappers. Rappers are fun, not stuck-up and rich. I feel like makeup, especially lipstick, should be fun and feel like a luxury."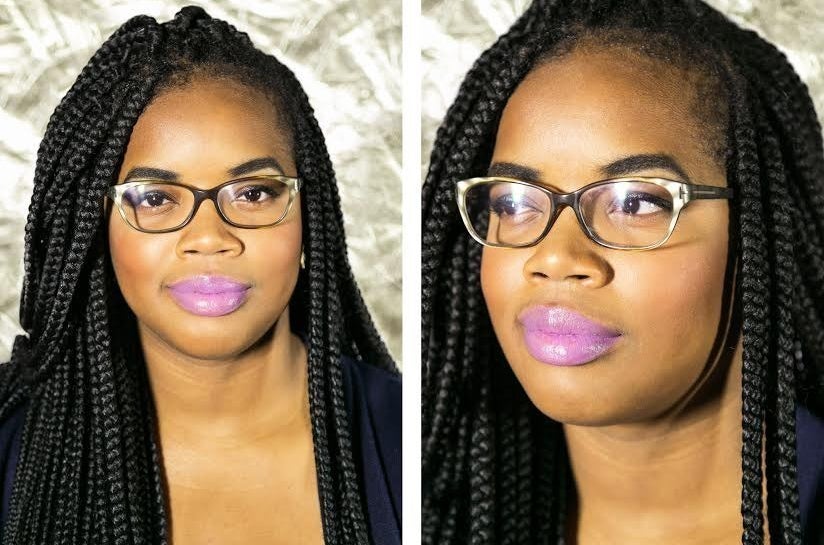 Florence has a no-fucks-given attitude and she's not here for any makeup dos and don'ts. Her reaction when I'm too scared to wear blue lipstick is, "Girl, you better wear that blue lipstick." She's all about bright colours: "Growing up seeing bright colours was normal to me. I would watch music videos like Destiny's Child's 'Say My Name' and just be in love with the colour palette. So to then go into beauty counters and only see reds and pinks, I just thought, Yo, where the greens, the blues, the yellows?"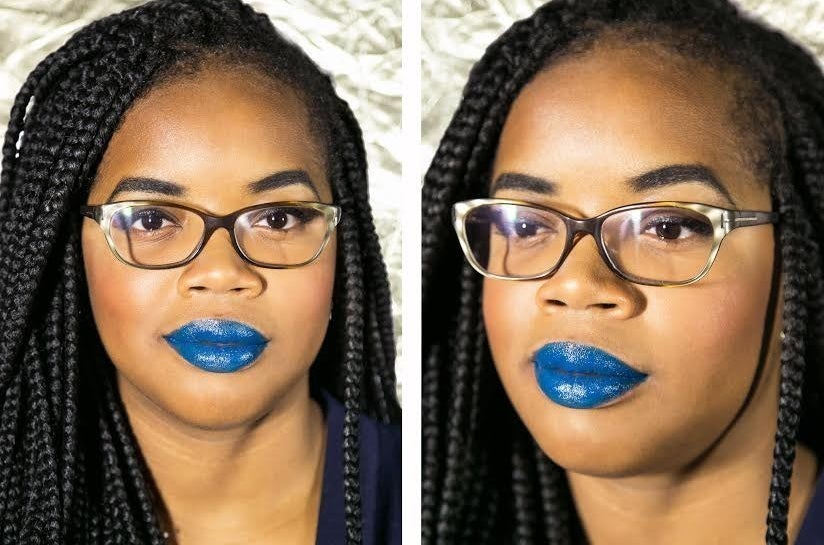 Three years into building the brand, Florence still makes all her lipsticks herself. "I want to stay made in the UK for as long as I possibly can," she says. "I want to put Brits, especially black Brits, on the map. Some people don't even believe black Brits exist.
"We have #BlackGirlMagic in England too. I feel like most things considered British have an old antique vibe to it, and MDMFlow is not like that, but it's still very British in its own way."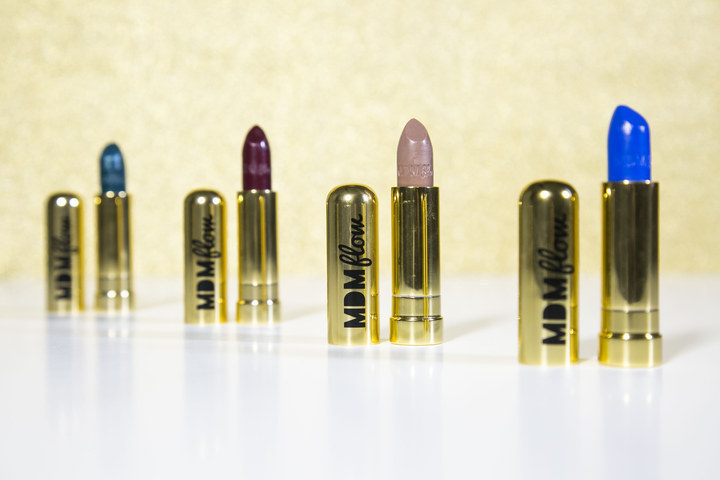 Florence is among a huge squad of black girls making shit happen. She is done with seeking approval from the mass media. She's sick of waiting on big brands to make products for black girls, and is doing it herself. And as a black girl who loves makeup and works in the beauty industry, I find this so inspiring. I love how real she is, especially in an industry that doesn't leave much room for personality. She does her own thing, and has built her brand her way.
"One of the main reasons why I started MDMFlow was that I was so worried I would graduate and then have to work for a brand that wasn't made for me," she says. "Like I would give the job my all, hit targets, and at the end of the day I can't use the core products of the brand because of my dark skin. What's the point?"