Peanut Butter Banana Oatmeal Muffins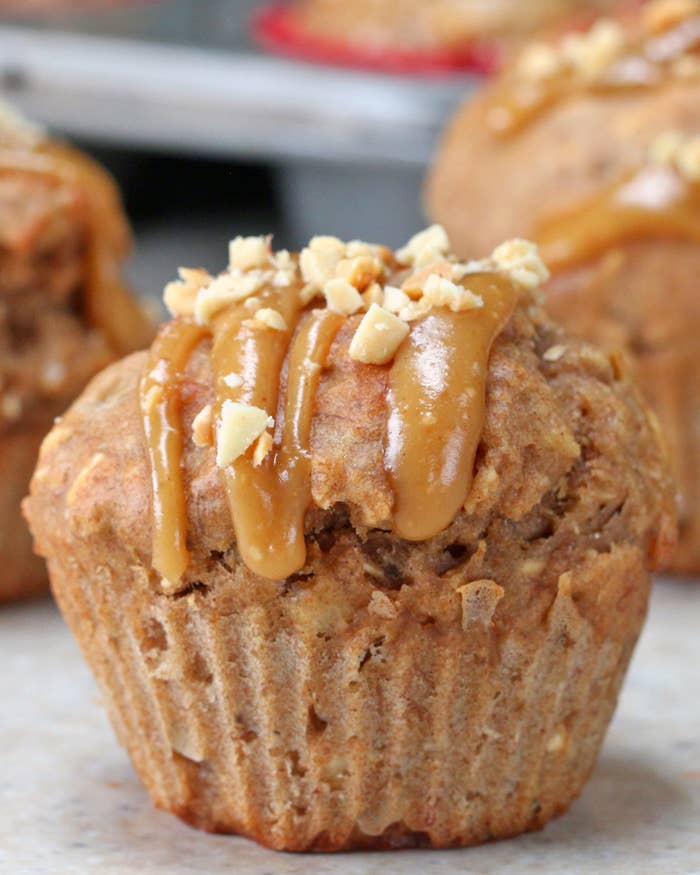 INGREDIENTS
1 cup whole wheat flour
1 cup rolled oats
1 teaspoon baking powder
1 teaspoon baking soda
1 teaspoon cinnamon
Salt, a pinch
2 medium bananas
½ cup natural peanut butter
¼ cup honey
½ cup plain Greek yogurt
¼ cup almond milk
1 egg
1 teaspoon vanilla extract
Peanut Butter Honey Drizzle:
3 tablespoons peanut butter
1 tablespoon honey
¼ cup almond milk
Crushed peanuts (optional)
Supplies:
Muffin tin
Muffin tin liners
PREPARATION
1) Preheat oven to 375°F/190°C.
2) In a medium bowl, mix together flour, oats, baking powder, baking soda, cinnamon, and salt.
3) In another bowl, mash bananas then add peanut butter, honey, Greek yogurt, almond milk, egg, and vanilla extract.
4) Add wet ingredients to dry ingredients and mix until well combined.
5) Line the muffin tin with liners and evenly pour mixture into the cups.
6) Bake for 15 minutes.
7) For the peanut butter drizzle, combine peanut butter, honey, and almond milk.
8) Top muffins with peanut butter drizzle and crushed peanuts (optional).
9) Enjoy!