Chocolate Peanut Butter Rice Crispy Bars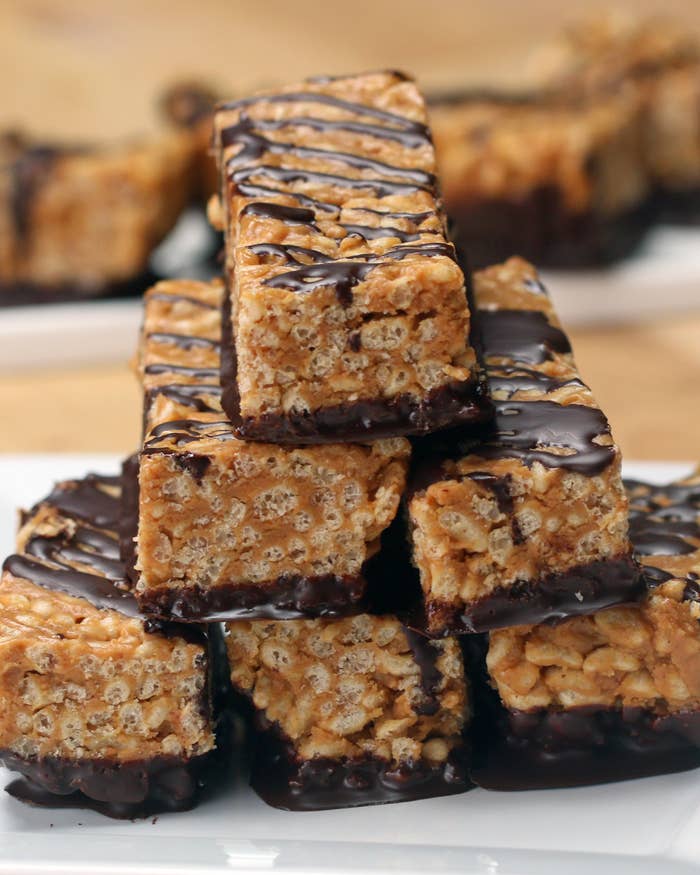 Here's what you'll need:
Rice Crispy Bars:
* 3 cups brown rice cereal
* 1 cup natural peanut butter
* ½ cup honey
* 1 teaspoon vanilla extract
Chocolate Drizzle:
* ½ cup dark chocolate, melted
* 2 tablespoons coconut oil
* Baking dish
* Parchment paper (optional)
Here's what you'll do:
1.In a microwave safe bowl, heat the natural peanut butter, honey, and vanilla extract for 1 minute. Mix well.

2.Add the brown rice cereal to the mixture.

3.After well combined, pour into a greased or parchment lined baking dish and evenly spread. 

4.Chill until solid.

5.After the crispy mixture is solid, cut into pieces. 

6.In a microwave safe bowl, heat the dark chocolate and coconut oil. Mix well.

7.Dip the bottom part of the bars into the dark chocolate. Drizzle remaining chocolate on top.

8.Chill until solid. Store in the refrigerator in an airtight container. 

9.Enjoy!
Follow BuzzFeed's Goodful on Facebook for more delicious and healthy recipes.