Roasted Brussels Sprout Salad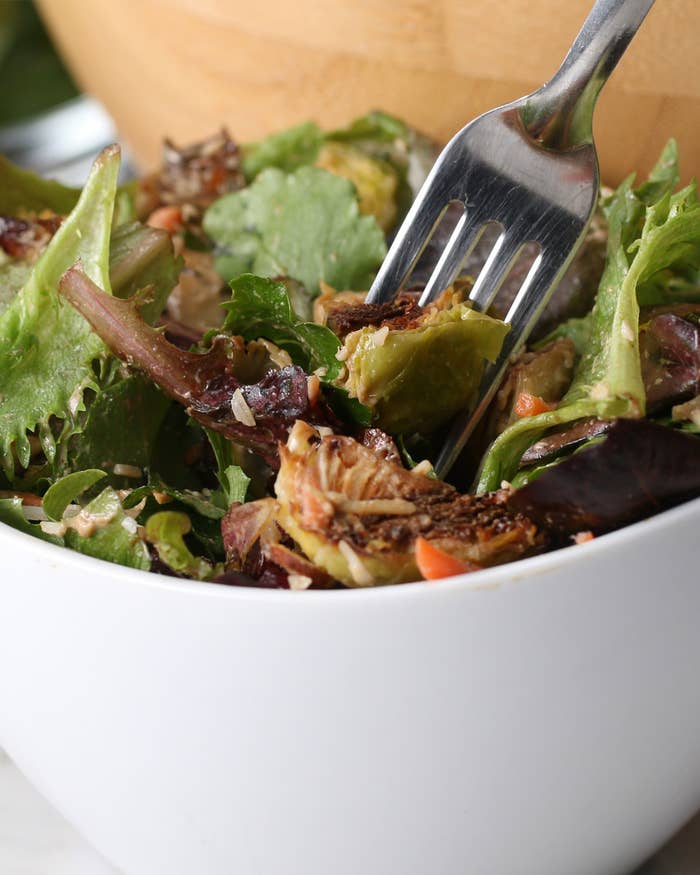 INGREDIENTS
BRUSSELS SPROUTS
1 pound brussels sprouts
Salt, to taste
Pepper, to taste
1 teaspoon garlic powder
2 tablespoon olive oil
CREAMY BALSAMIC VINAIGRETTE
¼ cup plain Greek yogurt
2 tablespoons cup balsamic vinegar
2 tablespoons olive oil
½ tablespoon Dijon mustard
1 garlic clove, minced
Salt, to taste
Pepper, to taste
SALAD
½ pound mixed greens
⅓ cup shredded carrots
⅓ cup sliced almonds
⅓ cup dried cranberries
⅓ cup shredded parmesan
PREPARATION
1. Cut the stems off the brussels sprouts, then cut into quarters.
2. Put the brussels sprouts into a mixing bowl and add garlic powder, olive oil, salt, and pepper.
3. Lightly grease the baking sheet with oil and spread evenly.
4. Bake for 20-25 minutes at 400°F/200°C.
5. For the dressing, mix the Greek yogurt, balsamic vinegar, olive oil, Dijon mustard, minced garlic, salt, and pepper.
6. In a large mixing bowl, add mixed greens, shredded carrots, sliced almonds, dried cranberries, shredded parmesan, and the roasted brussels sprouts.
7. Pour dressing over the salad and mix well.
Enjoy your super healthy and fancy salad!