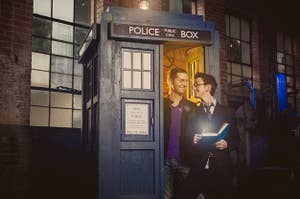 The couple that went viral last August, and again in December, are back! They are using their internet virality to do some good.
In August we were delighted to share this Dallas couple's Doctor Who themed engagement photos. Since then, they married and spent the perfect honeymoon in the UK (partly aboard the TARDIS)!
TJ Mundell and Timmy Patterson, a couple in Dallas, took their engagement photos to a whole new universe. Is it vain for The Doctor to marry himself?