What is your eating status

Try to take care but I love sweets

Eating my way out of life

Which beverage do you prefer

Have you ever tried a smoothie before?

Once in awhile I have one

When are you more likely to drink a smoothie

Would you ever add fruits to your smoothie

F*k those, just buy ice cream

Choose an exotic addition
What type of smoothie should you make based on your diet?
You got:

Just go for an ice cream!!
There could be a slight possibility you desire a healthy smoothie, but let me give you some advice… Go for some ice cream! Smoothies aren't your thing, you have no intention on trying it and they don't go with your daily routine. Here is a great recipe for a coffee ice cream. 1.Measure 2 cups of milk (any kind! Don't go slim, ice cream taste better with no diet involved!) and mix them with 1 ½ cups of heavy cream and ⅔ cup of sugar. Heat it up until the sugar is dissolved. 2.For putting some flavor in it, grind the coffee beans (¼ of a cup) and add them to the milk mixture. 3. Add a pinch of salt, and 2 tablespoons of milk. Let this mixture chill in the refrigerator until it's completely cool. 4. Once it's ready just take it out and serve it! For an extra use some grind coffee on top as decoration!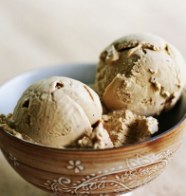 You got:

A Sweet Smoothie is Your Dream
Healthy sweet rules! Milkshakes or sweet smoothies gives us the nutrition which is the fuel we use for our own bodies to work efficiently, and keeps us away from various health disorders. People don't realize the nutritive value of milkshakes. They are commonly thought of as something to keep you refreshed, after drinking a milkshake, do you notice how sated you are, even though you didn't eat anything with it? This is because the body's daily requirement for carbohydrates, vitamins, minerals, fibers, and proteins, were included with that dose of milkshake. Try to do your own milkshake! First off, fast food places charge way too much for milkshakes; so try and look for simple recipes in pinterest or the internet!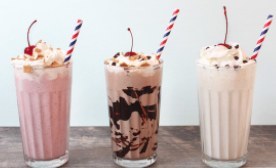 You got:

Fruit Smoothies Rules!
Amazing! We can see that you love to stay healthy and put some color to your smoothies. Fruits contain a variety of vitamins and minerals, these vitamins helps your immune system, synthesizes collagen, increases potassium, helps maintain a normal blood pressure, fight diseases, also they keep your bones, eyes, blood sugar, thyroid gland and nerves healthy. Drinking fruit smoothies can help you reach the perfect intake of fiber (25 grams for women and 38 grams for men), remember that fiber found in fruit helps slow digestion and control blood, sugar and lower cholesterol. When choosing the smoothie base you can add water, cow's milk, soy milk or yogurt to make the fruit stand out, for healthier fruit smoothies we recommend you to include water, low-fat milk or low-fat yogurt, which will add flavor and nutrients to it without a huge number of calories. Here is a great tip! Drink a dairy-based smoothie for breakfast or drink a water-based smoothie as a snack, this will not only help for a good digestion but also it will increase your energy.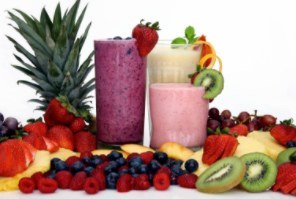 You got:

Go all out on the Veggies
Greens are your besties! Green smoothies have many health benefits, now that they offer vitamins and minerals but no fiber. Another benefit is that they also offer pure nutrition (remember that most fruits and vegetables are high in vitamins A and C). Green smoothies are a great way to eat your veggies without even realizing it! The only equipment you'll need to make delicious smoothies are a blender and some veggies. Drinking a glass every day will provide you with all the vitamins you need, which is much cheaper (and a more natural) option than buying multivitamins. They are low in calories but very filling. Because they contain high amounts of water and fiber, they'll make you feel as if you just ate a full meal. The best thing you'll get out of these is if you're trying to lose weight, since they will help fight hunger and cravings while helping the pounds melt off easier.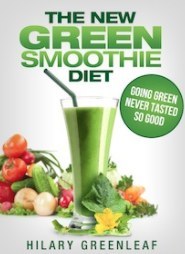 This post was created by a member of BuzzFeed Community, where anyone can post awesome lists and creations.
Learn more
or
post your buzz!